10 (2014)
Intuition & the machine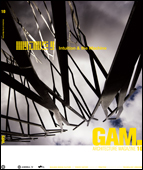 Editorial
Senses & tools
ALGOrithmischesDesign
Kann die Kind-Maschine erwachsen werden?
ALGOrithmicDesign
Can the child machine develop into an adult?
"Augmented Architecture"
Transparenz, Intuition und unsere Sinne
"Augmented architecture"
Transparency, intuition and our senses
Machine intuition
Entwerfer am Mischpult
Neue Instrumente für den architektonischen Formfindungsprozess
Designer at the mixing console
New instruments for the architectural form-generation process
Golden Moon
Digitale Kontrolle trifft Handwerkskunst
Golden Moon
Digital control meets craftsmanship
Digital grotesque
Mind & matter
Digitale Phänomenologien
Von postmoderner Unbestimmtheit zu Big Data und Kalkulation
Digital phenomenologies
From postmodern indeterminacy to big data and computation
Die Wissenspraktiken der Paperless Studios
Knowledge practices of the "paperless studio"
Gott verschone mich mit Intuition (und um die Maschine kümmere ich mich selbst)
God spare me intuition (and I'll take care of the machine myself)
Zwischen Maschine und Intuition, Schwellen und Hybridbildungen
Between machine and intuition, thresholds and hybridizations
"Einfachheit ist für Anfänger"
"Simplicity is for beginners"
Decibot, fluid cristallization
Interactions & mutations
Digital-materielles Feedback
Zur Ausdehnung der Intuition auf den Produktionsprozess
Digital-material feedback
Extending intuition into the production process
Moderation der Unschärfe
Experimente zur Verschränkung physischer und digitaler Formfindungsprozesse
Moderation of vagueness
Experiments on the interconnection between physical and digital processes of form generation
Parametrische Adaption
Eine Evolution des Entwurfsprozesses
Parametric adaption
An evolution of the design process
An architecture des Humeurs
Die Gestaltung von maschinellem Verhalten
Architekturmaterialisierung mit Flugmaschinen
Designing behavior
Materializing architecture with flying machines
"Überraschung ist beim Entwerfen fast alles!"
"Surprise is almost everything in design!"
Rezensionen
Reviews
Mark Blaschitz/Edith Hemmrich/Katharina Köglberger, Immer noch lernen von Las Vegas. Zur Autoikonographie und figurativen Architektur der City of Entertainment
Alfredo Brillembourg/Hubert Klumpner (Hg.), Torre David: Informal Vertical Communities
trans magazin no. 22, transRedaktion, ETH Zürich (Hg.), trans 22 – Haltung
Wilfried Wang (Hg.) für die Akademie der Künste, Berlin, Kultur:Stadt / Culture:City
Winfried Nerdinger (Hg.), Der Architekt. Geschichte und Gegenwart eines Berufsstandes
Susanne Hauser/Christa Kamleithner/Roland Meyer (Hg.), Architekturwissen. Grundlagentexte aus den Kulturwissenschaften, Bd.1: Zur Ästhetik des sozialen Raumes: Bd. 2: Zur Logistik des sozialen Raumes
Michael Zinganel/Elke Bayer/Anke Hagemann (Hg.), Holidays after the Fall. Seaside Architecture and Urbanism in Bulgaria and Croatia
Andreas Beyer/Ralf Simon/Martino Stierli (Hg.), Zwischen Architektur und literarischer Imagination
Greg Lynn (Hg.), Archaeology oft he Digital: Peter Eisenmann, Frank Gehry, Chuck Hoberman, Shoei Yoh
Alejandro Zaera-Polo, The Sniper's Log: Architectural Chronicles of Generation X
Esra Akcan, Architecture in Translation. Germany, Turkey, and the Modern House
Aus der Fakultät
Faculty news