50-51 (2015)
Family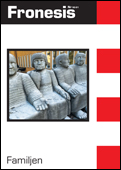 Summary
Inledning
Introduction
Att sörja för de sina
To provide for one's own
Styrning och motstånd
Control and resistance
Styrning av familjer - en selektiv historia
Governing the family - a selective history
Arvet efter slaveriet: normer för en ny kvinnlighet
The legacy of slavery: Standards for a new womanhood.
"Beroendets" genealogi
A genealogy of dependency
Familjen i politiken
The family in the midst of politics
Med barnets bästa i fokus
Focusing on the best interest of the child
Intimitetsarkiv
Archives of intimacy
Familjepolitik i förändring
Changing politics of the family
Det mänskliga villkoret: Intervju med Martha Fineman
The human condition: Interview with Martha Fineman
Diskurser som märker kroppar
Discourses as bodily marks
Hemmadöttrarnas återkomst?
The return of the home daughters?
Fattigdom mot föräldraskap: en framväxande dikotomi
Poverty against parenthood: an evolving dichotomy
"De sa bara tack till allting"
"They said thanks to everything"
Familjen som social reproduktionsform
The family as social reproduction form
Familjens och kapitalets upplösning
The dissolution of family and capital
Mot en icke-nihilistisk teori om icke-reproduktion
Towards a non-nihilistic theory of non-reproduction
Animation och revolt
Animation and revolt
Familjen som politiskt slagfält
The family as a political battleground
Familjen kan finnas
The family can be
Family life