12/2012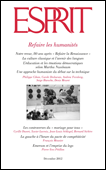 Résumés /
Abstracts
(fr)
(en)
1932-2012, "Refaire la Renaissance", plus que jamais
1932-2012: Esprit 80 years on: Reinventing the Renaissance, now more than ever
Positions
Une conférence de presse sans journalistes ?
Taking a stance – Hollande: A press conference minus … the press?
Les États-Unis, une union plus ou moins parfaite
The United States, a union in a state of flux
Inequalities show up a lack of middle classes
Un monde inégalitaire en mal de classes moyennes
Refaire les humanités
Reinventing the humanities
Quel retour des humanités ? Introduction. Esprit
L'avenir des humanités
The future of the humanities
L'éducation artistique et les émotions démocratiques
Art classes and democratic emotions
Éducation scientifique, éducation artistique
Entretien avec Serge Haroche
Science, the arts and education
An interview with Nobel Laureate Serge Haroche
La pensée de la technique : pour une approche humaniste
Entretien avec Andrew Feenberg
Reflecting on technique: the need for a humanist approach
An interview with Andrew Feenberg
Plus équitable, l'école retrouverait la voie de la réussite
A more equitable school would veer back towards the road of success
Articles
Feature articles
Les controverses du "mariage pour tous"
France's ongoing controversies over "marriage for all"
Les multiples facettes du pacte de compétitivité
The many facets of France's "competitiveness pact"
Emerson et l'emprise du legs
Emerson and the stronghold of legacy
Journal
Sécurité et justice : y a-t-il un tournant politique ?
Que reste-t-il de la gauche ?
Mumbai et Le Caire. La ville privée, "la" bidonville et la ville éclatée
Comment finir ? Amour, de Michael Haneke
Vous n'avez encore rien vu, d'Alain Resnais
Fluxus, un ratage fécond
Bibliotheque
Repère – Quand la crise devient la norme, par Carole Widmaier. À propos de la Crise sans fin. Essai sur l'expérience moderne du temps, Myriam Revault d'Allonnes
Librairie. Brèves. En écho. Avis