8-9/2005
Vues d'Afrique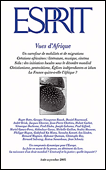 Résumés /
Abstracts
(fr)
(en)
ÉDITORIAL [EDITORIAL]
L'exécutif, la justice et l'autorité de l'État [Executive power, the judiciary, and governmental authority]
Vues d'Afrique
JEAN-PIERRE CHRÉTIEN
Introduction. L'Afrique face aux défis du monde [Introduction. Africa face to face with global challenges]
I. La France quitte-t-elle l'Afrique ?
Désengagement ?
DANIEL BOURMAUD
La nouvelle politique africaine de la France à l'épreuve [Putting France's new African policies to the test]
GEORGES NIANGORAN BOUAH
Abandonnez-nous !
[Leave us alone!]
JEAN-PAUL NGOUPANDÉ & MAMADOU OUMAR NDIAYE
Encadrés [Boxed items]
De nouvelles relations ?
HUBERT COCHET
Concurrence déloyale : l'agriculture vivrière en crise [A case of unfair competition: Farming in crisis]
MOUSSA PARA DIALLO & JEAN VOGEL
Encadré : L'Afrique qui réussit [Boxed item: African success stories]
MOUSSA PARA DIALLO & JEAN VOGEL
Encadré : Échanges et coopération non gouvernementales : l'exemple du Mali [Boxed item: Non-governmental exchange and cooperation: Mali's experience]
CHRISTIAN CONNAN
Encadré : L'action public d'aide au développement [Boxed item: Public development aid]
BERNARD MAGNIER
Le livre africain : un livre comme les autres
[
The presence of African literature: The evolution of literary criticism, publishing, and readership
]
MICHEL GIRAUDOT
Encadré : Présence des cultures africaines [Boxed item: African culture in France]
Créations africaines
JEAN-PIERRE CHRÉTIEN & BERNARD SALVAING
Introduction
BERNARD SALVAING
Un parcours sur les chemins multiples des littératures africaines [Exploring the divergent paths of African literature]
JACQUES CHEVRIER
La littérature francophone et ses [Francophone literature and its heroes]
JEAN-PIERRE CHRÉTIEN
Regards africains au cinéma [African filmmaking]
YACOUBA KONATÉ
Africains sur le marché mondial de l'art [Africans on the global performing arts market]
CHRISTOPHE ROY
L'Afrique et la world music [Africa and "world music"]
III. L'Afrique, continent religieux ?
JEAN-PIERRE CHRÉTIEN & BERNARD SALVAING
Introduction
ALPHONSE QUENUM
Les christianismes en Afrique [Forms of Christianity in Africa]
GODEFROID KÄ MANA
Les Églises indépendantes en mutation [Ongoing changes in independent churches]
PAUL GIFFORD
De nouvelles Églises [New churches]
MURIEL GOMEZ-PEREZ
Trajectoires de l'islam en Afrique de l'Ouest [Islam's pathways into West Africa]
SOULEY HASSANE
Mouvances islamiques et demande d'ouverture démocratique au Niger [Islamic movements and demands for more open politics in Niger]
IAN LINDEN
La poudrière religieuse du Nigeria [Nigeria's religious powder keg]
VÉRONIQUE DUCHESNE
Renouveau des religions traditionnelles ? [A renewal of traditional faiths?]
IV. L'Afrique et le monde
JEAN-PIERRE CHRÉTIEN & BERNARD SALVAING
Introduction
Croissance et mobilités
PHILIPPE HUGON
L'Afrique dans la mondialisation [Africa and globalization]
MICHELLE GUILLON
La mosaïque des migrations africaines [The patchwork of African migratory flows]
JEAN SCHMITZ
Le rôle des zones transnationales. Migration et négoce aux frontières de la Mauritanie, du Sénégal et du Mali [The role of transnational areas. Migration and trade at the borders of Mauritania, Senegal, and Mali]
Défis passés et présents
ROGER BOTTE
Traite et esclavage, du passé au présent [The slave trade and slavery from past to present]
FRED EBOKO
Sida : des initiatives locales sous le désordre mondial [AIDS: Local initiatives ignore global inconsistency]
Ouvertures et resources
BINTOU SANANKOUA
Femmes du Mali [Women in Mali]
ABDOULAYE GUEYE
Les chercheurs africains en demande d'Occident [African scholars' great expectations from the West]
JOSEPH GAHAMA
Un afropessimisme intériorisé ? Regard croisé d'un universitaire de l'intérieur [Internalizing Afro-pessimism? A retort from an Africa-based scholar]
ANDRÉ BRINK
Explorer une histoire multiple [Exploring a manifold history]
ESPRIT
Orientation bibliographique [Notes on further reading]
Journal
PIERRE HASSNER
Un compromis dynamique pour l'Europe
MICHEL MARIAN
Les trois métamorphoses de la politique française après le référendum
JACQUES LE GOFF
Le contrat « nouvelles embauches » : « danoiserie » ou roulette russe ?
GUY COQ
Une laïcité universelle ?
OLIVIER MONGIN
Remonter la mer pour mieux renverser le monde
CÉCILE DESAUNAY
La traversée de la nuit
CLAUDE-MARIE TRÉMOIS
Aux abois, de Philippe Collin
CHRISTIAN THOREL
À propos d'une fuite en avant de la presse, au détriment du livre
Repères
JACQUES LE GOFF
Coup de sonde : La naissance d'un droit mondial ?