6/2014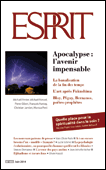 Résumés /
Abstracts
(fr)
(en)
La fin du territoire jacobin
The end of the French department
Positions
Opinions
Les nouveaux patrons de presse
A portrait of the new patrons of the press
A-t-on encore besoin d'un " modèle " français ?
Do we still need a French "model"?
Canonisation des papes contre misère du monde
Canonizing popes to bear the weight of the world
Apocalypse : l'avenir impensable
Apocalypse: when the future becomes unthinkable
Le fin mot de l'histoire. Introduction
The final word. An introduction
L'imaginaire de la catastrophe. Encadré
Representing catastrophe. Boxed item
L'apocalypse, une philosophie de l'histoire ?
Can the Apocalypse foster a philosophy of history?
Fukushima ou la traversée du temps : une catastrophe sans fin
Leaping through time: Fukushima's endless catastrophe
La Fin des temps selon l'islam shî'ite et l'apocalypse coranique
The end of days in Shi'a Islam and the Qu'ranic Apocalypse
Prophétie et désespérance. Léon Bloy, Charle Péguy et Georges Bernanos, des prophètes selon la Bible ?
Prophecy and despair. Are Léon Bloy, Charles Péguy
 and Georges Bernanos biblical prophets?
Articles
Quelle place pour la spiritualité dans le soin ?
Addressing the spiritual needs of medical patients
A quoi tient le succès de la psychologie évolutionniste ?
Why Is evolutionary psychology so successful?
Les pays andins : fragilités d'une zone émergente
The Andean nations, between fragility and development
Anne Portugal. Le travail sur les cadres
Anne Portugal. Framing Things
Journal
News of the month
La droite débordée ?
The crisis of the right?
Irlande du Nord : le passé ne passe pas
Northern Ireland: where the past never dies
Mineurs emprisonnés, un système de violence
Violence in juvenile prisons
Djihadisme et tueurs fous
Jihadists and mass murderers
Sauter dans le vide
Jumping off a cliff
Qu'est-ce qu'on a fait au bon Dieu ? L'illusion d'un consensus
Qu'est-ce qu'on a fait au bon Dieu? A deceptive consensus
Bibliothèque
Books
La démocratie et les progrès de l'ignorance par Benjamin Caraco
Democracy and the rise of ignorance by Benjamin Caraco
Librairie
Reviews
Brèves
In short
En echo
Journals and magazines
Avis
To our readers