10/2014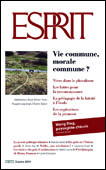 Résumés /
Abstracts
(fr)
(en)
Le diplomate et le marchand d'armes
The Diplomat and the Arms Dealer
Positions
Opinions
Sortir de la monarchie républicaine
Ending republican monarchy
L'architecture a-t-elle encore un prix ?
Has architecture still a price?
Quand la France des affaires prend l'air...
France is in the air
N'oublions pas Hong Kong !
Don't forget Hong Kong !
Vie commune, morale commune ?
A common moral for a common life ?
La peur française de la diversité. Introduction
France's fear of diversity. Introduction
Vivre dans le pluralisme
The age of pluralism
Le combat pour la dignité : exiger un droit à la justification
Fighting for dignity ; the right to justification
Quelle pédagogie de la laïcité à l'école ?
Teaching secularism at school
Youth rebellions on both sides of the Mediterranean
Articles
La pensée politique islamiste
Islamist political thought
En quête de l'Orient perdu
In search of a lost orient
Wang Bing, paysagiste chinois
Wang bing, Chinese landscapist
Dominique Fourcade. Angles neufs et bifurcations
Dominique Fourcade. New Angles, New Directions
Journal
News of the month
Banlieues: le vote de la "dernière confiance"
"Last chance vote" in the Banlieues
Chronique d'un trafic ordinaire
A Day in the Life of Drug Dealers
Liban- Syrie : solidarité et business
Lebanon and Syria : from Solidarity to Business
P'tit Quiquin, la nouvelle œuvre de Bruno Dumont
P'tit Quinquin, Bruno Dumont's New Opus
Netflix, une révolution ?
The Netflix Revolution
Que reste-t-il de Marcel Duchamp ?
What's left of Marcel Duchamp ?
Bibliothèque
Books
Charles Péguy, philosopher and poet by Marc-Olivier Padis
Librairie
Reviews
Brèves
In short
En echo
Journals and magazines
Avis
To our readers