8-9/2015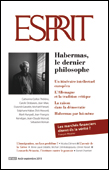 Résumés /
Abstracts
(fr)
(en)
Le supplice grec
Greek agony
Habermas, le dernier philosophe
Habermas, the last philosopher
Une ambition philosophique par gros temps. Introduction
Upholding philosophy in troubled times. Intrudoction
1. De l'Allemagne
1. On Germany
Espace public et sphère publique politique
Les racines biographiques de deux thèmes de pensée
Public space and political public sphere
The biographical roots of two motifs in my thought
La fin des mandarins allemands
The end of German mandarins
Critique et communication : les tâches de la philosophie
Entretien avec Jürgen Habermas
Criticism and communication : Philosophy's missions
Or, a lifetime in philosophical dialogue
2. Usages de la raison
2. The uses of reason
L'effet Habermas dans la philosophie française
Entretien avec Stéphane Haber et Jean-François Kervégan
The Habermas effect on French thought
An interview with Stéphane Haber et Jean-François Kervégan
Consensus et utopie. Lecture de Habermas par Paul Ricœur
Consensus and utopia. Ricoeur's reading of Habermas
Les limites politiques de la philosophie sociale
The political limits of social philosophy
3. Dans l'espace public
3. In the public sphere
Habermas citoyen. Les "Petits écrits politiques" du philosophe allemand
Citizen Habermas. The "Short Political Writings" of the German philosopher
Le Labyrinthe du silence. Quand les Allemands oubliaient la Shoah. Encadré
Labyrinth of Lies. Forgetting the Shoah. Boxed item
La démocratie : entre libéralisme et radicalité
Democracy : Liberal and/or radical ?
Que peut-on espérer du droit international ?
What hope can international law bring us ?
Articles
Les marchés financiers disent-ils la vérité ?
Do markets tell the truth ?
Immigration : un faux problème ?
The false problem of immigration
Les hommes de la dissuasion
Who mans nuclear submarines ?
Leonardo Sciascia. L'inquisiteur et l'hérétique
Leonardo Sciascia. The inquisitor and the heretic
Lionel Ray. Réveil baroque sur fond de mystique nocturne
Lionel Ray. Baroque awakenings and noctural mysticism
Journal
News of the month
Tsipras, un renouveau politique ?
Tsipras, A political rebirth for Greece ?
Les failles de la gouvernance européenne
The failures of European governance
Une tragédie gréco-européenne
A Greco-European tragedy
Uber et les taxis : qui doit s'adapter ?
Uber and taxis : Who should adapt ?
L'écologie franciscaine du pape
The Pope's Franciscan environmentalism
L'œuvre-fleuve au cinéma
The purpose of long movies
Jacob Lawrence : une autre histoire de migration
Jacob Lawrence's great migration
Bibliothèque
Books
Repère - Multiples Moïse
A multifaceted Moses