11/2013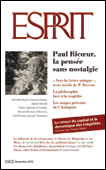 Résumés /
Abstracts
(fr)
(en)
Editorial
La stigmatisation des Roms: une violence officielle calculée
State stigmatization of the Roma
Positions
Opinions
Ne soyons pas dupes du soft power des régimes autoritaires!
Soft power, a double-edged sword
L'inflation sans bornes du patrimoine
The boundless inflation of patrimony
Les Roms et le silence du président
The Roma and the silent president
Paul Ricœur, la pensée sans nostalgie
Paul Ricœur, thought without nostalgia
Les Grecs de Paul Ricœur. Introduction.
Ricœur and the Greeks. An introduction
Vers la Grèce antique. De la nostalgie au deuil
Approaches to Ancient Greece: from nostalgia to mourning
Des usages de l'Antiquité dans l'histoire
The historiography of antiquity
Le rêve grec de la philosophie allemande
The Greek dreams of German philosopy
La Grèce avant la Raison
Greece before 'reason'
Grèce archaïque, Grèce classique: artifices d'une opposition
Archaic Greece vs. classical Greece: a construed dichotomy
De l'utilité de la tragédie pour la vie
The utility of tragedy
Articles
Le retour du capital et la dynamique des inégalités
The return of capital and the rise of inequality
L'Université de tous les savoirs à l'heure de Wikipedia, de Youtube et des Moocs
Open universities in the era of Wikipedia, Youtube and MOOCs
Négociations internationales: la fin du multilatéralisme
International negotiations: the end of multilateralism
Fabienne Courtade. Le choix de disparaître
Fabienne Courtade. Choosing to disappear
Journal
News of the month
Dimanche, un jour comme un autre?
Is Sunday just a day like every other?
Défis et dangers de la progression du FN
The challenges and dangers implicit in the rise of the Front National
La normalisation grecque?
Is Greece becoming "normal"?
Dominos kurdes en Syrie
The Kurds and the Syrian conflict
L'imaginaire du masque
Masks and meanings
Claire Simon, entre fiction et documentaire
Claire Simon, between fiction and documentary
Devereux par Desplechin: la souffrance et les origines
Devereux by Deplechin: pain and origins
Bibliothèque
Books
Repère
Focus
Contre le culte de la croissance
Contrary to the myth of growth
Librairie
Reviews
Brèves
In short
En écho
Journals and magazines
Avis
To our readers