2/2014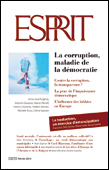 Résumés /
Abstracts
(fr)
(en)
Justice préventive et censure préalable
Preventive justice or preemptive censorship ?
Positions
Opinions
Dieudonné : derrière Le Mur, les murs
The dieudonné case : the walls behind The Wall
Formation professionnelle : un pari risqué en temps de crise
Vocational training : a difficult challenge in times of crisis
L'émergence du Brésil dans le miroir du modèle français
The rise of Brazil in the French mirror
La corruption, maladie de la démocratie
Corruption, the bane of democracy ?
Un mal d'époque ? Introduction
A contemporary evil ? Introduction
The fear of democratic impotence
Montesquieu ou les infortunes de la vertu
Montesquieu or the misfortunes of virtue
Le don perverti. Pour une anthropologie de la corruption
Perverted gifts. An anthropology of corruption
Les lobbies et le travail politique
Lobbies and politics
Comment lutter contre la corruption ?
Fighting against corruption
Articles
La langue et la Cité : mythe, tragédie, épopée
Language and the Polis : Myth, tragedy and the epic
L'hospitalité langagière. Paul Ricœur et la question de la traduction
Linguistic hospitality. Paul Ricœur and translation
Santé mentale : l'autonomie est-elle un malheur collectif ?
Mental health : Is autonomy a collective illness ?
Philippe Beck. Le choix d'une "lyre dure"
Philippe Beck. Writing with a vengeance
Journal
News of the Month
Le tournant de la vigueur ?
François Hollande's right turn
Le panachage, un outil de démocratie locale à préserver
Free list voting, a tool for democracy
Vouloir la justice, une ambition naïve ?
Is wanting justice naïve ?
Psychiatre, un métier à risques
Psychatry, a threatened profession
La révolution tranquille menacée en Ukraine
Ukraine's quiet revolution at risk
Bulgarie : contestations nationales, espoirs européens
In Bulgaria, national distrust breeds european hopes
Hanouna, un air du temps télévisuel
Cyril Hanouna's distinctive televisual style
Einstein on the beach, 1976-2014
Bibliothèque
Books
Le numérique n'est pas une évidence par Benjamin Caraco
The digital world : A criticism, by Benjamin Caraco
Librairie
Reviews
Brèves
In short
En écho
Journals and magazines
Avis
To our readers