11/2014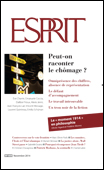 Résumés /
Abstracts
(fr)
(en)
Editorial : Après les émergents, le temps des divergents
When emerging countries start diverging
Positions
Opinions
L'exécutif et l'environnement : une spirale de renoncements
Why is the government abandoning green policies ?
Pourquoi récompenser Jean Tirole ?
Why give Jean Tirole the Nobel Prize ?
Peut-on raconter le chômage ?
Unemployment and fiction
"Lui, chômeur. Elle, chômeuse"
"We are all unemployed". Introduction
Un licenciement
Getting fired
Cinq offres d'emploi
Five want ads
Le rêve du travail. Sur Pôle emploi, ne quittez pas de Nora Philippe
Work is a dream. About Pôle emploi, ne quittez pas, a documentary by Nora Philippe
La vie privée des chômeuses
The private life of unemployed women

Savoir trancher
Cutting loose
Salut la viande!
Meating opportunities
Je ne veux pas trop te coûter, tu sais ?
I don't want to be a burden
Chômage fictif
Unemployment in fiction
Articles
Controverses sur le vote frontiste
Why do the French vote for the Front National ?
Les sunnites, l'Irak et l'État islamique
Sunnis, Irak and the Islamic state
Le "moment1914" en philosophie : France-Allemagne
1914 : Philosophy in France and Germany
Claude Ber, Résistance et lucidité
Claude Ber, A lucid resistance
Journal
News of the month
Patrick Modiano, la sentinelle
Patrick Modiano, the sentinel of literature
La justice aboie, Wall Street passe
The courts bark, Wall Street goes on
Le Smartphone et le concert
Smartphones and concerts
Le patrimoine est une fête
Partying and culture
True Detective: des ténèbres jaillit la lumière
True detective : From darkness comes light
Vers un art contemporain folklorique ?
Contemporary art and folklore
Bibliothèque
Books
Judaism and otherness, by Frédéric Worms