1/2015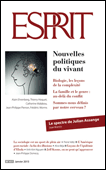 Résumés /
Abstracts
(fr)
(en)
Le charme amer de la victimisation
The bitter charm of feeling like a victim
Positions
Opinions
La gauche a-t-elle honte de sa politique sociale ?
Is the left ashamed of its social policies ?
Une tour peut-elle être transparente ?
Can a skyscraper be transparent ?
Nouvelles politiques du vivant
Life, sciences and politics
Nature et politique : sortir du face-à-face. Introduction
Nature and politics : Beyond opposition. Introduction
Pour un vitalisme critique
A critical vitalism

Une seule vie. Résistance biologique, résistance politique
Only one life. Biological and political resistance
L'alternaturalisme : comment travailler le naturalisme 
de
l'intérieur
Alternaturalism : Rethinking naturalism from the inside
Ce que la famille peut apprendre du genre
What the "family" can learn from gender studies
Se définir par son cerveau.
 La biologie de l'esprit comme forme de vie
I am my brain. Biology of the mind and identity
Articles
Le spectre d'Assange
The ghost of Julian Assange
De Philadelphie à Ferguson.
 L'illusion d'une Amérique post-raciale
From Philadelphia to Ferguson. The illusions of post-racial America
La sociologie est un sport de plein air. 
Remarques sur l'avenir d'une discipline
Sociology is an outdoor activity. Notes on the future of a discipline
Sophie Loizeau. Du lit au lire
Sophie Loizeau. Reading in bed
Journal
News of the month
Abdelwahab Meddeb, combat spirituel et poésie
Abdelwahab Meddeb : Philosopher, poet, intellectual
Ebola: leçons d'une épidémie
What can we learn from the Ebola crisis ?
La Philharmonie : cacophonie pour un beau projet
Political disharmonies in the philharmonie project
Masters of Sex : les dessous de l'Amérique conservatrice
Masters of Sex : Unveiling puritan America
Jeff Koons : on ne peut qu'approuver
How can one not agree with Jeff Koons ?
Loin des hommes, de David Oelhoffen
Loin des hommes, by David Oelhoffen
Bibliothèque
Books
Environmentalism is not a luxury, by Eloi Laurent