5/2015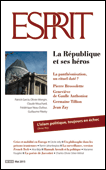 Résumés /
Abstracts
(fr)
(en)
Le désarroi des institutions
France's institutions at a loss
Positions
Opinions
Les dangers de la pensée unique en économie
Curbing the monopoly of orthodox economics
Face au Front national, faire vivre les idées
A real debate to counter the Front National
La surveillance, version French Tech
Surveillance with a French touch
La République et ses héros
The making of French heroes
Le lieu vide du souvenir. Introduction
The Panthéon : An empty symbol ?
Transferts au Panthéon : actualité d'un rituel daté
Is the Panthéon still meaninfgul today ?
Pierre Brossolette, de l'exil au Panthéon
Pierre Brossolette, from exile to glory
Geneviève de Gaulle Anthonioz, une Juste parmi l'humanité
Geneviève de Gaulle Anthonioz, righteous among humanity
Lucidité, obstination, amitiés :
 les vies politiques de Germaine Tillion
Lucidity, stubbornness and friendship : Germaine Tillion's political lives
Jean Zay : "La tête haute"
Jean Zay : "Head held high"
Articles
L'islam politique, toujours en échec
Political islam, failing... still
Les Européens répondent-ils à la crise par la mobilité ?
Are Europeans more mobile since the crisis ?
Philippe Jaccottet, la poésie de l'effacement
Philippe Jacottet's self-effacing poetry
Esther Tellerman. L'énigme et la déception
Esther Tellerman. Mysteries and disappointments
Journal
News of the month
Bilan des élections : jusqu'ici, tout va bien...
Local elections : Reaching the edge of the cliff
Israël, terre d'exode
The Israeli exodus
La déchéance de la nationalité, un outil pertinent ?
Is deprivation of nationality a useful repressive tool ?
Un philosophe en prison
A philosopher in prison
Design à l'honneur : et après ?
Why is design so popular ?
Velázquez à Paris
Velázquez in Paris
Bibliothèque
Books
Hannah Arendt et la politique
Hannah Arendt and politics