3-4/2015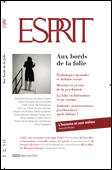 Résumés /
Abstracts
(fr)
(en)
La part orientale de notre histoire
Our oriental history
Positions
Opinions
Plus de démocratie dans l'école de la République
More democracy in our republican schools
Services publics : quel retour à l'autorité ?
What is "authority" in public service ?
Aux bords de la folie

On the brink of madness
Derrière la folie, les malaises ordinaires
Introduction. Madness and malaise
De la folie à la santé mentale
From madness to mental health
Les contestations de la psychiatrie
The crises of psychiatry
La psychiatrie de secteur, quelle histoire, quel avenir?
Community psychiatry's history and future
Splendeurs et misères de la psychiatrie. Soixante ans de débats dans la revue Esprit
Psychiatry high and low. Sixty years of debate in Esprit's columns
Une autre histoire de la folie
Another history of madness
Entretien avec Patrick Landman:
De la peur du fou à la parole des patients
An interview with Patrick Landman:
Fear of madness and patients' groups
Le fou dans la cité
When the mad are among us
La maladie dont on ne guérit pas
The incurable illness
Les médicaments de la folie
Medicating madness
L'asile et la prison
Asylums and prisons

"La tribu des loufoques". Accompagner les autistes
"A tribe of weirdos". Caring for autistic persons
Santé mentale : quels choix politiques ?
Political choices about mental health
Les imaginaires de la folie
Images of madness
Images de la folie au cinéma. Le fou et l'idiot
Madness on screen. The madman and the idiot
La folie en famille. Mommy, de Xavier Dolan
Madness in the family. Mommy, by Xavier Dolan
Une histoire racontée par un idiot. Idiotie et folie dans la littérature contemporaine
A tale told by an idiot. Idiocy and madness in contemporary literature
La "petite bonté" dans Vie et destin de Vassili Grossman
"Small kindnesses" in Vassili Grossman's Life and Fate
Passer de l'autre côté. Lecture de Norte, d'Edmundo Paz
Soldán Going over to the other side. About Norte, by Edmundo Paz Soldán
La folie ordinaire du pouvoir. Lecture de Pascal
The ordinary madness of power. About Pascal
Articles
Contestations politiques et nouvelles prises de parole
Changes in the public sphere
Cuba : les illusions de la contagion démocratique
Cuba's illusory democratization
Histoire naturelle et histoire humaine
Human history and natural history
Jacques Réda. Habiter "hors les murs"
Jacques Réda. Living "Beyond the walls"
Journal
News of the month
Syriza and the "Destiny of modern Greece"
En Grèce, l'espoir et l'attente
Greece : Hope and expectancy
Tsunami politique à Dehli
A political tsunami in Dehli
Le coût de l'immigration: un faux débat?
The cost of immigration : a flawed controversy ?
La Maison de Molière : une troupe et des scènes
The Comédie Française : Companies and stages
Quand l'art brut redessine l'art contemporain
When outsider art inspires insiders
France Télévisions, l'impossible projet
French public television : An impossible project
Marjane Satrapi et ses quatre films
Marjane Satrapi's four movies
Bibliothèque
Books
L'innovation locale, entre expérience et idéologie
Local innovation, between experience and ideology