2/2015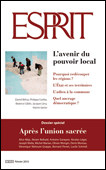 Résumés /
Abstracts
(fr)
(en)
The aftermath of the attacks
Après l'union sacrée
The day after
L'impensable violence terroriste
Is terrorist violence unthinkable?
What happened to us ?
Conflits extérieurs, violence intérieure
International conflicts and domestic violence
La violence et le sacré
Violence and the sacred
Provocation et responsabilité. Comment défendre la liberté d'expression ?
Provocation and responsibility. How to defend freedom of expression ?
Le droit au blasphème
The right to blasphemy
Liberté d'expression : le miroir américain
Freedom of expression in France and the United States
Soumission de Houellebecq : le droit à l'irresponsabilité ?
Submission, by Houellebecq : the right to irresponsibility ?
"Je suis Charlie" à Alep
"I am Charlie" in Alep
Contradictions françaises
French contradictions
Islam de France, islam en France
The place of muslims in French society
Liberté d'expression et États antiterroristes
Une coexistence pacifique de courte durée
Freedom of expression and antiterrorist states
A short-lived coexistence
Après l'unité, le retour des choix politiques
After unity, back to politics
L'avenir du pouvoir local
The future of local power
La France à la découpe ? Introduction
Chopping up France. Introduction
L'obsession du local : une exception française ?
France's territorial exception
La décentralisation? Tous contre !
Devolution ? No way!
Changer les institutions ou changer les pratiques ?

Les priorités de la réforme territoriale
Changing institutions vs. changing practices
The priorities of territorial reform
Ya-t-il une bonne échelle locale ?
What is the right local level ?
Démocratie locale : changement d'horizon ?
Changing local democracy
Journal
News of the month
Abdelwahab Meddeb et le "pari de civilisation"
Abdelwahab Meddeb's "Bet on civilisation"
Les voyages d'Abdelwahab Meddeb
Abdelwahab Meddeb's voyages
Le savoir des étrangers
The wisdom of foreigners
Les images chrétiennes : inspirations et survivances
Christian images : Inspirations and traces
Les privilèges et l'intérêt général
Privileges and public interest
Exhibit B : de la performance au spectacle
Exhibit B : A performance or a show ?
Nos écrans à l'écran
Our screens on screen
Bibliothèque
Books
Repère-L'État, le peuple et la censure
The state, the people and censorship
Librairie
Reviews
Brèves
In short
En echo
Journals and magazines
Avis
To our readers