11/2015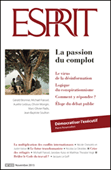 Résumés /
Abstracts
(fr)
(en)
Poutine et Assad : la "sainte" alliance
Putin and Assad: the "Holy" covenant
La passion du complot
Passion for conspiracy
Débats et déraisons
Debate and folly. Introduction
Doute conspirationniste et regard critique. Entretien avec Aurélie Ledoux
Doubting images. Interview with Aurélie Ledoux
Apologie du complot. Encadré
In praise of conspiracy
L'espace logique du conspirationnisme
The logical space of conspiracy theories
Le virus du conspirationnisme
The virus of conspiracy theories
Le complot vu de Suisse. Encadré
Conspiracy seen from Switzerland
The paranoid style in the digital era
Articles
Démocratiser l'exécutif . Entretien avec Pierre Rosanvallon
Democratizing executive power. Interview with Pierre Rosanvallon
La prolifération des conflits internationaux
The proliferation of international conflicts
Retour vers le futur transhumaniste
Back to the transhumanist future
Christian Prigent : Après la poésie ?
Christian Prigent : After poetry ?
Journal
Ces indésirables qui ne nous désirent pas
No attraction for France among refugees
Accueil et rejet : les deux cultures des Allemands
Welcoming and rejecting : Germans' two cultures
La position de la Pologne
Poland's position
Faut-il brûler le code du travail ?
Should labour law be burned ?
Quand l'irresponsabilité et la confusion sont la norme
When irresponsibility and confusion rule
Joseph Stiglitz à Singapour
Joseph Stiglitz in Singapour
Numérique et vieilles recettes
Digital media and old recipes
Eric Ruf, l'hirondelle qui annonce un printemps au Français
The swallow heralds spring
Nurith Aviv : Filiations, langues, lieux
Nurith Aviv : Filiations, languages, places
Bibliothèque
Repère : Lévi-Strauss et le moment structuraliste
Levi-Strauss and the structuralist moment