7/2014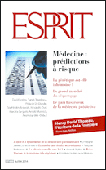 Résumés /
Abstracts
(fr)
(en)
La fabrication de l'ignorance
Producing ignorance
Positions
Opinions
Où sont les classes moyennes émergentes ?
Where are the middle classes of emerging countries ?
Et si l'on prenait la géographie au sérieux?
Why don't we take geography seriously ?
Contre le populisme sécuritaire, une réforme pénale nécessaire
Reforming justice to fight populism
Médecine : prédictions à risque
Medicine's risky predictions
Spéculations sur la génétique. Introduction
Speculating on genetics. Introduction
Dépasser l'incertitude. Le pari hasardeux de la médecine prédictive
Beyond uncertainty. The risky bet of predictive medicine
Recherche génétique et perspectives médicales
Research in genetics and diagnostic perspectives
Le grand marché du séquençage. Encadré
DNA sequencing : the next big market ?
Quelles assurances face aux nouveaux risques?
Insuring people against new risks
Anticiper le handicap. Les risques psychologiques des tests génétiques
Anticipating disability. The psychological risks of genetic testing
La génétique est-elle inhumaine?
Is genetics inhuman ?
Articles
L'Inde face à l'épuisement de la démocratie parlementaire?
Indian elections : Reaching the end of the democratic tether
Le besoin de l'autre
Needing the other
Thoreau cosmographe
Thoreau, expert in home-cosmography
Poèmes présentés par Jacques Darras
Poems introduced by Jacques Darras
Les restes d'un vertigineux "projet"?
What is left of an ambitious "project"
Journal
News of the month
Le conflit sans fin des intermittents
The endless conflict of show business workers
L'affaissement du paysage politique
The slow decline of politics
Boko Haram ou le terrorisme à la nigériane
Boko Haram, terrorism the Nigerian way
Rem Koolhaas, l'architecte de l'histoire
Rem Koolhaas, the architect of history
Le mouvement des images
Moving images
Bird People, les vies en intersection de Pascale Ferran
Bird People : Pascale Ferran's intersecting lives
La voie d'inquiétude de Martial Raysse
Martial Raysse's troubled path
La charia est-elle une loi ?
Is Sharia a law ?
Librairie
Reviews
Brèves
In short
En echo
Journals and magazines
Avis
To our readers