8-9/2014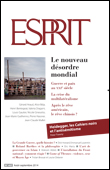 Résumés /
Abstracts
(fr)
(en)
La jeunesse délaissée
Our neglected youth
Enquête
Survey
L'installation du Front national dans la vie politique française : comment réagir, comment agir ?
The normalization of the Front National in French politics : What is to be done ?
Le nouveau désordre mondial
A new world disorder
Nouvelles menaces, anciens outils, impuissances partagées
New threats, old solutions, shared impotence. Introduction
Réflexions sur l'évolution stratégique mondiale
On a few geostrategic trends
La mondialisation politique n'existe pas
There's no such thing as political globalization
L'instabilité géopolitique contemporaine
The contemporary geopolitical instability
Le monde à la recherche d'un ordre
A world looking for order
La crise du multilatéralisme
Multilateralism in crisis
Feu (sur) l'ordre international?
The late world order
Après le rêve américain, le rêve chinois?
Chinese, dream, American dream
Avenir de la guerre, avenir de la paix
The future of war and peace
L'avenir de la guerre
The future of war
L'évolution des budgets militaires mondiaux. Encadré
The evolution of military budgets. Boxed item
Les défis de la dissuasion nucléaire au XXIesiècle
Nuclear deterrence in the 21st century
La Grande Guerre : quelle histoire ?
Telling the history of the Great War
Penser la Grande Guerre à partir de l'expérience allemande
The Great War seen from Germany
Comment commémorer 1914?
Commemorating 1914
Articles
Heidegger et les Cahiers noirs
Heidegger and the Black notebooks
Littérature, philosophie et antiphilosophie chez Roland Barthes
Literature, philosophy and anti-philosophy in Roland Barthes's work
L'art de gouverner en Islam
The art of government in Islam
Redonner le pouvoir aux habitants? Le cas de la Goutte-d'Or
Giving the power to the residents. The case of the Goutte-d'Or
Journal
News of the month
Le retour des débats institutionnels
The return of institutional debates
Le pompier et l'architecte : des orientations politiques pour dix ans ?
The fireman and the architect : a 10-year perspective
Comment gouverner la zone euro ?
Governing the eurozone
Matteo Renzi, le fanfaron ?
Matteo Renzi, too good to be true ?
House of Cards : l'Amérique sous la férule de Washington
House of Cards : the rule of Washington
Game of Thrones : violence, sexe et Moyen Âge
Game of Thrones : Violence and sex in the Middle Ages
Quelles images pour le football ?
Filming football
Bibliothèque
Books
Romain Gary, préserver la "marge humaine" par Jean-Paul Maréchal
Romain Gary, saving a "Margin of humanity", by Jean-Paul Maréchal
Librairie
Reviews
Brèves
In short
En echo
Journals and magazines
Avis
To our readers