7/2015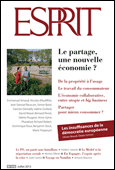 Résumés /
Abstracts
(fr)
(en)
Mourir en mer
Dying at Sea
Le partage, une nouvelle économie ?
The sharing economy, a new model ?
Les métamorphoses du capitalisme. Introduction
The metamorphoses of capitalism. Introduction
The collaborative economy, torn between utopia and big business
Partager pour mieux consommer? Enquête sur la consommation collaborative
Is sharing more virtuous ? A survey of collaborative consumption
De la propriété à l'usage. Vers la démarchandisation?
From ownership to access. Towards decommodification ?
Dons anonymes et rencontres urbaines. Faire circuler des objets en ville
Anonymous gifts and urban encounters. How objects circulate
Changer l'entreprise, changer la consommation ?
Changing businesses to change consumption ?
Portrait du consommateur en travailleur
When consumers become workers
Articles
PS : un parti en ordre de bataille, mais sans bataillons
The Socialist Party, an army without troops
Démocratie européenne : les raisons de la défiance
Why people distrust European democracy
Voyage en Namibie
Traveling through Namibia
Boris Gamaleya. Le poème-île
Boris Gamaleya. Poems as islands
Journal
News of the month
Espagne : l'espoir après la crise
Spain : Hope after crisis
Négocier avec, contre et dans le Medef
How to negotiate (with) bosses
Vive le réseau !
Hail to the network !
L'art collaboratif ?
Collaborative art
Trois souvenirs de ma jeunesse, d'Arnaud Desplechin
Trois souvenirs de ma jeunesse, by Arnaud Desplechin
Bonnard : le Paradis, c'est maintenant
Bonnard : Heaven is now
Bibliothèque
Books
Repère - L'islam au jour le jour
Focus - The routine of Islam