65 (2013)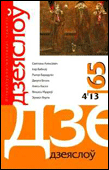 Проза
Prose
Час second-hand
(Канец чырвонага чалавека)
Second-hand time
(The end of the red man)
Перад Патопам. Раманa
Before the Flood. A novel
Паветраны шар (1984). Другая аповесць з рамана-павуты
The Balloon (1984). The second story from the web-novel
Гісторыя хваробы. Апавяданне
A Case History. A short story
Кашаль. Апавяданне
Cough. А short story
Паэзія
Poetry
Богашукальніцтва. Вершы
Search for God. Poems
Познім вечарам у дождж. Вершы
Late Evening in the Rain. Poems
Слухаць мора. Вершы
Listen to the Sea. Poems
Край туману. Вершы
Brink of the Fog. Poems
Дэбют
Debut
Не згіну! Вершы
I Shall Not Disappear! Poems
Возера, дзе расце доўгі-доўгі чарот. Апавяданне
The Lake where the Long, Long Reeds Grow. A short story
Пераклады
Translations
Канец і пачатак. Вершы з розных кніг
Пераклад з польскай Андрэя Хадановіча
The beginning and the end. Poems from assorted books
Translated from the Polish by Andrej Khadanovič
Тэатр
Theatre
Выкраданне Еўропы. П'еса
Пераклад з польскай Наталлі Русецкай
The abduction of Europe. A piece
Translated from the Polish by Natalia Rusieckaja
Спадчына
Heritage
Гаваркое слова, альбо Жыццё, як яно ёсць...
Прадмова Уладзіміра Някляева
The voluble word, or, life as it is...
The foreword by Uladzimir Niakliajeu
Запісы
Notes
Знакі прыпынку. (Працяг)
Punctuation marks. (Continuation)
Памяць
Memory
Ніна Мацяш і сяброўкі яе святога жыцця
Nina Maciaš and the friends of her holy life
Згадкі
Memoirs
У цэнзарскім полымі
З нагоды адной не-публікацыі
In the flames of censorship
Reasons for non-publication
Палеміка
Polemic
"Мастацкі густ" vs "безгустоўнасць" -- хто каго?
"Virtue" vs "bad taste" -- who wins?
Паралелі
Parallels
"А душа падумала і здрыганулася..."
Творчасць Максіма Гарэцкага ў святле еўрапейскага літаратурнага досведу
(на прыкладзе апавядання Рускі)
"And the Soul Thought, and Shuddered..."
The oeuvre of Maksim Harecki in the light of European literary experience
(For example, the short story Russian)
Крытыка
Criticism
Легендарныя факты і фактычныя легенды.
Рэцэнзія на кнігу Зоські Верас
The legendary facts and factual legends
A review of the book by Zos'ka Vieras.
"...І заставацца абяцаным", альбо Напрыканцы напісанага
Рэцэнзія на кнігу Валера Дубоўскага
"...To remain promised", or, at the end of what is written
A review of the book by Valery Dubouskaha.
Дзеяпіс
Dziejaslou's Stock
Новыя выданні на кніжных паліцах Дзеяслова
New books on Dziejaslou's shelves