Dilema veche 450-455 (2012)

450-455 (2012)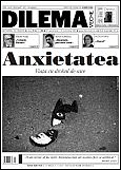 Abstracts
Dilema veche no 450, 27 September 2012
Yehuda Elkana
Pacostea fondurilor europene
The headache of European funds
România, povestea rusă
Romania, a Russian tale
Romi, educație, anticorupție
The Roma, education and anti-corruption
România tradusă la salonul cărții de la Paris
Romania in translation at the Paris book fair
Theme of the week: Anxiety
An interview with the writer Mircea Cărtărescu
Dilema veche no 451, 4 October 2012
O scurtă privire asupra dezastrului
A quick look at the disaster
Statul - ce fericire!
The state - what a blessing!
Ce-i lipsește României pentru a fi țara perfectă
All that Romania needs to be a perfect country
O singură națiune, cumva - note din Moldova și Transnistria
One nation, somehow - notes from Moldavia and Transnistria
Theme of the week: Loneliness
Viețuitorul muntelui - reportaj despre viața unui sihastru
The mountain dweller - report on the life of a hermit
Dilema veche no 452, 11 October 2012
TVR: desființăm sau reformăm?
TVR: break it up or reform it?
Ce vrea Londra de la România, Bulgaria și Europa?
What does London want from Romania, Bulgaria and Europe?
Un comentariu
A commentary
Despre paranoia colectivă, corupție și soluții
On collective paranoia, corruption and the answers
Theme of the week: From letters to e-mail
Scurtă istorie a literaturii române în epistole
A short history of Romanian literature in letters
Dilema veche no 453, 18 October 2012
Patria și mapamondul
The fatherland and the map of the world
Micile schimbări
Small changes
Luăm și noi o pauză de la revoluție?
Shall we take a break from the revolution?
Puerto Rico-reportaj din insulă, în preajma referendumului care pune problema separării de SUA
Puerto Rico - reportage from an island on the brink of a referendum. Possible split from the USA
Theme of the week: Propaganda
Televizorul doar minte, propaganda a murit
Television merely lies. Propaganda has killed
Nu avem destui cititori
We don't have enough readers
Dilema veche no 454, 25 October 2012
Feluri de a nu înțelege parabolele
How not to understand parables
Prohodul ziarelor
A dirge for newspapers
Tara lui Gargantua
Gargantua's country
Trei mituri despre anticorupție
Three myths on anticorruption
Fotografiile excesului
Photographs of excess
Diabolizarea ideologică a germanilor din România
The vilification of Romania's Germans
Dosarul săptămînii: Where are our heroes?
Eroii din manualele românești
Heroes from Romanian textbooks
Dilema veche no 455, 1 November 2012
Iar se ascute lupta de clasă?
Is the class war heating up again?
România a rupt contractul social cu elita sa politică
Romania has broken the social contract with its political elite
Exerciții de răbdare
Exercises in patience
Theme of the week: What do we teach children about God?
Improvizații pe o lege confuză
Improvisations on a muddled law
Nu eliminarea, ci modificarea în sensul unui format laic
Not repeal, but a change for a more laicist law