Dilema veche 440-443 (2012)

440-443 (2012)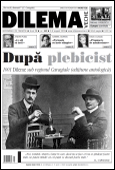 Abstracts
Dilema veche no 440, 19 July 2012
Un personaj: Petre Roman
A personality: Petre Roman
Guvernul cinstit și democrația minciunii
Honest government and the democracy of lies
Problema noastră cu democrația
Our problem with democracy
Dilema referendumului
The dilemma of the referendum
În țara zeilor
In the land of the Gods
Desființarea legii
How law ceases to exist
Topic of the week: Dance steps
A dansa sau a nu fi
To dance or not to be
Dilema veche no 441, 26 July 2012
Scrisoare deschisă Doamnei Ecaterina Andronescu
An open letter to the Minister of Education
Referendum: cui folosește?
The referendum: who dies it serve?
De ce am ajuns (iar) la referendum?
The referendum: how did it come to this (again)?
Relaxați-vă, secolul ăsta va fi tot american!
Relax, this too will be an American century!
Drame a la Bibliotheque Française
Sulina -- aceeași mare, un loc diferit (reportaj)
Sulina -- same sea, different shore (a reportage)
Topic of the week: Earthquakes
România, cea mai seismogenă arie din Europa -- în afara celei mediteranean-anatoliene
Romania, Europe's seismographic hotspot outside of the Mediterranean-Anatolian zone
Dilema veche no 442, 2 August 2012
Ce știi să faci?
What can you do?
Să ne numărăm, coane Fănică!
Count and count again until you like the result
Este posibil un plan de pace?
Is a peace plan possible?
Propunere de monitorizare
Words to watch
Neajunsurile democrației
Democracy's shortcomings
Topic of the week: After the plebiscite -- 1001 Dilemas under a comical regime (anthology edition)
Pe Mitică l-a ucis miticismul
The smart guy has been outsmarted
Dilema veche no 443, 9 August 2012
Despre gazetărie
On journalism
Despre consensul lui Băsescu și strigoiul lui Antonescu
On the Băsescu consensus and Antonescu's ghost
Recenzarea românilor pe la 1830
The Romanian census of 1830
Călcîiul lui Darwin
Darwin's heel
"Academia Sighișoara a devenit o parte foarte importantă din viața mea"
"The Sighișoara Academy was a very important part of my life"
"Forța Elveției este acceptarea celuilalt"
"Switzerland's strength is in how it accepts others"
Topic of the week: The state of sport
Blestemul aurului
The curse of gold