Dilema veche 436-439 (2012)

436-439 (2012)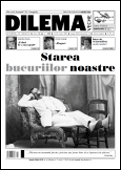 Abstracts
Dilema veche no 436, 21 June 2012
Măgării
Dirty tricks
Rasism electoral
Electoral racism
Căutăm ministru bun
Looking for a good minister
Medici români în Franța
Romanian doctors in France
Edirne, orașul timpului pierdut
Edirne, the city where time stands still
Dosarul săptămînii: Cum pot fi distruse instituțiile
Theme of the week: How to destroy institutions
Adevărul despre ICR și H.-R. Patapievici
The truth about the Romanian Cultural Institute and Horia-Roman Patapievici
Dilema veche no 437, 28 June 2012
Mică antologie a patriotismului amărît
A small anthology of petty patriotism
Corespondența dintre președinte și premier
Correspondence between the president and prime minister
Nu mi-e rușine!
I'm not ashamed!
"Trezirea arabă" în confuzia postrevoluționară
The Arab Spring and the confusion after the revolutions
Cum a trecut Năstase sticla
Adrian Năstase's screen presence
Dosarul săptămînii: Mila și compasiunea
Theme of the week: Mercy and compassion
Sărăcia ca formă de libertate
Poverty as a form of freedom
Dilema veche no 438, 5 July 2012
Caraghioslîc, bîzdîc, balamuc
Parliament beyond parody
Strașnic se depolitizează, domnule!
Let us avoid politics, if you please
Europa și România, învingători și învinși
Europe and Romania, the victors and the vanquished
O problemă de percepție
A problem of perception
Femei, femei, femei
Women, women, women
An interview with Bernard Pivot
Dosarul săptămînii: Cinematograful
Theme of the week: Cinema
Cum s-a rupt filmul cinematografelor românești
How the screen went blank for Romanian directors
Dilema veche no 439, 12 July 2012
Plagiocrație sau dictatură?
Plagiocracy or dictatorship?
Țara mea ca o manea
My country, a bittersweet song
Plagiat
Plagiarism
An interview with the Pullitzer prize-winning journalist Laurie Garrett on the US healthcare system and global health
Mase de manevră
Rent-a-mob
Dosarul săptămînii: Starea bucuriilor noastre
Theme of the week: The state of happiness today
Interviu cu Mugur Ciumăgeanu: "Atingerea stafidei e la fel ca o simfonie de Bach"
An interview with the psychotherapist Mugur Ciumăgeanu: "Touching a raisin is like listening to a Bach symphony"