Dilema veche 430-435 (2012)

430-435 (2012)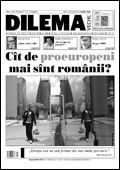 Abstracts
Dilema veche no 430, 10 Mai 2012
Turismul care este
Tourism, for what it's worth
Istoria în slujba vinului
History in the service of wine
"Nu sînt interesat de perfecțiune, ci de precizie"
"I'm interested in precision rather than perfection"
Nu doar un film despre romi: Școala noastră
Not just a film about Roma: Școala noastră (Our School)
Theme of the week: The mayor
Un poncif: primarul - bun gospodar
A cliché: the mayor as good manager
Spațiul public la București și la Viena
Public space in Bucharest and Vienna
Dilema veche no 431, 17 Mai 2012
Prostie și dictatură
Stupidity and dictatorship
De ce sînt grecii niște norocoși
Why the Greeks are so lucky
Sub covorul finalei
Under cover of the final
Idei de stricat distracția anti-austeritate
Ideas for spoiling anti-austerity's fun
Un festival al culturii române (salonul de carte de la Torino)
A festival of Romanian culture (the Torino book fair)
Theme of the week: Success under Communism
Amintiri de cititor -- best-seller-uri românești înainte de '89
Memories of a reader -- Romanian bestsellers before 89
Dilema veche no 432, 24th May 2012
Grija de sine opusă grijii față de lume?
Does looking after yourself mean not looking after others?
The son of the famous conductor on the Sergiu Celibidache Festival in Bucharest
Noua lovitură a lui Mungiu, filmul După dealuri
Mungiu's new hit, the film După dealuri (Over the Hills)
Theme of the week: What France and la Francophonie mean today
Între declinologie și grandoare
Between doomsaying and grandeur
Relațiile româno-franceze în vremea lui Ceaușescu
French-Romanian relations under Ceaușescu
Dilema veche no 433, 31 Mai 2012
Note, stări, zile
Grades, conditions, days
Cărtărescu și Patapievici
The authors Mircea Cărtărescu and Horia Roman Patapievici
Un caz de orbire politică -- reprezentarea României la Bruxelles
A case of political blindness -- Romania's representation in Brussels
Noapte albă cu Stalin
A white night with Stalin
Theme of the week: How pro-European are the Romanians still?
Cum păstrăm și consolidăm ceea ce avem astăzi?
How can we preserve and consolidate our achievements to date?
Nu există o cale europeană dată de la Dumnezeu
There is no God-given path to Europe
Dilema veche no 434, 7th June 2012
Cultura locală
Local culture
"Problema maghiară" -- listă scurtă a motivelor de rîs
The "Hungarian problem" -- a short list to make you laugh
Lipsa problemelor cu vecinii maximizează puterea și influența regională
Fewer problems with the neigbours maximises regional power and influence
Opt zile prin Iran
Eight days for Iran
Oameni și locuri. Prin Munții Metaliferi
People and places. Through the mountains of ore
Theme of the week: Personalities
Noul mutant electoral -- nașterea, modul de utilizare și portretul său upgradat
The new electoral mutant -- his birth, care and updated profile
Dilema veche no 435, 14th June 2012
Din străinătate
From abroad
Victoria televizorului în alegeri
How television won the elections
Alegătorul român: patru alegeri deștepte
The Romanian voter: four clever choices
Vulpea și nevroza balcanică
The fox and the Balkan neurosis
Bel Paese în restriște: răni proaspete și răni redeschise în Italia
The Bel paese in dire straits: Italy's fresh and re-opened wounds
Theme of the week: Hierarchies
Universitățile românești -- între top și topping
Romanian universities -- between top and topping