Dilema veche 542-547 (2014)

542-547 (2014)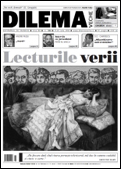 Abstracts
Dilema veche no 542, 3 July 2014
Īn jurul unei īntīlniri cu Nae Caranfil
A meeting with the director Nae Caranfil
Proletariatul corporatist
The corporate proletariate
Europa va merge īnainte doar dacă va privi īnapoi
Europe will go backwards before it goes forwards
Teatrul pur
Pure theatre
De ce Bruxelles-ul seamănă mai puţin cu Vaticanul
Why Brussels matters less to the Vatican
"Sīntem puţin pierduţi īn modernitate"
"We are rather lost in the modern age"
Topic of the week: Children's games
Conectare, īncredere, vindecare
Connections, trust and triumph
Dilema veche no 543, 10 July 2014
Religia altfel
A different kind of religion
Sfīrşitul Europei sau al Britaniei īn Europa?
The end of Europe, or of Britain within Europe?
Cum se construieşte viaţa culturală a oraşelor
How cities create their cultural life
Şoferul băştinaş
The indigenous driver
"Depresia e secretul de familie pe care īl avem cu toţii"
"Depression is a family secret which we all share"
O iubire a lui Noica
Constantin Noica in love
Topic of the week: Cool
Generaţia K
Generation K
Dilema veche no 544, 17 July 2014
Sorel
Moartea omului nou, Emil Bobu
Emil Bobu: death of a new man
Despre romgleză
Speaking English when we speak Romanian
Europa
"Campaniile dirijate distrug libertatea presei"
"Targeted campaigns destroy the free press"
Topic of the week săptămīnii: Summer reading
...īn aer liber
In the open air
Dilema veche no 545, 24 July 2014
Cīnd vinovatul e nevinovat
When the guilty man is innocent
"Nuanţele sīnt mai importante ca evidenţele"
"Nuance is more important than hard facts"
Fragmente de război
Fragments from a war
Moartea domnului Cāmpeanu
The death of Mr Cāmpeanu
Libertatea exprimării penibile
Freedom of expression, even when it gives offence
Topic of the week: Holidays under Communism
Refrene comuniste
Communist slogans
Dilema veche no 546, 31 July 2014
Livrăm texte şi soluţii. Aşteptăm comenzi
We deliver texts and solutions, and we're waiting for your call
Sartre, susţinīnd capitalismul
Sartre in support of capitalism
Există viaţă şi īn Kosovo
Life goes on, even in Kosovo
"Rusia e mai complicată..."
"Russia is more complicated…"
"Pentru mine a scrie īnseamnă să am o cameră subiectivă īn locul ochilor"
"For me, writing means having a camera where others have their eyes"
Topic of the week: Depression
O boală revelatoare
An eye-opening illness
Dilema veche no 547, 7 August 2014
Ruşii mei
My Russians
Primii paşi dintr-un drum lung – Uniunea Europeană şi instituţiile anticorupţie din Moldova
The first step on a long road – the European Union and Moldavia's anti-corruption measures
La dolce vita – Capalbio Cinema International Short Film Festival
Romānia: lucrurile bune pe care nu le vedem
Romania: the good things we don't see
Geopolitica hip-hop
Hip-hop geopolitics
"Ghilimelele libertăţii presei"
The "freedom" of the press
Topic of the week: Sulina on the Danube delta
Salutări de la Sulina
Greetings from Sulina