521 (2014)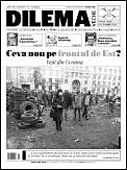 Dilema veche no 521, 6-10 February 2014
Despre paramilitari şi politicieni, extremişti şi bolşevici îngrijoraţi
About paramilitary, politicians, extremists and concerned bolsheviks
Cain şi Abel în România
Cain and Abel in Romania
Puşcăriaşi şi puşcăriaşi...
Prisoners and prisoners
La (aproape) zece ani după...
After (nearly) 10 years ...
Forţa reformatoare a nostalgiei
The reforming power of nostalgy
Poate justiţia să reformeze partidele?
Is the law able to reform political parties?
Maidan
The Maidan
Scriitura subiectivă
Subjective writing
Dincolo de perfecţiune
On the other side of perfectness
America, satul cel mai apropiat
America, the next village
Politica culturală: istoria unui concept
Cultural politics: The history of a concept
Sistemul e de vină? – la ce foloseşte Ministerul Culturii
The system is to be blamed? - The usefulness of the Ministry of Culture
Hainele noi ale democraţiei
The democracy's new clothes
Portretul unei mame (adoptive?)
Portrait of an (adoptive) mother
Ridicul()mania
"Sîntem în faza unui joc de sumă nulă între UE şi Rusia"
"We are in the middle of a zero sum game between EU and Russia"
"Maidanul este o întreprindere iraţională" - interviu cu Vladimir Socor
"The Maidan is a irrational undertaking" - interview with Vladimir Socor
Două zile de bătut Maidanul
Two days of roaming about the Maidan
Atacul lui Ianucovici asupra societăţii civile - interviu cu Alyona Getmanchuk
The attack of Yanukovych againt civil society - interview with Alyona Getmanchuk
Cine sînt protestatarii ucrainenilor?
Who are the Ukrainian protesters?
Între Belarus şi Europa
Between Belarus and Europe
"Zori Maghiari" la orizont – interviu cu Ádám PAÁR
"Hungarian Dawn" on the horizon - interview with Ádám Paár