Dilema veche 535-541 (2014)

535-541 (2014)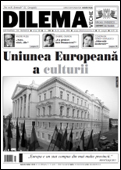 Abstracts
Dilema veche no 535, 15 May 2014
Serviciile americane despre români
What the American armed forces say about Romanians
De ce trebuie să intrăm în zona euro
Why we have to join the Eurozone
Cum ne locuim oraşele
How to live in cities
Dorul după o pată mare pe hartă
Nostalgia for the big red splash on the map
Portul lui Milan Kundera
Milan Kundera and Paris
Topic of the week: Our daily bread
Limbajul pîinii
The language of bread
Dilema veche no 536, 22 May 2014
Note, stări, zile
The way things were, the way things are
Povestea de succes a celor 60 de biserici din lemn
Sixty wooden churches: a success story
Nu vă supăraţi, unde-i Europa?
Pardon me, but do you know where Europe is?
Naşterea unei naţiuni - Poveşti din Kiev
Birth of a nation: Tales from Kiev
Odessa în flăcări, calm la Kiev
Odessa in flames and calm in Kiev
Topic of the week: Old and new moral dilemmas
Etica, alternativă la predarea religiei în şcoli?
Are ethics classes an alternative to religious education in school?
Etica reproducerii umane
The ethics of human reproduction
Dilema veche no 537, 29 May 2014
Independentul român
The independent Romanian
Datorii şi sentimente
Debts and feelings
Şi totuşi, Europa mai are o şansă
Europe has one more chance, all the same
Un Parlament mai interesant
A more interesting Parliament
"Dacă nu eşti liber în meseria asta, nu eşti jurnalist"
"If you're not free to practice your trade, you're not a journalist"
Topic of the week: Parting company
Omul din oglindă
The man in the mirror
Dilema veche no 538, 5 June 2014
Analize stilistice
Stylistic analyses
Sexul şi eduxaţia
Sex and education
Imagini ale dezolării – căderea Franţei
Pictures of ruin – the fall of France
"Parisul 1900"
Paris 1900
"Shakespeare nu s-ar fi supărat pe mine"
"Shakespeare wouldn't be upset at me"
Topic of the week: Touch wood – a few words on superstition
Superstiţiile – o scurtă istorie
Superstitions – a short history
Dilema veche no 539, 12 June 2014
Note, stări, zile
The way things were, the way things are
Un proiect fără Dumnezeu?
A Godless project?
"Jurnalistul e un predicator la colţul străzii"
"A journalist is a street-corner preacher"
Cluj via Stockholm – TIFF, o istorie personală
A personal history of the Transylvania International Film Festival
Cît de politizate ne sînt televiziunile?
How politicised are our TV channels?
Topic of the week: A European Union of culture
Procesul e mai important decît succesul
Process is more important than results
Dilema veche no 540, 19 June 2014
Moartea şi Viaţa lui Corneliu Coposu
The life and death of Corneliu Coposu
Care deficit? Care democraţie?
What deficit? What democracy?
Imperiul Latin al lui Kojève
Kojève's Latin empire
Pe cine iubim noi toamna asta?
Who do we love this autumn?
Carnet incomplet de note răzleţe – Festivalul Internaţional de Teatru de la Sibiu
A notebook half-full of hasty jottings – the Sibiu International Theatre Festival
Topic of the week: Corneliu Coposu – politics and morality
"Un om de o vitalitate extraordinară"
"A man of extraordinary vitality"
Dilema veche no 540, 26 June 2014
Moartea şi hazul ei
The funny side of death
Turist în neo-liberalism
A tourist in neo-liberalism
Scandalul polonez: semne rele pentru unitatea europeană
The Polish scandal: bad omens for European unity
"Din bube, mucegaiuri şi noroi..."
"Scrapes and bruises, snot and mud…"
"Am vrut să mă delectez scriind un roman"
"I wanted to have fun writing a novel"
Topic of the week: Folklore is everywhere
Semnele în epoca de plastic
Folk design motifs in the plastic age