Dilema veche 518-527 (2014)

518-527 (2014)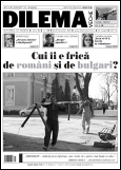 Abstracts
Dilema veche no 518, 16 January 2014
Un oraş asasinat: Bucureştiul
Murder of a city: Bucharest
Elite şi mase
The elite and the masses
O nouă isterie: vin ungurii!
A new hysteria: the Hungarians are coming!
20 de ani de Memorial Sighet
20 years of the Sighet Memorial prison
Topic of the week: How we won the West – Romanian artists in the wider world
"Literatura nu e o meserie, e o cale"
"Literature isn't a job, it's a path in life"
Dilema veche no 519, 23 January 2014
Proasta folosire a inteligenţei
Intelligence and how not to use it
Şi totuşi, romānilor le place Europa
Romanians like Europe, despite everything
Mă pot adresa pe limba oricui
I talk all languages
Iran şi SUA – istoria īn schimbare, īn 2014
Iran and the USA – history in turmoil, 2014
Să rīdem de nord-coreeni
Let's laugh at North Korea
Topic of the week: Who's afraid of Romanians and Bulgarians?
Ce-i īndeamnă pe romii din Europa să meargă spre Vest?
Why are Europe's Roma moving westwards?
Dilema veche no 520, 30 January 2014
Note, stări, zile
As the days go by
Ucraina, provocarea europeană a secolului
Ukraine, this century's challenge to Europe
Un gīnd despre prietenie
Thoughts on friendship
Sīntem nişte vase comunicante
We are made to communicate
Poezia lui Kalaşnikov
The poetry of the Kalashnikov
Topic of the week: Youth without violence?
Violenţa 2014 – consideraţii de cabinet
Violence 2014 – thoughts from the cabinet
Dilema veche no 521, 6 February 2014
Puşcăriaşi şi puşcăriaşi...
Prisoners and inmates...
Cain şi Abel īn Romānia
Cain and Abel on Romania
Forţa reformatoare a nostalgiei
The reforming power of nostalgia
Iepurele mizantrop: un steguleţ care semnalizează ce e important
The misanthropic rabbit: flagging up what's really important
Trecutul nu se bagă sub preş
The past cannot be swept under the carpet
Topic of the week: Disquiet on the Eastern front? News from Ukraine
Două zile de bătut Maidanul
Two days on the Maidan
Dilema veche no 522, 13 February 2014
Loc pentru speranţă
Room for hope
La taifan cu Nadia, diva războiului rece şi a capitalismului fierbinte
A chat with Nadia, diva of the Cold War and hot capitalism
Ce spun jocurile de la Soci despre Rusia lui Putin
What the Sochi Games tell us about Putin and Russia
"Bruxelizarea" eşecurilor şi "naţionalizarea" succeselor
The "Brusselisation" of failures and "nationalisation" of success
Topic of the week: Required reading - or essential?
Cod portocaliu... spre roşu
Code Orange... rising to red
Survey – Cui īi e frică de cezariană?
Who's afraid of Caesarean births?
Dilema veche no 523, 20 February 2014
Texte (minimal) comentate
Texts with (some) commentary
Nu mor caii cīnd vor cīinii
Hanging on doggedly to life
Cea mai scumpă căutare Google
The most expensive Google search
Două euromituri spulberate (degeaba)
Two Euro-myths that we have debunked – in vain
Un nou atac la statul de drept
A new attack on the rule of law
Topic of the week: Bribery
Pentru tine, recunoştinţa mea!
A little token of my gratitude!
Dilema veche no 524, 27 February 2014
Timpul libertăţii de a nu pierde timpul
Freedom means not wasting our time
Ucraina: Occident sau autarhie naţionalistă?
Ukraine: Western values or nationalist autarchy?
Update al memoriilor
Updating memories
Silicon Valley (I)
A meritat să-mi risc viaţa
It was worth risking my life
Dilema veche no 525, 6 March 2014
Manelism politic
Turbo-populist politics
Este Rusia de azi Germania anului 1938?
Is Russia today like Germany in 1938?
Lumea de după invazia ruseasc㠖 cīteva instrucţiuni
Some instructions for life after the Russian invasion
De ce nu avem īncredere īn presă
Why we don't trust the press
Partide şi lideri īn Romānia anului electoral 2014
Parties and leaders in the Romanian 2014 elections
Topic of the week: Light
Consum, resurse şi dreptate
Resources, consumption and justice
Dilema veche no 526, 13 March 2014
Lamento
Esenţă de anşoa – spitalul ca "hartă a īntregii lumi"
Anchovy essence – the hospital as a map of the whole world
Pīnă unde se īntinde curtea Rusiei? Cīnd doi coloşi spun prostii
How large is Russia's backyard? When two titans spout rubbish
Mi-am dorit un fel de "Once upon a time in Romania"
I wanted to make a kind of "Once upon a time in Romania"
Fobii de călătorii: zborul
Travel phobias: fear of flying
Topic of the week: Electronic music under communism
Am vrut ca muzica mea să fie personaj
I wanted my music to be a character
Dilema veche no 527, 20 March 2014
Chipuri ale ticăloşiei
The faces of villainy
Cum se comunică īn politica romānească
How Romanian politicians communicate
Evadarea din prostime
Escape from stupidity
De ce se uită Obama la House of Cards
Why Obama watches House of Cards
Discursul urii
Hate speech
Topic of the week: Badly brought up
Vă implor, tăceţi mai tare
Please, please, keep quiet