Dilema veche 552-561 (2014)

552-561 (2014)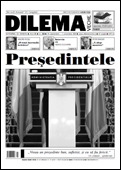 Abstracts
Dilema veche no 553, 11 September 2014
Dreptul de intervenţie
The right of intervention
Conversaţia din Thassos
The Thassos conversation
Atenţie la Franţa!
Attention to France!
Pentru votul obligatoriu
For compulsory voting
Ritmuri solare şi sărăcie desăvīrşit㠖 călătorie īn Ciad
Sun and poverty – travel to Chad
Topic of the week: A new narrative for Europe
De ce Europa va conta pe mai departe
Why Europe will remain important
"Cultura costă, dar practicarea culturii aduce bani"
"Culture costs, but practicing culture brings money"
Dilema veche no 553, 18 September 2014
Electorale...
Elections…
Incompetenţa īnvăţată
Learned incompetence
Comisarul european – la ce foloseşte Romāniei
European commissioner – how can he be of use for Romania
"Dezbaterea literară poate fi la fel de vie ca una politică"
"Literary debate can be as vivid as a political debate"
La ce sīnt bune jocurile online?
What are online games for?
Moarte şi renaştere
Death and rebirth
Topic of the week: In principle, about principles
Principii la locul lor
Where to apply principles
Dilema veche no 554, 25 September, 2014
O temă inactuală: fericirea
Happiness, an obsolete topic
Ceauşescu, un principial de frică
Ceauşescu, a man with fear principles
Comisie nouă, obiceiuri vechi
New European Commission, old habits
"Biblioteca Romānă de la Freiburg este o comoară"
"The Romanian Library in Freiburg is a treasure"
Perspective pentru după alegeri: Ponta, Iohannis, Macovei
Post-election prospects: Ponta, Iohannis, Macovei
Topic of the week: The president
Prezidenţialele: un exerciţiu de imaginaţie politică occidentală
Presidential elections: an exercise of western political imagination
Dilema veche no 555, 2 October, 2014
Alegeri 2009 (şi 2014...)
Elections 2009 (and 2014…)
Carmen, Ţiganul şi Occidentalul
Carmen, the gypsy and the westerner
Educaţia de plăcere şi prieteniile intelectuale
For education's sake and intellectual friendships
Necunoaşterea aproapelui
Not knowing the neighbour
Sloganuri politice romāneşti şi de aiurea
Political slogans in Romania and elsewhere
Topic of the week: Energy for community
Energii neconvenţionale
Unconventional energy
Dilema veche no 556, 9 October, 2014
Note, stări, zile
The way things were, the way things are
Un filtru european pentru candidaţi
A European filter for candidates
Despre cīrduri, smīntīnă, SUA şi doamna Europa
About flocks, cream, USA and Mrs. Europe
FILIT. Momente şi schiţe
FILIT (Iaşi International Festival of Literature and Translation). Moments and sketches
Lecţia de istorie altfel – partizanii şi comunismul
A different history lesson – partisan fighters and the communism
Topic of the week: About aging
Cele patru bătrīneţi
Four kinds of old age
Dilema veche no 557, 16 October, 2014
Cu cine votez
What candidate I vote
"Domeniul artei este unul al competiţiei"
"Art is a competition"
Despre sabotarea programului de autostrăzi
How to sabotage the highway building program
"Scriind, mi-am amintit lucruri pe care le credeam uitate"
"Writing, I remembered things that I thought I had forgotten"
O viziune greşită asupra preşedintelui
A wrong view on the president
Topic of the week: At the beginning of the school year
Frică
Fear
Dilema veche no 558, 23 October 2014
Erotismul simbolic al romānilor
The symbolic erotism of Romanians
Stupori alimentare
Alimentary stupors
Mandat fără happy-end
Mandate without happy-end
Sfīrşitul din īnceput
End without beginning
Cīnd "libertatea" ne ameninţă libertăţile
When "freedom" menaces freedoms
Educaţia şi Graţia reloaded
Education and Grace reloaded
Taximetristul nostru
Our taxi driver
"Nebunia este o operă" – interviu cu scriitorul şi psihanalistul Ion Vianu
"Madness is an opera" - interview with writer and psychoanalyst Ion Vianu
Topic of the week: Food
Radu Anton Roman şi bucătăria de altitudine mare
Radu Anton and haute cuisine
Dilema veche no 559, 30 October 2014
Alegeri īn Ucraina, Moldova şi Romānia – barometrul Macovei
Elections in Ukraine, Moldova and Romania - Macovei's barometer
Obiectivitate şi relativism
Objectivity and relativism
Simona Halep
Cum au fost Bucureştii odinioară
Once upon a time in Bucharest
Pīinea īn comunism
Bread during communism
"Muzica dezvoltă minţile oamenilor" – interviu cu Manfred Clynes
"Music forms people's brains" - interview with Manfred Clynes
Un preşedinte pentru educaţia noastră
Topic of the week: Wearing blue jeans
Chestionar pentru poeţii īn blugi
Questionnary for poets in blue jeans
Dilema veche no 560, 6 November 2014
Poate recupera Iohannis?
Is Iohannis able to recoup
Alegerea mea
My choice
Un deceniu prezidenţial
A presidential decade
Iluzii electorale
Electoral ilusions
Ucraina a ales – cum va răspunde Europa?
Ukraine voted - how will Europe answer?
Eu, cīnd nu vreau să cīnt, tac
When I don't want to sing, I keep quiet
Topic of the week: Campaign & Co
Campaniile negative şi loviturile electorale sub centură
Negative campaigns and electoral coups below the belt
Preşedintele diasporei
The president of the diaspora
Dilema veche no 561, 13 November 2014
Doi ani de (non)guvernare Victor Ponta
Two years of Victor Ponta's non-governance
Breaking news: People matter!
Elite şi popor. Cīteva confuzii
Elites and people. A few confusions
De ce nu cred īntr-un "Viktor" romān
Why I don't believe in a Romanian "Viktor"
"Serviciul" de a vota
The voting "service"
25 de ani după Zid
25 years after the Wall
"The Artist a īnsemnat consacrarea mea ca actriţă" – interviu cu actriţa Bérénice Bejo
"The Artist signed my determination as artist" - interview with Bérénice Bejo
Topic of the week: The vices of the service deliveries
Consumator şi construcţie socială
Consumer and social construction