Dilema veche 572-584 (2015)

572-584 (2015)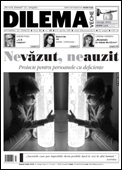 Abstracts
Dilema veche no 572, 29 January 2015
Texte lăsate deoparte
Texts that are left aside
Piaţa neo-liberală a cunoaşterii
Market of knowledge in neoliberal version
O soluţie pentru Grecia? Salvarea Europei
A solution for Greece? Saving Europe
Ce desparte Romānia de Moldova?
What separates Romania from Moldova?
"Libertatea de exprimare? Să pot spune orice, chiar şi adevărul"
"Freedom of speech? I could say anything, even the truth"
Topic of the week: The civil society front
Exerciţiu de imaginaţie: democraţie fără societate civilă?
An exercise in imagination: democracy without civil society?
Dilema veche no 573, 5 February 2015
Religie şi publicitate
Religion and advertising
"N-aş fi deloc pentru o educaţie de tip elitist"
"I would not want at all an elitist education"
"Frumuseţea va salva lumea"
"Beauty will save the world"
Concluzii īn dezbaterea Big Brother – cine are dreptate?
Conclusions on the Big Brother debate - who is right?
Războiul mondial al banilor
World war of money
Cīnd elevii lui Stéphanie jură pe Coran
When Stéphanie's students are swearing by Koran
Topic of the week: Chivalry and Courtesy
"Nevoia de a fi un pic răsfăţate"
"The need to be a bit spoiled"
Dilema veche no 574, 12 February 2015
De ce ar īnvăţa studenţii?
Why should students learn?
Poate preşedintele să schimbe "sistemul"?
Could the president change the "system"?
Controlul serviciilor secrete. Contradicţia
Control intelligence. The contradiction
"Schimbarea o să vină prin copii"
"Change will come through children"
Doar īnarmarea Ucrainei poate aduce pacea
Only arming Ukraine can bring peace
Jurnal de Romania
Journal of Romania
Topic of the week: Romanian Diaspora about itself
Go West!
Dilema veche no 575, 19 February 2015
Nerăbdări, frustrări, principii
Impatience, frustrations, morals
De ce să faci voluntariat
Why it is good to do volunteer work
Constanţa, oraşul sub perfuzie
Constanţa, city under infusion
Urgenţa antiterorist㠖 o lună mai tīrziu
Emergency counterterrorism - a month later
Ce nu ştim despre Congo
What we don't know about Congo
Īn Vizureşti
In Vizureşti
Liov, oraşul leului
Lvov, lion city
Topic of the week: Caricature
"Caricatura e o armă"
"Caricature is a weapon"
Dilema veche no 576, 26 February 2015
Bătălia premiilor
The battle of awards
Romānia şi demografia
Romania and demography
De ce ne suflăm īncă nasul pe stradă
Why do we blow our nose still on the street
Aproape tot ce ştiţi despre chestiunea grecească este greşit
Almost everything you know about the Greek issue is wrong
Cu cine reformăm īnvăţămīntul
Who can reform education
Topic of the week: How to document the reality
"Un personaj şi fărīme de adevăr"
"A character and shreds of truth"
Dilema veche no 577, 5 March 2015
Au existat şi mari romāni impecabili – e insuportabil!
There have also been also Romanian impeccable but great persons - it's unbearable!
De ce nu-şi scot ochii Iohannis şi Ponta?
Why don't Johannis and Ponta fight?
Responsabilitatea de a păstra memoria
The responsibility to preserve the memory
"Tristeţea va dura mereu"
"The sadness will alwayslast "
Aşteptarea ca mod de viaţă
Waiting as a way of life
Topic of the week: Some truths about lying
Propagandă şi manipulare – strategia militară a Rusiei
Propaganda and manipulation - Russia's military strategy
Dilema veche no 578, 12 March 2015
Europa "a la grecque"
Romānia exotică
Exotic Romania
"Metoda mea e administrarea eşecului"
"My method is the management of failure"
Greenacord 2014 – "Mormīntul" lui Vlad Ţepeş din Napoli
Green Accord 2014 - The "tomb" Vlad the Impaler in Naples
Melancolia lui Fawad
Fawad's melancholia
Topic of the week: Going to the psychologist
"Deşi trăim īntr-o lume individualistă, grupul este glorificat"
"Although we live in an individualistic world, the group is glorified"
Dilema veche no 579, 19 March 2015
Zombie
Familia minimală
Minimal family
Europa aduce sărăcie?
Europe brings poverty?
"Bucureştenii şi-au pierdut relaţia emoţională cu oraşul"
"Bucharest residents lost their emotional relationship with the city"
Despre frica de a călători singur
About the fear to travel alone
"Citiţi acest roman, poate că veţi īncepe să scrieţi"
"Read this novel, maybe you start to write"
Topic of the week: Religion and politics
Zbuciumatul concubinaj dintre politician şi ierarh
Tumultuous relation between politicians and bishops
Dilema veche no 580, 26 March 2015
"Intelectual"? Adică ce?
"Intellectual"? What does this mean?
Ora de religie
Religion in schools
Sistemul, ministrul şi vedeta
The system, the minister and the star
"Nu cred uşor īn schimbări, deşi sīnt un optimist"
"I don't think changes are easy, even though I am an optimist"
Aferim! şi paşoptiştii
The film "Aferim!" and revolutionaries from 1948
Topic of the week: Radio
Teatrul imaginar-retrospectiva radioului independent
Imaginary Theatre - independent radio retrospective
Dilema veche no 581, 2 April 2015
A fi contra
Being against
Improbabila Armada
Unlikely Armada
Serviciile sociale īn Romānia şi Norvegia
Social services in Romania and Norway
Winston Churchill īn locul lui Jeremy Clarkson
Jeremy Clarkson replaced by Winston Churchill
Naţionalul bucureştean şi teatrul-oraş
Bucharest National Theatre and the theatre-city
Propaganda rusească
Russian propagande
Topic of the week: Unseen, unheard
"Comunicarea īnseamnă solidaritate"
"Communication means solidarity"
Dilema veche no 582, 9 April 2015
Feluri de a fi deştept
Ways of being smart
Williams-Halep nu este doar despre tenis
Williams-Halep is not just about tennis
Gīnduri (Posibil Greşite) Despre Politică
(Possibly wrong) thoughts about politics
Salvăm forturile Bucureştiului?
Do we save the forts of Bucharest?
"Teatrul trebuie să răspundă temelor fierbinţi dintr-o societate"
"The theater must meet the hot topics of society"
Topic of the week: The study abroad
Cum poţi studia īn străinătate
How to study abroad
Dilema veche no 583, 16 April 2015
Fellini şi spiritele
Fellini and spirits
Fericirea
Happiness
Criza Răsăritului; cīteva dileme
East crisis; some dilemmas
Quo vadis Festivalul Enescu?
Enescu Festival quo vadis?
"Īn arhitectură nu e loc pentru atitudini sceptice sau pentru īndoieli"
"In architecture there is no room for hesitation or doubt"
Topic of the week: Kosovo today
Recunoaşterea pe Facebook
Recognition on Facebook
Dilema veche no 584, 23 April 2015
Gazetărie la botul calului
Patchy journalism
Ce poate face statul cu mişcarea antivaccin?
How can the state deal with the anti-vaccination movement ?
George Copos, justiţia penală şi activitatea ştiinţifică
George Copos, criminal justice and scientific workdamaged
Aferim! – un film istoric bine stricat
Afer! - A historical film very well damaged
Lungul drum al bătăliei īmpotriva corupţiei
The long road of battle against corruption
Topic of the week: SOS cultural heritage
"Sīntem nevoiţi să luptăm simultan pe mai multe fronturi"
"We have to fight simultaneously on several fronts"