Dilema veche 548 - 551 (2014)

548 - 551 (2014)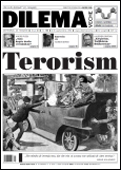 Abstracts
Dilema veche no 548, 14 August 2014
Note, stări, zile
The way things were, the way things are
Va mai rămīne Romānia o democraţie liberală?
Will Romania remain a liberal democracy?
La plajă, īn America
On the beach in America
Victor Ponta şi libertatea presei
Prime Minister Ponta and the freedom of the press
Mai uman decīt umanul?
More human than human?
Topic of the week: A word about swearwords
Urletul covertit
A sublimated scream
Eseul mă-sii
An uncouth essay
Dilema veche no 549, 21 August 2014
Reīntīlnirea cu Dan Hăulică
Dan Hăulică once again
Toţi candidează, dar de Romānia se ocupă cineva?
The candidates are ready, but who talks about Romania?
"Trebuie să ne implicăm, restul vine de la sine"
"We have to get involved, then the rest will follow"
Croşetīnd din mers
Knitting as she walks
Prin Bucureştii Brāncoveanului
Through Brāncoveanu's Bucharest
De ce a fost Polonia altfel?
Why was Poland different?
Presa locală, īntre embargoul informatic şi cel economic, "parţial liberă"
The "partially free" local press between two embargos – facts and money
Topic of the week: The Dilema veche Festival 2014
Ieşiţi din cochilia naţională
Coming out of the national shell
Dilema veche no 550, 28 August 2014
De citit, de recitit
To read and read again
Mentalitatea revigorantă a Războiului Rece
The bracing mindset of the Cold War
Taj Mahal
Acceptabilitatea socială a īmbogăţirii
Wealth and social acceptance
"Nu există un consens al valorii"
"There is no agreement about values"
Topic of the week: Picturesque Romania
Drumuri, locuri, treceri – un exerciţiu de geografie literară
Roads, places, crossings – an exercise in literary geography
Dilema veche no 551, 4 September 2014
Notă despre destin şi feminitate
A word on fate and femininity
De cine īi este frică lui Victor Ponta?
Who is Prime Minister Ponta afraid of?
Ora de căsătorie?
Time to marry?
O televiziune fără circ
Television without circuses
Kīrgīzstan. Tadjikistan. Bukharestan
Kyrgyzstan. Tajikistan. Bucharestan
Topic of the week: Terrorism
Piaţa post-modernă a terorii
The post-modern market-place of terror
La o cafea cu teroriştii
A cup of coffee with a terrorist