Dilema veche 497-503 (2013)

497-503 (2013)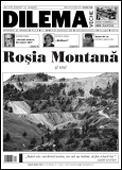 Abstracts
Dilema veche no 497, 22 August 2013
Despre bătrîneţe
About old age
Un (alt) caz cu torţionari
Another case of political torture
"Fetele măritate cu forţa îşi dădeau foc"
"Forcibly married girls have set themselves on fire"
Sziget 2013 – starea de bine a 362 000 de oameni
Sziget Festival 2013 – 362 000 people having a good time
Sub semnul milei şi al justiţiei
Under the sign of mercy and justice
Topic of the week: Republic of Moldova between EU and EAU
"În Moldova, Ucraina, Georgia, se pot schimba multe peste noapte"
"In Moldova, Ukraine, Georgia many things can change overnight"
Dilema veche no 498, 29 August 2013
Un fragment de istorie
A fragment of history
Sfîrşitul "podului de flori", începutul pragmatismului?
The end of "Bridge of Flowers", the first signs of pragmatism?
Cui îi pasă de cercetare?
Who cares about academic research?
Biertan Horror Picture Show
Pianista
The Pianist
Topic of the week: People, go to work!
Există viaţă după muncă
Is there life after work
Standarde importate
Import standards
Dilema veche no 499, 5 September 2013
Sindromul PCR – criza politică pe care nu o vedem
PCR Syndrome - the political crisis we can't see
Moarte şi transfigurare în artele spectacolului
Death and transfiguration in the performing arts
"Limba română în Republica Moldova subliniază aspiraţiile europene ale acestui stat"
"The Romanian language in Moldova stresses that the country has European aspirations"
Topic of the week: Cultural exception
Excepţia rămîne excepţie
The exception remains the exception
Luptele Franţei
France's struggles
Dilema veche no 500, 12 September 2013
Profetul, aurul şi românii
Prophet, gold and Romanians
Despre Ceauşescu, alianţe şi aliaţi cu care îţi e ruşine
About Ceausescu, alliances and embarrassing allies
Despre ipocrizie şi alte crime în Siria
On hypocrisy and other crimes in Syria
Topic of the week: About Dilema Veche Festival
Despre bătrîneţe
About old age
Despre neajunsurile de a fi "nou"
On the drawbacks of being new
Dilema veche no 501, 19 September 2013
Ură şi lehamite
Hatred and disgust
Presseurop – actualitatea europeană pentru toţi
Presseurop - European news for all
Adevărul suprem şi ultim despre manifestaţiile din Piaţă
The last word on the demonstrations in University Square
"De-a lungul anilor, au încălcat legea şi statul roman, dar şi compania" (Roşia Montană Gold Corporation).
"Over the years, both the Romanian state and the company (Rosia Montana Gold Corporation) have broken the law."
Topic of the week: Roşia Montană and us
Trăsura cu joben
Carriage with hat
Ce fel de model de dezvoltare ne dorim?
What model of development do we want?
Dilema veche no 502, 26 September 2013
Credinţa, biserica şi preoţii
Faith, the church and priests
Festivalul Enescu al unui simplu consumator de muzică
The Enescu Festival as seen by a simple consumer of music
Jurnalismul – căile de salvare
Journalism – ways to save it
Muzeul Naţional "George Enescu"
National Museum "George Enescu"
Topic of the week: Letters to Our Children
Dragă Luca
Dear Luca
Dragul meu băiat
My dear son
Dilema veche no 503, 3 October 2013
România eternă
Romania eternal
Vom muri sănătoşi
We will die healthy
Noua politică a Iranului – "flexibilitatea eroică"
Iran's new policy – "heroic flexibility"
Păcatul originar al jafului
The original sin of robbery
Topic of the week: The new activism
Activismul nu înseamnă ONG
Activism doesn't mean NGOs
Clicktivismul
Clicktivism