9/2014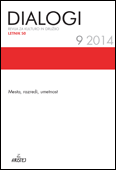 Povzetek
/
Summary
(sl)
(en)
Povzetek
Summary
Mesta, Razredi, Umetnost
Cities, Class, Culture
Uvodnik
Editorial
Uvodnik
Editorial
Pogovor
Interview
"Razredne meje pri nas potekajo znotraj popularne kulture ter se kažejo kot razlike med urbano kozmopolitsko popularno kulturo na eni strani in domačijsko folkloristično množično kulturo na drugi."
"Class boundaries in Slovenia run within popular culture, and can be seen as differences in urban cosmopolitan popular culture on the one hand and rural folklorist mass culture on the other."
Pohajkovanje
Strolling
Franz Hessel, flaner. Študija primera drugačnih rab mesta
Franz Hessel, flâneur. A case study of different uses of the city
Razprave
Articles
Razredni utrip svetovnih metropol v dokumentarnih vizijah mestnih simfonij
The class pulse of global metropolises in documentary visions of city symphonies
Strip in mesto
The comic strip and the city
Weimarski Uslužbenci in mozaična modernost Sigfrieda Kracauerja
The salaried masses and Siegfried Kracauer's mosaic modernity
Delavsko stanovanjsko vprašanje v slovenski modernistični arhitekturi
Working class housing in Slovenian modernist architecture
Mariborski tovarniški delavci med promenado in delavskimi kolonijami
Maribor factory workers between the promenade and workers' colonies
Politične in eksistencialne težave srednjega razreda
Political and existential problems of the middle class
Spremembe in tekmovalnost slovenskih mest in podeželja - boj za ustvarjalni kapital?
Changes and rivalry between Slovenian cities and rural areas - a struggle for creative capital?
Kulturna Diagnoza
Cultural Diagnosis
Gledališče / Predzadnja Replika
Theatre / The Penultimate Line
Gledati temo
Looking at the dark
Razstavi
Exhibitions
Razstava, polna optimizma in energije
An exhibition full of optimism and energy
Nezavedno odkrivanje nezapisanega
The unknowing discovery of the unrecorded
Filmi
Films
Strah in groza na polju v Angliji
Fear and horror in a field in England
Poskus metakritike
An attempt at metacritcism
Stilsko popoln triler, a s premalo suspenza
A stylistically perfect thriller, but with too little suspense
Knjige
Books
Brutalno iskreno o spolnosti
Brutally frank about sexuality
Deleuze in Nietzsche: Usodno srečanje
Deleuze and Nietzsche: A fateful meeting
Pripovedovanje o pripovedovanju
Narrating narrative
Umet(el)nost srednje poti
Art and technical skill of the middle way
Knjiga / Drugi Pogled
Books / A second look
Še zmeraj politično aktualen roman
A novel politically relevant even today