48 (2012)
Stadt Klima Wandel [Urban Climate Change]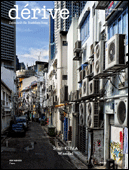 Stadtklima im Wandel?!
Urban Climate Change?!
Cape Farewell
Der Klimawandel in der Stadt aus meteorologischer Sicht
A meteorological perspective on urban climate change
Der urbane Freiraum im Klimawandel
Lösungen zur Bewältigung der Klimafolgen
The urban landscape under climate change. Mastering climate effects
Handlungsbedarf zur Klimawandelanpassung öffentlicher Parkanlagen
Verantwortlichkeiten in Anpassungsprozessen
Need for action to adjust to climate change in public parks
Responsibilities in adjustment processes
Mit Sinnen und Verstand. Gestaltungsprinzipien maurischer Gärten als Inspiration für eine klima-sensitive Stadtgestaltung
Senses and sensibility. Design principles of Moorish gardens culture as inspiration for a climate-sensible urban design
Klima Kieze - klimagerechte Quartiersentwicklungen in Berlin
Climate City goes "Kiez" – Creative neighbourhood approaches and urban climate change challenges in Berlin
Kunstinsert
Artinsert
Erinnerungen an die Zukunft
Memories of the future
Magazin
Magazine
Josef Frank und der Siedlergarten -- Natur in der Stadt zwischen Politik, Formgebung und gegenwärtigem Nutzungsverhalten
Josef Frank and the settler garden
Urban nature between politics, design and current user behaviour
Stadtfilm Wien und danach
Cinematic Vienna and thereafter
1992-2012: 20 Jahre Architekturinszenierung in Barcelona
1992-2012: 20 years of architectural staging in Barcelona
Serie: Geschichte der Urbanität. Teil 37
Series: History of urbanity. Part 37
Postmoderne. Stadt und Angst III
Californian Urban Dreams and Nightmares
Simulacra, Schizophrenie, Psychasthenie
Postmodernism. Anxiety and the City III
Californian Urban Dreams and Nightmares
Simulacra, Schizophrenia, Psychasthenia
Besprechungen
Reviews
Grundlagen für eine kulturwissenschaftliche Architekturforschung
Ideologische Implikationen urbaner Visionen
Urbane Psychologien
Die Revolte landet (vorerst) im Museum
Lobby für Lobbylose
Back to the Future -- Die Wohnmaschinen kehren zurück!?