57 (2014)
Safe city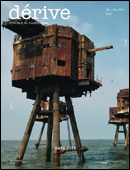 Editorial
Schwerpunkt/Focus: Safe city
Sicherheit beginnt im Kopf
Security starts in the mind
Mit Sicherheit der Freiheit entgegen
With safety towards freedom
Die Sicherheiten einer offenen Stadt
Securities of a open city
Teilhaben und Sparen. Zwei simulative Wege zur urbanen Sicherheit
Participating and saving. Two simulative ways to urban safety
Belagerte Städte. Die Militarisierung des Urbanen
Cities under siege: the new military urbanism
Potential city of thresholds?
Maximum Security
Kunstinsert
Artistic insert
Rasches Displacement
Rapid Displacement
Serie: Geschichte der Urbanität, Teil 45
Series: History of urbanity, part 45
City-action. Performative strategies
Part 2: Henri Lefebrve
Besprechungen
Reviews
Schauplatz Wohnen
Der neue transnationale Bewegungszyklus
Wächterhäuser: Schönheit an Schienen
Eine offene Straße
Musikstadt, Musikökonomie
Wie produzieren wir unsere Stadt?
Der öffentliche Raum in Zeiten der Veränderung