Critique & Humanism 42 (2013)

42 (2013)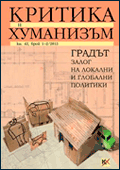 Уводни думи
Introductory words
Политическо и социално въобразяване на градовете
Political and social imagining of cities
Защо и как бе измислен "балканският град"?
The "Balkan city" as a historiographical concept
Градът и "израждането": евгеника и модернизация в България от началото на ХХ век до Втората световна война"
Degeneration and the city: Eugenics and modernization in Bulgaria from the early 20th century to World War II
Строежът на социалистическия град: егалитаризъм или монументализъм?
Building the socialist city: Egalitarianism versus monumentalism?
Българският постсоциалистически град: трансформация на публичното пространство, глобализация и идентичност
The Bulgarian post-socialist City: Transformation of public space, globalization and identity
От Града на мечтите до Града на фонтаните: образи на новата "българска мечта"
From the city of dreams to the city of fountains: Representations of the new "Bulgarian dream"
Парадоксалното наследство на трансградските дебати по политиките на сигурност в Германия през 90-те години
Transurban security discourses in Germany in the 1990s and their paradoxical heritage
Оспорваният град и алтернативни пътища на развитие
The contested city and alternative paths of development
"Голямата зала на "Юниън Стейшън" внезапно се разхубави": съпротива, многообразие и прогрес в Торонто
"Union station great hall is suddenly lovely": Resistance, diversity and progress in Toronto
Изоставените пространства на постиндустриалния град – (културен) начин на употреба
The abandoned spaces of the post-industrial city: (Cultural) uses or how the creative city can help Sofia with its renewal
Квази-държави на сигурността: германските "райони на бизнес съживяване" в условията на демокрация на собствениците
Security semi-states: German business improvement districts in a proprietor democracy
Площад "Таксим" и битката за контрол върху миналото на Истанбул
Taksim Square and the struggle to rule Istanbul's past
"Тази стара политическа въжеиграчка, нашата столица": градът на трафика, градът на протеста
"This old trickster, our Sofia": The city of traffic, the city of protest
В периферията на града, в предела на обществото
In the periphery of the city, in the margins of society
Бежанският лагер и градът: дали лагерът действително е извън-редно пространство?
The refugee and the city: Is the camp indeed a space of exception?
Палестинските бежански лагери в Ливан – пренареждане на символното пространство (фотонаратив)
Palestinian refugee camps in Lebanon – Palestinian reordering of symbolic space (photo narrative)
Изключване и маргиналност
Exclusion and marginality
Взривяването на града: формиране на нова пространствена периферност в София, през призмата на някои урбанистични идеи на Анри Льофевр
Blowing up the city: The emergence of new spatial marginality through the prism of some urbanist ideas of Henri Lefebvre
Как се става бездомник с дом? Държавни и общински политики и борби за "разрешаване" на бездомническия въпрос през междувоенния период
Becoming homeless with a home? State and municipal policies and struggles for "resolving" the homelessness problem in the interwar period
Студентски град в София - илюзията за началото на залозите
Student town – the illusion of the offset of the stakes
Рецензии
New Books
Аспекти на социалната стратификация в България: една сполучлива премиера
Aspects of social stratification in Bulgaria: A successful Premiere