Cogito (Turkey) 74 (2013)

74 (2013)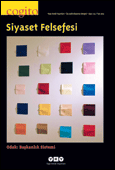 The philosopy of politics
Kant Etiği ve İnsan Hakları
Kant on ethics and human rights
"İnsan Haklarının Felsefi Temellendirmesi Mümkün mü?"
"Is a Philosophical Justification of Human Rights Possible?"
Badiou'da Siyasi Hakikat
Political truth in Badiou
Bilginin Hakları Bilginin Olgularına Karşı: Foucault'nun Tarihlerinin 'Sınır Deneyim' Olarak Eleştirel İşlevi
"Rights versus facts of knowledge: the critical function of 'limit-experience' in Foucault's work"
Foucaultcu Eleştirel Projenin Dönüştürücü Temelleri: Olgu ve Normlar Arasında"
"History, facts and norms: between Kant and Foucault"
Toplumsal Cinsiyette Kadın-Erkek Karşıtlığına Felsefi bir Bakış
A philosophical inquiry into gender
Merleau-Ponty, Ricoeur ve Bolşevik Evrenselciliğin Çöküşü
"Ricoeur and Merleau-Ponty's critique of universalism before the Bolshevik fiasco"
Tümü için Duygu Üzerine: Sensus Communis üzerine Kant, Arendt ve Lyotard
"On a feeling for all: Kant, Arendt, and Lyotard on the sensus communis"
Yasasız Ahlak: Arendt'in Kötülüğün Sıradanlığı Düşüncesi Üzerine Tekrar Düşünme
Morals without law: rethinking Arendt's banality of evil