Blätter für deutsche und internationale Politik 11/2012

11/2012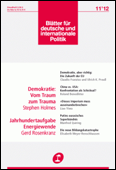 Heftbeschreibung
/
Summary
Kommentare und Berichte
Peer Steinbrück und die Nulloption
Peer Steinbrück and the zero-option
Piraten auf Schlingerkurs
The Pirate-party on a veering course
Diakonie: Nächstenliebe im rechtsfreien Raum
Diakonie: Charity in a legal vacuum
Aufforderung zum Patientenbetrug
An invitation to patient-cheating
Der neue Krieg der Drohnen
The new war of the drones
Spanische Zerreißprobe
The Spanish breaking test
Nach Saakaschwili: Neustart in Georgien?
After Saakaschwili: a new start in Georgia?
Kolumne
USA versus Iran: Die Rückkehr der Vernunft?
USA vs. Iran: The return of commonsense?
Debatte
Ein Lob des Lobbyismus
Praising lobbyism
Analysen und Alternativen
Die globale Demokratieverdrossenheit
Konfrontation als Schicksal?
China, USA und die neue pazifische Konstellation
Destined to confrontation?
China, the USA and the new pacific constellation
"Dieses Imperium muss auseinanderbrechen"
"This empire must break apart"
Lebendige Demokratie: Die Zukunft der EU
Lively democracy: The future of the EU
Großraum Eurasien
Putins neues Superbündnis und das Ende der GUS
Greater Eurasia
Putins new super-alliance and the end of the CIS
Das sabotierte Jahrhundertprojekt
Wie die Bundesregierung die Energiewende hintertreibt
The sabotaged project of the century
How the German government thwarts the energy transition
Die neue Bildungskatastrophe
Zur Lage der Universitäten und ihrer Wissenschaftlerinnen
The new education-catastrophe
On the situation of universities and their female scientists
Buch des Monats
Linkes Scheitern, neues Beginnen
Left failure, new beginning
Aufgespiesst
Helden schweigen
Heroes don't talk