Blätter für deutsche und internationale Politik 7/2012

7/2012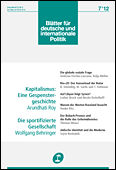 Heftbeschreibung
/
Summary
Kommentare und Berichte
Hoffnungsträger Hollande
Bearer of hope Hollande
Die Linkspartei und ihre demokratische Wende
The left party and its democratic turn
Mächtige Rocker, ohnmächtiger Staat?
Powerful rockers, powerless state
Facebook: Cash mit dem Crash
Facebook: Cash with the crash
Mexikanisches Machtkartell
Mexican Power Cartel
Malediven: Paradies vor der Zerreißprobe
Maldives: Paradise before the acid test
Debatte
Gleiche Bildung, ungleiche Chancen
Equal education, unequal opportunities
Aufgespiesst
Sonderwirtschafts-Zonen à la Merkel
Special economic zone à la Merkel
Buch des Monats
Europa und das Licht der Vernunft
Europe and the light of rationality
Analysen und Alternativen
Kapitalismus: Eine Gespenstergeschichte
Capitalism: A ghost story
Die globale soziale Frage
The global social question
Green Economy: Der Ausverkauf der Natur?
Green Economy - Sale of the nature?
Olympia 2012: Die sportifizierte Gesellschaft
Olympia 2012: The sportificated society
Die Libyen-Resolution: Was damals wirklich geschah
Schutzverantwortung und Friedenspflicht
Responsibility to protect and peace obligation
Warum der Westen Russland braucht
Die erstaunliche Wandlung des Zbigniew Brzezinski
Why the West needs Russia
The amazing transformation of Zbigniew Brzezinski
Angeklagt: Die RAF - und der Staat
Der Buback-Prozess und die Rolle des Geheimdienstes
Accused: RAF - and the state
The Buback-trial and the role of the secret service
Gleichheit und Differenz
Jüdische Identität im Spiegel der Moderne
Equality and difference
Jewish identity reflected in Modern Age