Blätter für deutsche und internationale Politik 11/2011

11/2011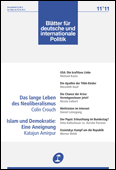 Heftbeschreibung
/
Summary
Kommentare und Berichte
Bank rescue as a farce
Digitales Troja
Digital Troy
Zapateros Scheitern
Zapatero's failure
Putins lupenreine Demokratur
Putin's authoritarian democracy
Erdogan: Von Atatürk zu Mubarak
Erdogan: From Ataturk to Mubarak
Ägypten: Revolution am toten Punkt
Egypt: Revolution at a dead end
Der neueste Stillstand in Nahost
The newest stagnation in the Near East
Chile: Vom Diktatur-Trauma zum Protest
Chile: From the trauma of dictatorship to protest
Namibia, postkolonial ignoriert
Namibia: Postcolonial ignorance
Debatte
Die Chance der Krise: Vermögensteuer jetzt!
The chance that has risen from the crisis: wealth tax now!
Analysen und Alternativen
Das lange Leben des Neoliberalismus
The long life of neo-liberalism
Keine Bewegung ohne Wurzeln. Was der amerikanischen Linken fehlt
No movement without roots. What the American left is missing
Die Apathie der TINA-Kinder. Warum meine Generation endlich erwachsen werden muss
The apathy of TINA's children. Why my generation needs to finally grow up
Das Wettrüsten im Internet. Wie aus dem "Cyberwar" ein realer Krieg zu werden droht
Arms race on the Internet. How the "cyber war" threatens to turn into a real war
Islam und Demokratie: Die Geschichte einer Aneignung
Islam and democracy. The history of an appropriation
Der Streit um eine Rede
Ein Papst auf dem Boden des Grundgesetzes
A pope in accordance with constitutional law
Erleuchtung im Parlament?
Enlightenment in the parliament?
Der Kampf um die Republik. Das demokratische Denken Carl von Ossietzkys
The struggle for the republic. The democratic thinking of Carl von Ossietzky
Aufgespiesst
Kidnapper hinterm Bankschalter
Kidnapper behind the bank counter
Buch des Monats
Demjanjuk: Der letzte Prozess
Demjanjuk: The last trial