Blätter für deutsche und internationale Politik 4/2015

4/2015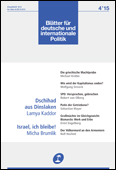 Heftbeschreibung
/
Summary
Kommentare und Berichte
Greek trial of stength
Das zerrissene Land
The torn country
Ukrainekonflikt und kein Ende?
The conflict in Ukraine and no end?
Großbritannien in der Nationalismusfalle
Great Britain in the trap of nationalism
Kuba: Das Ende des Zermürbungskriegs
Cuba: The end of the war of attrition
Argentinien: Das Ende des Kirchnerismus?
Argentina: The end of Kirchnerism
Das mexikanische Inferno
The Mexican inferno
Kambodscha: Genozid ohne Täter?
Cambodia: Genocide without perpetrator?
Debatte
Demokratisiert die EZB!
Democratize the ECB!
Kolumne
USA: Primat statt Hegemonie
USA: Primacy instead of hegemony
Analysen und Alternativen
Dschihad aus Dinslaken: Der Weg in den "Heiligen Krieg"
Jihad from Dinslaken (Germany): The way into the "holy war"
"Israel, ich bleibe!" Als Deutscher unter Deutschen
"Israel, I'll stay!" As a German among Germans
Versprochen, gebrochen. Die SPD und das Aufstiegsversprechen
Promised, broken. The Social Democratic Party and the promise of ascent
Putin der Getriebene? Wider den Strukturdeterminismus in der Russland-Ukraine-Debatte
Putin, the impelled? Against the structural determinism in the debate about Russia and the Ukraine
Großmächte im Gleichgewicht. Bismarcks Werk und Erbe
Great Powers in balance. Bismarck's opus and legacy
Eine "Ära der Säuberungen": Der Völkermord an den Armeniern
An "era of cleansing": The Armenian Genocide
Wie wird der Kapitalismus enden? Teil II
How will capitalism end? Part II
Aufgespießt
Berlin oder: Die Dödel vom Dienst
Berlin or: The fools from service
Buch des Monats
Das Opfer und das Geld
The sacrifice and the money
Medienkritik
Genderfrust bei Plasberg
Gender-frustration at Plasberg
Extras
Dokumente zum Zeitgeschehen
Documents on current affairs
Chronik des Monats Februar 2015
Chronicle of the month Februar 2015
Zurückgeblätter
Turned back