Blätter für deutsche und internationale Politik 5/2015

5/2015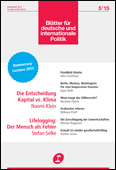 Heftbeschreibung
/
Summary
Kommentare und Berichte
Commentaries and reports
70 Jahre Befreiung: Deutsches Glück, deutsche Kälte
70 years of liberation: German fortune, german coldness
Tröglitz: Der pragmatische Rassismus
Tröglitz: The pragmatic racism
Wer Frieden will, braucht Kooperation
Who wants peace needs cooperation
Atomkonzerne: Strahlung ohne Haftung
Nuclear companies: Radiation without liability
Atomstreit mit Iran: Die große Ernüchterung
Nuclear conflict with Iran: The great disillusionment
USA: Die Show beginnt
USA: The show begins
Die Entdiabolisierung des Front National
The "disdemonisation" of the Front National
Debatte
Debate
In Paris mal kurz die Welt retten?
Quickly saving the world in Paris?
Kolumne
column
Ungarn als Untertanenstaat
Hungary as a subservient state
Analysen und Alternativen
Die Entscheidung: Kapital vs. Klima
The decision: Capital vs. climate
Feindbild Ghetto. Wie der amerikanische »War on Crime« Rassismus produziert,
Enemy image ghetto. How the american »war on crime« produces racism
Union Busting: Die Zerschlagung der Gewerkschaften
Union busting: The destruction of unions
Lifelogging or: The defective human
Kooperative Existenz. Für eine Verantwortungspartnerschaft mit Moskau und Washington
Cooperative existence. A case for a responsible partnership with Moscow and Washington
Arabisches Inferno. Der Westen und der Mittlere Osten
Arabic inferno. The west and the middle east
Vom ewigen Krieg: Wozu taugt das Völkerrecht?
The eternal war: What is the international law good for?
Gewalttätigkeit ist wieder gesellschaftsfähig
Violence has become socially acceptable again
Aufgespießt
Völker und Mord
The people and the homicide
Buch des Monats
Marx in Marburg
Marx in Marburg
Medienkritik
Das neue Grauen
The new dread
Extras
Dokumente zum Zeitgeschehen
Documents on current affairs
Chronik des Monats März 2015
Chronicle of the month March 2015
Zurückgeblätter
Turned back