Blätter für deutsche und internationale Politik 2/2015

2/2015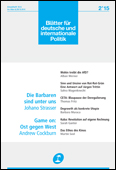 Heftbeschreibung
/
Summary
Kommentare und Berichte
Terror and Pegida: Give us an image of the enemy
Ressentiment vs. Aufklärung: Die "neue Friedensbewegung"
Resentment vs. enlightenment: The "new peace movement"
Griechenland vor der Wende?
Greece at a turning point?
Podemos und Co.: Spaniens neue Linke
Podemos & Co.: Spain's new left
Schweden: Der Traum ist aus
Sweden: A rude awakening
CETA: Blaupause der Deregulierung
CETA: Blueprint for deregulation
Tauziehen ums Klima: Von Lima nach Paris
Contesting climate: From Lima to Paris
Lateinamerika in der Rohstofffalle
Latin America under the resource curse
Debatte
Muslimischer Antisemitismus
Muslim anti-semitism
Kolumne
Russlands Absturz
Russia's plummet
In Memoriam
Kooperieren oder scheitern. Zum Tode von Ulrich Beck
Cooperate or fail. In remembrance of Ulrich Beck
Analysen und Alternativen
Die Barbaren sind unter uns
The barbarians are among us
Game on: Ost gegen West
Game On: East vs. West
Rot-Rot-Grün: Politik- statt Personalwechsel. Eine Antwort auf Jürgen Trittin
A red-red-green coalition: A change of policy, not politicians. A response to Jürgen Trittin
Vor der Zerreißprobe: Wohin treibt die AfD?
Before the acid test: Where will the AfD go?
Revolution auf eigene Rechnung: Kubas neue Arbeitswelt
Revolution at one's own expense: Cuba's new world of work
Wider den Wachstumswahn: Degrowth als konkrete Utopie
Against the growth craze: Degrowth as concrete utopia
Das Ethos des Kinos
The ethos of cinema
Aufgespiesst
Söder ante portas
Söder ante portas
Medienkritik
Wir alle sind Charlie & Ali
We are all Charlie & Ali
Buch des Monats
Delhi: Versuchslabor des Kapitalismus
Delhi: Experimental laboratory of capitalism
Extras
Dokumente zum Zeitgeschehen
Documents on current affairs
Chronik des Monats November 2014
Chronicle of the month November 2014