Blätter für deutsche und internationale Politik 11/2014

11/2014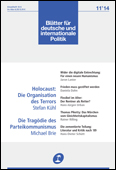 Heftbeschreibung
/
Summary
Kommentare und Berichte
The spirit of '89
IS: Die Implosion des Mittleren Ostens
IS: The Implosion of the Middle East
Ebola: Das Scheitern der Weltgemeinschaft
Ebola: The failure of the international community
Crash 2.0: Europa vor der nächsten Krise
Crash 2.0.: Europe before the next financial crisis
Mehr Demokratie wagen: Von Schottland nach Katalonien
Dare more democracy: From Scotland to Catalonia
Mazedonien oder die Legende vom sicheren Herkunftsstaat
Mazedonia or the legend of the safe country of origin
Traumjob Wissenschaft?
Dreamjob Scientist?
Debatte
Ein deutscher Sonderweg – und ob!
A german Sonderweg – You bet!
Kolumne
Nobel und radikal: Kailash Satyarthi und Malala
Nobel and radical: Kailash Satyarthi and Malala
Aufgespießt
Reich und gut
Rich and good
Analysen und Alternativen
Für einen neuen Humanismus. Wie wir der digitalen Entrechtung entkommen
For a new humanism. How to escape the digital deprivation of rights
Frieden muss gestiftet werden. Exempel Kosovokrieg oder: das Völkerrecht als Gegner
Peace has to be build. Example Kosovo War or: International law as opponent
Flexibel im Alter: Der Rentner als Retter?
Flexible in old age: The pensioner as Savior?
Thomas Piketty und das Märchen vom Gleichheitskapitalismus
Thomas Piketty and the fairy tale of equality in capitalism
Ganz normale Organisationen. Warum sich Hunderttausende am Holocaust beteiligten
Just ordinary organizations. Why hundreds of thousands participated in the Holocaust
Vom "Unrechtsstaat" und der Tragödie des Parteikommunismus
From the "illegitimate state" and the tradegy of party communism
Die zementierte Teilung. Literatur und Kritik 25 Jahre nach dem Mauerfall
The cemented divide. Literature and criticism 25 years after the fall of the Berlin Wall
Buch des Monats
Demokratie – eine unendliche Geschichte
Democracy – a never ending story
Extras
Dokumente zum Zeitgeschehen
Chronik des Monats September 2014
Zurückgeblättert