Blätter für deutsche und internationale Politik 1/2015

1/2015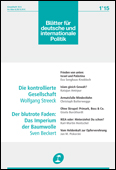 Heftbeschreibung
/
Summary
Kommentare und Berichte
Thüringen oder die rot-rot-grüne Konfrontation
Thuringia or the red-red-green confrontation
Die Mär vom unpolitischen Hooligan
The myth of the nonpolitical hooligan
Massengrab Mittelmeer: Die Abschottung der EU
Mass grave Mediterranean Sea: The walling-off the EU
Riskante Resistenzen: Die Antibiotikakrise
Risky resistances: The antibiotic crisis
For a digital civil rights movement
Starkes schwaches China
Strong weak China
Debatte
Afrika braucht mehr Deutschland
Africa needs more Germany
Kolumne
Orbáns Kleptokraten
Orbán's kleptocrats
Analysen und Alternativen
Frieden von unten. Initiativen gegen Gewalt in Israel und Palästina
Peace from below. Initiatives against violence in Israel and Palestine
"Islam gleich Gewalt". Der fatale Gleichklang von Kriegern und Kritikern
"Islam equals violence". The dire accordance of warriors and detractors
Armutsfalle Mindestlohn
Minimum wage as a poverty trap
Von der Gesellschaftssteuerung zur sozialen Kontrolle. Rückblick auf ein halbes Jahrhundert Soziologie in Theorie und Praxis
From governance to social control. Review on half a century sociology in theory and practice
Der blutrote Faden. Das globale Baumwollimperium und die permanente Revolution des Kapitalismus
The sanguine thread. The global empire of cotton and the constant revolution of capitalism
Von Primark bis Hugo Boss: Geschäfte ohne Skrupel
From Primark to Hugo Boss: Unscrupulous business
IKEA: Zahlst Du noch oder hinterziehst Du schon?
IKEA: Make taxes disappear
Vom Heldenkult zur Opferverehrung. Zum Wandel der Erinnerungskultur
From hero cult to worshipping the victims. About the transition of the commemorative culture
Buch des Monats
Eine Familie im "Jahrhundert der Katastrophen"
A family in the "century of catastrophes"
Extras
Extras
Dokumente zum Zeitgeschehen
Chronik des Monats November 2014
Zurückgeblättert
Turned back