Blätter für deutsche und internationale Politik 10/2014

10/2014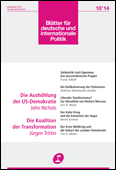 Heftbeschreibung
/
Summary
Kommentare und Berichte
Commentaries and reports
Frankreich à la Schröder?
France à la Schröder?
Renzusconis Italien
Renzusconi's Italy
Klaus Johannis
Rumäniens "deutscher Retter"?
Klaus Johannis
Romania's "German saviour"?
Brasilien
Rousseff vor dem Aus?
Brasil
Are Roussef's days numbered?
Nuri al-Maliki
Der Abgang des Sündenbocks
Nuri al-Maliki
The scapegoat's departure
Ägypten
Al-Sisi und die Politik der Angst
Egypt
Al-Sisi and the politics of fear
Degrowth
Der Beginn einer Bewegung?
Degrowth
The start of a movement?
Rechtsextreme Frauen
Verharmlost und verkannt
Right-wing extremist women
Downplayed and underestimated
Debatte
Debates
Auschwitz als Waffe
Auschwitz as a weapon
Aufgespießt
Critique
Ebola
Das Versagen des Nordens
Ebola
The failure of the North
Analysen und Alternativen
Analyses and alternatives
Solidarität statt Egoismus
Das konvivialistische Projekt
Solidarity instead of egoism
The conviviality project
Die Koalition der Transformation und was ihr im Wege steht
The coalition of transformation and what stands in its way
Von Roosevelt zu Obama
Die Aushöhlung der amerikanischen Demokratie
From Roosevelt to Obama
How American democracy has been undermined
Die Radikalisierungsdynamik des Putinismus
Putin's radicalization dynamic
Spiel mir das Lied vom Tod
Der Kalte Krieg und die Eskalation der Angst
The finger on the button
The Cold War and the escalation of fear
Der Erste Weltkrieg und die Geburt der sozialen Demokratie
The First World War and the birth of the democratic welfare state
Liberaler Totalitarismus
Zur Aktualität von Herbert Marcuse
Liberal totalitarianism
On the current relevance of Herbert Marcuse
Buch des Monats
Book of the month
EUropa
Dr. Jekyll und Mr. Hyde
EUrope
Dr. Jekyll and Mr. Hyde
Extras
Dokumente zum Zeitgeschehen
Documents on contemporary occurrences
Chronik des Monats August 2014
Chronic of the month, August 2014