Blätter für deutsche und internationale Politik 11/2015

11/2015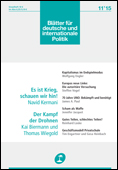 Heftbeschreibung
/
Summary
Kommentare und Berichte
Commentaries and reports
Merkel unter Druck: der Ruck nach rechts
Merkel under pressure: The political shift to the right
Syrien: Strategie der gleichzeitigen Schritte
Syria: Strategics of simultaneuous steps
TTIP: Die Selbstaufgabe des Staates
TTIP: The self-abandonement of the state
Die FPÖ nach Wien: Durchmarsch nur vertragt?
FPÖ in Vienna: Has the victory only been adjourned?
Catalan impasse
Debatte
Debate
Flüchtlingsdebatte: Das Unbehagen wächst
Refugee-debate: Growing discontent
Kolumne
Column
Der transpazifische Freihandelsschwindel
The transpacific free trade scam
Analysen und Alternativen
Analysis and alternatives
Jacques Mourad und die Liebe in Syrien
Jacques Mourad and love in Syria
Der Krieg der Drohnen
The war with Drones
Bekämpft und benötigt: 70 Jahre Vereinte Nationen
Combatted but needed: 70 years of the United Nations
Die autoritäre Versuchung, Europas neue Linke zwischen Aufbruch und Populismus
The authoritarian temptation, Europes' new left between change and populism
Schämt Euch! Moralische Anklage als gewaltloser Widerstand
Shame on you! Moral indictment as nonviolent resistance
Sharing Economy: gutes Teilen, schlechtes Teilen?
Sharing Economy: good sharing, bad sharing?
Im Endspielmodus, Siegt sich der Kapitalismus tatsächlich zu Tode
The finals. Will capitalism really win to death?
Geschäftsmodell Privatschule, der selbstverschuldete Niedergang des öffentlichen Bildungswesens
Business model private school: the self-inflicted decline of the public education system
Buch des Monats
Book of the month
Bärendienst für den Frieden
Disservice to peace
Extras
Dokumente
Documents on current affairs
Chronik des Monats September 2015
Chronicle of the month September 2015
Zurückgeblättert
Turned back