Blätter für deutsche und internationale Politik 8/2015

8/2015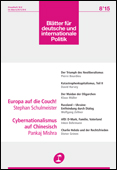 Heftbeschreibung
/
Summary
Kommentare und Berichte
Commentaries and reports
Grexit verhindert, Europa verspielt?
Grexit prevented, Europe squandered?
Ehe nach Bedarf
Marriage as required
Bundesländer im Clinch, Bundesrat ohne Linie
Disputes in the Lands, disorientation in the Federal Council
TTIP: Freifahrt für Fracking
TTIP: Freeride for fracking
70 Jahre Hiroshima: Ächtet die Bombe
70 years after Hiroshima: Ban the bomb!
USA vs. China: Der pazifische Handelskrieg
US vs. China: The pacific trade war
Debatte
Debate
Gegen den Klimadefätismus: Auf nach Paris!
Against the climate defeatism: Let's go to Paris!
Kolumne
Column
Tunesien unter Beschuss
Tunisia under attack
Analysen und Alternativen
Analysis and alternatives
Europa auf die Couch! Eine politische Familientherapie zur Lösung der Griechenlandkrise
Europe, get on the couch! A political family therapy to resolve the Greek crisis
Der Triumph des Neoliberalismus. Eine Utopie grenzenloser Ausbeutung wird Realität
The triumph of neoliberalism. A utopia of endless exploitation becomes reality
Katastrophenkapitalismus, Teil II. Totale Entfremdung und die Revolte der Natur
Catastrophic Capitalism, Part II. Total alienation and the revolt of nature
Der neue Cybernationalismus. China und Indien auf der Suche nach einer "alternativen Moderne"
The new Cyber-nationalism. China and India in search for an "alternative modernity"
Die gescheiterte Revolution. Wie die Oligarchen den Maidan übernahmen
The failed revolution. How the oligarchs took over Maidan
Entfeindung durch Dialog. Vom heißen Krieg in der Ukraine zum Frieden in Europa
Pacifying enemies via dialogue. From hot war in Ukraine to peace in Europe
D-Mark, Familie, Vaterland: Die AfD nach Lucke
D-Mark, Family, Fatherland: The Alternative for Germany after Lucke
Charlie Hebdo und der Rechtsfrieden. Brauchen wir eine neue Balance zwischen Pressefreiheit und Religionsschutz?
Charlie Hebdo and peace under law. Do we need a new balance between press freedom and the protection of religion?
Aufgespießt
Heiße Hosen, blinde Augen
Hot shorts, blind eyes
Buch des Monats
Book of the month
Das Elend der Anderen
The misery of the others
Extras
Dokumente
Documents on current affairs
Chronik des Monats Juni 2015
Chronicle of the month May 2015
Zurückgeblättert
Turned back