Blätter für deutsche und internationale Politik 2/2014

2/2014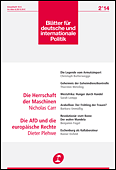 Heftbeschreibung
/
Summary
Kommentare und Berichte
Commentary and reports
"Armutsimport": Wer betrügt hier wen?
"Poverty-import": Who betrays who?
Sterben dürfen
Allowed to die
Kein Warenkorb für Arme
No market basket for the poor
Italien: Nicht arm, aber arm dran
Italy: Not poor, but badly off
Kataloniens Unabhängigkeit, Spaniens Ende?
Catalonia's independence, Spain's end?
Zankapfel Ukraine: Europäische versus Eurasische Union
Apple of discord Ukraine: European versus Eurasian Union
Südsudan: Die Tragödie als Chance?
South Sudan: The tragedy as a chance?
Ostkongo oder Krieg ohne Ende?
Eastern Congo or war without an end?
Debatte
Debates
Große Koalition: Außenpolitik ohne Plan und Ziel
Grand coalition: Foreign policy without plan and aim
Kolumne
Column
Erdogans letzte Schlacht?
Erdogan's last battle
Aufgespießt
Skewered
Deutscher Boden, deutsches Recht
German ground, German law
Der Fall Kissinger und die Uni Bonn
The Kissinger-case and the University of Bonn
Medienkritik
Springer und der RAF-Plot
Springer and the RAF-plot
Analysen und Alternativen
Analyses and alternatives
Die Herrschaft der Maschinen
Was wir verlieren, wenn Computer für uns entscheiden
The rule of the machines
What we lose when computers decide for us
Das Geheimnis der Geheimdienstkontrolle
The secret of controlling the secret service
Durchmarsch der nationalen Neoliberalen?
Die AfD und die neue europäische Rechte
The marching-through of the national neoliberals?
The AfD and the new European right
Hunger durch Handel
Die EU-Politik und ihre Folgen für Westafrika
Hunger through trade
The economic policy of the European Union and its consequences for West Africa
Three years "Arabellion": The spring of women?
Revolutionär statt Ikone: Der wahre Mandela
Revolutionary rather than iconic figure: The true Mandela
Daimler, Deutsche Bank und Co.: Das Geschäft mit der Apartheid
Daimler, Deutsche Bank and Co.: The Business with Apartheid
Staatskonservative Kollaboration
Theodor Eschenburgs Agieren in einem Mikrokosmos des "Dritten Reichs"
Conservative statist collaboration
Theodor Eschenburg's acting in a microcosms of the "Third Reich"
Buch des Monats
Book of the month
Das Mittelmeer und die Wellen der Geschichte
The Mediterranean and the waves of history
Extras
Dokumente zum Zeitgeschehen
Chronik des Monats Dezember 2013
December 2013 - a chronicle