Blätter für deutsche und internationale Politik 3/2014

3/2014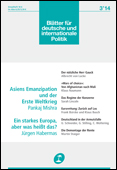 Heftbeschreibung
/
Summary
Kommentare und Berichte
Commentary and reports
Der nützliche Herr Gauck
The usefull mister Gauck
Die militärische "Emanzipation"
The military "emancipation"
Von der Leyens schöne neue Bundeswehr
Von der Leyen's brave new 'Bundeswehr'
Zentralafrikanische Republik: Völkermord mit Ankündigung
Central African Republic: The announced genocide
Drei Jahre Fukushima – verdrängt und vergessen?
Three years Fukushima – suppressed and forgotten?
Gülen versus Erdogan: Vom Freund zum Feind
Gülen versus Erdogan: From friend to enemy
Ukraine: Protest ohne Projekt
Ukraine: Protest without project
Nachruf
Der Bruch des Beschweigens. Ein Nachruf auf Reinhard Kühnl
Breaking the silence. An obituary to Reinhard Kühnl
Debatte
Debates
François Hollande: Angebotspolitik von links
François Hollande: supply policies from the left
Kolumne
Column
Das Versagen unserer Eliten, zu Lasten der Mehrheit
The failure of our elites, to the disadvantage of the majority
Aufgespießt
Skewered
"Staatsaffären" einst und heut'
"State affairs", then and now
Analysen und Alternativen
Analyses and alternatives
Der blinde Fleck des Westens. Der Erste Weltkrieg und die asiatische Emanzipation
The blind spot of the West: World War One and the Asian emancipation
Das Regime der Konzerne. Wie Wirtschaft und Politik die Menschenrechte aushebeln
The regime of corporations. How economy and politics undermine human rights
Vom Verteidigungskrieg zu den "Wars of choice"? Die deutsche Sicherheitspolitik von Afghanistan bis Mali
From defensive wars to "Wars of choice"? German security policy from Afghanistan to Mali
"Für ein starkes Europa" – aber was heißt das?
"For a strong Europe" – What does that mean?
Zurück auf Los: Die Große Koalition und die Eurokrise
"Return to go": Germany's grand coalition and the euro crisis
Zwischen Wohlstand und Verarmung: Deutschland vor der Zerreißprobe
Between wealth and poverty: Germany before the social divide
Schröder, Riester, Müntefering: Die Demontage der Rente
Schröder, Riester, Müntefering: The dismantling of the pensions
Buch des Monats
Book of the month
Rettet die Traurigkeit
Save the sadness
Extras
Dokumente zum Zeitgeschehen
Chronik des Monats January 2014
January 2014 - a chronicle