Blätter für deutsche und internationale Politik 7/2014

7/2014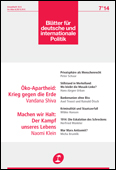 Heftbeschreibung
/
Summary
Kommentare und Berichte
EU: Tage der Entscheidung
EU: Days of decision
Lückenbüßer EZB
ECB as stopgap
Bayern, Berlin Brüssel: Der lange Marsch der Flüchtlinge
Bavaria, Berlin, Brussels: The refugees' long march
Minenfeld Bosnien-Herzegowina
Minefield Bosnia-Herzegovina
Gezi oder: Erdogans gescheitertes Experiment
Gezi or: Erdogan's failed experiment
Kolumbien: Frieden für den Freihandel?
Colombia: Peace for free trade?
China: der neue Seehegemon
China: the new hegemon of the sea
Debatte
NSU: Quellenschutz statt Strafverfolgung
NSU: Source-protection instead of prosecution
Aufgespießt
Diplomatie mit Waffen
Armed diplomacy
Kolumne
ISIS: Irakisch-syrische Zwillingskrise
ISIS: The Iraqi-Syrian twin crisis
Analysen und Alternativen
Öko Apartheid: Der Krieg gegen die Erde
Eco-Apartheid: The war against the earth
Machen wir Halt: Der Kampf unseres Lebens
Coming to a Halt: The Battle of our Lives
Privatsphäre als Menschenrecht.
Edward Snowden und die Kontrolle der Macht
Privacy as Human Right.
Edward Snowden and the Scrutiny of Power
Stillstand in Merkelland: Wo bleibt die Mosaik-Linke?
Standstill in Merkel-land: Where is the mosaic-left?
Bail-in statt Bail-out: Bankenunion ohne Biss
Bail-in, not bail-out: A tenuous banking union
Der unsichtbare Gegner.
Organisierte Kriminalität in fragilen Staaten
The invisible opponent.
Organized crime in fragile states
Die Eskalation des Schreckens.
Von der Julikrise 1914 zur Politik der "revolutionären Infizierung"
The escalation of horror.
From the July Crisis 1914 towards the policies of "Revolutionary Infection"
War Marx Antisemit?
Judenfeind der Gesinnung, nicht der Tat
Was Marx anti-semite?
Enemy of the Jews by conviction, not by action
Buch des Monats
Nationaler Sozialismus
National socialism
Extras
Dokumente zum Zeitgeschehen
Chronik des Monats Juni 2014