Blätter für deutsche und internationale Politik 11/2013

11/2013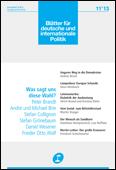 Heftbeschreibung
/
Summary
Kommentare und Berichte
Commentaries and reports
Lampedusa: Europe's disgrace
Griechenlands blutige Morgenröte
Greece's bloody dawn
Österreichisches Vorbeben
Austrian foreshocks
Papst Bergoglio: Kirche als Lazarett
The church as a sickbay
Iran: Die goldene Chance
Iran: The golden chance
Chile: Das Duell der Generalstöchter
Chile. The duel of the general's daughters
Der Kampf um den Nordpol
The struggle for the North Pole
Debatte
Debate
Postwachstum: Die große Geschlechterblindheit
Post-growth: The big gender-blindness
Kolumne
Columns
Tea Party: Zu hoch gepokert
Tea Partiers have overplayed their hand
Aufgespießt
Skewered
Nobilitierter Unsinn
Nobilitated nonsense
Medienkritik
Media criticism
Desinformationsorgie
A revelry of disinformation
Analysen und Alternativen
Analyses und alternatives
Was sagt uns diese Wahl?
What can we learn from this election?
SPD: Zielmarke 40 Prozent
SPD: targeting 40 percent
Große Koalition: Debakel mit Ansage
Große Koalition 2013: a debacle in the making
Auf den Leim gegangen
Warum wir Grüne aus unseren Fehlern nicht die falschen Schlüsse ziehen dürfen
Fall guys
Why we Greens can't risk drawing the wrong conclusions
Für ein neues linkes Crossover
For a new left crossover
Abbau per Verwaltungsakt
Vom Sozial- zum Bittstellerstaat
Cutbacks courtesy of the administrative deed
From welfare to supplicant state
Dialektik der Ausbeutung
Der neue Rohstoffboom in Lateinamerika
The dialectic of exploitation
The new resource boom in Latin America
Brasilien oder: Schreiben in einem verfeindeten Land
Brazil or: writing in an alienated country
Warum bin ich in die Hölle hinabgestiegen?
Why did I descend to hell?
Buslinie Sehnsucht: Die Demokratur in Ungarn
Bus line "desire": The democratatorship in Hungary
"Nichts als Schinden und Rauben"
Zur politischen Aktualität Martin Luthers
"Nothing but maltreatmeant and robbery"
On the political actuality of Martin Luther
Buch des Monats
Book of the month
Mythen um Camus
Myths surrounding Camus