4/2012
Skilda världar [Worlds apart: the battles within feminism]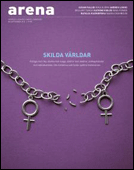 Ledare: Går det att få allt?
Editorial: Having it all
Krönika: Skyll inte på företagen
Columnist: Don't blame business
Krönika: EU:s medelålderskris
Columnist: Our sea -- Why the Mediterranean holds the future
Krönika: Du är inte rasist, men...
Columnist: You're not racist, but...
Hotade igen
Sweden's apathic refugee children threatened again
Feminismens rituella modermord
Feminism's ritual matricide (American Electra)
Tema: Rapport från en skurhink
In focus: Cleaning the welfare state
Toastopp i Täby
Cleaning the welfare state
Intervju: Mary Usma, facklig organisatör och städare
Interview: Mary Usma, social movement union organizer
Kriminalpolitik är ideologiproduktion
Crime policy as the production of ideology
Bitterfittor säljer inga deodoranter
Bitter women sell no deodorants
Drogäventyret
The Swedish drug adventure
En marinblå dröm
A dream in bleu marine -- Marine Le Pen's masterplan
Dokument: Bakom kulisserna
Book excerpt: Behind the scenes -- gender in Swedish cultural life
Så borde jag skrivit
What I would have changed -- On the reactions to The One-Dimensional Woman
Kritik
Criticism
We are the robots
Computers substituting lawyers, journalists and stock traders
On Why Nations fail by Daron Acemoglu and James A. Robinson
On Declaration by Michael Hardt and Antonio Negri