3/2014
Politisk remix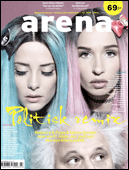 Öppning
Opening
Så blev kvinnojourerna allas älsklingar
"Varken Piketty eller Dagens Industri anser att ökande klyftor är ett stort problem i Sverige."
As shelters became everyone's darlings
"Neither Thomas Piketty nor Dagens Industry believe that increasing social-economic disparity is a major problem in Sweden."
Fråga psykologen
Pyschological Q & A
Hur botar jag min dödsångest?
How do I cure my fear of death?
Krönika av Nina Björk
Nina Björk's Chronicle
Den ärliga plutokraten
The honest plutokrat
Kultur
Culture
Mensverk. I höst är kulturen rödkladdig
Period art. This autumn, culture is red and messy
Rapport
Report
Vilka droger tar de bankers som tjänar mest på Wall Street?
What drugs do the highest-earning bankers on Wall Street take?
Kärleken som dödar fotbollen
The love that kills football
Serie
Series
Sara Hansson tolkar Fi's "mänskliga kapitalism"
Sara Hansson interprets Feminist Intitiative's "human capitalism"
Kritik
Critique
Så bra är Arundathi Roys nya
Stokely Carmichael stiger upp ur arkiven
How good is Arundathi Roy's new book
Stokely Carmichael rises from the archives
Krönika
Chronicles
Därför älskar svenska kvinnor Walter White
Why Swedish women love Walter White
Hårdkokta ägg, Alice Tegner och Instagrammegafonen
Hard-boiled eggs, Alice Tegner and the Instagram megaphone
Essä
Essay
Vem var Jan Björklund?
Sverker Sörlin löser gåtan om varför Bagdad Bob från Skene fick fortsätta så länge
Who was Jan Björklund?
Sverker Sörlin solves the riddle of why Baghdad Bob from Skene was allowed to continue for so long
Porträtt
Portrait
Rebecca & Fiona
Hur får man sitt politiska raseri att låta sexigt?
Göran Greider möter Rebecca & Fiona och pratar om Fi, den nya tidens politik och om hur man gör musik som gestaltar ett akut nu.
Rebecca & Fiona
Göran Greider meets Rebecca & Fiona and talks about Feminist Intitiative, new age politics and how to make music that portrays an acute now.
Reportage
Reportage
Arbetslinjen tur och retur
Roland Paulsen följer arbetslinjen till vägs ände. Han hittar Arbetsförmedlingens avskedade generaldirektör på Sturebadet. I Skåne möter han Sven-Otto Littorin, som tycks ha växlat över till fritidslinjen.
A return to the work line
Roland Paulsen takes the Arbetslinjen (the work line) to its last destination. In Skåne, he met the former Labour Minister, Sven Otto Littorin, who seems to have switched over to the leisure line.