4/2014
Feministspöket [The ghost of feminism]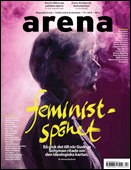 Öppning
Opening
How to solve the housing scarcity puzzle
Hur svårt kan det vara?
Klas Ekman söker svar på bostadsbristens gåta
sykologen & filosofen
Ask the psychologist and philosopher
Varför har jag dåligt självförtroende?
How do I become more confident?
Rapporter
Report
Vad gör konspirationsteorin om den muslimska faran med islamisterna?
The conspiracy theory about the Islamists
Medelklassgangsters
Middle class gansters
Voodoo-terapi
Chinese voodo therapy
Krönika
Chronicle
Spit his world in the face
Sluta bocka inför herren
Kritik
Criticism
Election campaigns in the book trade
Valspurt i bokbranschen
Porträtt
Portrait
Kshama Sawant
Amerikas nya politiker
Kshama Sawant
America's new young left
Reportage
Feministspöket
The ghost of feminism
Essä
Essay
En tredje intifada?
A third intifada?
Kultur
Culture
Ethnicity sells
Mona Masri on "Shahs of Sunset" and the new reality TV-wave
Etnicitet säljer
Mona Masri om Shahs of Sunset och den nya reality-tv-vågen
Krönika
Chronicles
Ammande kvinnor borde dricka mer vin
Breastfeeding women should drink more wine
Konstnärerna som feltolkar sina egna verk
The artists who misinterpret their own works
Den stora frågan
The big question
Vilken är tidernas mest betydelsefulla sång?
What is the most important song of all time?