1/2015
IS - En historia om Sverige [IS - A story about Sweden]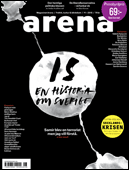 Porträtt
Portrait
Samir, varför ville du dö?
Evin Ismail och Samir växte upp i samma förortsområde.
Hon blev doktorand, och han blev IS-krigare.
Samir, why did you want to die?
Evin Ismail and Samir grew up in the same suburban area.
She became a graduate student, and he became an IS-terrorist.
När de möttes för intervjuer blev hon påmind om den rädsla hon växte upp med: att hamna utanför i samhället.
För Samir blev mötet en påminnelse om att Sverige är orättvist
When they met for interviews, she was reminded of the fear she grew up with: being left out of the community.
Samir was reminded that Sweden is unfair.
Samir dog i Syrien. I Evins ögon blev han en mördare, ändå bestämde hon sig för att hon måste försöka förstå det många avfärdar som "ondska".
Samir died in Syria. In Evins eyes, he was a murderer, yet she decided that she must try to understand what many dismiss as "evil".
Reportage
Reportage
Hur mår högern?
I alla tider har vänstern varit kända för sina inre strider. Men nu är det högern som står för de heta fraktionsstriderna. När Alliansen förlorade valet var det som om locket flög av den intellektuella högerns tankesmedjor. Nu bråkar alla med alla: Liberalkonservativa, gammelkonservativa, nyliberaler, äkta liberaler, SD-vänlig höger, Axess-höger, Neo-höger, Timbro-höger och så några utrotningshotade socialliberaler av den gamla skolan. Klas Ekman har träffat högerns olika fraktioner.
How is the right doing?
At all times, the left has been known for their internal battles. But now it is the right that stands for the hot factional struggles. When the centre-right government lost the election it was as if the lid flew off the intellectual right-wing think tanks. Now the battle is on between Liberal Conservatives, old conservatives, libertarians, genuine liberals, and some endangered social liberals of the old school. Klas Ekman has met with the right-wing factions.
Bonusbilaga från arena idé
Bonus appendix
Sandro Scocco förklarar den grekiska krisen
Äntligen kommer du förstå vad som egentligen hände
Sandro Scocco explains the Greek crisis
Finally, you will understand what really happened
Fråga filosofen
Ask the philosopher
Därför är tänkande bättre än mindfulness
Therefore, thinking is better than mindfulness
Innan spottloskan togs i någons mun var den konkret politik
Before the spit was in someone's mouth, it was concrete policies
The Swedish Cunt rapporterar från Shoreditch
Dessutom: Anarkin på Tinder och Björn Afzelius andliga barn
The English Cunt reports from Shoreditch
The anarchy of Tinder and Björn Afzelius spiritual children
Kultur
Culture
Vad var meningen med allt?
Vad var det som skulle hända med människan när hon befriades av Alliansen?
Erik Bergström letar efter Alliansmänniskan gestaltad
What was the meaning of it all?
What was it that would happen to human beings when she was liberated by the centre-right government?
Kritik
Critique
Afronordiska landskap och integrationsdebattens historia
Då hette det "kulturkrockar", nu heter det "integration"
African-Nordic landscape and integration debate history
Then called the "culture clash", now called "integration"
Essä
Essay
Hur politiska är dagens unga?
Tror de på det politiska systemet och vilka frågor gör dem engagerade? Det är en avgrund mellan samhällsvetarna i Uppsala som delas av vänster-högerskalan och yrkesprogrammen i Fagersta där det är på invandring och mångkultur som styr. Sociologen Ylva Bergström har pratat med 1100 ungdomar.
How political are today's young people?
Do they believe in the political system and what questions engages them?
Sociologist Ylva Bergström spoke to 1100 adolescents.
Krönika
Chronicle
Förbjud män på krogen
Göran Greider avlivar geniet
Prohibit men at the pub!
Göran Greider kills the genius