3/2015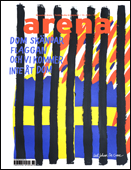 Debutanternas departement
Hur tar man makten över ett departement när man aldrig ens varit i regeringsställning? När det blåste som mest runt Alice Bah Kuhnke kallade Miljöpartiet in en av sina veteraner. Han är politikern som blev pressekreterare. Möt Miljöpartiets whizz kid, Kristoffer Talltorp.
The department of debutants
The Swedish Green party is in the government for the first time but is attacked on all fronts
Klassism - ett första steg i fel riktning
Classism - a first step in the wrong direction
Inuti IS medieverkstad
Evin Ismail närläser samtliga nummer av IS eget magasin Dabiq
Inside IS media hub
Evin Ismail has read all issues of ISIS own magazine Dabiq and analyzes ISIS' antisemitism.
Trollen går ut i solen
I våras tog nätrasisterna ett stort steg - ut i verkligheten. Mitt i fiendeland på PK-Södermalm träffades de för att dra upp planerna för en sverigedemokratisk folkrörelse. Har invandringsmotståndet blivit så accepterat i samhället att de inte längre behöver gömma sig bakom sina alias på Avpixlat? Och kommer trollen att spricka i solen?
The haters
Swedish internet trolls are set on creating a people's racist movement
For the first time they are meeting AFK
Den maktlösa vänstern
Extra bilaga: Därför vann inte vänstern på finanskrisen
The powerless left
20 page supplement: Why has the left not benefited from the financial crisis?
The explanations are institutional
Jakten på konspiratorikerna
Medierna blir allt mer politiserade
Men det finns vakthundar som håller koll på dem
The Watchdogs
Media is becoming ever more politicized
This is how watchdogs can keep them relevant
Våra barn och andras ungar
Our kids
Robert D Putnam is back with a new book about segregation
Bort från gården
Rapport från en bondauktion
Report from a farm auction
Nine out of ten dairy farms have closed in parts of Sweden in the last 25 years
Sanna Samuelsson writes a diary when her parents sell their farm