A Prior Magazine 23 (2012)

23 (2012)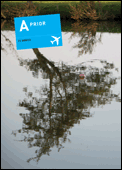 Editorial
About this issue
A Prior's last issue in the current series of the publication, is in many ways different from all A Prior has published before. The issue is largely inspired by the personality and the oeuvre of Tino Sehgal, an artist we closely followed for more then a year. These Associations (Turbine Hall, Tate Modern) and This Variation (dOCUMENTA (13)) are keyworks within the context of this issue. They lead the editors towards the theme of storytelling, using dOCUMENTA (13) as a case study. While working on this issue we also rediscovered and introduced satire, a genre that is highly absent in the world of contemporary art.

23 Skidoo also introduces the work of Anne Daems and Kenneth Andrew Mroczek who made the front cover of this issue. Focusing on what happens when nothing happens, Anne Daems and Kenneth Andrew Mroczek travelled along the Thames in the Spring of 2012. They passed idealized images of English life; they saw the river as a source of day-dreams of Englishness and like Joseph Conrad in the 19th century they also discovered the dark side of this fascinating river.

Today, along the bankside of the Thames stands Tate Modern, based in the former Bankside Power Station. These Associations, made by Tino Sehgal for the Turbine Hall addresses the industrialisation that finds its origins in this river. Participants humm and whisper - almost chant - words like 'electricity' or 'evolution'. With the conversations they have with visitors, they try to reconnect our souls.