Izolyatsia, the Ukrainian cultural factory
Izolyatsia is a platform that promotes artistic and cultural initiatives. Its headquarters were in Donbas before war broke out, now they are in Kyiv. However, Izolyatsia's values remain the same: to guarantee freedom of expression. Matteo Tacconi reports.
Beyond conflict stories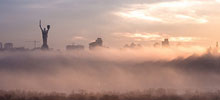 This article is part of the media exchange project Beyond conflict stories, which links Ukrainian independent media with "alternative" media in Germany, France, Spain, Italy and Greece. Follow the critical, informed and nuanced voices that counter the dominant discourse of crisis concerning Ukraine.
The headquarters of Izolyatsia, a platform for artistic and cultural initiatives founded in 2010, were once in a former factory that produced insulation materials. Today it is in a decommissioned building in a shipyard. In this sense there haven't been too many changes: it's still in an industrial structure. Izolyatsia's activities have also continued along the same lines: they have exhibitions, debates, open calls, constant dialogue with national, regional and international artistic movements. The location for all these events, however, has changed. After war broke out in Donbas, Izolyatsia transferred to Kyiv. Certainly not their choice.
Leaving Donetsk
"Shortly after the pro-Russian militia took control of the city, they came armed and commandeered our headquarters", explained Mikhailo Glybokyi, one of Izolyatsia's group-leaders, who claims the militants moved in for two reasons. The first is infrastructural. "Our space was large and furnished. We had a good Internet connection. In fact, the pro-Russians made it their headquarters. Some say that a part is also used as a prison". The rebels say it is used as a store for humanitarian aid.
The second reason is political. "At Izolyatsia we believe in freedom of the press and of opinion. We have always believed in artistic exchange, in dialogue with other artistic movements, including those of the West. But the rebels did not approve of this", explains Glybokyi. And this could not be any different, given that the war in Ukraine redefined the field on both sides as regards what can and cannot be tolerated.
Art and drones
We went to visit the four-story building just next to the river Dnieper. It is now the Kyiv headquarters of the Izolyatsia, founded by the entrepreneur Luba Michailova. Concerts and theatrical performances are held on the first floor. Exhibitions on the second. On the third floor, there are studios for artists and designers as well as co-working spaces. The top floor is for Izone, one of the few creative incubators remaining from the former Soviet Republic. Aleksandr Kovalev is in charge: "Here we give young people the opportunity to develop their own talent. We offer them free space as long as they produce".
Anna is a young artist who just arrived from the Kyiv Art School, and is one of those using this space. "At the moment I do not have any definite art project. I need to improve my ideas. Anyway, I feel good here, I feel free", she says, as those in charge of Izolyatsia prepare to set up a conference call with Michailova, who is in New York. They were talking excitedly in the corridor that runs between the two wings of laboratories on the fourth floor.
Perhaps the most interesting laboratory is the technological workshop, called the Izo Lab. This is where very young people learn to use 3D printers, machines for laser cutting wood and plastic, and also drones. Vlad is the manager: "Our objective is to be innovative and at the same time to keep up with other centres of the same type. Luckily, Izolyatsia helps us financially. But we also try to support ourselves, organizing crowdfunding campaigns", he says. On the other hand, collecting funds online is already a reality in Ukraine.
Save the mosaics
After Izolyatsia left Donetsk, one of the most important initiatives they committed to concerned the Soviet Mosaics in Ukraine, an initiative launched a little more than a year ago. It not only catalogues all the monumental mosaics created in Soviet Ukraine, but it has also launched a campaign to protect them.

Ievgeniya Molyar is the curator. We met her: "Today we have catalogued three hundred, but there are more than two thousand similar works in the whole country. Many date from the 'protest movement': the artistic movement of the sixties and seventies. In that period there was a liberation movement in art which allowed artists to express some dissent, even if not explicitly. Therefore these mosaics are part of the urban landscape integrated into the architecture thanks to a collaboration between artists and architects in vogue in that decade. They contain a message of protest and criticism towards the Soviet system."
Today these works are in danger. On one hand they need restoration work. On the other there is the law on "decommunization". This requires names of streets, squares and housing blocks named after Soviet personalities to be changed. They are seen as expressions of Russian domination of Ukraine. It also requires the removal of symbols of communism in works of art, which are deemed to be equivalent to symbols of Nazism. This is something that potentially also applies to symbols shown in the mosaics. "I find it makes no sense. The symbol is part of the art, if it is removed, then the entire work is without sense. The paradox is that the political value of the message in the mosaics is one of dissent. It does not highlight the Soviet myth", claimed Ievgeniya Molyar. According to her, the law on "decommunization" was made to please the extreme Right. Its active presence on the Donbas front is often used as a means to blackmail central government.