If Greece falls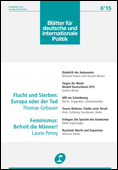 As the Greek crisis continues, Steffen Vogel reports that a majority of German business leaders look upon a Grexit as a favourable option, according to a survey published last month in the German business daily Handelsblatt. At the same time, Vogel draws attention to the political price of a Grexit, summed up best he says in the words of Reuters European affairs editor Paul Taylor: "If Greece falls, no one wants their prints on the murder weapon".
"That applies to the German government too", Vogel continues, "long held up on the international stage as an example of a party that is blocking a lasting solution to the crisis. Some weeks ago, The Economist mocked Wolfgang Schäuble as an 'ayatollah of austerity', thus reversing the rationale upon which Berlin claims to be acting pragmatically."

Islamist intellectuals: In an article written during the run up to Turkey's general election, Dilek Zaptcioglu delivers a damning indictment of the Islamist intellectuals who have provided unreserved support to the ruling Justice and Development Party (AKP):
"The Islamist societies and intellectuals have for the most part failed to comment at all on the civil war in Syria, on the AKP's clandestine, strategic involvement with the Muslim Brotherhood in supporting jihadist fighters and, finally, on the rise of the so-called Islamic State (IS). Subliminally, perhaps even unconsciously, they are thought of as "our fighters", however brutal they may be. Any discussion of violence in Islam always prompts a defensive tone, accompanied by counterattacks: 'The West' with its colonial history and continuous politics of oppression is supposed to have brought about this deplorable state of affairs. The same pattern of thought surfaces in a range of public debates, whether about Boko Haram or the Charlie Hebdo attacks."
Also: Against the background of a national inquiry into the NSA scandal, editor-in-chief Daniel Leisegang calls for the strengthening of powers available to Germany's parliament to oversee the activities of the German secret services; and, as the global refugee crisis is officially declared the worst since World War II, Thomas Gebauer draws attention to the plight of the rising number of climate and environmental refugees.
The full table of contents of Blätter für deutsche und internationale Politik 6/2015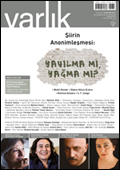 Varlik (Turkey) focuses on the build up to Turkey's general election on 7 June, which ended more than a decade of single-party rule by the Justice and Development Party (AKP). Nilgün Tutal reflects on the "intense and effective" media campaign to mythologize party leaders, particularly where president Recep Tayyip Erdogan is concerned. "Erdogan's stress that there is no greater leader than me, no greater nation than me and no greater Muslim than me established a formula to market him as the single absolute power", Tutal says.
The rallies, television adverts and short films also produced some uncomfortable "alloys" of past and present. A case in point being Erdogan's attempt to obscure memorial ceremonies for the centenary of the Armenian Genocide, by promoting nationalist enthusiasm for the centenary of the Gallipoli campaign. Nonetheless, Tutal detects an excitement among the government's opponents at "the possibility that the long period of rule by a party that has made the country as a whole into its own property may come to an end".
Shifting strategies: Korkmaz Alemdar reports on an election in which the ruling party dominates not only the media, but the judiciary and the electoral authorities as well; and yet "the opposition campaigns as if an honest election can be carried out". Alemdar also notes a shift in the AKP's strategy, away from campaigning on doorsteps to a reliance on advertising agencies. At the same time, he is critical of the main opposition for failing to mobilize the creativity of the Gezi movement.
This in contrast to the innovative campaign developed by supporters of the pro-Kurdish Peoples' Democratic Party – the subject of a further article by Aydin Cam – in the face of government attacks.
Also: A series of articles on the #siirsokakta (or #streetpoetry) movement that has gained currency in the post-Gezi climate, with graffiti verse appearing on the walls and streets of Istanbul.
The full table of contents of Varlik 6/2015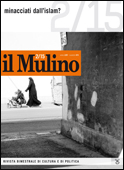 Where European Muslim women are concerned, "the Arab Spring seems to have restored their cultural roots", remarks Leila El Houssi in Il Mulino (Italy). El Houssi notes the famous blog by Lina Ben Mhenni, entitled A Tunisian Girl, as being just one of many expressions of the participatory roles that women have taken on during the revolts. It is precisely such expressions that excite the interest of young European Muslim women and give them a sense of belonging.
In fact, concludes El Houssi, it is above all social networks that have provided "important channels of conviviality that break with a tradition of isolation".
Clash of civilizations II? Italian political scientist Angelo Panebianco observes how well the arguments that Samuel Huntington first presented in his Foreign Policy article "The clash of civilizations?" (1993) stand up today.
According to Panebianco, our current system is "the first global anarchic and culturally heterogeneous system in human history. Until it came to be dominated by the Occident or, during the Cold War, two superpowers, the consequences of cultural heterogeneity could be neutralized. As the Occident now enters into a period of (relative) decline and other new powers are emerging (with China clearly taking the lead), cultural heterogeneity has assumed an unprecedented importance: power, competition and conflicts of interest have assumed the colour of a clash of civilizations."
The full table of contents of Il Mulino 2/2015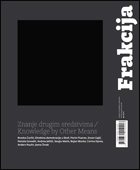 In the wake of student protests against controversial university reforms in Skopje at the beginning of this year and in Belgrade at the end of last, the editors of Frakcja (Croatia) reflect: "the struggle to preserve the university as such is an important locus of political articulation all over the post-Yugoslav region". They recall too similar protests in 2009 in Zagreb, which spread through Croatia.
The editors discern a Europe-wide trend when viewing these cases alongside the recent Maagdenhuis occupation at the University of Amsterdam, remarking: "the privatization of universities [is] a neuralgic point in the context of late capitalism". The current issue, entitled "Knowledge by other means", explores various forms of knowledge production, whether formal and institutional or informal and temporary.
A situation of continuous urgency: Swedish theatre director and dramaturge Anders Paulin critiques the way in which temporary residencies and workshops, platforms and autonomous art collectives "all produce new and differentiated toolboxes and strategies, supporting differentiated subjectivities and agendas. This apparatus is the inevitable logic of our contemporary modes of production – festivals, projects, temporary collaborations – focusing on an accelerated production and expression of identity and subjectivity, rather than the implementation and negotiation of the produced notions and tools in the public sphere."
"There is no structural need or wish for my artistic practice to translate itself to a common sphere", says Paulin, "and thus it is kept as a commodity of knowledge rather than a vehicle for communication and/or politics." In short, he concludes: "We need our institutions, not as the producers of canons or paradigmatic quality criteria, but as mediators between ourselves and the society we share as citizens."
Also: Branka Curcic and Zoran Gajic look at the role that art played in student struggles in the former Yugoslavia during the 1970s.
The full table of contents of Frakcija 70-71 (2015)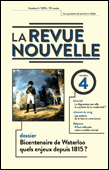 La Revue nouvelle (Belgium) commemorates the bicentenary of the battle of Waterloo (18 June 1815), an event that has become tied up with the narrative of Belgium independence. Éric Bausmar's introduction provides a summary of the scale and cost of the commemorative events and spectacles. But Bausmar insists that "commemoration is not celebration". "The organizers aim to convey a message of European reconciliation and peace", he writes. "Combining history and memory allows us to go beyond the past without denying it."
Living history: Pierre Lierneux focuses on the "living history" provided by re-enactment associations, explaining that public enthusiasm for re-enactment – a relatively recent phenomenon probably originating in the United States – arises from the scarcity and relative incoherence of surviving documents and objects, and a consequent disconnect between the general public and historical events.
This also necessitates a strict code of practice among re-enactment associations, writes Lierneux, including: "the reconstitution of equipment in line with techniques and raw materials available at the time; re-enactment of day-to-day activities, whether or not subject to military commands; the application of a critical approach to re-enactment, requiring modesty in skills and a never-ceasing intention to increase and refine knowledge."
Such a code also serves as a basis for assessing the veracity, or at least likelihood, of beliefs about past military practice – within limits; Lierneux admits the near-impossibility, even of such tasks as gathering together the actual numbers of combatants (and horses!) that took part in a historic battle.
The full table of contents of La Revue nouvelle 6/2015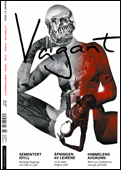 "Photographs from the German concentration camps have become iconic, and a symbol of human suffering and evil. The question is, what do they help us remember?" Anne Helene Guddal, co-editor of Vagant (Norway) raises questions, partly in response to observations that Susan Sontag made in On Photography (1977), about what is left, once the shock of photographs depicting the victims of camps such as Bergen-Belsen and Dachau has lost its power.
What if viewing these photographs does not help to remember World War II in such a way that keeps us from allowing history to repeat itself? Guddal considers the case of American psychologist Gustave Mark Gilbert, who observed and interviewed the 23 Nazi war criminals on trial in Nuremberg, and published his findings in the Nuremberg Diary (in part in 1947 and in full in 1961). We need, concludes Guddal, to go deeper into the mechanisms of the human mind.
However, the old questions will likely continue to haunt us, she suggests, as may more recent ones. Guddal quotes Barbie Zelizer, author of Visual Culture and the Holocaust (2001): "It may be that we have learned to use our Holocaust memories so as to neglect our response to the atrocities of here and now. […] Paradoxically, then, it may be that Holocaust photos have helped us remember the Holocaust so as to forget contemporary atrocity."
Knut Hamsun and Nazism: Can the tale be trusted, independently of the teller? Literary scholar Tore Rem responds to the debate triggered by his 2014 book on the journey that Norwegian author Knut Hamsun made to meet Adolf Hitler.
Knut Hamsun (1859-1952) is considered one of the most talented authors that Norway ever had, a reputation tarnished by his ties to Nazi Germany. Rem observes that appreciating Hamsun's works "can still be combined with an openness to history, including its darkest chapters and events. It is not about being for or against Hamsun's literature". Texts cannot be experienced outside a context. "Literature always finds its home within various series of times and conjunctures, in different constellations and a larger, human space – that space being history itself", Rem concludes.
The full table of contents of Vagant 2/2015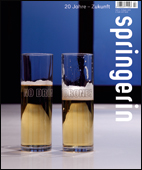 In marking the journal's twentieth anniversary, Springerin (Austria) is "on the look-out: looking out for what has endured and persisted over the decades", as well as "for the unrealized potential that continues to demand attention". So say the editors.
In accordance with the title, "20 years – future", the issue has an emphatically futuristic feel. There are contributions by the US tactical media collective Critical Art Ensemble on experimental network-based art; and by Christian Höller on Melanie Gilligan's sci-fi mini-series The Common Sense, in which Gilligan pushes the boundaries of collectivity with the portrayal of technology that allows individuals to share one another's sensations.
Art in arrested democracies: Brian Holmes argues the case for an aesthetics of crisis closely related to Turkey's "standing man" (Erdem Gunduz) protest on Taksim Square in 2013. "Is there a chance for self-transformation, and above all, social transformation, in a crisis that is not suffered but co-created?", Holmes asks. "Could a new and more promising structure of feeling emerge from the arrested disaster of the present? I think it could."
After all, Holmes concludes, "we live in arrested democracies. An aesthetics of crisis can only emerge from those grounds".
Also: Marina Grzinic revisits "Beauty and the East", the 1997 conference in Ljubljana that kick-started alternative digital networks in the former Yugoslavia; reviews of essay collections by n+1 editor Benjamin Kunkel (recently published in German by Suhrkamp) and by the theorist and performance artist Tim Stüttgen (1977-2013).
The full table of contents of Springerin 2/2015



In Dublin Review of Books, Enda O'Doherty celebrates George Orwell's essays, having put the British writer's comparatively lacklustre political analysis to one side. That said, Orwell's incisiveness is never in doubt in essays like "Down the mine", first published in The Road to Wigan Pier (1937). O'Doherty quotes Orwell summing up the social order of industrial civilization:
"In the metabolism of the western world the coal-miner is second in importance only to the man who ploughs the soil. He is a sort of grimy caryatid on whose shoulders everything that is not grimy is supported."
Yet recent studies, O'Doherty notes, have criticized Orwell for failing to really connect with the northern English workers he writes about. Robert Coll comments in George Orwell: English Rebell (2013): "There is no fun, no ambition, no zest, no obscenity, and precious little sociability in Orwell's north. A night out in Blackpool would have done him (and English literature) the world of good."
However, as O'Doherty goes on to explain, there is more to Orwell's polemic than may at first meet the eye:
"Stefan Collini, in a chapter in his book Absent Minds, has extensively documented Orwell's 'intellectual's anti-intellectualism', his rather concocted plain man's irritation at pretension, the 'come-off-it' commonsensical mode that was to become a popular journalistic device, evolving eventually into what Collini has called the 'no bullshit bullshit' style of Orwell's disciple Christopher Hitchens and others. Indeed there is little doubt that the typical Orwellian form of polemic was a conscious construction, since almost all who knew him agreed that personally he was a rather shy and gentle man."
More about Dublin Review of Books