Hug a reactor!
Lettre Internationale (Denmark) makes a stunning comeback; New Humanist watches the greens go nuclear; Roots minds the map; Varlik saves world literature from Google; Esprit says no Social Europe without a European public sphere; Osteuropa warns against "The Hungary Effect"; Dilema veche exhumes Ceausescu's one good quality; Arche discusses democracy Lukashenko-style; L'Homme describes the crisis of masculinity as a permanent condition; Le Monde diplomatique (Berlin) questions the Greek myth; and Le Monde diplomatique (Oslo) points to the Greek example.
Lettre Internationale (Denmark) 18 (2008)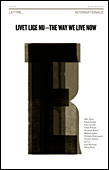 Founded in 2003, the Danish edition of Lettre International, a beacon in the Scandinavian public sphere, was published quarterly until being wound up in November 2007 by the publisher, the Danish daily Information. It proved impossible to find a new publisher and the journal lay dormant for over a year – until now.
The "new" Danish Lettre, published once a year by the Royal Danish Academy of Fine Arts and sponsored by a high-end furniture company, represents something of a revolution in the Scandinavian media landscape. It is to Eurozine's knowledge the first Scandinavian quality journal in print that will not be available for subscription nor be on sale in bookstores or news stands. Instead it will be distributed for free at cultural events all around Denmark.
The way we live now: The first issue (or the eighteenth since the start in 2003) draws on last year's superb anniversary issue of the German edition of Lettre. Under the heading "The way we live now", some of the world's most influential writers and intellectuals diagnose the present in the light of the recent past. Philosopher Tzvetan Todorov maps developments since the fall of the Berlin Wall to identify the passions governing today's societies; Korean Nobel Prize candidate Ko Un focuses on "Asia's orientalism"; urbanist and activist Mike Davis describes Dubai as "the apotheosis of capitalism"; and media theorist Geert Lovink pours scorn on the "Googlization of our lives".
The life of a journal: In a remarkably frank article, filled with cold facts and figures, editors Karsten Wind Meyhoff and Andreas Harbsmeier give a rare insight into the spartan life of a cultural journal:
"To publish a cultural magazine like Lettre is a complicated affair. […] In spite of the goodwill of many of Denmark's best writers, translators and editors it is difficult to establish a solid economic basis for a publication of this type, which means that the work turns into a struggle for survival. […] In Denmark, for a magazine like this there seems to be a glass ceiling at around one thousand subscribers and five hundred sold single copies."
The full table of contents of Lettre Internationale (Denmark) 18 (2008)

New Humanist 1/2009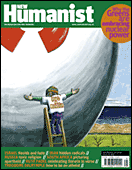 For decades, it was the scourge of the environmental movement. But now, writes Angela Saini in New Humanist, the greens are going nuclear ("Hug a reactor" reads the T-shirt of the green in Martin Rowson's cover illustration). Faced with the reality that renewables will be unable to replace conventional energy sources in the foreseeable future, arguments for nuclear power – that it is cleaner, safer and less expensive – are gaining weight. As George Monbiot, environmentalist and columnist for The Guardian, tells Saini:
"In some ways we think religiously about this topic. People start with a pre-existing position of being anti-nuclear and then go out and find the evidence to justify that position. Faced with this enormous challenge of climate change, we have to throw everything useful at the problem that we can, and it's now beginning to look as if nuclear power might be more useful than we first thought."
Israel: Sally Feldman discusses religious intolerance in Israel in the light of a newly published collection of essays, A Time to Speak Out. Its authors are involved in "Independent Jewish Voices", a group of British Jews "committed to the original ideals of a just Israel. But they are also determined to express their opposition to Israel's treatment of Palestinians. It's a defiant stand against those established Jewish organizations that regard such dissent as betrayal."
Literary critic Jacqueline Rose writes in A Time to Speak Out: "There is one charge against Jews who criticize Israel that seems to me particularly misguided, and that is the charge that we are self-hating Jews." Another contributor, journalist Anne Karpf, analyses the accusations and counter-accusations of "Nazi" between Palestinians and Israelis. "Karpf deplores these unfounded accusations which characterize both sides, calling for an end to what she describes as a grotesque battle for victimhood."
Also to look out for: Nasrin Alavi on the fading of "Iran's Prague spring"; Owen Hatherly on why New Towns could transform the future; and the Bad Faith Awards 2008 (winner: Sarah Palin).
The full table of contents of New Humanist 1/2009

Roots 28 (2008)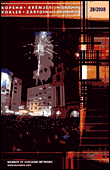 In Roots (Macedonia), former Macedonian foreign minister and UN ambassador Denko Maleski writes on the causes of Balkan nationalism:
"In the minds of all the Balkan nations, without exception, there are two maps with two different borders. One is the contemporary map, usually called the political map of one's state. Usually it is not liked, since its diminished size signifies the wrongs that history has done to the nation. The other is the historical map, a map sometimes secretly and often openly cherished."
The notorious "naming dispute" between Greece and Macedonia has meant that Greece has blocked Macedonian accession to Nato and the EU. "The conflict, which foreigners might experience as a Monty Python sketch", writes Maleski, "has become a serious impediment to progress, stability and welfare for the Republic of Macedonia and also for the region, Europe, and the trans-Atlantic alliance as a whole." And not only that:
"Greek nationalism, by insisting on a geographical distinction such as Northern Macedonia, paradoxically supports Macedonian nationalism's notion of a divided fatherland. […] This will go on until we realize that we are debating a non-existent issue, since there is no identity problem between our two nations: we speak a different language and have a different history."
Was Hegel Macedonian? No, writes Ferid Muhic, "he did not have the privilege to be born near the place where the prophesied meeting of the worlds took place". Nevertheless, Hegel "was certain that the wisdom of this region was the most profound revelation of the mortals. He believed that the solution to the universal enigma was buried there, in Macedonia."
And who could accuse Hegel of looking on the bright si-ide of life?
The full table of contents of Roots 28 (2008)

Varlik 1/2009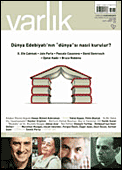 Just before Christmas, Varlik brought together in Istanbul an impressive group of Turkish and international writers, intellectuals and literary critics to discuss "World literature in between". The January issue features a selection of the conference contributions (some of which will appear in Eurozine in the coming weeks).
"When talking about world literature, it is usually assumed that this reflection should take place in a non-national, or what is often called post-national framework", writes Pascale Casanova, author of the indispensable book The World Republic of Letters. "But to affirm the end of the nation as a political unit and a scale of literary analysis" would be to commit both a "historical" and a "methodological" error. "Even more, it seems to me a way of reproducing the prejudices of those who dominate the literary universe", argues Casanova and coins the concept "domiNation" to describe the situation.
"International writers are themselves far from hanging in social and historical weightlessness, straddling national boundaries, not assigned to any one frozen national identity. Those writers who are called international, that is to say, those whose works cross borders and enjoy international recognition, are actually national beings like the others, and therefore determined by the weight of their collective history, bearing, whether they like it or not, the burden of their national capital, primarily in the form of the language they write in, which is often their national tongue."
Google literature: World literature is not "Google literature", aiming for an accumulation of all existing literatures (Google Books) and for total translatability (Google Translate), argues Martin Puchner.
Puchner – who is the new general editor of the Norton Anthology of World Literature – tries to arrive at a pragmatic concept that would evade some of the critique directed at world literature's aspiration to totality. World literature is, he writes, "literature for the world, adopted by the world, world making, oriented towards the world market, and, finally, oriented towards this world rather than the next".
Also: David Damrosch on Erich Auerbach in exile; Bruce Robbins on Chomsky and cosmopolitanism; and Djelal Kadir on the task of comparative literature.
The full table of contents of Varlik 1/2009

Esprit 1/2009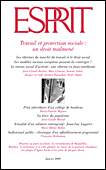 For a third issue in a row, Esprit devotes a feature to the impact of the financial crisis (see articles from previous issues). This time the focus is on social security and employment law. Marc Clément considers the problem at a European level, arguing that the current style of welfare coordination can at best only paper over fundamental problems. Free movement of workers and businesses across Europe requires an integrated system of support for unemployed and disabled workers. Yet in the absence of any common European political culture, this integration has not only been limited, but has been driven by the courts rather than by parliamentary institutions.
"Further integration will require a shared European political culture. That, in turn, would be possible only with the emergence of a common European language, a situation that seems unlikely in the near future. In short, there can be 'no social protection' without common politics, no Social Europe without a European public sphere."
Populism: Jean-Claude Monod, drawing on the work of Argentinian thinker Ernesto Laclau, asks whether populist movements are a healthy part of democracies. Populists claim to represent the entire population, but gain support from a disparate coalition of the resentful, writes Monod. Enemies of the movement are portrayed as elites who obstruct the popular will and who are thus rhetorically excluded from "the people". Yet anti-elitism falters when the rebels themselves become elites and the contradictions in the people's demands become clear.
However even with these divisive tactics, populist movements can be a check on the power of unrepresentative institutions, and can confront a nation – especially one that idolizes revolutionaries, such as France or the USA – with its own disappointed ideals. A diluted form of populism persists throughout mainstream politics, argues Monod, be it in Nicolas Sarkozy's invocation of the hard-working segment of French society, or in Barack Obama's construction of a liberal anti-elitist coalition.
The full table of contents of Esprit 1/2009

Osteuropa 12/2008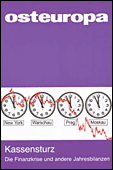 For the first time since the introduction of the market economy 20 years ago, writes Reinhold Vetter in Osteuropa, the EU member states in eastern Europe are experiencing how heavily the stability of their currencies depends on the speculative behaviour of foreign investors. "The Hungary Effect", a term coined by Poland's finance minister Jacek Rostowski to describe investors' habit of lumping all countries in eastern Europe together, means that Poland and the Czech Republic have been hit by the wholesale retreat of foreign money from eastern Europe after the scale of Hungary's economic disaster emerged.
At the same time, it has become apparent that the EU states in the region have been living above their means. Hungary has been especially hard hit because of high levels of public borrowing and dwindling currency reserves, while Romania, Bulgaria, Estonia and Latvia are being dragged into recession by budgetary deficits and soaring private debt.
Nevertheless, writes Vetter, in these countries the debate on how to deal with the crisis has stayed within the established co-ordinates of the market economy. Above all, what is being discussed is the role of the state and the necessary and realisable degree of international regulation and control of financial markets. "Like in the West, the discussion is concerned with whether the theory and practice of John Maynard Keynes should be experiencing a renaissance."
Also to look out for: Joachim O. Weidemann on the financial crisis in Russia; Astrid Sahm on last year's simulated elections in Belarus; and Karin Bachmann on the deterioration of Slovak-Hungarian relations.
The full table of contents of Osteuropa 12/2008

Dilema veche 253-257 (2008-2009)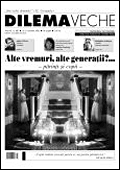 Romania was ruled by a totally insipid dictator. This is the conclusion drawn by Marious Chivu after reading Toma Roman's book Clan, a portrait of Nicolae Ceausescu and his wife Elena. He became a man "with no friends, no real connections with his family, a poor hunter, with no musical or culinary tastes, with no scruples, profoundly suspicious and egocentric, a liar obsessed with his own personality cult, scared of conspiracies and viruses, profoundly xenophobic and anti-Semitic, rigid, obtuse and irascible with those who did not play along."
The only good quality his acquaintances were able to detect is that he was totally devoted to his wife. But she was "vicious, arrogant, stupid, snobbish, egocentric and aggressive", which is not much of an improvement after all. It's a tough legacy for Romania to live with, states Chivu in issue 256.
Economic control: In issue 254-255, Daniel Daianu searches for a new starting point for global economies. "A new and more sensible understanding of globalization, geared towards pragmatic interests of growth and prosperity, might offer a renewed place for national states to intervene in the economy and domesticate the inherent excesses of the global markets." Yet he makes no pretence that it will be easy to find one simple solution. He proposes a combination: local alliances of nation-states able to compensate for the excesses of a too open global system and strong enough to generate multi-polarity to US hegemony. The outcome is, of course, unknown.
No national literatures: The novelist Filip Florian questions the need to talk about a national literature. In interview with Andrei Manolescu, he believes there is no decipherable secret behind a successful novel like his own debut Degete mici (Small fingers). A novel either is a success, or it is not.
Santa's final days? Magdalena Boiagiu worries about the rise of radical Islamism in Bosnia, a place normally known for religious moderation. The initial banning of Santa Claus for "ideological incompatibility with the Muslim precepts" might be the silly start of a more sinister era, she warns.
The full table of contents of Dilema veche 253-257 (2008-2009)

Arche 11/2008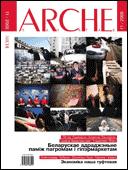 In November 2008, Belarusian president Alexander Lukashenko accused high-ranking government officials of illegal appropriation of land on which to build luxurious villas; this led to spectacular purges at various ministries, which have been the main talking point of political discourse so far this year.
In a round table discussion in Arche, commentators note that Lukashenko-style authoritarianism achieves de facto what elections do in democratic societies. Having done away with free elections, Lukashenko is forced to rotate government ministers via scandals, purges and arrests – which are broadcast live. Without these purges, corruption would rise to uncontrollable levels.
Financial crisis: Alaksandar Cubryk, Dzmitry Kruk and Kiryia Hajduk wonder how Belarus can withstand the impact of the global financial crisis and reform its economy at the same time; Jonathan Row and William Tompson explain why the crisis hurt the American and the Russian economies more than others; and Aris Trantidis analyses the economic preconditions for the stability of the Belarusian regime.
Language reform: Zmicier Sauka deconstructs the orthographic regulations restricting the use of the Belarusian language, due to be implemented on 1 September 2010. And Piotra Rudkouski contests suggestions that the Belarusian language has no prospects under present conditions of commercial cultural oppression.
The full table of contents of Arche 11/2008

L'Homme 2/2008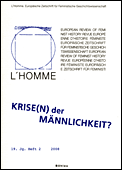 L'Homme questions the academic interest in the "crises of masculinity". Recent research asks not only how norms and images of masculinity are shaken by societal transformations and changes, but also which impact such shocks have on historical processes. But does it actually make sense to talk about "crises of masculinity"? The issue presents exemplary concepts of masculinity in five periods of change from the twelfth to the twentieth centuries.
Martin Lengwiler concludes that changes usually happen gradually, and that different gender models during the twentieth century, "were part of a complex societal change which cannot be reduced to the big caesuras of political or cultural history, like the two World Wars or the '68 movement. […] The much cited 'crisis of masculinity' in the twentieth century was not only a permanent condition, but the normal one, and therefore nothing less than a cipher for a subtle gender-historical transformation process."
Feminism's imperial ironies: Anna Loutfi reflects on the use of the nation-state as an organizing principle for central and eastern European feminist history of the nineteenth and twentieth centuries. She detects what she calls feminism's "imperial ironies": feminists in central and eastern Europe acted within international feminist networks, while at the same time were confronted with emerging nationalism in territories that had been parts of former empires.
Loutfi chooses the image of the Cheshire Cat in Alice in Wonderland that constantly appears and disappears, "as an expression of the violent identity politics of local elites as they struggle to represent themselves […] against the changing geopolitical landscape. In order for feminists to campaign for women's education, they had first to conceive of themselves as both national and European subjects, possessed of an elite transnational European education, as well as linguistic competency and literacy in the national vernacular."
The full table of contents of L'Homme 2/2008

Le Monde diplomatique (Berlin) 1/2009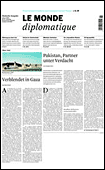 In Le Monde diplomatique (Berlin) Alain Gresh analyses "The invention of the barbarian" via historical readings of western self-perception and the western perception of the eastern (i.e. Muslim) world.
There is nothing new about the fact that European historians of the nineteenth and early twentieth century described Muslim societies as backward, violent and inhuman, argues Gresh; even contemporary scientists like Anthony Pagden and Paul Cartledge support these stereotypes. In contrast, the Greeks are presented as the starting point of European, western history; an ideal democratic and human society that over hundreds of years had to fight barbarian onslaughts from the Persians and their like. But a number of recent books make quite clear that this unquestioned genealogical myth is far from a representation of reality, writes Gresh, citing John M. Hobson:
"First, the East actively pioneered its own substantial economic development after about 500. Second, the East actively created and maintained the global economy after 500. Third, and above all, the East has significantly and actively contributed to the rise of the West by pioneering and delivering many advanced 'resource portfolios' (e.g. technologies, institutions and ideas) to Europe."
Present day Greece: Niels Kadritzke comments on the recent violence in Greece: "Whatever the Greek government does in the current crisis, it can only be wrong." Greece will most certainly be affected by the financial crisis more heavily than most other EU countries, due to its lack of infrastructure, an enormous budget deficit and, to top it all, a major crisis of confidence between state and society.
The full table of contents of Le Monde diplomatique (Berlin) 1/2009

Le Monde diplomatique (Oslo) 1/2009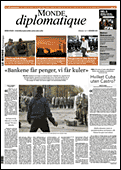 "Welcome to the social battleground, my friend. From now on you have to protect yourself, and you have to protect your causes." This was Leonidas Kyrkos' reply to the question "What would you say to the young people who are demonstrating today?"
In Greece, the demonstrations ignited by the killing of fifteen year old Alexandros Grigoropoulos bear the marks of a rebellion by a generation that has come to realize they are unlikely ever to achieve a higher standard of living than their parents. But, argues Valia Kaimaki in Le Monde diplomatique (Oslo), this situation is not particular to Greece. Rather, it is the rule for all western European countries.
Out of Iraq: When Barak Obama ran for US presidency, he promised that American troops would be out of Iraq within sixteen months. But in the last few months under Bush, the US army administration conspired to undermine the Status of Forces Agreement (SOFA) signed in November through a series of ifs and buts, adding new conditions to nearly every clause. Gareth Porter writes: "The plan to keep troops in Iraq indefinitely […] and the invention of various excuses that allow the terms of the SOFA deal to be ignored with regards to American operations served one single cause: the US military and its civilian allies' plans to undermine both Obama's plans for withdrawal and the conditions of the SOFA deal."
Deft documentaries: Truls Lie has been to the biggest documentary film festival in the world, the IDFA in Amsterdam. There he witnessed a new trend: the use of footage shot with small cameras and mobile phones hidden away in bags and inside jackets, bringing the viewer right into the middle of events. The festival winner was the Danish Burma VJ – Reporter i et lukket land (Burma VJ – Reporting from a Closed Country), in which the director pieced together videos provided by a number of Burmese people involved in the uprising in the autumn of 2007. The film serves to illustrate just how senseless the country's leaders are, states Lie, and predicts a new storm as the film is screened around the world.
The full table of contents of Le Monde diplomatique (Oslo) 1/2009