Fishing in troubled cultural waters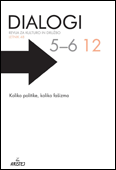 A flurry of creative activity in Maribor (Slovenia), a European Capital of Culture 2012, hides the absence of a sustainable concept for the city's cultural sector, writes Dialogi editor Emica Antoncic. Even the brief respite for cultural workers offered by the ECC excludes cultural organizations not connected to the programme. After 2012, many will remain, increasing competition for already scant municipal funds. A perfect opportunity for the local authorities to fish in troubled waters, comments Antoncic, whose journal and publishing house is one of numerous independent organizations facing an uncertain future.
The identity state: Sociologist Rastko Mocnik identifies two forms of neo-fascism in Slovenia: one "romantic-cultural", the other "realistic-technocratic". While the former emerged in the early 1990s as a result of "the disintegration of socialist self-management" and the "reshaping of a popular uprising into a demand for of a 'national state'", the latter exists today by "excluding the people from political decision making" and implementing "anti-democratic policies to the advantage of capital". The response from the "depoliticized masses", writes Mocnik, is to cohere into disciplined family units:
"The so-called 'renewal' of the patriarchal family, the revival of traditional models, 're-traditionalization' – all these are new forms of sociality imposed by contemporary capitalism. Identity construction strengthens ties within the household and at the same time makes it possible to re-establish a support network in an environment, otherwise destroyed by capitalist processes. […] The spontaneous stand taken by the oppressed or the exploited in defence of their own identity therefore degrades social ties and supports associated processes through which capital can assert its rule."
The full table of contents of Dialogi 5-6/2012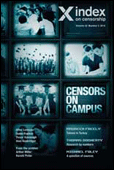 The British press is awaiting the publication of the Leveson Enquiry report on the News of the World phone hacking scandals with mixed feelings. While it's generally agreed that the existing press supervisory body, the independent Press Complaints Commission, failed miserably and needs to be replaced, many fear that Leveson will go too far the other way, recommending heavy statutory regulation and stifling privacy laws.
In Index on Censorship, journalists and lawyers express widely divergent hopes and fears about the Leveson report. Guardian editor Alan Rusbridger's case for regulation encouraging public interest journalism shares little ground with blogger Guido Fawkes' preference for tighter enforcement of existing laws over the introduction of new ones that would "turn judges into censors". Trevor Kavanagh, associate editor of The Sun, warns against "European" privacy laws that are spreading in the UK "like noxious weeds" – a brave bit of commissioning by Index – while the last word is given to lawyer Mark Lewis, who represented many of the phone hacking victims:
"We need to move away from hypocritical attempts to defend scurrilous story-writing by the sanctimonious utterances of those who should know better. The freedoms we want are not freedoms to ruin lives, to gossip or to distract. That is not the free press we strive for: what we want is the freedom to write on any subject about anyone within the confines of good taste. We do not want to have a press that is controlled by a state, but we also do not want to have a press controlled by a quasi-state such as a large corporation."
Censors on campus: Thomas Docherty explains how cuts are hijacking the pursuit of knowledge in the UK's universities in a slide towards state control of academia ongoing since the 1980s:
"We are expected essentially to validate whatever it is that public opinion decides is the genuine or proper existing state of affairs, and thus to confirm our cultural identity. Yet as Christopher Hitchens once put it, the greatest threat to freedom of expression today is not government but a malleable public opinion. If the public is genuinely to extend our freedoms and possibilities, then such opinion needs to be subjected to critique – sometimes by the exercise of academic freedom."
The full table of contents of Index on Censorship 3/2012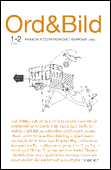 In Ord&Bild (Sweden), Jonas Lindberg and Karl Palmås show that geopolitics is not as simple as it's often made to appear (1-2/2012). They visit the town of Hambantota in Sri Lanka, which was hit by the tsunami in 2004 and has been used by Naomi Klein in The Shock Doctrine to illustrate the rise of "disaster capitalism". Klein describes a metaphorical "second tsunami" of western-led, corporate globalization. But what Lindberg and Palmås see is something rather different:
"The tsunami wiped out areas and led to a movement of people, but the empty space has not been filled by western capital in line with neoliberal ideas. The new town in Hambantota was built primarily with foreign aid from Asian countries. The deep-water port is financed by China Exim Bank, which, together with the China Development Bank, has since the start of this century lent more than the total amount given by the World Bank. The infrastructure projects in Hambantota are led by the construction firm China Harbour Engineering Company, which is now constructing around 100 infrastructure projects in Asia, Africa and the Middle East. The capital that has swept in over Hambanota is not western but Chinese – a fact wholly in line with developments outside Sri Lanka too."
"In the case of Hambantota," they conclude, "we can see how the shock doctrine theory is too coarse-grained. It leads us to believe that the US empire is winning victories – when in fact it is retreating before a new superpower."
Short stories: The short story is "the snake in the literary paradise", writes literary scholar Beata Agrell. An issue (3/2012) dedicated to a genre that "lures you with brevity just to hit you with depth" contains a fine selection of Swedish writers of short prose such as Magnus Hedlund and Caterina Pascual Söderbaum, as well as translations of texts by Asli Erdogan, Dorothee Elmiger, Claire Keegan, Magnus Mills and Péter Hendi.
The full tables of contents of Ord&Bild 1-2/2012 and 3/2012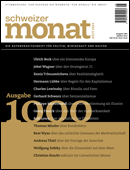 In Schweizer Monat, Ulrich Beck explains to editor René Scheu why Germany's new lead role in Europe is a mixed blessing for Europe and for Germany itself: "Europe has an uncrowned queen and her name is Angela Merkel. By way of complex negotiation, Germany practices a unilateral system in which its own recipe for success is projected uncritically on all the others. The flipside of this is that Germany can be made responsible for mistakes which it can't do anything about."
Beck makes the case for a grassroots, cosmopolitan European Union based not on national identity but a sense of civil participation. "The new members of the European precariat are beginning to experience a common European destiny," he argues. "We were surprised by an 'Arab Spring'. Perhaps there might also be a 'European spring."
Political economy: Philippe Mastronardi, Hermann Lübbe and Timo Meynhardt all agree that there is nothing wrong with capitalism as such, only with its present form. As Meynhardt puts it: "Humans are social beings: adaptable, changeable, yet motivated by basic needs that nothing and no one can abolish. A little less greed is not the solution – what would we be without our 'animal spirits'?"
Art history: In dialogue with Johannes Hedinger, Beat Wyss explains the four virtues of European art: "respect of the individual", "the valorization of work", the principle of "free exchange and trade" and the "freedom of individual opinion". Only when all four virtues are present, Wyss argues, can one talk of art. "Just as the West exported capitalism, so it exported art. […] Both systems are by no means so far apart. The art system evolved in the same cultural space, the same family. Art is capitalism's guilty conscience."
The full table of contents of Schweizer Monat 10/2012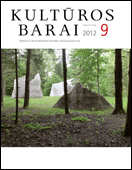 The global debt crisis is encouraging economists to explore alternative ways of measuring national wealth and productivity. In a wide-ranging conversation with Almantas Samalavicius, Mark Anielski discusses the revolutionary concepts outlined in his book The Economics of Happiness and explores the possibility of an economic system based on the pursuit of happiness rather than unlimited growth.
Anielski is particularly interested in what we can learn from the accounting methods of the Renaissance mathematician Luca Pacioli, who together with Da Vinci invented double-entry bookkeeping. Luca, says Anielski, "taught that taking regular account of the performance of an enterprise was effectively an accounting to God for the wise stewardship of the assets that were key to a flourishing enterprise and the Venetian economy."
"Luca would have been be appalled that we are operating a modern economic system where money had no relationship to the real assets and liabilities that ultimately define the wellbeing and happiness of our lives and communities. Compared to a forest ecosystem, a global economy based on a belief in eternal growth fuelled by unsustainable debt is more akin to a cancer cell that would consume the very body, mind and soul of humanity without conscience."
Future money: Understanding the need to combine economics and ethics amounts to a "Copernican revolution", says James Robertson, co-founder of the New Economics Foundation. The survival of our species depends on our making the money system work in ways that will "enable and conserve".
"What should have been a helpful tail for the dog to wag is no longer a useful appendage. The money system is now the tail that wags the dog. This can be understood as a form of elephantiasis – a horribly disabling and disfiguring disease. The whole of humanity now suffers from it. It threatens the future of us all."
European histories: Why does Europe find it so difficult to remember the facts of migration, both voluntary and forced? Reluctance to address the more noxious aspects of collective European identity impedes an engagement with migration history, argues Claus Leggewie.
The full table of contents of Kulturos barai 9/2012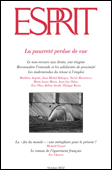 In France, statistics for 2010 indicated that a total of 8.6 million people, or 14.1 per cent of the population, were living below the official poverty line (i.e. earning less than 60 per cent of the median income of 964 euros per month). More shocking still: this represented an increase of 440,000 in one year. Introducing a dossier of Esprit entitled "Poverty out of sight", editor Marc-Olivier Padis argues that, while there is an acknowledgment of the urgent need for action on the international level, the French state is failing to respond to the worsening situation at home.
Inequality: In a wide-ranging dialogue, Philippe Warin and Nicole Maestracci devote particular attention to considering why such a high proportion of the needy fail to take advantage of state support. Both argue that the "new poverty" must be seen in the wider context of social inequality: "The fact of being poor is experienced as an unbearable injustice. It's not just a matter of a standard of living but of a whole way of life and a response to the situation. The social cohesion of the country depends in large part on how wealth is distributed and how the population judges such distribution."
Participation: Support fails to reach its targets because, among things, systems are over-complex, argues Matthieu Angotti: "Not only do the potential beneficiaries get lost in the undergrowth of the aid system but, nowadays, even social aid professionals can no longer hope to have all the available rights and provisions at their fingertips. Social policy is suffering from a cruel lack of coherence." The problem, he argues, must be tackled by involving the poverty-stricken themselves in administering state aid.
Housing: Rather than making entitlement to long-term accommodation more difficult for those whose needs are complicated by drug or alcohol dependence, accommodation should be offered without preconditions but with intensive social support, says Éric Pliez. "What is certain is that the policy of 'housing first' cannot and must not be set up purely in accounting terms but as a response to individual need." He points to a recent experiment in Seattle, which saved four million dollars in state provision and showed that, with this kind of support, addicts began to solve their own problems.
The full table of contents of Esprit 10/2012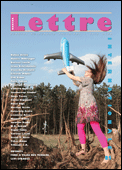 Magyar Lettre remembers the Hungarian philosopher-architect Attila Kotányi (1924-2003), whose oeuvre consists of thousands of notes written down in books and cards. Kotányi's preferred form, however, was the dialogue and his "Thursday conversations" remain fresh in the memories of students, colleagues and friends who took part. "During these chats, so long as he didn't get hungry, Attilá forgot about time and space", recalls Hannes Böhringer, colleague of Kótanyi at the Düsseldorf Academy of Arts.
Kotányi's brief contact with the Situationist movement had a lasting impact on his work, writes Böhringer: "The Situationists understood world historical progress and the inevitable process of immiseration that accompanies it not as advancing industrialization but as urbanization. […] The urbanization of the world, the subsumption of cities into huge urban agglomerations, the ungovernability and the challenge of living in them poetically, remained his lifetime subject."
Censorship: János Sugár looks at Kótányi's weak reception in Hungary, a result of his emigration in 1956 and communist censorship. The removal of a public for Kótányi's work, writes Sugár, meant that the "self-generating process of non-understanding, misunderstanding and understanding never took place. An inspirational chain reaction did not emerge because author and work failed to enter the general consciousness."
Armenian cult of the dead: Two recent books on the Armenian cult of the dead function as symbolic materialization of the myth of return among assimilated Hungarian-Armenians and constitute an important act of collective memory-formation among this diaspora community, writes anthropologist Kinga Kali.
"Books about death and burial do not make light reading, even for someone involved in Armenian history, but these books themselves are also soul food, reading and browsing through them the members of the community can reproduce the collective past again and again and with it also their own Armenian identity, remembering their departed Armenian ancestors and in this way keeping them alive."
The full table of contents of Magyar Lettre Internationale 85 (2012)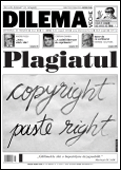 In Dilema veche, Ciprian Ciucu takes the European Charter of Fundamental Rights and the "freedom of movement and establishment" defined therein as the starting point for defining the current relationship between Romania and the EU (447). From rightwing point of view, if a human being has the formal freedom to do something, it lies in his hands to create the conditions to exercise that right. From a leftwing point of view, society is responsible for facilitating the exercise of that right.
For Ciucu, the Romanian state is too socialist in its perception of the duties of the EU: "I'll be frank: I vigorously refute the notion, common ever since 1 January 2007, that if we're part of the EU, then the other EU states owe us something. […] No, they owe us nothing apart for not demanding our passports at their borders."
Corruption: Mircea Vasilescu (447) would like to see a "clean hands" movement in Romania, despite that fact that conditions in Romania differ from those in Italy in the 1990s: "There, too, corruption had become a 'system' […] But while, in Italy, journalistic investigation contributed to the dismantling of the system, in our case journalism is much weaker and – above all – the active reaction of public opinion is missing."
Danube: Liliana Nicolae (448) travels to the village of St Gheorghe, a place "at the end of geography", where the Danube flows into the Black Sea. Buffeted by the omnipresent wind, the village can only be reached by a four-hour boat trip. Locals still tell stories of the adventures of fishermen: with electricity reaching the village only in 1990, news of the Romanian Revolution passed them by entirely.
Jean Trofimov emigrated to Spain nine years ago but still spends his summers between the Danube and the Black Sea: "Spanish fish isn't like ours. Even their sea isn't like our sea!" He remembers times when "the bread could not hold all the caviar we had. Other times, moustached monsters with huge scales struggled on our table". Now, fishermen complain that they can barely catch the fish they need to subsist.
The full table of contents of Dilema veche 444-449 (2012)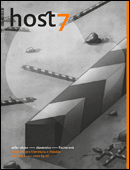 The Czechs and Slovaks remained on friendly terms following their "Velvet Divorce" in January 1993, yet the pace of cultural exchange between the two nations has slowed down considerably, becoming even more one-sided than in the past. A special focus in Host (Czech Republic) on contemporary Slovak fiction seeks to rectify this imbalance.
Reception: In her essay on the reception of Slovak literature in the Czech Lands, writer and translator Barbora Skovierová lists reasons for the apparent lack of interest on the part of the Czechs. These range from the linguistic – despite of the closeness between the two languages, due to lack of regular exposure many find Slovak harder to understand, although this is not the case the other way around – to the psychological, summed up by Joachim Dvorák of Labyrint, one of the few publishers whose list includes Slovak books in Czech translation:
"The Czechs believe themselves to be experts in nearly everything; if they need to find something worth copying, they will only look across the Sumava mountains to the West. That might be the reason why, over the past twenty years, contemporary Slovak fiction has not managed to make a real impact on the cultural consciousness in Bohemia and Moravia."
Young Slovak writers: Host introduces writings by three younger Slovak authors in Marek Seckar's Czech translation: a short story by Lucia Piussi; an extract from Zuska Kepplová's novella Cakes in Gothic Script, nominated for this year's Anasoft Litera prize, and two short stories by Balla, this year's winner. An extract from Balla's novella, In the Name of the Father, as well as a short story by Lucia Piussi, is available in English in the Slovak Literary Review 2/2011.
Interview: Slovak writer and translator Ján Strasser welcomes the strong female presence on the Slovak literary scene and discloses his two favourite books of the past two decades: Peter Pistanek's raunchily satirical Rivers of Babylon trilogy and Ján Rozner's remarkable memoir and piece of cultural history, Seven Days to the Funeral (an extract in English appeared this September in the anthology Two Lines).
The full table of contents of Host 7/2012