"Democracy and its opposite"
Springerin talks to Jacques Rancière about democracy and the political; Artistas Unidos Revista introduces a writer, full stop; Kulturos barai warns of theoretical dogmatism; Osteuropa urges intellectuals to criticize European integration; The New Presence asks what the Czechs actually want from the State; L'Espill tracks Salvador Allende back to a clinic in Santiago; and du finds Amitav Ghosh disillusioned by what happened to the US.
Springerin 3/2007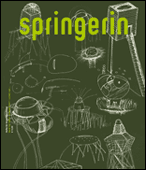 Ségolène Royal called him her favourite philosopher: Jacques Rancière, famous for his Reading Capital (1968), co-authored with Louis Althusser. In an issue devoted to the third of the documenta 12 leitmotifs ("What is to be done?"), Austrian art journal Springerin talks to the philosopher about anti-democratic thinking and what "the political" could mean today.
"Democracy", says Rancière, talking about the political reality he portrays in his recent book, Hatred of Democracy (2006), "appears as an inaccessible future only if we perceive it as a perfect form of State or a perfect state of equality. But that is absolutely not my intention. In my view, the 'not-yet' cannot be separated from an 'already-here-and-now'. Democracy exists only on the basis of the actions that characterize it and the texture of common life based on these actions. Democracy is not unrealizable in principle. Rather, it constitutes a principle that we have always known is interwoven with its opposite, and that constantly fights against this opposite. The horizon of equality is not something that determines the march towards some unattainable perfection; rather, it is something that provides the necessary stage for our thought and action."

Also to look out for: Tony Chakar on the London exhibition "Memorial to the Iraq War"; Benjamin Paul on the documentation of the Italian situationist movement in 1977, which kept the country breathless for a year, and on the photographer Tano D'Amico, who participated in many of the demonstrations, sit-ins, and festivals; and Nicolas Siepen on the rediscovered films of the "Zanzibar group" or the "dandies of May 1968", young anarchic filmmakers inspired by Godard and Warhol.
The full table of contents of Springerin 3/2007.

Artistas Unidos Revista 19 (2007)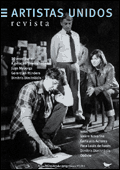 Portuguese theatre magazine Artistas Unidos Revista, which just recently became a member of the Eurozine network, has a history of introducing contemporary playwrights to a Portuguese readership. The new issue features texts by and on Greek writer Dimitris Dimitriadis.
Actually, it is contradictory to call Dimitriadis a Greek writer, and even more to call him a Greek playwright, writes translator Dimitra Kondylaki. Yes, he is certainly Greek, but his works do not show any of the characteristics of this particular culture.
"He makes use of all genres – poetry, theatre, recitation, the novel – only to reject them all. He suffocates in immobility, in the 'finality' of literature. Just as he suffocates within the confining borders of his city, of his country, and of his literary community."
Kondylaki compares Dimitriadis to Georges Bataille, who, writes Dimitriadis in the introduction to his own Greek translation of Bataille's Histoire de l'oeil (Story of the eye), "is a writer". Full stop. Dimitriadis is also a writer. Full stop. For him, as for Bataille, the act of writing does not limit itself to observation, to description or comment, to interpretation of the world. It is about intervention. They both "demolish in order to revive, decompose to recreate – even if this endeavour turns out to be impossible."
Also in this issue: A separate focus on Spanish playwright Juan Mayorga includes contributions by Guillermo Heras and Luis Henriques as well as three conversations with Mayorga. And in a dossier on the advanced international drama course Project Thierry Salmon, the journal discovers a new generation in contemporary theatre: "The Thierry Salmon generation".
The full table of contents of Artistas Unidos Revista 19 (2007).

Kulturos barai 7/2007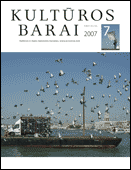 In the summer issue of Vilnius-based journal Kulturos barai, Vasilijus Safronovas launches a broadside against Lithuanian historians. Lithuanian history writing is not up to standard as far as its theoretical and methodological foundations go. During Soviet times, historians had to vow to comply with Marxist-Leninist ideology and to use approved documents provided by the Communist party. After the fall of the Soviet empire, Lithuanian historians were free to choose which methods and theories to work with. Why don't they make use of this freedom? asks Sofronovas. Today, Lithuanian historians seem to get all their theoretical insights from one source alone: the works of German historian Jörn Rüsen.
Safronovas is not out to criticize Jörn Rüsen, who prefers the term "cultural history" over, for example, cultural or collective memory. He is simply pointing to the danger of Lithuanian historians turning Rüsen's theories into dogmas.
Lithuanian art in Venice: Art critic Raminta Jurenaite is proud of Lithuania's contribution to the 2007 Venice Biennale. It is never easy to come up with something really impressive in such a "mass manifestation" as the Biennale, writes Jurenaite. But Nomeda and Gediminas Urbonas's "Villa Lithuania" – the story of the Lithuanian embassy in Rome, which was taken over by the Soviet Union and never returned – is a strong political and social statement: "a memorable manifestation of protest".
Also to look out for: German theatre critic Thomas Irmer analyzes Lithuanian playwright Eimuntas Nekrosius's Faust, which was voted best foreign play in Italy 2006-2007. And in "Is Lithuania a naval state?", Algimantas Grazulis explains what has to be done to protect Lithuania's "naval heritage".
The full table of contents of Kulturos barai 7/2007.

Osteuropa 7/2007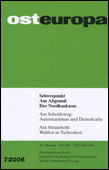 Although European integration determines everyday life in Europe, there is little intellectual criticism of it. The reason for this, writes sociologist Georg Vobruba in Osteuropa, is that all the simple perspectives are already taken.
Since European integration became institutionalized at the end of the Second World War – with the establishment of the Council of Europe (1949), the European Coal and Steel Community (1952), and finally the Treaty of Rome (1958) – an EU elite developed that was in favour of integration. At the same time, the general population took on a predominantly negative attitude to this elite and to the institutions of the EU.
If intellectuals do not want to become incorporated into either of these sides, writes Vobruba, they must come up with new theories. He suggests a sociology of criticism where intellectuals convey social fears through formal constitutive ideas.
Also in this issue: Gulbaat Rzchiladse points out the natural alliance that Russia and Georgia should form against radical Islamism, but do not; Tobias Hausotter, Arne Niemann, and Alexander Schratz look at the options that the EU has for its Belarus policy; and Karlheinz Kasper notices that Russia's literary prizes are breaking from their practice of ignoring socially and politically explosive works.
The full table of contents of Osteuropa 7/2007.

The New Presence 2/2007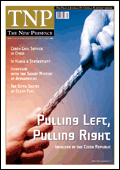 "What does the average Czech citizen want from the State?" asks Jan Hartl in The New Presence. Many of the most important issues are perceived as matters for the State to address and resolve: corruption, economic development, taxation, social services, pension reform, health, and education. However, writes Hartl, head of the Prague-based STEM polling agency, in the Czech Republic a real debate on issues such as education, healthcare, and pension reform has still not taken place.
"Perhaps this is because within the oversimplified realm of today's Czech politics, such issues are viewed as too complex for the general public. […] Emotive but less important issues (such as 'ban the communists' or 'apologize to the Sudeten Germans') take priority over genuine informed policy debate."
Many had hoped that entry into the EU would have a positive effect on the corrupt and ineffectual institutions, Hartl writes. However, three years after EU entry, little has changed.
"It is often pointed out by experts that the reorganization of the economic sphere is actually far less important than the creation of a true and functional rule of law, and an open and functional public sector. In the Czech Republic, our law books remain clogged with poorly written and often incomprehensible legislation, resulting in many just giving up altogether. Our politicians clearly should have addressed these issues long ago. Since that has not happened, we need to formulate clear and acceptable remedies. Such solutions require debate and discussion. If the state remains little more than the target of our frustrations, then little will change."
Also to look out for: Edvard Outrata, in "Civil service in dysfunction", pleads for retaining the difference between politicians and civil servants. And Alena Müller presents a mean satire on the good state official in "I am the State".
The full table of contents of The New Presence 2/2007.

L'Espill 25 (2007)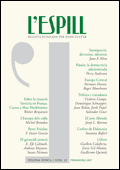 Long before he became president of Chile in 1970, Salvador Allende was a student of medicine. As a young doctor in Santiago during the 1930s, Allende compiled findings for a work on the relation between crime and mental health. Writing in L'Espill, Josep L. Barona places Allende's work in the context of debates of the time in the fields of mental health, sociology, eugenics, and psychiatry.
Constructing republican citizenship: Civic duties are as much a part of citizenship as individual rights, writes Victòria Camps. We need free persons, but also cooperative ones. This is not automatically learned but must be the object of systematic teaching. Camps argues that only through a clear definition of public interest and the horizon of justice can the depletion of democracy be avoided.
Also to look out for: Despite the runaway election victory of the moderate Islamist AKP, polls have shown that hardcore nationalism remains a force in Turkey. In view of this, public discussion of the Armenian genocide is as necessary as ever. Andreas Huyssen and Susan Neiman discuss the role of the public sphere in reflecting and guiding a politics of memory in Turkey.
The full table of contents of L'Espill 25 (2007).

du 7/2007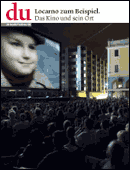 In du, novelist Amitav Ghosh talks to Bernadette Conrad about the Iraq war and the change in public life in the US after 9/11. Unlike many liberals in the US, Ghosh, Bengali born and resident of New York, opposed the war from the start. He had fallen out with the New Yorker shortly after 9/11 when he refused to cut an article arguing that the attacks were the consequence of US imperialism. The magazine has since turned critical of US foreign policy, mirroring US public opinion. As Ghosh points out, it is hard to imagine such a controversy arising today.
"It was so easy to see this catastrophe coming. At the time, I attended the anti-war demonstration with my children, along with several thousand other people. The newspapers barely covered it. A collective trauma had taken place, a paralysis and an inability to think clearly. Something similar also happened in Burma and earlier in Germany: a country lets itself be kidnapped by a group of people. And afterwards, when society as a whole feels threatened, it responds by giving these people immunity, like here, with the revocation of laws protecting individual freedoms. Society no longer has the real energy to protest."
About Islamic fundamentalism and the doctrine that leads people to want to blow themselves up, Ghosh is no less damning:
"When this religion brings you to a point where there is nothing more that you love, then you are at the point of pure nihilism. […] I watched this fundamentalism grow, I see how it functions: through the denigration of the world. The Left and the most sceptical of critics forget to counter this attitude with something very simple: What do we love in this world? What brings us joy? And how much is this worth to us?"
The Locarno Film Festival: du authors remember their first time at Locarno, the "most illustrious of the film world's smaller events", which begins on 1 August. Accompanying texts on cinema include Margrit Tröhler on the history of the cinematic space; Tim Zulauf on subsidizing self-reflexive cinema; and Michael Roes on reclaiming the poetry of film.
The full table of contents of du 7/2007.

This is just a selection of the more than 60 Eurozine partners published in 33 countries. For current tables of contents, self-descriptions, and subscription and contact details of all Eurozine partners, please see the partner section.