Central Europe as City: English language issue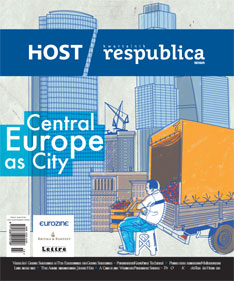 Res Publica Nowa (Poland) joins up with partners Host (Czech Republic), Magyar Lettre (Hungary) and Kritika + Kontext (Slovakia) for a collaborative English language issue on "Central Europe as City".
"Central Europe's cultural personality stems not from states but from cities," writes co-editor Marek Seckar. "Few countries in the region fall entirely within the cultural sphere of Central Europe. But at the level of individual human settlements, Central Europe suddenly emerges in striking clarity."
Among the selection of articles published in Eurozine is a brief literary history of the Czech city of Brno by critic Jirí Trávnícek. Poets abound in Brno's literary heritage, but a prose monument to the Moravian capital has yet to be created, he writes. Two neglected stories by native son Milan Kundera, set in post-war Czechoslovakia, fill the gap.
From Poland, Malgorzata Litwinowicz writes that provincial life is typically seen in Polish literature as the antithesis of culture. Paradoxically, the Polish magic realist tradition derives precisely from the small town and the image of the shtetl as centre of the universe.
Slovak capital Bratislava, formerly Pressburg or Prespork, was historically a multi-national and multi-confessional city, regrets dissident, poet and writer Juraj Spitzer in a posthumously published article. When much of the old town was destroyed in the 1970s, the city's cultural heritage was lost with it.
Also: Hungarian urbanist Levente Polyák on the radical eclecticism of the Central European City; and Karolina Ryvolová on the "two cultures" of the Czech Roma.
Order a copy of the special English Language edition of Res Publica Nowa