"Because you care"
Samtiden is worried about what will come after a recycled debate on climate change; Osteuropa ventures into Central Asian terra incognita; Lettre Internationale (Denmark) undermines clichés about Africa; Arche sides with John Paul II against KGB-like slander; Merkur conjures up Radio Days; Magyar Lettre Internationale abandons the idée fixe of the man from the former eastern bloc; du celebrates Astrid Lindgren's hundredth birthday; Le Monde diplomatique (Berlin) takes Chavez-style socialism to task; and Revista Crítica de Ciências Sociais looks at local politics on a global scale.
Samtiden 3/2007

Writing in Samtiden, which recently received the Norwegian "Magazine of the Year" award, Erling Dokk Holm draws astonishing parallels between the debate on climate change in Norway in 1989 and now, in 2007. Seventeen years ago, the claim that carbon dioxide and other gases could effect the climate was hardly new, but finally – after a warm and rainy Norwegian winter (just as in 2007) – the research results hit the mass media with full force. Not a day passed without a public debate on carbon dioxide and the environment.
In 1989, both politicians and pundits were convinced that climate change was "man made" and that political measures were absolutely necessary to save the planet. Surveys showed that more than half of the Norwegian population could imagine dropping the focus on economic growth and prioritizing the environment.
But nothing happened. On the contrary, carbon-dioxide emissions in Norway – as in most countries – have increased dramatically since 1989. Why? Erling Dokk Holm comes up with several explanations, from the decline of Marxist theory and the strong influence of the petroleum industry on Norwegian politics to the fact that the news was simply too bad to handle – "People can't stand too much of the truth".
Having read Erling Dokk Holm's account of the scary similarities between the 1989 and 2007 debates, one cannot help but ask: What will happen this time? Anything at all?
Also to look out for: Feminist literary theorist Toril Moi does a close reading of influential books giving popular advice on child bearing and breast-feeding. Moi's critical conclusion: "Just because a woman can give birth to a child, doesn't mean that she has to. Just because a woman can breast-feed, doesn't mean that she has to."
The full table of contents of Samtiden 3/2007.

Osteuropa 8-9/2007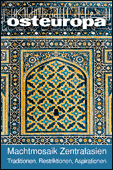 "Central Asia is paradoxical," write the editors of Osteuropa in a substantial double issue on the region. "Its past is near and its future is distant. […] Without its great traditions – the urban high culture of the oases, the huge steppe empires, the blossoming of Islam along the most important trading route between east and west, and the multiculturalism between deserts and high mountains – Central Asia is incomprehensible. However, the sparkle of the past eclipses everything else: today's Central Asia is largely terra incognita."
Bert G. Fragner offers a cultural history of Central Asia that explains its complexity of identities. "In the last fifteen years, it has often been argued that the Central Asian states need to find, or are on the way to creating, their 'identity' after independence." The type of political identities that we await, however, are not congruent with the ethnic or tribal identities – in many cases much older. In addition, regional identities have formed as a result of the various empires that have dominated Central Asia.
Do the five states of Central Asia (Kazakhstan, Kyrgyzstan, Tajikistan, Turkmenistan, and Uzbekistan) really form a region? asks Uwe Halbach in an article about Central Asia's Soviet legacy. "There is barely any other part of the post-Soviet space that needs regionalization more than here." Combating problems such as water shortages and the transfer of drugs from Afghanistan takes regional cooperation. Although a certain degree of cooperation does exist, "the 'new independent states' are understandably fixated on their national sovereignty. For them the term 'integration' is associated with Soviet 'supranationality'. Even national integration on the state and republic level is still unfinished."
Also in the issue: Annette Krämer on the blossoming, suppression, and instrumentalization of Islam; Marlène Laruelle on the difficulties of nation building; and Andrea Schmitz on the EU's involvement in Central Asia; along with articles on press freedom, environmental issues, and neighbourly relations.
The full table of contents of Osteuropa 8-9/2007.

Lettre Internationale (Denmark) 16 (2007)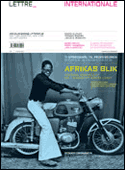 Africa is too big for generalizations. Yet generalizations – sometimes well intended, but always misleading and fundamentally disrespectful – are legion in the dominant European discourse about a continent much less homogenous than Europe itself. It is as if the word "Africa" invites people to treat this vast continent as one country.
In Kenyan writer and journalist Binyavanga Wainaina's satirical manual, "How to write about Africa" – included in Danish Lettre Internationale's focus "Africa's view" – the hackneyed phrases and commonplaces characterizing writing about Africa are unsparingly disclosed:
Always use the word "Africa" or "Darkness" or "Safari" in your title. […] Also useful are words such as "Guerrillas", "Timeless", "Primordial", and "Tribal". Note that "People" means Africans who are not black, while "The People" means black Africans. Never have a picture of a well-adjusted African on the cover of your book, or in it, unless that African has won the Nobel Prize. An AK-47, prominent ribs, naked breasts: use these. If you must include an African, make sure you get one in Masai or Zulu or Dogon dress.
After having worked his way through most of the tired clichés, Wainaina offers a final piece of deeply ironic advice. It is as hilarious as it is eye opening: "Always end your book with Nelson Mandela saying something about rainbows or renaissances. Because you care."
The focus also includes prose by Ugandan writers Moses Isegawa and Monica Arac de Nyeko, Zimbabwe-born writer and musician George Makana Clark, and an essay on writing in exile by Djibouti poet Abdourahman A. Waberi.
Europe on its head: In an exciting essay, Russian philosopher and art theorist Boris Groys turns the notion of Europe on its head and claims that the alien is at the core of European culture and that entertainment culture is a democratic work of art.
Also to look out for: Malte Chr. Lyneborg interviews Harold Bloom; Perry Anderson takes on Putin's Russia; and Sven Lindqvist asks if the allied bombings during World War II were part of a just war.
The full table of contents of Lettre Internationale (Denmark) 16 (2007).

Arche 7-8/2007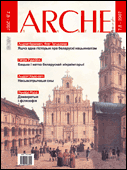 Did John Paul II conspire with the American government to speed up the overthrow of communism? Anton Andrejenka suggested as much in his article "The new crusaders", published in the state-owned Belarusian magazine Respublika earlier this year. Now Piotr Rudkouski responds in Arche with an article entitled "The father and mother of the Belarusian micro-empire". The tricks Andrejenka uses to slander the last Pope, writes Rudkouski, are comparable to the techniques favoured by the KGB (as the secret police is still called in Belarus).
"The survival of the fittest": Political scientist Vital Silicki covers the recent history of post-Soviet countries, either as they acquire freedom or slip back into authoritarianism. Central to his analysis is the role of western organizations in promoting democracy in the former Soviet republics, as well as that of homegrown organizations.
Also to look out for: Andrei Kazakievich reviews Arche editor Valer Bulhakau's book on the history of Belarusian nationalism, and in doing so reflects on the contemporary intellectual situation in Belarus; and a translation of Richard Rorty's essay "Democracy and philosophy", first published in Slovakian journal Kritika & Kontext.
The full table of contents of Arche 7-8/2007.

Merkur 10/2007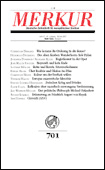 Radio Days. "It's nighttime in the big city", murmurs a husky female voice. "Fog rolls in from the waterfront. A night shift nurse smokes the last cigarette in the pack. It's Theme Time Radio Hour with your host Bob Dylan."
Yes, of all people, the taciturn and grumpy rock legend hosted a radio show whose success astonished even the broadcast station XM Satellite Radio, after initial scepticism by many critics. "But after his debut, these sceptical critics couldn't believe their ears", writes Heinrich Detering in Merkur in a brilliant piece on Bob Dylan, radio, and America. "What Dylan undertakes in these song expeditions and text soundings are acoustic cross sections through the cultural archive of the US. […] What he brought together in the course of fifty-two radio hours is an 'American Songbook'. […] Each of his themes contributed to a common mythical story – just as every landscape, every social group, every state contributes to what is called 'America'."
Europe's future: To travel, to learn, to remember; these are the cultural strategies that are linked to the question of Europe's identity, writes cultural historian Thomas Macho. Ethnology, pedagogy, and history are the respective academic disciplines. But how can Europe's future be tackled via these strategies and disciplines?
"An answer to the question of European identity is already presupposed whenever decisions are made about membership or shared chronologies; and the appeal to lieux de memoires, memorials, or cultural capitals draws on just that European history of ideas that should be excited by these initiatives and institutions. Europe, this is already the answer which precedes each question."
The full table of contents of Merkur 10/2007.

Magyar Lettre Internationale 66 (2007)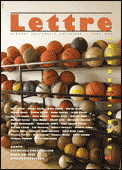 When Attila Bartis was asked to participate in a project in which Hungarian authors and photographers would visit the birthplaces of their German counterparts and vice versa, he warmed to his role immediately: "I knew that these organized trips are the best opportunity to arouse the cheapest stereotypes from their slumbers. Nevertheless, for half a year, I hatched a plan to show this woman [the Passau-born Julia Baier, Bartis's exchange partner] what life's really like."
Writing in the Hungarian edition of Lettre Internationale, Bartis describes how he toys with this "idée fixe of the man from the eastern bloc: that he has an intimate acquaintance with life. And, what's more, that he'll show it to those who don't have a clue." Having made short work of Passau, he imagines, he'll take his companion to the Hungarian countryside, where she'll "hack wood and eat bacon with onions" and have informers "pointed out to her from afar".
Instead, after an evening spent with Baier's family, in the course of which they "cursed neither God nor the godless, passed judgement neither upon neo-Nazis, nor gays, nor the United States", he goes to bed longing for just one thing: "by the morning, to have completely recovered from this idée fixe of the man from the former eastern bloc." Travelling back to Hungary, he reflects that the idea, like a dog, will probably follow him home. But for now it doesn't bother him that he has left it behind "in a garden on the banks of the river Ilz".
Also to look out for: A dossier on "Cultures of memory", including Pierre Nora on the current upsurge in memory; Volker Hage on German novelists' handling of the Allied bombing in WWII; Klaus Naumann on displacement as an issue of German self-understanding; and Adam Phillips on how an obsession with memory blinds us to the uses of forgetting.
The full table of contents of Magyar Lettre Internationale 66 (2007).

du 9/2007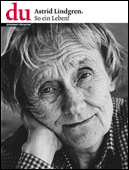 What is a spunk? "A spunk is a holp on a kneist, it consists of six drabs, one gulsh and two attached hippers…" In an issue celebrating Astrid Lindgren and her most famous creation, Pippi Longstocking, du finds quite a few answers to this nagging question. Pippi Longstocking once made up the word (at least in Swedish) – and the world, including Pippi herself, has since set out to find its meaning (the answer quoted above is by Roger Willemsen).
When Astrid Lindgren sent the manuscript to the book for which she was to become world famous to the leading Swedish publishing house Bonniers in 1944, she received a rejection. "Probably one of the most spectacular wrong decisions in publishing, at least in Sweden", writes Lindgren-specialist Ulla Lundqvist. In the following year, after thorough reworking, it won first prize in a children's book competition, saved its publisher from bankruptcy, and turned its author into the greatest fixed star in Sweden's literary heavens.
Astrid Lindgren's commitment to children and other vulnerable members of society was courageous. "Her influence on the role of women in Sweden is uncontested", Gerhard Fischer notes. "After all, she created the bold, unconventional, self-confident Pippi Longstocking." And Pippi-actor Inger Nilsson said in an interview that not only this book, but also many others in which women play a role, aided emancipation: "Normal girls play like boys – that's equality. In Astrid Lindgren it goes without saying."
This year, Astrid Lindgren, who claimed to be a secretary and housewife, would have been 100 years old.
The full table of contents of du 9/2007.

Le Monde diplomatique (Berlin) 9/2007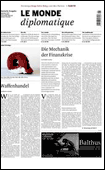 Venezuela still hasn't recovered from its financial collapse during the 1980s, writes Ana Maria Sanjuan in the German edition of Le Monde diplomatique. Sanjuan, head of the Peace Centre of Venezuela University, asserts that Hugo Chavez's revolutionary idea of a new form of "twenty-first century socialism" has not yet found its way "from symbolism to reality".
The Venezuelan government "has not achieved the change of economic paradigm it promised. It holds on to a profit-oriented capitalist system […] at the same time adopting a concept of socialism full of contrary ideas, without hinting at what a transformation from capitalism to socialism might look like."
Measures taken against poverty do not affect structural income inequality, while improvements in the political participation of marginalized groups in new communal forms operate within the logic of an authoritarian political system: "This kind of democracy is at the same time a medium for the caudillismo, the leader cult, and thus a barrier to a positive development."
Has your bank ever offered you a "Ninja loan"? If not, you're probably on the safe side of life: Ninja stands for "no income, job or assets" – a mortgage for people who'll never be able to afford a home. Justified via expected profit from investment, the idea marks the zenith of the fantasy of boundless economic growth, writes Frédéric Lordon. The current financial crisis, originating from US credit markets, is just the latest in the Bad Track Record of economic liberalization, which never seems to learn from constantly recurring disasters.
The full table of contents of Le Monde diplomatique (Berlin) 9/2007.

Revista Crítica de Ciências Sociais 77 (2007)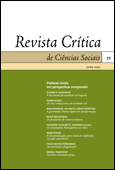 Portuguese journal Revista Crítica de Ciências Sociais looks at local politics on a global scale in its new issue on local authorities. Articles range from the EU's policies for funding regional civil society to the risks facing Mozambican state unity as a result of administrative pluralism.
Rob Atkinson, Ian Smith, and David Sweeting find English urban governance to be caught in a paradox of decentralization and (re)centralization. Neoliberal-influenced policies have deliberately facilitated a process of "individualization", which seeks to make the citizen increasingly responsible for constructing their own future. Neo-conservatism, on the other hand, has a clear collective and moral agenda, reinforcing ideas of tradition, authority, and hierarchy.
On one hand, English government wants to see local government and local people take more power and responsibility for their locality; but on the other, it wants to ensure that these actions conform to its own central policy and political objectives. "This is the conundrum that urban governance faces – apparently greater freedom to act but only if that action conforms to what central government wants."
The only way to put this system to good use is for communities to use government initiatives to their own advantage and to hold the government accountable: "Communities are not passive recipients of these initiatives, and although the balance of forces is weighted against them, there are possibilities to contest the ways in which initiatives are actualized at a local level within particular spaces, i.e. to 'pervert' and bend the technologies of government in ways that the authors of particular programmes did not intend."
The full table of contents of Revista Crítica de Ciências Sociais 77 (2007).

This is just a selection of the more than 60 Eurozine partners published in 33 countries. For current tables of contents, self-descriptions, and subscription and contact details of all Eurozine partners, please see the partner section.