Artists as collateral damage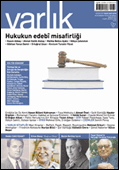 In September, Eurozine published a European survey on financing for cultural journals and strategies for digital publishing. The results: journals throughout Europe are feeling the double impact of recession and media change. In its new issue, Varlik conducts a similar survey of Turkish journals and finds them equally embattled. However, unlike the majority of their European counterparts, Turkish journals receive no state support, a fact that editor Osman Deniztekin attributes both to cultural policy and society's "allergy towards bureaucracy and politicians".
There should be public funding not just for journals, but the publishing industry in general," says Ali Cakmak of Duvar, arguing for tax rebates and reductions of paper prices. "This would convert the abstract concept of freedom of expression into reality." Turgay Fisekci of Sözcükler proposes something else: "There are millions of students in Turkey. Just a small effort in making literary journals available to students could resolve the issue." Hakan Sarkdemir of Karagöz focuses on the distribution issue: "Like so many others, we don't have a professional distribution network. This would be the single most important issue to resolve for journals."
Mustafa Aydogan of Edebiyat Ortami is wary of direct state subsidies. Instead, "being a reader could be transformed from being a 'luxury' to a normal state of being, creating the conviction that reading and being knowledgeable has significant social benefits." But how? Zarife Biliz of Iyi Kitap proposes "expanding the library network and keeping collections up to date", thus allowing the publishing industry "to keep standards high and to remain independent, while fostering the reading habits of the public."
Most Turkish editors are cautiously optimistic about digital media: "The fact that the Internet makes everybody equally visible creates new connections," says Elif Bereketli of Sabit Fikir. Nevertheless, few see digitalization entirely positively: "As the time between thought and expression is shortened, many original thoughts can find expression, but at the same time, an abundance of overly similar thoughts could clutter a very wide domain," comments Cakmak.
The full table of contents of Varlik 12/2012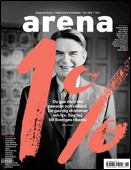 "It's high time that journalists stop considering elected politicians to be the only ones who need to be scrutinized by the media and instead start looking at where the power really lies," write Arena editors Malena Rydell and Mikael Feldbaum, introducing an issue focusing on Sweden's richest one per cent.
Just as interesting, though, is what happens around the main focus in the magazine. The issue appears in a completely new format and the editors are obviously aiming to turn the journal Arena into more of a magazine, mixing straightforward journalism with hard-core theory. The first impression is that they have succeeded: all in all – from short, entertaining pieces on "Why love is such a hassle" to long reviews of new books on Congo – it is one of the most promising journal makeovers that we've seen. And we've seen a few.
Worst case: The world might not – well, will not – end on Friday 21 December, as the Maya predicted. Yet according to recent, more or less unanimous reports on climate change, the days of the world as we know it are indeed numbered. So it's not surprising that when Arena asks experts and pundits to describe the worst that could happen, some possible consequences of climate change are among their responses.
Bishop Eva Brunne can imagine nothing worse than people losing fate in democracy (not God; democracy); and doctor Dan Granér fears the day when people are no longer willing to pay for a healthcare system for all citizens. But philosopher Sören Häggqvist talks about climate change: "The worst that could happen might be that people realize how bad the situation really is. Apathy and panic would rob us of the tiny chance we still have." Thankfully, Häggqvist ironically concludes, no politician will ever try to change our state of ignorance – "especially not Green Party representatives eager to be part of government".
The full table of contents of Arena 6/2012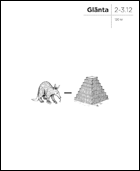 The troubled relationship between modernity and its colonial past haunts the ethnographic museum, note Lisa Karlsson Blom and Mikela Lundahl in Glänta (Sweden). But do new museums of world culture provide a plausible alternative?
"Ethnographic objects hurt, because they represent a colonial wound, a violence both past and present. As is so often the case with pain, the impulse is to avoid what hurts, and the way European ethnographic museums are handling their collections can be read as such an avoidance. To only see the aesthetic qualities of objects, like at the Musée du Quai Branly in Paris, or to place the objects in a remote storage facility, as in the case of the Museum of World Culture in Gothenburg, gives coloniality new opportunities to haunt us. If we are serious about wanting to 'right wrongs' and get closer to objectives such as that of the Museum of World Culture – to be a place where people can feel at home across borders – one must, as Sara Ahmed says, be as sore as our sore points, and stay so for a while. Stay with the pain instead of hurrying to get away from it."
Socrates acquitted: In the year 399 BC, Socrates was sentenced to death by a court in Athens. More than 2400 years later, on 25 May 2012, he was cleared of all charges. The recent verdict of "not guilty" is worrying, writes historian and literary scholar Torsten Rönnerstrand. In ancient Greece, Socrates was accused of "failing to acknowledge the gods that the city acknowledges"; but above all it was his denunciation of democracy that was on trial. The new trial against Socrates, financed by the Aristotle Onassis Foundation, was an attempt to "legitimize today's violence and anti-democratic propaganda in Greece", warns Rönnerstrand. "Perhaps it is also conceived as a way to prepare the transition to dictatorship that the Greek political Right aims at."
Also: In a work for Glänta, artist Lisa Tan collects illustrations of words in the Merriam-Webster Collegiate English Dictionary. As the editors note in their introduction: "Some words can't be explained by words." But also: "Some pictures don't say more than a single word."
The full table of contents of Glänta 2-3/2012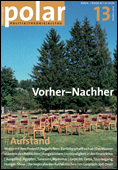 "Courage, passion and creativity toppled regimes during the Arab Spring. But other regions and countries – Tel Aviv, Athens, Madrid, Santiago de Chile, indeed, even Stuttgart – have seen revolts too. A new, global 68?" ask editors Bertram Keller and Peter Siller in Polar (Germany). Yet rather than reaching for a single term to describe recent events, the issue is devoted to opening up perspectives on various scenarios from before and after specific examples of revolt. Themes explored include the forms and goals of protest, the degree to which these can be theorized, and the role of intellectuals.
Authenticity: "Completely reinvent yourself and act as if you had always been the same!" Pop culture theorist Diedrich Diederichsen examines how the imperative of authenticity has impacted on social life from the 1950s. He shows how the broad spectrum of post-war culture, from rock and pop to performance art, constitutes a realm in which established values – aesthetic as well as ethical – are contested. Given the "command that pop music possesses over the arch-democratic and revolutionary virtue of realizing and reinventing opportunities in life," he writes, simply being oneself becomes ever more problematic.
Alternatives: Sebastian Dörfler ponders whether Herman Melville, in "Bartleby, the Scrivener: A Story of Wall Street", was the first to describe the phenomena of "refuting a system to which (already then) there appears to be no alternative, without being able to present any better suggestions". The results of taking such a position are mixed, writes Dörfler. In fact, on today's Wall Street, he considers the kind of inward-looking, passive resistance that Bartelby personifies more of a hinderance than a help. The alternative may well be "the realization that there are others who find themselves in exactly the same situation, and that only with a practical approach can one regain one's footing in a world that has become alien."
The full table of contents of Polar 13 (2012)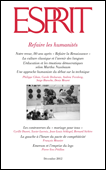 Inspired by economic crisis and determined to bring economic concerns to general readers, Esprit renews its call to "recreate the Renaissance", first articulated in its inaugural issue exactly eighty years ago. The journal's founders' bold diagnosis of "civilization in crisis" is revived in articles on French schools' failures in teaching humanities and the classics.
Arts education: French students are abandoning the arts, preferring career-oriented training, writes Carole Desbarats. Given France's record unemployment levels, "who can blame students for making practical decisions?" It's up to government and schools to provide new kinds of humanities teaching. Desbarats hopes recent proposals on rethinking the curriculum will be the moment "to truly establish arts education in the French school system".
But not all are in favour. "Between those who think that […] it's better to concentrate on so-called fundamentals and those for whom the arts presents our ticket out of the crisis, might there not be a middle way?" she asks. Crucially, "the subject is anything but neutral", because encounters with the humanities "bring about new relationships with our world," new perceptions that "may not be welcomed by everyone". Citing Martha Nussbaum's book Not for Profit: Why Democracy Needs the Humanities (French title: Emotions Democratiques), Desbarats advocates the teaching of "narrative imagination", yet concedes that another "academic fundamental" might place a "heavy financial burden" on the school system.
Humanities and democracy: Philippe Cibois draws on Nussbaum to counter the Francophone perspective of Pierre Judet de la Combe and Heinz Wismann, in their study L'avenir des langues: repenser les humanités (2001). Where the latter place national language learning at the heart of humanities teaching, Nussbaum argues for a broader role for the arts in forming today's democracies. Nevertheless, her concern that "broad-based education is being sacrificed for the sake of immediate profit" chimes with that of the French writers. Cibois detects "signs of change for the better" in France, where the teaching of French now channels not only communication but also humanist and social precepts.
The full table of contents of TITLE NO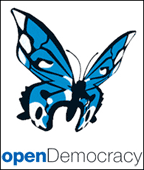 The publication of the Leveson Report on the Murdoch hacking scandals and its recommendations for a statutory press regulatory body have met with a mixed response in the UK: no one disputes that ethical standards in the media have gone astray, but there is sharp disagreement over how to restore them. Free speech advocates (including Index on Censorship), the big newspapers and the Conservative Party reject statutory regulation and have already taken steps towards forming a new self-regulatory system. On the other side, the Labour and Liberal parties, backed by the influential "Hacked Off" campaign, argue that the press cannot be relied upon to self-regulate and that a statutory audit body is the only way to ensure that the enquiry has not been merely a symbolic exercise.
In openDemocracy, journalists, media academics and campaigners react to Leveson. Some see the threat of political interference as exaggerated and the opposition to regulation as self-serving. "We will now hear a lot of harrumphing from the industry as they purport to bring forward a 'brand new model'," says Steve Barnett, Professor of Communications at the University of Westminster. "But without the real prospect of statutory oversight, very little will change." "Vested interests, particularly when they are in decline, fight like tigers to hang on to their remaining privileges," writes academic and former Labour MP David Marquand. "The notion that the British press is a bastion of freedom and democracy is preposterous. With a few honourable exceptions, it is the instrument of over-mighty proprietors who seek, in Stanley Baldwin's wonderful phrase, 'power without responsibility – the prerogative of the harlot through the ages'."
Others, however, are more critical of Leveson. Tony Curzon Price, Associate Editor at openDemocracy, asks, "Where exactly, in the process of sandwiching regulatory bodies between an untrusted press and an untrusted government, does the magic of good behaviour creep in?" Others question whether statutory regulation, even if it were implemented, would get to the heart the problem. Dan Hind, author of The Return of the Public, finds Leveson's understanding of the relationship between media and politics in the UK too narrow: "These matters cannot be left to judges, who are, after all, the lions under the throne." And Barbara Gunnell, former President of the National Union of Journalists, makes the point that "regulation would not answer a key question of media ownership and the undemocratic power thus wielded by media corporations over governments, even ministers. Even Prime Ministers."
More about openDemocracy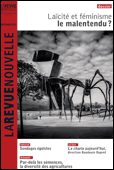 In France and in Belgium, the partial ban on the veil is seen as an alliance between secularism and feminism against male oppression of Muslim women, writes Marc Jacquemain in La Revue nouvelle (Belgium). These are the views of misguided "republican feminists" as opposed to the "liberal feminists" who realize that Muslim women are doubly victims: of patriarchal attitudes and of xenophobia. Pursuing the argument through a history of the "veil issue" in France and Belgium, Jacquemain concludes that the "republican liberal'" stance amounts to an attempt to define Islam as a misogynistic, barbarian religion and laïcité as a shield against it. Yet feminists and secularists alike have failed to see how wearing the veil might be an assertion by Muslim women of their cultural identity and their integration:
"For many feminists and laïques this viewpoint is inaccessible. Most of them saw the Muslim veil as an unambiguous sign of female submission. Thus they concluded that the spread of the veil was the result of 're-Islamization from below', nothing to do with women's free choice but rather imposed by the clergy, themselves inspired either by the Iranian revolution or by the renaissance of Salafism in Saudi Arabia […]. It nevertheless seems difficult to put forward a convincing explanation that fails to include the desire of these new generations of 'Muslim citizens' to ensure that they are recognized as such. You cannot explain the increase in the wearing of veils without taking account of a 'reaffirmation of identity', not just at the collective level (membership of a community seeking self-esteem) but at the individual level too."
Debate: Catherine Jacques traces the parallel histories of feminism and (especially freemasonic) liberalism in Belgium, asking whether feminism could ever have developed outside the context of secularism; and Stéphane Leyens argues for a "reasonable kind of liberalism", focusing on the need to differentiate between group and individual rights.
The full table of contents of La Revue Nouvelle 12/2012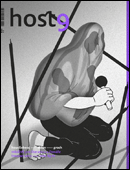 "If art has any purpose, it is to articulate something that is encapsulated inside us and that confuses us. And is screaming to get out." In Host (Czech Republic), Ondrej Nezbeda interviews Karol Sidon, writer and playwright blacklisted and harassed after the crushing of the Prague Spring, subsequently a political exile and student of Judaism and, in his latest incarnation, controversial Chief Rabbi of the Czech Republic.
Following the publication of his complete plays, Sidon reveals the inspiration behind his work and recalls his studies at the legendary FAMU film school and collaboration with cult film director Juraj Jakubisko. These days, he says, he prefers the narrative style of the Old Testament and biblical literature in general, finding it free of ideological ballast and leaving it to the reader to judge what is good and what is bad. An admirer of Broch and Kafka, Sidon doesn't think much of Czech literature on the whole (apart from a few exceptions, such as Ludvik Vaculík and Ladislav Klima), claiming that, "although it has its charms, it rarely touches the core of things. […] What I find lacking in it is the courage to reach the essence of things and face the real problem. This is something I have always found in Jewish literature, although by no means only there."
Gender: The persistence of "the myth of the uncomplicated 1950s" is the sign of the longing for simplified definitions characteristic of our ambiguous postmodern times, argues Marian Sedloczek. Reflecting on the changing perception of masculinity in twentieth century American literature and cinema since the 1950s as well as on present-day attitudes to gender roles in Czech politics, he writes:
"Masculinity, or rather, its dominant variety, is still prevalent in the Czech Lands; it is the unwavering norm and everything deviating from it appears problematic. That is why we think it is in order for our politicians to display embarrassing and aggressive behaviour (that's what men are like) while, on the other hand, we find fault with feminist attempts to rectify the unequal balance in male-female relations (what is it those feminists are after again?)."
The full table of contents of Host 9/2012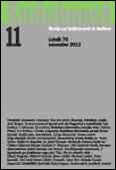 At least once every generation, publishers put out new translations of seminal texts, some of which have been translated numerous times. Yet while we are accustomed to considering multiple translations into English, a language like Slovenian would seem too small a market to warrant multiple translations of even a classic text, writes literary critic Ales Berger in Sodobnost.
Drama, writes Berger, is the most-translated genre, because of the nature of theatre, where language develops more quickly and must always be in tune with the performance and directorial decisions. Poetry is the second-most re-translated genre (often at the initiative of the translators themselves), with prose coming in last. It is here Berger sees room for more translations. Berger's publishing house has released new prose translations in which "writing style and narrative play an essential role in the literary work of art, and where enough time has passed since the first [Slovene] translated edition, so that new proof-reading and editorial interventions of later additions overshadow the original."
Political cartoonist: Vladimir Stefanec remembers cartoonist Hinko Smrekar, whose humorous illustrations accompanied by short texts might be termed "the first Slovenian comic strips". Not everyone accepted Smrekar's humour gracefully however: because of the anti-Italian political bent of some of his "strips", he was executed by the Italian fascist occupiers of Slovenia in 1942. A ruthless chronicler and critic of the socio-political circumstances of his time, writes Stefanec, Smrekar's "artistic speech has much to communicate to our time".
By way of example, Stefanec cites a 1913 watercolour drawing entitled "Bazaar in Favour of Slovene Actors Abandoned by Carniola". The drawing recalls the closure of the theatre in Ljubljana in 1913, because its liberal nature had displeased the clerical majority. "Culture as hostage and victim, and artists as collateral damage. Sound familiar?" It is not hard to imagine how Smrekar would have interpreted the world today, writes Stefanec, spoofing political tyranny and sending up the powers-that-be.
The full table of contents of Sodobnost 11/2012