Ierobežot valsts varu
Cilvēktiesību un pilsonisko brīvību aktīvistu Arji Neieru intervē Ieva Lešinska
Ievērojamais amerikāņu cilvēktiesību un pilsonisko brīvību aktīvists Arje Neiers (1937) daudzus gadus vadījis ietekmīgo Amerikas Pilsonisko brīvību savienību (ACLU) un Cilvēktiesību uzraudzības organizāciju (Human Rights Watch). Zināmās ASV aprindās viņš savulaik izpelnījies nosodījumu par neonacistu runas brīvības aizstāvēšanu. Kā vispāratzīts eksperts Neiers piedalījies cilvēktiesību pārkāpumu izmeklēšanā vairāk nekā četrdesmit pasaules valstīs, bijis viens no galvenajiem Dienvidslāvijas kara noziegumu tribunāla veidotājiem. Viņš ir bijis profesors Ņujorkas Universitātē, kā arī viesprofesors vairākās prestižās pasaules augstskolās. Neiers regulāri publicējies izdevumos New York Review of Books, The Nation, Foreign Policy u.c. Būdams Džordža Sorosa Atvērtās sabiedrības institūta direktors (1993-2012), Neiers vairākkārt viesojies arī Latvijā.
Rīgas Laiks: Gadu gaitā man iznācis piedalīties samērā daudzos SFL rīkotajos pasākumos, bet tagad, atzīmējot tā 20. gadadienu, man šķita uzkrītošas zināmas pārmaiņas. Pirmajos sarīkojumos piedalījās ļoti daudz mākslinieku un citu radošu cilvēku, virmoja spraigas sarunas; likās, ka notiek kaut kas ne tikai svarīgs, bet arī interesants. Bet šajās 20. gadadienas svinībās, kā likās, piedalījās galvenokārt birokrāti, pazīstamu seju bija ļoti maz, un sarunas, kuras iznāca pa ausu galam dzirdēt, bija par fonda iekšējām norisēm, par grāmatvedību un administratīvām problēmām. Nekā no sākotnējā entuziasma un vēriena. Kā jūs to komentētu?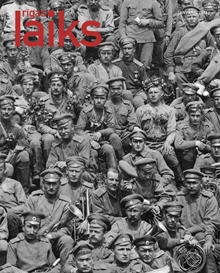 Arje Neiers: Nu, laikam jāsaka, ka tajā agrīnajā laikā bija darīšana ar revolucionāru posmu, bet šāds posms nevar vilkties bezgalīgi. Tas, ko jūs aprakstāt, izklausās pēc normālas sabiedrības, kur problēmas vairs netiek risinātas uz dzīvību vai nāvi, kā tas bija tādā revolucionārā brīdī. Es piekrītu, ka postpadomju telpā sākumā patiešām bija liela intensitāte un entuziasms, diskutējot par dažādiem jautājumiem. Esmu bijis daudzās zemēs, kur notikuši revolucionāri pārkārtojumi, un ar laiku visur notiek viens un tas pats – iestājas garlaicīga normalitāte.

RL: Bet, ņemot vērā jūsu lielo aktivitāti dažādās cilvēktiesību aizsardzības un citās organizācijās un jūsu personīgo degsmi, vai jums nepietrūkst, teiksim, tādu sarunu, kādas notika fonda pirmsākumos 1984. gadā piesmēķētā istabiņā Budapeštā?

AN: Protams! Es atceros laiku, kad likās ārkārtīgi svarīgi runāt cauru nakti. Likās, ka izšķiras pasaules likteņi. Taču tas viss nevar vilkties bezgalīgi – un vai vajag? Normāla sabiedrība ir savā ziņā garlaicīga. Diez vai vajadzētu uzturēt permanentu revolucionāro situāciju.

RL: Jā, permanenta revolūcija izklausās pēc tā, kas bija Padomju Savienībā.

AN: Tieši tā. Redziet, ja es, teiksim, sarunājos ar fonda cilvēkiem Afganistānā, viņi runā tā, it kā viss būtu likts uz spēles. Viņiem ir izdevies panākt atvērtu sabiedrību – protams, ļoti ierobežotā mērogā, bet, ja notiks izlīgums ar talibiem, vai viss, ko viņi ir panākuši runas brīvības, reliģijas brīvības, sieviešu tiesību ziņā, – vai tas viss nebūs jāupurē? Tātad, no vienas puses, viņi zina, ka karš Afganistānā jānoslēdz ar miera līgumu, taču, no otras puses, viņi saprot, ka visi atvērtās sabiedrības ieguvumi būs apdraudēti, ja šāds līgums tiks noslēgts.

RL: Tā kā jūs pieminējāt Afganistānu, man gribētos dzirdēt jūsu domas par Afganistānas nākotni. Vai jūs domājat, ka vienošanās par mieru tiks panākta, un kas varētu sekot pēc tam?

AN: Vai vienošanās tiks panākta, es nezinu. Bet es domāju, ka Savienotajām Valstīm un citām valstīm, kas šobrīd ir Afganistānā, nav iespējams bezgalīgi uzturēt savu militāro iesaistīšanos, tas vienkārši nenotiks. Kas notiks, kad tās no Afganistānas aizies, es nezinu, nezinu. Taču daudz cilvēku ir veltījuši daudz pūļu, lai šo sabiedrību padarītu atvērtāku; viņi ir bijuši gatavi riskēt ar visu. No vienas puses, es uzskatu, ka miers ir nepieciešams, no otras puses, es negribu nodot šos cilvēkus. Līdz ar to es jūtos ar sevi pilnīgā konfliktā. Es nespēju izšķirties, kā būtu jārīkojas, lai atrisinātu abas problēmas. No vienas puses, jābeidz karot, no otras puses, nedrīkst pamest likteņa varā tos, kuri riskējuši ar dzīvību, lai uzbūvētu atvērtāku sabiedrību.

RL: Man kaut kā grūti iedomāties, kāda daļa Afganistānas iedzīvotāju varētu būt tie, kuri atbalsta atvērtas sabiedrības vērtības.

AN: Es tiešām nezinu, cik tādu ir.

RL: Bet tas ir mazākums?

AN: Esmu drošs, ka tie, kuri atklāti pauduši uzskatus, kas atbalsta atvērtu sabiedrību, ir mazākumā. No otras puses, ir simtiem tūkstošu, miljoniem meiteņu, kas šodien Afganistānā mācās skolā. Mans iespaids ir tāds, ka viņas grib apmeklēt skolu, ka to vēlas arī viņu ģimenes. Bet režīmā, kur vadošā loma būtu talibiem, viņas skolu nevarētu apmeklēt. Tad kurai pusei šīs meitenes pieskaitīt? Pie atvērtas sabiedrības atbalstītājiem? Ļoti iespējams, ka viņām nav skaidra priekšstata, ko atvērta sabiedrība nozīmē, pret citām tās iezīmēm viņas varbūt attiektos apātiski, taču būtībā viņām tā ir nepieciešama. Pamest šīs meitenes likteņa varā man šķiet šausmīgi, tā būtu ārkārtīgi cietsirdīga rīcība. Es negribu, lai tā notiek, taču negribu arī, lai karš turpinās bezgalīgi. Bet risinājuma man nav, un tas ir nožēlojami.

RL: Vai ir kaut kas, ko jūs sauktu par savu lielāko panākumu? Un arī otrādi – par lielāko neveiksmi?

AN: Lielākais panākums laikam ir tas, ka esmu devis savu ieguldījumu, veidojot institūcijas, kuras ilgtermiņā uztur vērtības, kas man ir svarīgas, un turpinās to darīt. Man bija vadoša loma, veidojot Cilvēktiesību uzraudzību (Human Rights Watch) un padarot to par efektīvu institūciju. Man ir milzīgs lepnums par to, kā šī organizācija attīstījusies, kopš es atstāju direktora posteni, – tā ir pārsniegusi visas manas cerības. Tā turpinās efektīvi darboties arī pēc tam, kad mans mūžs būs no-slēdzies. Kas attiecas uz neveiksmēm, tās es esmu piedzīvojis daudzkārt, ķeroties pie konkrētu jautājumu risināšanas.

RL: Vai jūs varētu minēt kādus piemērus?

AN: Kad sāku strādāt Amerikas Pilsonisko brīvību savienībā (American Civil Liberties Union), jautājums, kuram es pievērsu lielu uzmanību, bija garīgā invaliditāte un šādu cilvēku tiesības. Man šķiet, ka mani pūliņi palīdzēja daļai invalīdu, bet labākajā gadījumā nekādi neietekmēja citus vai pat nodarīja tiem kaitējumu.

RL: Jūs domājat to, ka ASV daudzi garīgie invalīdi, izlaisti no aprūpes institūcijām, kļuvuši par bezpajumtniekiem?

AN: Jā, mēs nācām klajā ar teorijām, kas ļāva nodrošināt aprūpi ārpus lielajām institūcijām. Taču mēs nespējām izdarīt pietiekami daudz garīgi slimo cilvēku labā. Mēs nespējām nodrošināt viņiem palīdzību ārpus institūcijas. Līdz ar to ierēdņi varēja samazināt garīgi slimajiem paredzētos izdevumus un nesniegt nekādu konkrētu atbalstu. Šodien daudzi no šiem cilvēkiem dzīvo uz ielas, viņu ir daudz arī cietumos. Līdz ar to man šķiet, ka mana darbība šajā ziņā bijusi neveiksmīga – mēs visu neizdomājām līdz galam, neizstrādājām veidu, kā šiem cilvēkiem palīdzēt dzīvot kaut cik normālu dzīvi.

RL: Tā kā jūs sākāt runāt par Savienotajām Valstīm, man gribētos dzirdēt jūsu vērtējumu par Obamas administrāciju. Sākumposmā šķita, ka tā ir apņēmusies labot Buša valdīšanas gados pieļautās kļūdas, un, no ārpuses raugoties, šķiet, ka Obama ir ideālists, kuram, kļūstot par prezidentu, bija jāsaskaras ar skarbo realitāti un jāsaprot, cik patiesībā viņa iespējas ko mainīt ir ierobežotas.

AN: Es prezidentu Obamu vērtēju ļoti augstu. Man šķiet, ka intelektuālā ziņā viņš ir izcili piemērots, lai kalpotu par prezidentu, – vismaz vērtējot visus prezidentus, ko esmu savā mūžā pieredzējis. Morālā ziņā viņš, manuprāt, ir ārpus jebkādas kritikas. Tas ir cilvēks, kurš nekādā ziņā nav korumpēts, cilvēks ar stāju un mugurkaulu, ar rakstura iezīmēm, kas citiem var būt paraugs. Un viņa uzskati ir tādi, kādus es arī dedzīgi atbalstu. Taču liels Obamas trūkums ir tas, ka viņš nav gatavs cīnīties pret tiem, kuru viedokļi ir kareivīgā pretrunā ar viņa uzskatiem. Ļaušanās cerībām, ka viņš radīs iespēju iziet ar šiem ļaudīm uz kompromisu, kaut arī jebkurš saprātīgi domājošs cilvēks redz, ka šādas iespējas nebūs, nozīmē ierobežojumus viņa spējā procesus vadīt.

Ja pievēršamies pilsonisko brīvību jautājumam, kas saasinājās līdz ar tā saucamo Buša karu pret terorismu, Obama sākumā savā administrācijā iekļāva cilvēkus ar dažādiem uzskatiem. Viņa padomnieks Baltajā namā bija tāds Gregs Kreigs. Kopš pirmā brīža tas Obamas administrācijā bija spēcīgs pilsonisko brīvību aizstāvis. Viņš, piemēram, bija tas, kurš stāvēja aiz Obamas apņemšanās slēgt Gvantanamo. Savukārt par savu personāla vadītāju Obama izvēlējās Rāmu Emanuelu, kurš tagad kļuvis par Čikāgas mēru. Bet Kreiga un Emanuela starpā bija īsts karš, kurā galu galā uzvarēja Emanuels, bet Kreigs atkāpās no amata. Un Obama neaizstāvēja cilvēku, kurš viņa administrācijā bija iestājies par pilsoniskajām brīvībām. Līdz ar Kreiga atkāpšanos daudzas apņemšanās labot Buša laika pārkāpumus vienkārši izputēja. Vienlaikus tomēr jāatzīst, ka Obama nav šos pārkāpumus turpinājis. Viņa administrācija nav pieļāvusi ieslodzīto spīdzināšanu vai pazemojošu izturēšanos pret viņiem. Tika izdarīts mēģinājums terorismā apsūdzētos tiesāt Federālajā tiesā, uzlabota procedūra arī kara tribunālos, taču nekas nav darīts, lai uzrādītu agrākos pārkāpumus un sauktu pie atbildības tos, kuri tos pastrādāja. Tika vienkārši nolemts, ka tas pārlieku satracinātu republikāņus un padarītu neiespējamu likumprojektu virzīšanu Kongresā. Taču ar visu to republikāņi likumprojektu virzīšanu ir padarījuši neiespējamu, viņi vienkārši ir bloķējuši jebkuru soli, ko Obama mēģina spert. Dzirdēju, ka 2008. gadā, iekams viņš stājās amatā, viņš esot lasījis grāmatu par Rūzevelta pirmajām 100 dienām. Man tas šķita ļoti pareizi, jo Rūzevelts kļuva par prezidentu krīzes brīdī un nolēma darīt visu, lai cīnītos par savu redzējumu. Diemžēl Obama šim Rūzevelta modelim nesekoja. Manuprāt, viņam būtu veicies daudz labāk, ja viņš būtu sīvi cīnījies. Kaut kā izskatās, ka, būdams izcils runātājs, Obama nav labs debatētājs, jo viņam nepatīk cīņa.

RL: Viņš nav karotājs.

AN: Pareizi, viņš nav karotājs. Pirmajā priekšvēlēšanu cīņā, kad viņš debatēja ar Hilariju Klintoni, man likās, ka viņa ir neapšaubāma uzvarētāja. Tikai tāpēc, ka viņa patiešām ir karotāja. Protams, reizēm meklēt kompromisu ir vērts, taču daudzkārt kompromisu iespējams panākt, tieši sīvi cīnoties par savu pārliecību. Manuprāt, šāda taktika ir daudz efektīvāka par to, kuru liek lietā Obama. Man nepatīk, ka viņš necīnās par to, kam patiesi tic.

RL: Bet vai tā nav parastā atšķirība starp intelektuāļiem un politiķiem? Vai intelektuāļiem nav raksturīgi dot priekšroku kompromisiem, izsvērtiem dialogiem?

AN: Intelektuāļi tomēr ir dažādi. Ir intelektuāļi, kuri visnotaļ spējīgi runāt asi. Arī pats par sevi es domāju kā par cilvēku, kurš prot debatēt. Jo vairāk mani kāds izaicina, jo labāk es atbildēšu.

RL: Labi. Atgriezīsimies pie Latvijas. Sakiet, lūdzu, vai, no jūsu viedokļa, tas, kas pēdējos divdesmit gados noticis Austrumeiropā, arī Latvijā, ir tā saucamais veiksmes stāsts?

AN: Es teiktu, ka tas ir daļējs veiksmes stāsts. Es domāju, ka vairākums pasaules demokrātiju aplaudē Austrumeiropai, jo ļoti maz jau ir tādu valstu, kas patiešām attaisno demokrātijas cerības. Indivīda tiesības Austrumeiropā pa lielākajai daļai tiek respektētas. Taču tādās valstīs kā Ungārija tās šobrīd ir ļoti nopietni apdraudētas. Bez populistiskas valdības, kas apdraud Konstitūcijā garantētās tiesības, tur ir arī vērā liekama neofašistiska politiskā partija, kas sludina etnisko naidu. Tomēr pat to visu ņemot vērā, manuprāt, šīsdienas Austrumeiropu vispār nav iespējams salīdzināt ar Austrumeiropu padomju kontroles laikā. Šobrīd tās ir brīvas sabiedrības, turpretim tad par brīvību vispār nevarēja runāt.

RL: Tomēr, salīdzinot ar laiku pirms divdesmit gadiem, šķiet, ka aizvien vairāk ir tādu, kuri ar skumju ilgošanos atceras padomju laikus un uzskata, ka tad bija labāk. Daži no tiem ir jauni cilvēki, kuri to laiku vispār nav pieredzējuši. Taču liela daļa ir vecāki.

AN: Ļaudis, protams, ņem vērā savu personīgo ekonomisko apdraudētību; viņi ir satraukti un ar nostalģiju atceras periodu, kad viss šķita drošāk nekā tagad. Skaidrs, ka šīs bažas ir jāuztver nopietni, taču vienlaikus šie cilvēki diez vai noliegs, ka dzīve brīvā sabiedrībā ir labāka nekā nebrīvā.

RL: Latvijā ir laikraksts, kurš pauž ļoti kareivīgu negatīvu nostāju pret Džordžu Sorosu. Šis pats laikraksts ir arī ļoti eiroskeptisks. Taču ironiski – es nesen lasīju Sorosa rakstu New York Review of Books, kur viņš izsaka lielas šaubas par Eiropas Savienības nākotni, ja ES turpinās kā līdz šim.

AN: Jā, es arī to lasīju.

RL: Bet eiroskepse un "antisorosisms" nez kāpēc iet roku rokā – vai tas nav dīvaini?

AN: Jā, tā tas diemžēl ir. Džordžs Soross uzskata – un, manuprāt, pamatoti -, ka Eiropas Savienības izveide bija viens no svarīgākajiem un varbūt pats svarīgākais pasaules institucionālais izkārtojums, kas veicinājis atvērtas sabiedrības ideju. Līdz ar to, no viņa viedokļa, jebkādi draudi Eiropas Savienībai ir vienlaikus draudi visam, kam viņš bijis uzticīgs. Viņš tic Eiropas Savienības idejai varbūt pat vairāk par jebkuru eiropieti. Tāpat viņš ir cilvēks, kurš ļoti labi izprot ekonomiskās problēmas un spēj saskatīt vairākus soļus uz priekšu, kā ekonomiskie notikumi varētu risināties. Man šķiet, ka šobrīd viņu satrauc, ka pašreizējā situācija, ja tā netiks pareizi vadīta, var novest pie Eiropas Savienības izjukšanas. Es pats gan nedomāju, ka tā notiks, taču uzticos viņa saimnieciskajai domāšanai un asajai ekonomisko jautājumu uztverei.

RL: Jāatzīst, ka es arī nespēšu jūs detalizēti izprašņāt, jo Sorosa rak-stos uztveru tikai galveno domu, taču nianses, kad viņš sāk runāt par vērtspapīriem un tamlīdzīgi, man diemžēl iet secen...

AN: Reizēm, par Sorosu domājot, es atceros veco anekdoti, ka pasaulē ir tikai divi cilvēki, kas izprot globālo finanšu sistēmu: amerikāņu investors un britu Valsts kases ierēdnis. Un viņi par to ir gluži pretējās domās.

RL: Esmu dzirdējusi, ka esat vēsturnieka Tonija Džada fans.

AN: Jā, visnotaļ.

RL: Viņa pēdējā grāmatā, tajā, kas sarakstīta kopā ar Timotiju Snaideru, man šķiet interesanti, kā viņš runā par savu personīgo dzīvi un uzskatiem 20. gadsimta vēstures kontekstā. Būdams, kā viņš pats izsakās, "universālists", viņš tomēr dažādos dzīves posmos ir bijis dažādu kopienu loceklis, turklāt ļoti enerģisks – marksists, cionists, kas tik vēl ne. Vai jūs arī piederat vai esat piederējis kādai kustībai vai kopienai un, ja tā, tad kas tā būtu?

AN: Nē, es nekad neesmu iesaistījies nevienā – sauksim to tā – utopiskā kustībā. Es vienmēr esmu bijis uzticīgs tiesību idejai. Taču mans priekšstats par tiesībām nekad nav bijis tāds, kuru varētu lietot kā sabiedrību organizējošu principu. Manuprāt, tiesības nozīmē ierobežojumus varas īstenošanas procesam. Jebkura kustība, jebkura sabiedrība, īstenojot varu, var pārkāpt cilvēka tiesības. Līdz ar to nepieciešami zināmi standarti, ar kuriem vara tiek ierobežota. Es ticu vārda brīvībai, jo neuzskatu, ka jebkurai sabiedrībai būtu jāvar ierobežot cilvēka tiesības izteikties vai ko publicēt, balstoties uz teiktā vai publicētā saturu. Es uzskatu, ka ir jāierobežo valsts spēja ierobežot cilvēka brīvību, un tas izdarāms, aizsargājot zināmas procedurālas tiesības – piemēram, tiesības uz jurista padomu, tiesības uz taisnīgu tiesu un tamlīdzīgi. Es uzskatu, ka ir jāierobežo valsts iespēja dot priekšroku zināmiem cilvēkiem, balstoties uz rasi, reliģiju vai tautību. Es nudien uzskatu, ka valstij pret visiem jāizturas vienlīdzīgi. Valstij jārespektē privātums. Valsts nedrīkst ne pret vienu izturēties nežēlīgi. Tie visi ir varas ierobežojumi. Un tāda ir pārliecība, kurai vienmēr esmu bijis uzticīgs. Savukārt attiecībā uz to, kā vara tiek īstenota ārpus šiem ierobežojumiem, man nav nekādu negrozāmu uzskatu, līdz ar to es nekad neesmu propagandējis kādu konkrētu ideoloģiju vai iesaistījies kādā noteiktā kustībā.

RL: Bet kā ar etnisko vai nacionālo piederību – kādā mērā jūs uzskatāt sevi par ebreju, kādā – par eiropieti, kādā – par amerikāni?

AN: Es piedzimu kā ebrejs nacistiskajā Vācijā un divas nedēļas pirms Otrā pasaules kara līdz ar vecākiem kļuvu par bēgli, nonākot Anglijā. Es runāju par sevi kā ebreju pirmām kārtām tāpēc, ka uz šī pamata varēju zaudēt dzīvību, ka uz šī pamata gāja bojā daudzi mani radinieki, līdz ar to es nekad nenoliegšu, ka esmu ebrejs. Taču es neesmu reliģiozs, tāpat arī man neliekas, ka man būtu jāaizstāv kāda konkrēta lieta tikai tāpēc, ka tā ir ebreju lieta. Es esmu sekulārs, dzīvoju Savienotajās Valstīs, līdz astoņpadsmit gadu vecumam biju bezpavalstnieks, tad kļuvu par ASV pilsoni. Es dzīvoju Ņujorkā un kaut kādā mērā sevi uzskatu vairāk par ņujorkieti nekā amerikāni, jo esmu liels Ņujorkas urbānās kultūras entuziasts.

RL: Tonijs Džads saka, ka "intelektuāļi, kas vismazāk pakļauti riskam, ka tos iesaistīs ieinteresētās puses vai mērķi, ir tie, kuriem ir tikai vaļīga saikne ar nāciju, par kuras daļu tiem gadījies būt, vai arī tādas nav vispār". Kā piemēru viņš min Edvardu Saīdu. Cits piemērs varbūt ir Džordžs Soross? Vai jūs to attiecinātu arī uz sevi?

AN: Nu, pirmām kārtām neesmu drošs, ka es to attiecinātu uz Edvardu Saīdu. Es viņu mazliet pazinu, un viņš nebūt man nešķita tas cilvēks, par kuru varētu sacīt, ka viņam nav nacionālas piesaistes. Kaut arī viņš pēc izcelsmes bija kristietis, Saīds visnotaļ uzskatīja sevi par palestīnieti. Katrā ziņā tā bija nozīmīga viņa identitātes daļa. Daudzās lietās es viņam nepiekritu, taču cienīju viņu kā intelektuāli, sevišķi apbrīnoju viņa rakstus par mūziku, par literatūru. Taču politiskā ziņā viņš man nekāds paraugs nebija. Es arī nezinu, vai cilvēkam jābūt atrautam no savas etniskās piederības, nācijas vai dzimtenes, lai viņš būtu godīgs intelektuālis.

RL: Tā kā pieminējām Edvardu Saīdu, man gribētos dzirdēt jūsu domas par Tuvo Austrumu revolūcijām, kādu jūs saredzat to nākotni.

AN: Kā politisks pravietis es nekam nederu.

RL: Bet es jau negaidu pravietojumu.

AN: Nu labi. Kad sākās arābu revolūcijas, es ļoti priecājos. Es priecājos tāpēc, ka man šķita, lielā mērā tās balstījās cerībā aizsargāt cilvēka tiesības un diktatorisko režīmu pastrādāto pārkāpumu – prettiesiska apcietināšana, spīdzināšana, kara stāvokļa ieviešana – nosodījumā. Man patika, ka indivīda tiesības tiek izvirzītas priekšplānā. Vēl viena nozīmīga arābu revolūciju iezīme bija pretošanās korupcijai – sevišķi valdošo ģimeņu korupcijai. Tunisijā tā bija prezidenta Ben Alī ģimene, Ēģiptē – Mubāraka ģimene. Tieši vēršanās pret korupciju bija tā, kas mobilizēja tik plašu atbalstu. Tautai bija veselīgi mēģināt darīt galu šai korupcijai un paplašināt savas tiesības. Tomēr attiecībā uz Ēģipti es nekad neesmu lolojis lielas cerības, jo, manuprāt, galvenā teikšana, lielumlielā vara Ēģiptē pieder militāristiem. Militāristi tur dominē arī ekonomikā, un militāro varu ir ārkārtīgi grūti gāzt. Mani pat izbrīna, ka militāristi ir bijuši gatavi zināmā mērā dalīt varu ar prezidentu Morsi, kurš pārstāv Musulmaņu brālību. Nebiju domājis, ka viņi ļaus, lai viss aiziet tik tālu.

RL: Varbūt viņiem vairs nav citas izvēles.

AN: Nu, viņi acīmredzot panākuši kaut kādu izkārtojumu ar Musulmaņu brālību. Viņi šķiet gatavi atvēlēt viņam zināmu sfēru, kur viņš var dominēt, vienlaikus nodrošinot, ka viņš neapstrīd viņu lomu sabiedrībā un neķeras klāt viņu ekonomiskajām privilēģijām. Taču es neesmu optimistiski noskaņots par to, kāda notikumu attīstība gaidāma Ēģiptē. Daudz lielākas cerības es saistu ar Tunisiju. Militāristu īpatsvars Tunisijā bija daudz mazāks nekā Ēģiptē. Viņiem nebija tādas saimnieciskās kontroles pār sabiedrību kā militāristiem Ēģiptē. Revolūcijas laikā viņi uzvedās priekšzīmīgi, atturot policiju no ekscesiem. Man šķiet, ka Tunisijā patiesi var izveidoties liberāli demokrātiska valsts. Un, ja tā notiks, tad tā būs pirmā liberālā demokrātija 22 arābu valstu vidū.

Nezinu, kas notiks Sīrijā, man nav priekšstata, kas ir šie dumpinieki pret Asadu un kāda izveidosies valsts, ja viņi gūs uzvaru.

RL: Bet vai Atvērtās sabiedrības institūts (OSI) vai kāds cits Sorosa fonda atzars darbojas visās šajās valstīs?

AN: Ne visās. Institūts bijis sevišķi aktīvs Ēģiptē, Jordānijā, Libānā, Izraēlā un okupētajās teritorijās. Ierobežotā veidā arī Irākā. Tagad kaut kas notiek arī Ēģiptē un Lībijā. Arī Tunisijā tiek veidots neliels birojs.

RL: Jūs esat pametis posteni Atvērtās sabiedrības institūtā. Ar ko jūs domājat nodarboties tagad?

AN: Es gribētu koncentrēties uz pilsonisko brīvību organizācijām Eiropā – tādu nav lielākajā daļā Eiropas valstu, izņemot Apvienoto Karalisti, Īriju, Ungāriju. Tiesa, vairākās valstīs šo lomu pilda cilvēktiesību organizācijas, taču sevišķi Rietumeiropā nav pilsonisko brīvību organizāciju. Man gribētos tādas izveidot un galu galā varbūt nodibināt sava veida Eiropas pilsonisko brīvību savienību. Taču pagaidām es būšu viesprofesors Parīzē, kur ceru dzirdēt arī labu mūziku un noteikti apmeklēt baleta izrādes. Balets mums abiem ar sievu ir kaislīga aizraušanās.

RL: Paldies par sarunu.
Published 2013-02-15
Original in English
First published in
Rigas Laiks
1/2013 (Latvian version); Eurozine (English version)
Contributed by
Rigas Laiks
© Arye Neyer / Ieva Lesinska / Rigas Laiks
© Eurozine