IMF-chef vill beskatta de rika
En intervju med Michael Kumhof
Michael Kumhof är chef för avdelningen som utvecklar IMF:s ekonomiska modeller. Nu har hans forskning lett honom till ett ovanligt ställningstagande: Om världen inte minskar inkomstklyftorna, kommer nästa finanskris som ett brev på posten.
Michael Kumhof är IMF-ekonomen som just nu uppmärksammas världen över. I november besökte han Stockholm inbjuden av tankesmedjan Global utmaning. IMF:s räddningspaket förknippas ofta med stenhårda krav på omstruktureringar, privatiseringar och liberaliseringar. Men Michael Kumhofs recept för att undvika kriser är ökad jämlikhet.


Read also
"Increasing social distance between the poorest and the richest diminishes social cohesion, which in turn means more collective problems and fewer resources for solving all our other collective problems."
Göran Therborn
on why inequality matters.
Han anser att grunden för både finanskrisen 2008 och skuldkrisen 2011 är den ökade ojämlikheten, framför allt i USA. För att undvika framtida kriser måste vi se till att majoritetens förhandlingsposition stärks gentemot de allra rikaste i samhället. "Jag slår vad om att ni inte tidigare hört en IMF-ekonom säga att lönerna måste höjas. Det är mycket kontroversiellt", sa han vid sitt besök i Sverige i november. Men för en ekonom som själv jobbat i banksektorn och som irriterar sig på ekonomer som inte grundar sina teorier tillräckligt i hur den verkliga världen fungerar, är det inga konstigheter.
Michael Kumhof framstår som en ganska vanlig framgångsrik teoretisk ekonom. Efter att ha arbetat som assistant professor på Stanford universitetet arbetar han i dag som chef för den avdelning på IMF som utvecklar ekonomiska modeller. För 25 år sedan lämnade han Tyskland för en internationell karriär, huvudsakligen i USA.
Michael Kumhof är försiktig när han uttalar sig i frågor som kan ha politisk laddning. Väl medveten om att han företräder IMF vill han inte kommentera specifika länders utveckling. Inte heller vill han föreslå konkreta åtgärder för att minska ojämlikheten. Det är en uppgift för skatteexperterna, menar han. Men han har en egenskap som han själv beskriver som tysk: en vilja att gå till botten av problemen. Och att bygga sina modeller utifrån hur verkligheten faktiskt ser ut. Kanske är det därför han kommit till en slutsats som går på tvärs med vad IMF förknippats med hittills. För Michael Kumhofs budskap är enkelt. Om vi inte minskar inkomstklyftorna så kommer nästa kris som ett brev på posten.
I artikeln "Inequality, Leverage and Crises", som Michael Kumhof skrev tillsammans med Romain Rancière 2010, konstaterar författarna att utvecklingen som föregått krisen 2008 har stora likheter med tiden som föregick den stora depressionen 1929. Det främsta kännetecknet är ökande inkomstklyftor. Klyftorna har lett till en högre skuldsättningsgrad hos hushållen. Länder med stor ojämlikhet är också de länder som har högst skuldkvot, störst finanssektor och dessutom ofta störst underskott i bytesbalansen.
Författarna visar hur de rikaste fem procenten av befolkningen lånar ut delar av sitt överflöd till de övriga 95 procenten av befolkningen genom en svällande finanssektor. De rikaste behöver hitta ett sätt att investera sitt överflöd. Och den fattigare majoriteten av befolkningen vill upprätthålla den konsumtion de vant sig vid, men nu i och med den ökande ojämlikheten inte längre har råd med. Ett större utbud av krediter, möter en ökad efterfrågan. Resultatet blir hög skuldsättning och uppbyggnaden av en skuldkris. Det enda sättet att hållbart minska skulderna vore att minska ojämlikheten.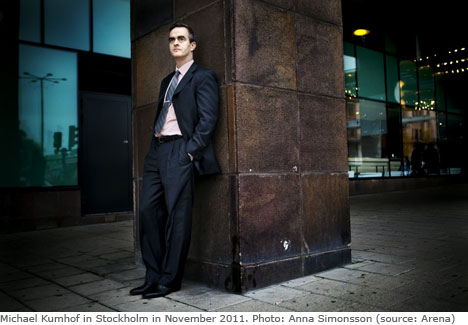 Mikael Feldbaum:
Beskriv grunderna i din forskning om ojämlikhet och skulder.
Michael Kumhof:
Det började med att jag besökte ett seminarium om finanskrisen 2009. Jag tyckte att man fokuserade för mycket på hur man skulle hantera krisen, men inte på de underliggande orsakerna till den. Det som hänt i USA sedan slutet på 1970-talet är att ojämlikheten mellan de allra rikaste och den stora majoriteten av befolkningen växt väldigt mycket. Det finns stora likheter med vad som skedde före den stora depressionen i USA 1929. Skuldsättningen ökade också kraftigt båda perioderna. I stället för att resonera om hur man ska använda inflation för att ta sig ur krisen borde man kunna formalisera grunderna för krisen, tänkte jag.
Hittills fanns det två fokus för hur krisen uppstått. IMF:s förra chefekonom Raghuram Rajan menade att politikerna som sett majoritetens inkomster sjunka, i stället för att hantera ojämlikheten valt att göra pengar tillgängliga. Så kunde människor låna för att upprätthålla den konsumtion som de vant sig vid. Det var bekvämare än att göra något åt ojämlikheten. Det andra sättet att se det på var att bankerna lyckats i sina påtryckningar för att få låna ut mer pengar och att liberaliseringen av finansmarknaden lett till de stora lånen.
Vad som är nytt med vår modell är att den kombinerar de här två sätten att resonera. Den utgår från att de rikaste fem procenten av befolkningen har ökat sina inkomster så mycket att de inte kan konsumera upp alla pengarna. Du kan ju bara använda ett begränsat antal Armanikostymer. De rikaste hittar inte heller tillräckligt många företag med tillräckligt hög lönsamhet att investera i. Då återstår att låna ut pengarna med hjälp av banksektorn. Samtidigt har de återstående 95 procenten av befolkningen fått en mindre del av kakan än förut. De måste låna för att kunna upprätthålla den konsumtion som de anser att de borde ha. De tror nämligen fortfarande att de ska få en större del av kakan längre fram och vill jämna ut sin konsumtion. Ett stort utbud av pengar från de rikaste fem procenten och en stor vilja att låna hos resterande 95 procent skapar den stora skuldbörda som vi ser just nu. Höga statsskulder är egentligen samma fenomen. Staten har lånat, inom eller utom landet, för att bekosta de fattigares konsumtion.
MF:
Ojämlikheten leder alltså till hög skuldsättning, men varför har ojämlikheten ökat?
MK:
Det har gjorts många försök att förklara varför ojämlikheten uppstått. Vissa anser att politikerna i USA minskat fackets makt. Det är svårt att argumentera emot att det skulle vara så. Vissa tror att det beror på ökad internationell konkurrens, teknikutveckling som gynnat högutbildade, alltför låg ränta, globala handelsobalanser, en avreglerad finansmarknad eller på att kapital flyttat till skatteparadis. Orsaken är inget vi behöver ta ställning till i vår modell.
MF:
Det är bankerna som förmedlar lånen. Om vi bortser från ojämlikhet som det underliggande problemet, skulle man kunna begränsa bankernas utlåning för att minska skuldsättningen?
MK:
Att reglera bankerna löser inte våra problem nu. Men till exempel en skatt på utlåning hade kanske kunnat minska skuldsättningen. Men jag vet inte om en skatt på finansiella transaktioner är en bra idé.
På 1930-talet efter den stora depressionen funderade man mer på bankernas roll i ekonomin än i dag. Bankerna spelar en viktig roll för fluktuationer i konjunkturer. Om de vill ta risk så skapas pengar i systemet. Om de ogillar risk så minskar pengarna. Problemet är att med stora inkomstklyftor ligger det i människors intresse som privatpersoner att låna och låna ut, men ökad utlåning är inte optimalt för samhället som helhet. Som politiker kan man tänka sig att man bör verka för det allmännas bästa och minska utlåningen. Samtidigt är det inte säkert att det är rätt att hindra människor från att göra vad som ligger i deras intresse.
MF:
Om ojämlikheten och skuldsättningen är krisens förutsättning, vad var det som fick vagnen att tippa över?
MK:
Det var den stora skuldsättningen först för privatpersoner och sedan för stater som skapade den stora explosionen. Själv tog jag ut alla mina pengar från marknaden år 2005. Det var inte svårt att se vad som höll på att hända. Jag har själv arbetat med utlåning på bank. Finanssektorn dubblades perioden före krisen. Skuldbördan accelererade de tio år som föregick krisen. Bristerna i regleringen var den utlösande faktorn. Men det är ett misstag att fokusera på halmstrået som bröt kamelens rygg. Jag ser på detta som ett fenomen på en generations sikt snarare än i perspektiv av en affärskonjunktur.
MF:
Hur kommer vi ur krisen?
MK:
Man kan minska ojämlikheten dels genom att höja majoritetens del av kakan före skatt, dels efter skatt. Vi börjar med hur man kan höja inkomsten före skatt. Man skulle kunna hävda att om politiska beslut lett till lägre löner för majoriteten så borde politiska beslut kunna öka lönerna. Men med höjda löner riskerar man att arbete flyttar utomlands. Om å andra sidan inget görs och lönerna för majoriteten inte ökar så fortsätter skulderna att öka. Det är två dåliga alternativ, men man måste hitta en lösning.
Att minska ojämlikheten genom beskattning är den andra vägen. Man får försöka beskatta de rika genom smarta skatter. De rikaste bör beskattas mer än den fattigare majoriteten. Jag är ingen skatteexpert, men de som är det brukar föreslå att man höjer skatter så att det inte påverkar människors beteenden. Det är alltså smartare att beskatta till exempel mark eller råvaror, som inte är lika lättrörligt som arbete och kapital. Jag vill inte säga hur det ska göras men vi bör ge skatteexperterna i uppdrag att utreda detta.
MF:
Att höja arbetskraftens produktivitet genom till exempel utbildning är väl ett sätt att motivera högre löner?
MK:
Ja, men utbildning är en långsiktig åtgärd, den hjälper inte just nu. Dessutom går redan dataingenjörer utan jobb eftersom de jobben outsourcas. Men visst vore det bra om man både kunde öka majoritetens produktivitet och dess förhandlingsmakt.
MF:
Du anser att fördelningen i samhället är en demokratisk fråga?
MK:
Skuldmönstret inom ett land kan se komplicerat ut. Men det finns en struktur. En stor del av lånen ges av de mycket rika till den fattigare majoriteten. Majoritetens inkomster har inte varit tillräckligt hög, men de rikas har varit det. Det finns de som säger att problemet är oövervinnligt eftersom de som tagit lånen har för små inkomster för att betala. Men detta är inte ett oöverstigligt problem. Ett land kan omfördela inomster genom demokratiska beslut i parlamentet.
Men i de fall som till exempel statsskulden hålls av en utländsk långivare så kan inte parlamentet lagstifta bort problemet. Kineserna är ju inte representerade i parlamentet.
MF:
Små öppna ekonomier har ofta större trygghetssystem än stora länder. Enligt ekonomen Dani Rodrik kan det bero på att små länder är mer utsatta för teknologiskiften på världsmarknaderna och behöver skydda medborgarna. Vore det något för större länder att ta efter, ifall de också är mer utsatta för konkurrens från omvärlden i dagsläget?
MK:
Det kände jag faktiskt inte till. Jag har inte tänkt igenom det och vill därför inte uttala mig. Men spontant ser jag inte att det skulle vara en bra lösning.
MF:
Hur ska man se på utvecklingen i Sverige där flera politiska beslut har tagits de senaste åren som ökat ojämlikheten? Den rikaste procenten ökar sin del av kakan ungefär lika mycket procentuellt som motsvarande grupp i USA.
MK:
Eftersom jag företräder IMF så vill jag inte kommentera specifika länders politik. Du skriver ju för ett magasin som kallar sig progressivt så jag föreslår att du i det här fallet själv i din text drar slutsatser av det jag sagt tidigare.
MF:
Då vill du inte heller tala om Greklands och Italiens åtstramningspaket?
MK:
Nej.
MF:
Men du tror inte generellt på åtstramningspaket?
MK:
Jag anser att stimulanser kan göra mycket nytta såvida inte sättet intäkterna kommer in till statskassan på verkar snedvridande på ekonomin. Vi bör försöka ta in mer pengar till statskassan för att stimulera ekonomin snarare än att minska utgifterna.
MF:
Vad tror du själv om möjligheterna att vi tar oss ur krisen?
MK:
Eftersom jag företräder IMF så väljer jag att inte svara på den frågan. Du kan säkert föreställa dig vilka reaktioner det skulle väcka om en IMF-ekonom hade sagt det ena eller andra i den frågan.
MF:
Blir du oroad när du funderar över vad miljoner arbetslösa betyder för samhället och när ILO förutspår ökad social oro?
MK:
Jag känner inte att jag kan uttala mig om sådana frågor.
MF:
Reaktionerna i världen just nu med Occypy-rörelsen, Indignados och utspel från Warren Buffet om att de rika borde betala mer skatt, vad anser du om det?
MK:
Jag vill inte kommentera Occupy-rörelsen men kan säga att de täcker in ett stort område av ekonomin. Rörelsen handlar delvis om en reaktion på höga studielån. Det är ett uttryck för att många människor inte kan hantera den situation som uppstått.
MF:
Men det handlar också om frågan om vem som ska betala skulderna?
MK:
Ja.
MF:
Hur tas din forskning emot?
MK:
Min forskning om ojämlikhet har fått den största medieuppmärksamheten av den forskning jag bedrivit hittills. Ämnet ligger ju i tiden. Jag möts av sympati men inom ekonomkåren finns också mycket fokus på kortsiktiga förklaringar och åtgärder. Fler människor måste fånga upp forskningen för att den ska få genomslag. Om fler problem uppstår i ekonomin kanske insikten om att vi måste göra något ökar. Vi måste kanske slås i huvudet två gånger, för under lång tid har vi inte tagit ojämlikhet på tillräckligt stort allvar.
Men den stora förändringen i IMF, delvis på grund av krisen, är en stor öppenhet för nya idéer till och med utanför researchavdelningen inom IMF. IMF är nuförtiden ganska öppen för heterodoxa teorier. IMF chef Christine Lagarde har till exempel uppmanat de länder som har utrymme att stimulera ekonomin.
MF:
Men problemet är väl de länder som inte har utrymme att stimulera ekonomin?
MK:
Så kan det vara. Men att de som har råd stimulerar betyder också att de hjälper länder i kris genom att köpa deras varor och tjänster och på så sätt förbättra krisländernas handelsbalans.
MF:
Tror du att dina slutsatser om att ojämlikhet bör bekämpas får genomslag i praktisk politik?
MK:
Det återstår att se.
MF:
Ekonomer har fått mycket kritik för att inte ha förutsett krisen. Hur ser du på framtiden för ekonomin som vetenskap?
MK:
Makroekonomerna var inte bra på att förutse krisen trots att den borde varit enkel att se. IMF:s förre chefekonom Raghuram Rajan blev förlöjligad när han förutsåg krisen. Det finns ett problem. Man går fortfarande inte till rötterna med vad som hänt. Man säger att det beror på psykologi – ad folk tror om den framtida utvecklingen. För mig är det en djupt otillfredsställande förklaring eftersom det inte tar hänsyn till fundamenta.
Men att ekonomer utvecklar matematiska modeller är inte fel i sig. Ekonomerna har ändå utvecklat användbara verktyg de senaste 30 åren. I vårt fall med "Inequality, Leverage and Crises" lärde vi oss mycket genom att utveckla vår modell. Frågan är inte fler modeller eller färre modeller utan att verktygen inte ska ta över så att man slutar bry sig om verkligheten. De fundamentala frågorna måste alltid ligga i botten.
MF:
Du nämner ofta att man måste gå till grunden med problemen och inte koncentrera sig på "halmstrået som bryter kamelens rygg". Är denna grundliga inställning en del av din personlighet?
MK:
Ja, jag är ju tysk! Nej, det kanske är en stereotyp av tyskar, men jag tror att det kan ligga något i den. Visserligen lämnade jag Tyskland för 25 år sedan, men ändå. Jag tror att man måste vara både teoretisk och praktisk. Något som irriterar mig är när teoretiska modeller inte är kopplade till verkligheten.
MF:
Vad forskar du om just nu?
MK:
Jag har flera områden på gång. Dels forskar jag om bankers roll i ekonomin. Med min praktiska erfarenhet av bankverksamhet är det ett utmärkt sätt att kombinera teori med praktiska erfarenheter av hur banker verkligen fungerar. Jag forskar också om bristen på råvaror. Då börjar jag med att fråga geologer och ingenjörer om deras åsikter. De är viktiga för mig. Många ekonomer gör inte den grundläggande researchen.
MF:
Vilka är dina framtidsspaningar om ojämlikhet?
MK:
Jag fortsätter forskningen om ojämlikhet och utvecklar en modell för små öppna ekonomier. Artikeln beräknas komma ut om ungefär en månad. Jag kan avslöja så mycket som att vi ser att ojämlikhet inom ett land med ett finansväsen som kan förmedla krediter inom landet leder till högre skuldsättning inom det landet. En stor del av underskottet i handelsbalansen förklaras också av ojämlikhet eftersom man för det man lånar av utlandet köper utländska varor.
Men ett ojämlikt land som inte har ett bankväsen som kan fördela skulder inom landet men däremot tillåter de rika att låna ut pengar till utlandet, kommer att få ett bytesbalansöverskott när de rika lånar pengar till utlandet. Du förstår säkert att detta motsvarar utvecklingen i USA och Kina mycket väl. Och om Kina avreglerar sin marknad så att majoriteten kan låna pengar, så står vi inför nästa stora utmaning. Då måste inkomstskillnaden i Kina minskas för att hindra en kinesisk skuldkris.
Published 2012-03-09
Original in Swedish
First published in
Arena
6/11 (Swedish version); Eurozine (English version)
Contributed by
Arena
© Mikael Feldbaum / Michael Kumhof / Arena
© Eurozine