Men grunnmuren står støtt
Like ofte som jeg får spørsmålet, spør jeg meg selv: Hvordan har 22. juli forandret Norge? Etter hvert har jeg lært meg til å leve med at jeg famler etter svar som duger. 22. juli er en så ekstraordinær opplevelse at jeg tror vi mangler mentale kart å manøvrere etter. Jeg tror fasiten må komme langt seinere. Og den vil komme i bruddstykker, i biter, som møysommelig pusles sammen til en utvidet og nyansert mosaikk.


Terror in Norway


More articles on the terror attacks in Norway and their aftermath.

Jens Stoltenberg
But the foundations stand firm
Kenan Malik
The last Crusade
Øyvind Strømmen
Caught in the web
Ola Larsmo
The words that kill
Jonas Bals
The Rose Revolution
Cathrine Sandnes
Flower power
Kenan Malik
The tragic ironies of Breivik's terror
Knut Olav Åmås
More debate, not less
Remi Nilsen
The literal metaphors of a terrorist
Prableen Kaur
Hell on Utøya

Uten å trekke sammenlikningen for langt er det relevant å se hen til andre verdenskrig. 70 år etter utgis det fortsatt bøker som inneholder nye opplysninger. Som utdyper, nyanserer og på noen områder endrer fortellingene om krigen. Slik vil det også være med 22. juli. Ennå er det mye vi ikke vet. Og fortsatt er det mye vi ikke forstår. Bestialiteten er så nær i tid, og var så massiv, at vi mangler både kunnskap og nødvendige filtre for å gjøre analysene stabile.
Derfor har jeg slått meg til ro med å konstatere at 22. juli vil legge seg som årringer til vår vekst. Til nasjonens vekst, men også til utviklingen av hver enkelt av oss. Meg inkludert. Men i likhet med andre strever jeg med å sette ord på hva det betyr. Tenker jeg annerledes? Har jeg endret adferd? Jeg har kommet til at det ikke tjener noen hensikt å tvinge fram svar for tidlig.
Derimot kan vi fortelle historiene som leder fram til svarene. En del av min fortelling om 22. juli er hvor stor betydning det talte ord kunne få, hvordan talen viste seg som en overlegen kommunikasjonsform. I en flyktig medietid er det verdt å stoppe opp ved.
Om kvelden den 22. juli, etter at vi hadde forsikret oss om at alle tilgjengelige ressurser ble satt inn for å redde liv, behandle skadde og sikre Oslo mot nye ugjerninger, og mens sjokkets og fryktens tåke hang tungt over landet, jobbet mine medarbeidere og jeg med å formulere den første av en serie taler. Denne talen måtte inneholde den norske reaksjonen på terroren som hadde rammet så hjerteskjærende. Hva var vårt svar?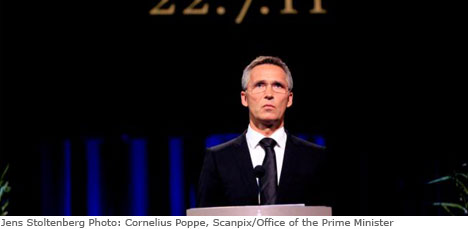 Svaret ble å varsle enda mer demokrati, enda mer humanitet, men aldri naivitet. Det var det ingen uenighet om rundt bordet den kvelden, og ettertiden har vist at reaksjonen samler bred støtte i Norge. Den eneste reelle diskusjonen gikk på hvordan vi skulle omtale angrepene som hadde skjedd for få timer siden. Det endte med at jeg kalte angrepene "sjokkerende, blodige og feige". Umiddelbart føltes det fremmed, men etter å ha avveid hvert ord kom vi fram til at de var sanne. Norge var utsatt for sjokkerende, blodige og feige angrep i Oslo og på Utøya. Neste spørsmål var om det var riktig av meg å bruke så sterke ord i en tale vi visste ville bli lyttet nøye til av mange? Alternativet var å stryke setningen. Eller si noe mer nøytralt, at vi var utsatt for to brutale angrep. Min vurdering var at det ikke ville tjene noen hensikt å pakke inn virkeligheten, og denne linjen ble rådende for all videre kommunikasjon om 22. juli.
Ville reaksjonen vår vært annerledes om gjerningsmannen var araber og muslim, og ikke en blond kristen fra Oslo vest? Jeg kan svare et uforbeholdent nei i forhold til budskapet i den første talen. Den kvelden visste vi ikke hvem som sto bak. Det eneste som var kjent, var at en mann var arrestert på Utøya og at han var etnisk norsk. Var det flere, fantes det et bakland? Politiet jaktet på flere gjerningsmenn og fryktet nye bomber. Alt sto uklart. Derfor kan jeg kan med sikkerhet si at budskapet i min første tale uansett ville blitt det samme.
Et annet, og mye mer komplisert spørsmål, er om debatten etterpå ville vært annerledes. Ville vi uansett ha fylt gatene med roser, eller hadde raseriet vunnet over tårene? Det går an å frykte svaret, men det viktige er at vi kan lære. Hver og en av oss kan tenke seg om. Hvordan hadde du reagert om al-Qaida sto bak og ikke en blond nordmann fra Oslo vest?
Summen av våre ærlige svar er en vesentlig lærdom for framtiden. Etter 22. juli opplevde vi en skjellsettende samling om felles verdier på tvers av etniske, kulturelle og andre grenser. Bildet i
Aftenposten
av en imam og en biskop som omfavner hverandre i Central Jamaat-moskeen i Urtegata i Oslo, en uke etter terroren, gjør meg fortsatt rørt. Døden åpnet øynene for hvor mye mer som forener enn skiller. Biskopen ber til sin gud, imamen til sin. Men først og fremst er de mennesker. Deres omfavnelse symboliserer gjenforeningen av grunnleggende menneskelige verdier, av omsorg og fellesskap – humanitet – som ingen gjerder, ingen mur kan skille i evighet.
Jeg har aldri opplevd det utvidede norske "vi" sterkere enn etter 22. juli. Jeg deltok i kristne begravelser så vel som muslimske og humanetiske. Jeg var i kirker og moskeer. Sorgen er den samme. Savnet. Og håpet om at døden ikke rammet forgjeves.
Gjenforeningen av våre grunnleggende fellesverdier er en arv å pleie. Den skal vi holde fast ved når vi reflekterer over hvordan Norge har blitt forandret av 22. juli. Det gir mening, fordi alle er i stand til å påvirke endringene, til å pleie det gode som grodde fram av ondskapens aske, og gjøre det vi kan for å unngå at debatten sklir tilbake til mistenksomhet og frykt for "de andre". Vi skal minne hverandre om at de andre er oss. Vi er nordmenn. Vi er Norge.
Jeg vil si det enda tydeligere. Er det én ting vi skal holde fast ved etter 22. juli, så er det dette. Husk at hensikten med terroren var det motsatte. Bomben og skuddene var politisk motivert. Arbeiderpartiets ungdom og ansatte i regjeringskvartalet ble rammet, men målet var å erklære krig mot et flerkulturelt Europa. Det norske folk svarte med å slå ring om fellesskapet. Imamen og biskopen med å slå armene om hverandre. Det inspirerer meg. Det gir meg forsterket tro på at våre grunnverdier, demokrati, humanitet og åpenhet, vil forene neste generasjon i Norge.
Jeg har ikke grunnlag for å si at 22. juli umiddelbart gir oss respekt for menneskers ulikhet, likeverd og likestilling, men jeg er trygg på at 22. juli har skapt et felles grunnlag for at vi kan lykkes bedre. Resten handler om oss selv. Vil vi det sterkt nok, og er vi villige til å jobbe hardt nok for å få det til? Jeg advarer mot å tro at dette handler om at det politiske Norge skal fatte vedtak. Eller at en myndighet skal ta et initiativ. Selvsagt skal myndighetene gjøre sitt, men det uten sammenlikning viktigste er at hver og en av oss tar ansvar. Hver og en av oss kan påvirke framtiden. Det norske "vi" kan både vokte grunnverdiene og ta de vanskelige debattene. Det så vi i sommer. Jeg håper vi ser stadig mer av det.
I ukene etter 22. juli holdt jeg minnetaler i Oslo Domkirke, for rosetoget på Rådhusplassen i Oslo, i Stortinget, i Folkets Hus, i Central Jamaat-moskeen og ved minnemarkeringen i Oslo Spektrum. I tillegg talte jeg i begravelser ulike steder i landet og skrev artikler i de sentrale avisene. Hovedbudskapet var likt; vårt svar på terror er å styrke fellesskapet, åpenheten og demokratiet, men aldri på en naiv måte. Å forsterke politiet er et bidrag til mer åpenhet. Det var og er avgjørende å få fram sammenhengen, at et folk i frykt ikke er et fritt folk. At et samfunn i frykt aldri kan bli et tillitsfullt samfunn. Mer åpenhet og mer demokrati avhenger også av et velfungerende politi, kontroller og internasjonalt samarbeid i tillegg. Dette la jeg i begrepet "aldri naivitet" i den første talen jeg holdt. Det samme budskapet gjentok jeg i langt de fleste talene siden.
For hver tale jeg holdt søkte vi etter et utvidet budskap. I Oslo domkirke handlet det om å åpne opp for sorgen. Dette var to døgn etter bomben og skuddene, og Norge var fortsatt et land i sjokk og lammelse. Vi trengte utløp for sorgen. Valget falt på å bruke sterke bilder og ord. Å snakke så direkte som mulig. Ikke gjøre døden mindre brutal.
"Mange av oss kjente noen som er borte. Jeg kjente flere. En av dem var Monica. I rundt 20 år jobbet hun på Utøya. For mange av oss var hun Utøya. Nå er hun død. Skutt og drept mens hun skapte omsorg og trygghet for ungdom fra hele landet. En annen som er borte er Tore Eikeland. Leder av AUF i Hordaland og en av våre aller mest talentfulle ungdomspolitikere. Nå er han død. Borte for alltid..."
I talen til rosetoget handlet det om å si to ting. For det første å slå fast at folk i Norge ikke hadde latt seg knekke av terroren.
"Det folkehavet jeg ser foran meg her i dag, og den varmen jeg kjenner fra mennesker over hele landet gjør meg sikker i min sak. Norge består prøven. Ondskap kan drepe et menneske, men aldri beseire et folk."
Den andre og viktigste var å si at det kommer en tid etter terroren. At det er tid for å rette blikket mot Norge etter 22. juli. Vi jobbet mye med formuleringene. Ikke minst i forhold til det jeg sa til ungdommen. Det handlet om ikke å bli oppfattet som partipolitiker. Vi strøk alt som på noe vis kunne oppfattes feil. Mine medarbeidere og jeg diskuterte inngående om det var riktig å si noe om det forestående valget. Det endte med kun to ord: "Bruk stemmeretten".
"Til de unge vil jeg si dette. Massakren på Utøya er også et angrep på unge menneskers drøm om å bidra til en bedre verden. Deres drømmer ble brutalt knust. Dine drømmer kan bli virkelighet. Du kan føre videre ånden fra i kveld. Du kan gjøre en forskjell. Gjør det! Min oppfordring er enkel. Engasjer dere. Bry dere. Meld dere inn i en organisasjon. Delta i debatter. Bruk stemmeretten."
I arbeidet med talen til Stortinget diskuterte vi oss fram til at det bærende budskapet skulle være å invitere til forsoning om tidligere utsagn. Det var diskusjoner med relevant tvil. På den ene siden var det viktig at dette ikke ble oppfattet som et forsøk å kneble nødvendig debatt og, på den annen side, heller ikke kunne tolkes som et angrep på Fremskrittspartiet. Også her var ordenes valør avgjørende, og vi veide alle ord på finstilt vekt. Blant annet strøk vi til slutt setningen "Med 22. juli som ballast kan det opplagt være noe vi angrer." og erstattet den med "Med 22. juli som ballast kan det opplagt være noe vi skulle ønske vi hadde formulert annerledes." Ideen var å inspirere til mer anstendig dialog, uten å påføre skyld eller politisk skade på dem som før 22. juli uttrykte seg ufølsomt. Det handlet om å invitere alle som var åpne for det, hjem til anstendigheten.
"Mange av oss bruker sørgetiden til å stoppe opp og tenke over egne holdninger. Til å reflektere over hva vi har tenkt, sagt og skrevet. Med 22. juli som ballast kan det opplagt være noe vi skulle ønske vi hadde formulert annerledes. Noe vi i framtiden vil uttrykke med større følsomhet. Det er lov. Jeg vil fra denne talerstolen be om at vi ikke starter en heksejakt på ytringer. Samholdet vi har vist disse uvirkelige dagene kaller på fortsatt raushet. Vi har alle noe å lære av tragedien. Vi kan alle ha behov for å si "Jeg tok feil" – og bli respektert for det."
I forkant av talen i Central Jamaat-moskeen diskuterte vi grundig om det var riktig å komme med et annet budskap her enn jeg hadde i Oslo Domkirke. Kunne det oppfattes som utidig at jeg manet til samling om det norske "vi" i møte med en muslimsk menighet, når jeg ikke sa det samme i den kristne kirken? Vurdert ut fra reaksjonene er det ingen grunn til å frykte at jeg ble misforstått. Denne tilbakemeldingen fra en mor betyr mye for meg: "Før følte jeg meg bare som kurder, det var mitt folk, mitt land og en gang skulle jeg vende tilbake. Etter 22. juli sier jeg at jeg er norsk. Dette er mitt land, her skal jeg bli."
"Nå inviterer jeg til samling om det norske "vi". Våre grunnverdier er demokrati, humanitet og åpenhet. Med det som plattform skal vi respektere ulikhetene, likeverdet, likestillingen. Og hverandre. Vi skal tåle debattene, ønske dem velkommen, også de ubehagelige. Her vi står på hellig grunn er det viktig å si at vi skal respektere hverandres tro."
Oslo Spektrum 21. august dannet en naturlig avslutning på det nasjonale minnefokuset. Dette preget naturligvis talen min. Blikket skulle rettes framover, og vi brukte ikke lang tid på å bli enige om tre budskap: Vis omsorg for hverandre, hold sansene åpne for tegn til ekstremisme, og vær sikker på at vi skal holde Norge trygt. Men vi brukte mye tid på avslutningen. Skulle den helt avsluttende appellen gå til individet eller fellesskapet? Er det enkeltmennesket eller staten som skal føle mest ansvar for å verne Norge mot ny terror? Svaret er naturligvis begge deler, og jeg valgte en form der det personlige ansvaret kommer først, og at summen av våre frie valg blir fellesskapets ubrytelige lenke.
"Vi trenger noe viktigere. Vi trenger deg. Uansett hvor du bor. Uansett hvilken gud du tilber. Hver og en av oss kan ta ansvar. Hver og en av oss kan vokte friheten. I fellesskap knytter vi en ubrytelig lenke av omsorg, demokrati og trygghet."
Jeg deltok i sju begravelser, og veide ordene nøye i hver av dem. Naturligvis fordi hver avskjed krever respekt for den avdøde, men også fordi minnetalene i begravelsene ble et felleseie for et folk i sorg. De ble oftest gjengitt i avisene og på nett, og står kanskje som det mest overraskende uttrykket for at talen fikk en renessanse etter 22. juli. Jeg talte til en familie og en kirke i bunnløs sorg, men jeg visste at talen nådde ut til mange flere. Min jobb var å trøste. I direkte møter med en mor og far, og via talene. Hver begravelse var krevende, og hver begravelse ga mye. Å få lov til å uttrykke en hel nasjons medfølelse, ja en hel verdens, ga mening til jobben og det ga meg mye som menneske. Jeg hentet styrke av å få lov å trøste.
4. august deltok jeg i begravelsen til 18 år gamle Simon Sæbø i Salangen i Troms. Det var en reise i det vakre og det vonde. Flyturen nordover ga panoramautsikt til fjellene, fjordene, øyene og alt vakkert vi forbinder med Norge. Samtidig visste vi at vi reiste mot sorgen, mot en ny kirke full av mennesker som måtte ta farvel med noe av sin egen framtid. Jeg hadde møtt foreldrene til Simon noen dager tidligere i Oslo, i leiligheten til Roger Ingebrigtsen, statssekretær i Forsvarsdepartementet. De var sammen med andre foreldre som hadde mistet et barn, eller hadde barn som lå hardt skadd på sykehus. Det var på en underlig måte godt å se dem igjen. Det ga mening å være med dem når de tok det endelige farvel med Simon. Talen i Salangen kirke var personlig, og avskjeden ved graven denne vakre sommerdagen vil jeg for alltid huske.
"Kjære Tone og Gunnar, Vi møttes i Oslo i forrige uke. Det ble et sterkt møte. Vi holdt om hverandre. Var hjelpeløse sammen. Fortvilte. Dere har mistet det umistelige. En kjær sønn. Deres dyrebare barn. Jeg er far. Jeg gråter med dere."
Simon var en av flere framtidige ledere som ble revet bort. Det han sto for, som omsorgen for unge asylsøkere for eksempel, imponerte meg. Siden 22. juli har jeg møtt mange andre unge som har imponert. Politiske ungdomsledere og andre unge samfunnsaktører fører debatter om de vanskeligste spørsmålene med verdighet, innsikt og engasjement. Jeg fornemmer at terroren kommer til å prege 22. juli-generasjonen enda sterkere enn vi oppfatter i dag. Og da mener jeg på godt. Noen av de beste TV-duellene i valgkampen var mellom unge politikere. Sterkere enn voksengenerasjonen oppfatter flere unge at angrepet 22. juli var rettet med dem, mot deres holdninger og deres verdier. Det har opplagt å gjøre med at det var ungdommer som ble massakrert, mange av AUF-erne på Utøya hadde venner i Unge Venstre, SU og Unge Høyre. Mange var medlemmer av andre organisasjoner i tillegg. Natur og Ungdom, for eksempel. Engasjerte ungdommer har engasjementet til felles. Og det skaper et fellesskap som preget reaksjonene etter Utøya.
Resultatet er at Norge har en reell 22. juli-generasjon. Vi skal være varsomme med å spå hva det fører til i neste omgang, men det er lov å håpe. Jeg håper intenst at 22. juli har skapt en sterkere og tryggere demokratisk plattform for dem som snart skal overta partiene, organisasjonene og den politiske makten. Mitt håp er at det vil bygge ned frykten for ulikhetene i Norge, samtidig som det øker viljen til å holde fast ved allmenne fellesverdier tilpasset norske tradisjoner og norsk identitet.
I tiden etter 22. juli ble jeg invitert til flere møter hvor norske journalister og redaktører har lagt, eller ønsker å legge, medienes dekning av 22. juli under lupen. Dessverre har jeg ikke hatt anledning å delta, men jeg applauderer initiativene. Mediene spiller en avgjørende rolle i vår opplevelse av fellesrommet hvor holdninger dannes og meninger brytes. At redaktørene og journalistene er ydmyke for egne feil er like viktig som at mediene avdekker andres feil.
Det er en styrke for demokratiet at NRK, for eksempel, har analysert egen dekning under og etter 22. juli. Det er et eksempel til etterfølgelse for andre mediebedrifter. Hver og en har noe å lære. I tillegg er det viktig at den totale mediedekningen blir undersøkt og evaluert. Vi vet av erfaring at det samlede medietrykket kan utgjøre en massiv belastning, samtidig som hver redaktør kun har ansvar for sitt produkt. Jeg mener det er vesentlig å erkjenne sammenhengen, selv om det ikke er lett å angi en enkel løsning på dilemmaet.
Et sted å begynne, om bildet av den samlede mediedekningen skal bli tillitvekkende, er å invitere allmennheten inn i evalueringen. 22. juli-kommisjonen kan fungere som inspirasjon. Regjeringen oppnevnte kommisjonen i nært samarbeid med Stortinget. Det er avgjørende for tilliten til sluttresultatet at kommisjonen er uavhengig av oss som skal kikkes i kortene. Kommisjonen har et mandat som er vidt, og disponerer sitt eget sekretariat. Vil mediene la seg inspirere av politikken og be allmennheten bistå Institutt for Journalistikk som er i gang med å studere mediene dekning av 22. juli? Det tjener åpenheten til ære om det skjer.
Overgangen fra den nasjonale minnemarkeringen i Oslo Spektrum søndag 21. august og til den første partilederdebatten på TV to døgn seinere var krevende. Etter en måned med fullt fokus på død, begravelser, bunnløs sorg og forsøk på trøst, skulle staben og jeg sette over til norsk valgkamp i løpet av 48 timer. Til krav om sikre veier og nye sykehjem, til misnøye og noen gleder. Fra menneskenes eksistensielle spørsmål til den politiske hverdagen. Det var som om en idrettsutøver som ikke har trent på en måned, blir sendt ut i en tittelkamp to døgn seinere. Han har mye å ta igjen.
Det samme hadde jeg, og tiden var usedvanlig knapp. Normalt skulle jeg ha lest og forberedt saker i ukevis før den første debatten. Mandag morgen satte vi skylapper på og gikk løs på de mange spørsmålene som måtte finne svar. Hvilke saker ville dominere, hva var viktig for oss, men framfor alt: Hvilken tone skulle debatten føres i? Det siste var et reelt dilemma. Vi hadde gitt klar beskjed til de andre partiene om at vi ikke skulle tas på med silkehansker, det burde tale for en frisk tone i debatten, samtidig visste vi at det satt folk i dyp sorg og fulgte med. Det talte for en dempet tone, nesten som en forlengelse av minnetalene. Valget ble det enkleste av alle, å gjøre det jeg følte riktig og naturlig. Jeg var preget av sorgen jeg hadde levd i, da måtte det få komme til uttrykk. Samtidig var jeg sikker på at vi skulle føre en så normal valgkamp som mulig. Det måtte også få komme til uttrykk.
Slik ble det. Da den politiske snøballen først rullet, ble jeg revet med. Politikk er viktig, og valgkamp er det mest fornemme uttrykket for frihet og demokratisk deltakelse. Jeg har lang erfaring i å fokusere på neste sak. Det tror jeg hjalp meg veldig i overgangen mellom sorg og politikk. Men helt som før ble det selvsagt aldri. Hver dag tenkte jeg på 22. juli, hver dag var det noe som minnet meg om døden og sorgen arbeiderbevegelsen og Norge var rammet av.
Var det en god eller dårlig nyhet at valgkampen, da den først kom i gang, liknet mye på de forrige og dem før der igjen? En god nyhet, er mitt svar. Jeg synes de politiske partiene klarte å balansere respekten for de døde med respekten for demokratiet. Av hensyn til ofrene kunne vi ikke skape et politisk sirkus av valgkampen. Samtidig var det utenkelig å kvele alle tilløp til politiske flammer. I så fall hadde vi gjort demokratiet en bjørnetjeneste. Mange av dem som ble skutt og drept på Utøya levde og åndet for politikk.
Det spørsmålet jeg har fått oftest etter 22. juli er hva terroren har gjort med meg som leder og menneske. Det skjønner jeg. Det er relevant å stille spørsmålet til en statsminister etter en så rystende hendelse i et lands historie. Det er klart jeg er preget av det grufulle. Sorgen, alt det grusomme som skjedde, sitter i meg og vekkes stadig til live. Det kan være en artikkel i en avis,
Aftenpostens
artikkel om dem som gjemte seg i skolestua for eksempel. Eller møtet med en ungdom som var på Utøya. Det vonde kommer for alltid til å være en del av meg.
Det andre er at jeg har fått forsterket forståelse for, og økt respekt for, hvor viktig det er for en leder å være til stede i kritiske situasjoner, å sette ord på følelser, delta i sorgen og gi rammer for folk som føler tilværelsen truet. Å være leder og statsminister handler både om å lede i det vi kan telle, veie og måle, og det handler om å lede i kraft av følelser. 22. juli har handlet om det siste. Dette har forsterket min respekt for hvilken kraft det er i ord. For meg er det også et paradoks.
Jeg har, som statsminister og politisk leder, bidratt til viktige løsninger som objektivt sett vil prege Norge i tiår framover. Handlingsregelen, pensjonsreformen, finanskrisen. Det er vedtak i slike saker som bestemmer hvor mye penger vi har til barnehager, kulturskoler og veier i årevis framover. Og som er avgjørende for at vi skal lykkes med å forvalte en naturressurs på en god og ansvarlig måte. Lykkes Norge med det, blir vi et av de få land i verden som noensinne har greid det. Med andre ord: Store og viktige prosjekter, men nesten umulig å formidle på en engasjerende måte. Få lar seg bevege av ordet "levealdersjustering", for å si det slik.
Med 22. juli var det stikk motsatt. Det har vært sterkt å oppleve hvor dypt ord om sorg kan bevege. Bare for få dager siden kom ansatte på et museum i København bort og takket meg for talene mine. Det var nok en bekreftelse på hvor viktig den verdibaserte delen av lederrollen er.
I det ytre er det meste som før. Jeg er fortsatt glad i å gå i byen, og jeg bruker marka like aktivt. Jeg mener bestemt at jeg har møtt, hilst på og klemt flere mennesker enn før 22. juli. Det er viktig for meg. Vi skal ha kort avstand mellom velgere og politikere. Å oppgi det er et nederlag.
Selvsagt skal vi ikke gamble med sikkerheten. Folk skal føle seg trygge og politikere skal føle seg trygge. Politi i gatene skaper trygghet, helikoptre i beredskap skaper trygghet og jevnlige kontroller skaper trygghet. Men det går en grense. Vi kan ikke ha politi på hvert hjørne i hver eneste by. Eller helikoptre i hver by. Det handler om å finne balansepunktet mellom kontroller og åpenhet. Jeg oppfatter at vi har båret åpenhet gjennom terroren. Og funnet balansen. Jeg er i alle fall trygg når jeg reiser rundt i Norge. Det var jeg før 22. juli, og det er jeg i dag.
Det siste og vanskeligste spørsmålet er om og på hvilken måte 22. juli har forandret oss som mennesker? Jeg velger å svare slik min gode kollega Sigbjørn Johnsen har for vane å gjøre når han presenterer et nytt statsbudsjett. Han taler via lyrikk. Jeg velger diktet "Var inte rädd för mörkret" av Erik Blomberg.
Var inte rädd för mörkret
ty ljuset vilar där.
Vi ser ju inga stjärnor
där intet mörker är.

I ljusa irisringen
du bär en mörk pupill,
ty mörkt är allt som ljuset
med bävan längtar till.

Var inte rädd för mörkret,
ty ljuset vilar där,
var inte rädd för mörkret,
som ljusets hjärta bär.
Published 2011-12-31
Original in Norwegian
First published in
Samtiden
4/2011 (Norwegian version); Eurozine (English version)
Contributed by
Samtiden
© Jens Stoltenberg / Samtiden
© Eurozine