Celles qui font l'Ukraine
3 ans après Maïdan en 3 portraits féminins
Entre novembre 2013 et février 2014, des centaines de milliers de personnes se rassemblaient à Kiev et ailleurs, plusieurs d'entre elles y laissaient leur vie. Le refus de l'accord d'association entre l'Ukraine et l'Union européenne par le président Viktor Ianoukovitch représentait l'une de ces gouttes d'eau qui font déborder l'histoire récente d'un pays déjà emplie de drames et de soubresauts, tandis que sa population revendique de plus en plus sa volonté de prendre son destin en main.
La rue l'emporterait, les réformes politiques s'enchaîneraient, tandis que sous la pression des ingérences étrangères et des divisions internes, l'Ukraine se fissurerait dans les mois suivants et jusqu'à aujourd'hui : la Crimée est désormais rattachée à la Fédération russe, les conflits perdurent à l'Est.

En marge des tractations géopolitiques et des affrontements internes, c'est au prisme du féminin que ces trois portraits invitent à découvrir l'Ukraine trois ans après la révolution de Maïdan.


Beyond conflict stories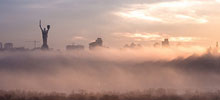 This article is part of the media exchange project Beyond conflict stories, which links Ukrainian independent media with "alternative" media in Germany, France, Spain, Italy and Greece. Follow the critical, informed and nuanced voices that counter the dominant discourse of crisis concerning Ukraine.
"C'est rare que j'y pense ainsi mais, tous compte faits, j'ai vécu Tchernobyl, deux révolutions et une guerre !", confie Vira Baldyniuk, 39 ans, journaliste au magazine culturel Korydor.
Par choix ou par contrainte, ces femmes ont vu leur vie changer depuis 2013 et tentent de rebondir, de tisser, d'exister. Elles ne portent ni la blonde natte de l'ambitieuse et ambiguë politicienne Ioulia Timochenko ni n'affichent le buste pour le moins controversé des FEMEN.
Chacune nous offre une vision de cette Ukraine en mutation et de la redéfinition des rapports de genre, bien au-delà des stéréotypes qui collent à la peau des femmes de l'Est ou des quelques figures connues de ce côté-ci de l'Europe.
Alisa Kovalenko a réalisé le documentaire Alisa in Warland, pour lequel elle a reçu de nombreux prix en Ukraine et à l'international. Après avoir suivi au front et porté à l'écran l'engagement des jeunes pour la défense de leur pays, elle esquisse actuellement le portrait d'une jeune footballeuse prometteuse qui doit affronter ses choix de vie dans un environnement affectif et social précaire.
"Le documentaire est comme une thérapie, ça m'a permis de raconter la guerre, la chaleur et le danger, ce qui fait que la vie y est plus forte. Ce médium me permet aussi de dire nos conflits intérieurs, plus intimes, que reflètent mes héroïnes."
Oksana Potapova travaille au Théâtre pour le Dialogue, fondé par un petit groupe de la société civile désireux de développer une culture de la paix au milieu des tensions. Inspirée par le théâtre de l'opprimé, cette initiative offre aux personnes discriminées – populations déplacées, LGBTI, ...– les outils et l'espace pour s'exprimer et s'adresser au public ou aux décideurs politiques.
"Je voulais devenir psychologue, mais j'ai finalement dû suivre des études linguistiques. Aujourd'hui, je me considère comme une interprète, un intermédiaire, pour faire cesser la culture du silence et éviter le basculement dans la violence."
Avant de coordonner au sein de l'association Studena un centre de réhabilitation qui accueille les vétérans de retour des combats, Anastasia Melnychenko a été journaliste puis archéologue et n'a cessé de s'intéresser à l'invisible ou l'indicible. C'est ce qui l'a poussée à lancer la campagne #Jenaipaspeurdeparler sur les réseaux sociaux, dénonçant les violences sexuelles.
"Je m'apprête à sortir un livre de témoignages, en majorité de femmes, mais d'hommes également. La violence nous touche tous et c'est plus que jamais nécessaire d'y remédier vu la porosité actuelle entre les situations de conflit et la sphère personnelle."
Published 30-12-2016
Original in French
First published in
Le Mague
31 December 2016
© Camille Leprince, Lynn SK / Le Mague
© Eurozine