Kiev, l'arte di strada che serve al potere
Giganteschi murales che coprono intere pareti. Approvati dalle autorità in nome di una legge sull'eliminazione dei simboli sovietici. Così la città sembra la Brooklyn degli artisti. Ma alla fine è solo altra propaganda
"Mi copro il volto con un passamontagna perché la mia arte non piace a tutti e qualcuno potrebbe picchiarmi. Mi firmo Enjoy, sono nato in Crimea. La mia terra è stata occupata dalla Russia e le mie idee politiche sono diverse. Disegno sui muri usando l'ironia, sono scappato dalla Crimea perché sarebbe inutilmente pericoloso combattere solo con la vernice". In Ucraina non tutti i writer si coprono il viso. Alcuni mostrano sé stessi e i propri lavori in maniera grandiosa, su muri di palazzi di 15 piani. La faccia di Kiev sta cambiando a più di due anni dalla sanguinosa protesta di piazza Maidan (la "Rivoluzione della Dignità" per gli ucraini), per molti è la nuova Brooklyn, dove artisti trovano carta bianca (e palazzi grigi) per dipingere e costruire da zerounanuova immagine di città.Legalmente. Prima nel centro della capitale le uniche scritte sui muri erano messaggi contro l'ex presidente Janukovyc, oppure appelli dei partiti di destra per cercare reclute da inviare al fronte nel Donbas. Ora c'è dell'altro.


"Dopoi fatti di Maidan le bombolette migliori non si vendono più, costano troppo. Ci tocca usare la vernice che avanza dalle ristrutturazioni delle case". Mykyta Olifirenko (in arte Neakone) è il padrone di casa di Garage Family, un vecchio rifugio sovietico immerso in un bosco a 30 minuti a piedi dal centro di Kiev. Lui e un gruppo di writer
old-school
lo hanno occupato, vendono bombolette e incontrano artisti, musicisti, creativi. Questa è la faccia autentica della scena della street art ucraina. Illegale, veloce, fatta di bombing, backjump sui treni e tag con il volto coperto da una balaclava. Queste sono le radici anarchiche di un albero che è cresciuto, però, con una forma un po' diversa.
Kiev, esterno giorno. Sui muri ciechi di palazzoni enormi, mastodontici murales. Roba che spesso bisogna andare anche a un chilometro di distanza per ammirarli per bene. Potrebbe essere l'evoluzione della scena della street art che descrive Neakone, ma sarebbe impensabile fare lavori del genere illegalmente e senza essere fermati dalla polizia. La capitale ucraina schiacciata dal cielo di piombo ora trova il colore, lo fa attirando i più grandi artisti da tutto il mondo, raccontando sui muri le storie di un Paese ancora in guerra. Nel centro di Kiev e nei quartieri dormitorio della periferia. Ma quello che si nasconde dietro alla vernice è la politica che opera a metà tra mecenatismo e propaganda. Impossibile dipingere un muro enorme senza il permesso dell'amministrazione, che spesso paga anche il materiale e stipendia gli artisti. I creativi mostrano il bozzetto agli uffici che, se approvano, danno il via libera. Il governo così prova a rendere più bella le città, distogliendo, a detta di molti, l'attenzione su temi più urgenti.
Beyond conflict stories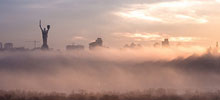 This article is part of the media exchange project Beyond conflict stories, which links Ukrainian independent media with "alternative" media in Germany, France, Spain, Italy and Greece. Follow the critical, informed and nuanced voices that counter the dominant discourse of crisis concerning Ukraine.
"Sono solo decorazioni", spiega Vladyslava Osmak, direttrice del Centro di studi urbani dell'Università nazionale Kyiv-Mohyla."Lospazio pubblico ha bisogno di un altro utilizzo. I murales sono l'ultimo tassello ma il sindaco di Kiev, Vitalij Klycko, ha altri progetti".
Ora che nel Paese stanno operando a pieno regime le 4 leggi sulla decomunizzazione (che prevedono tra l'altro l'eliminazione di ogni simbolo, statua o mosaico, prodotto durante il periodo sovietico) e parte della memoria storica e artistica è stata o sta per essere smantellata, i murales potrebbero essere la nuova forma d'arte che connoterà l'Ucraina nei prossimi anni. I meravigliosi mosaici che riempivano le stazioni delle metropolitane e i palazzi sono quasi tutti stati strappati o coperti, le statue di Lenin abbattute. "Abbiamo sempre avuto una tradizione di arte muraria, per esempio con i mosaici", spiega Oleg Sosnov, curatore che collabora con Sky Art Foundation, un'organizzazione impegnata in progetti artistici tra cui quello dei giganteschi murales. Lui ha scelto di lavorare col governo ma solo a patto che non sia messo in discussione il tema scelto dall'artista. "Non vogliamo cancellare quello che c'era, ma solo aggiornare l'aspetto del nostro Paese", racconta ancora Oleg seduto su un'altalena nel parco
Heaven's hundred
davanti al murales dedicato a Sergei Nigoyan, il primo ragazzo ucciso durante la Rivoluzione. Un'opera in un luogo carico di significato e memoria, realizzata dall'artista portoghese Vhils.
Se qualcheannofa il governononappoggiava festival artistici, dopo Maidan ha cambiato opinione. "Ora tutti vogliono migliorare le cose", racconta ancora Oleg. Anche il governo ha colto al volo questa opportunità. "Puro marketing, lo stesso metodo usato dall'Unione sovietica quando commissionava opere artistiche, nulla è cambiato", puntualizza Zhenya Molyar, che lavora al centro culturale
Izolyatsia
. Insieme ad altri cerca di catalogare i pezzi artistici ancora rimasti intatti, "prima che la decomunizzazione porti il grande vuoto".
Una voragine culturale che nel frattempo è colmata dai murales di star della street art ucraina come Aec (Aleksei Bordusov) e Waone (Vladimir Manzhos), che assieme formano
Interesni Kazki
, letteralmente "Favole interessanti". Negli Stati Uniti le opere di Waone sono quotate fino a 50mila dollari, i suoi lavori sono un insieme di simboli aggrovigliati. Incredibili e giganteschi come Time for change in cui figure mitologiche raccontano i temi caldi del Paese: l'enorme potere della propaganda e il patriottismo.
C'è Dima Fatum che durante l'inverno lascia i muri per lavorare alle tele. Il suo ultimo progetto è un trittico con Mao, Fidel Castro e Stalin, raffigurati alla maniera di Arcimboldo: i volti sono composti da mille elementi che soltanto a una certa distanza permettono di riconoscere il soggetto del ritratto. È il suo modo di descrivere la complessità dei regimi.
Sasha Korban era un ex minatore del Donbas, nell'estrema periferia di Kiev ha dipinto una ragazza che suona il violino su un palazzo di 10 piani. L'australiano GuidoVanHelten, legato al progetto
ArtUnitedUs
, ha ritratto la famosa poetessa Lesya Ukrainka in abito tradizionale ucraino, la
vyshyvanka
. Un omaggio alla patria. Purtroppo sembra che il modello usato per dipingere il volto sia molto simile a quello stampato su una cartolina di propaganda sovietica degli anni Settanta. "Le assurdità dell'amministrazione di Kiev, che vuole fare propaganda ma sbaglia e usa la stessa arma usata dall'ex Unione Sovietica e ora dalla Russia", spiega ancora Vladyslava Osmak. Sergiy Radkevich invece disegna sui muri grandi volti di Cristo: "Nel 2015 sono stato invitato a partecipare a un progetto collettivo, ma quando ho capito che c'era un legamecon il governohorifiutato. Penso che con i murales a Kiev si stia replicando quello che accadeva all'inizio del periodo post sovietico: cercare di cambiare le emozioni della gente attraverso le immagini. A metà tra la promozione artistica e il tentativo di ricreare un passato pittorico che non c'è più".
Published 2016-12-30

Original in Italian
First published in pagina99, 23 December 2016

Contributed by Ilaria Morani
© Ilaria Morani / pagina99
© Eurozine