La ville, la mode et le brutalisme ordinaire
A Kiev, le styliste Sacha Kanevski a fait des jeunes en bas des blocs sa principale source d'inspiration.
Élancé, moustache et cheveux longs, attentif, connecté, Sacha Kanevski a ouvert son atelier dans une maison individuelle, à une douzaine de stations de métro et de bus du centre de Kiev. 15 personnes y travaillent. Tout est fait sur place, du dessin aux finitions. "C'est moins cher de produire ici qu'en Chine", précise-t-il.

Sous ses airs studieux, c'est une figure de la mode High street en Ukraine. Pour hommes. Presque une gageure dans ce pays, admet-il. Il fait du local, du béton pur jus. Loin des bulbes dorés, de Maïdan et des rues pavées, il s'inspire de la ville côté bitume.


"J'ai 33 ans. Je suis né ici. C'est mon quartier. Je suis un local. C'est la ville, c'est Kiev mon inspiration, l'ambiance locale, les sous-cultures locales". Sacha Kanevski est un Kiévien qui revendique sa ville, jusqu'au bout des lignes de métro. Les quartiers dortoirs, les massifs d'immeubles, les nuanciers de gris et le sable presque blanc, héritage de l'assèchement des zones marécageuses qui ont vu pousser des immeubles et des gosses d'immeubles un peu palots, un peu chétifs, devenus grands. "Je me sens proche de l'ambiance des blocks. Il y a une force et une jeunesse qu'on ne comprend pas complètement. Et quand tu as cette sensation que quelque chose n'est pas complètement dans les clous, pas complètement comme ça devrait être, ça devient intéressant".
Poor but sexy, un credo par défaut
La touche post-soviétique fascine de ce côté-ci de l'Europe. La mode des années 1980, les raves, la transgression. Un goût pour l'Ost qui ne se dément pas. Comme si, après Berlin, l'Europe avait trouvé sa nouvelle coqueluche entre vodka et techno. Le décor est là, l'énergie aussi.
Le styliste ne déroge pas à la tendance. Quand il ne va pas faire ses photos au pied des tours, il fait venir les tours sur les podiums. Pour son dernier défilé, il a choisi des jeunes du crû. "On a choisi une agence construite sur la base de l'agence Lumpen à Moscou, qui montre un côté différent de la beauté, des jeunes des blocks, des skaters, des gens pas très beaux dans l'idée qu'on s'en fait, ni grands ni bien bâtis, mais cette beauté-là me plaît." Une mise en scène du quotidien en quelque sorte mais aussi un coup de projecteur sur ceux que l'Ukraine a peu mis en valeur jusqu'à ce jour.
"Le maire de Berlin parlait de
 'Poor but Sexy'
pour sa ville, on peut dire la même chose de Kiev", dit-il. Mais sans triomphalisme ni romantisme. Vu d'Europe, d'Allemagne, de France, de Grande-Bretagne, le post-soviétique a quelque chose de sexy, admet-il. "Mais ici, c'est complètement différent. Personne ne met l'accent dessus. On n'a pas d'autre choix."
Poor but sexy
sonne comme un beau credo mais un credo par défaut.
Le superblock, une cité comme une autre
Plus encore, Sacha Kanevski replace l'engouement pour les
superblocks
de l'est dans une tendance mondiale qui n'est pas spécifiquement post-soviétique. "On est dans la tendance globale. Le brutalisme." Avec sa déclinaison locale, le
postsovok
(post-soviet). "Ça ne surprend plus personne. Et ces quartiers existent partout dans le monde. Ils sont très proches en termes de sensations."
Exit l'exotisme. Les tours des
superblocks
de Kiev sont des tours sur sable battu comme d'autres sont sur dalle. Ici aussi, les jeunes sortent en survêtement et le tunning est en bonne place dans les conversations. On défend son territoire. Le métro fait le plein ou le vide quand il s'y arrête. On ne sort pas dans les quartiers dortoirs de Troechtchina ou Obolon. On y rentre, on s'y couche. On peut même rencontrer ses voisins sur Internet désormais, faute de liens de sociabilité noués dans les cages d'escaliers.
Beyond conflict stories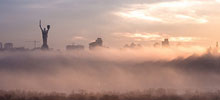 This article is part of the media exchange project Beyond conflict stories, which links Ukrainian independent media with "alternative" media in Germany, France, Spain, Italy and Greece. Follow the critical, informed and nuanced voices that counter the dominant discourse of crisis concerning Ukraine.
Une population que Sacha Kanevski a du mal à toucher malgré
Übernormal
, sa marque de hoodies et de jeans bon marché. Selon lui, difficile de sortir les jeunes des tours de leur quotidien, difficile de les intéresser à la mode dont ils sont pourtant l'objet. "Ils ne s'y intéressent pas. Pour qu'on te voie dans les tours, il faut passer à la télé. Tout le monde regarde la télé là-bas. C'est le seul moyen."
Loin de l'engouement des jeunes urbains de Kiev et de Navarre pour ce nouvel eldorado de l'est, le styliste pointe un fossé géographique, culturel et social qui n'est pas sans rappeler ceux des autres grandes villes européennes, et qui nous appelle à regarder Kiev avant tout comme une ville ordinaire.
Published 2016-12-15
Original in French
First published in
Gare de l'Est
15 December 2016
© Adeline Marquis / Gare de l'Est
© Eurozine