Η σκιά της Ακροδεξιάς στη Δυτική Ουκρανία
Εχουν περάσει πάνω από διόμισι χρόνια από τα δραματικά γεγονότα του Φεβρουαρίου 2014. Στο κέντρο του Κιέβου η ζωή μοιάζει να κυλάει φυσιολογικά.

Στους δρόμους γύρω από την πλατεία Ανεξαρτησίας ανέμελοι τουρίστες και νεαροί Ουκρανοί βγάζουν σέλφι μπροστά από το άγαλμα της ανεξαρτησίας υπό το βλέμμα περιφερόμενων Ουκρανών ντυμένων είτε με τα εθνικά γαλαζοκίτρινα χρώματα είτε με στρατιωτικά παντελόνια.

Αλλοι είναι απόμαχοι του συνεχιζόμενου πολέμου στα ανατολικά της χώρας, άλλοι εθελοντές, αυτοαποκαλούμενοι πατριώτες, ορισμένοι απλά περιθωριακοί.

Στη λεωφόρο Ινστιτούτσκαγια, εκεί όπου το 2014 οι ελεύθεροι σκοπευτές στόχευαν στο πλήθος από τα διπλανά κτίρια και ξενοδοχεία, περαστικοί κοντοστέκονται καθημερινά χαζεύοντας ανάμεσα στα λουλούδια τις εκατοντάδες φωτογραφίες των νεκρών συμπολιτών τους.


Ταξιδεύουμε στη διχασμένη Ουκρανία, αναζητώντας απαντήσεις ανάμεσα σε αντικρουόμενες αφηγήσεις για την κοινωνική, οικονομική και πολιτική κατάσταση μιας χώρας, στην οποία εξελίχθηκε μια από τις πιο επικίνδυνες διεθνείς κρίσεις μετά το τέλος του Ψυχρού Πολέμου.
Στις απέραντες εκτάσεις του παλιού σιτοβολώνα της Σοβιετικής Ενωσης ξεπροβάλλουν ογκώδεις πινακίδες μεγάλων πολυεθνικών.
Σε μια από αυτές γράφει Bayer, δεν πρόκειται όμως για διαφημίσεις, αλλά για εκτάσεις που ανήκουν στον συγκεκριμένο κολοσσό.
Στα περίχωρα του Κιέβου, τα τεράστια εργατικά σοβιετικά μπλοκ, 30ώροφων συγκροτημάτων, οι "τυφλές όψεις" των οποίων έχουν γεμίσει με πολύχρωμα γκράφιτι.
Στο κέντρο της πόλης δεσπόζει ο τρίτος μεγαλύτερος ποταμός της Ευρώπης, ο Δνείπερος.
Ο Ντίνπρο στα ουκρανικά ή Ντιενπρ στα ρωσικά μοιάζει με ένα γεωγραφικό όριο που θυμίζει πως ιστορικά η δίγλωσση σημερινή Ουκρανία, κέντρο της βαριάς βιομηχανίας της ΕΣΣΔ στα ανατολικά της χώρας, αποτελούσε πάντα ένα σταυροδρόμι ιμπεριαλιστικών ανταγωνισμών: αρχικά της Ρωσίας με την Πολωνία-Λιθουανία και αργότερα της Οθωμανικής με την Αυστροουγγρική Αυτοκρατορία.
Οι διαρκείς ένοπλες συγκρούσεις του 19ου αιώνα στην ευρύτερη περιοχή, ο πόλεμος της Κριμαίας (1853-56), ο συνεχής ανταγωνισμός των Μεγάλων Δυνάμεων, η εσωτερική πολιτική της τσαρικής Ρωσίας στην Ουκρανία με την απαγόρευση χρήσης της ουκρανικής γλώσσας στο πλαίσιο μιας διαδικασίας επιθετικού εκρωσισμού είναι ορισμένα μόνον από τα ιστορικά γεγονότα που ερμηνεύουν -εν μέρει- στοιχεία και της σημερινής κατάστασης, σε αυτό που αποκαλείται "προσπάθεια καταστολής της ουκρανικής ταυτότητας".
Βαρύ ιστορικό
Η ανυπολόγιστη καταστροφή που υπέστη η Ουκρανία στη διάρκεια του Α' Παγκοσμίου Πολέμου, ο λιμός του 1917, οι μεταπολεμικές αιματηρές διώξεις των Πολωνών ενάντια στους Ουκρανούς, αλλά και η αναγνώριση από τους Σοβιετικούς της ανεξαρτησίας της Δημοκρατίας της Ουκρανίας ενθάρρυναν την αναβίωση του ουκρανικού συναισθήματος.
Από την άλλη πλευρά, οι συνέπειες της βίαιης κολεκτιβοποίησης επηρέασαν την Ουκρανία σε μεγαλύτερη αναλογία από πολλές άλλες περιοχές της ΕΣΣΔ, κάτι που έχει μεταφερθεί στο συλλογικό ασυνείδητο των σημερινών γενιών.
Ωστόσο, ο Β' Παγκόσμιος Πόλεμος προκάλεσε υπερδιπλάσιες απώλειες στον πληθυσμό σε σχέση με τις όμορες χώρες και βέβαια τη συστηματική εξολόθρευση των πολυάριθμων Εβραίων της Ουκρανίας από τους ναζί.
Μετά το 1989, η Ουκρανία ταλανίστηκε επί χρόνια από ύφεση, στασιμοπληθωρισμό και πολιτική αδιαφορία.
Απέκτησε δικό της νόμισμα λόγω υπερπληθωρισμού, ενώ η δημόσια περιουσία ιδιωτικοποιήθηκε, περνώντας στα χέρια της ανερχόμενης ολιγαρχίας.
Μια χώρα με ασθενή εθνική ταυτότητα παρέμεινε επί δεκαετίες το διαφιλονικούμενο τρόπαιο μεταξύ Δύσης και Ρωσίας.
Η παγκόσμια οικονομική κρίση του 2008 επηρέασε αναπόφευκτα την εξασθενημένη οικονομία της Ουκρανίας, η οποία αντιμετώπισε το δίλημμα της εμπορικής σύνδεσης με την Ευρώπη (με ό,τι αυτό συνεπάγεται στο επίπεδο των "δομικών μεταρρυθμίσεων") ή της ολοένα και μεγαλύτερης εξάρτησης με την πουτινική Ρωσία του φτηνού αερίου και των χαμηλότοκων δανείων.
Για να φτάσουμε στα γεγονότα του Φεβρουαρίου του 2014, με τις διαδηλώσεις που βάφτηκαν στο αίμα, τη φυγή του εκλεγμένου προέδρου Γιανουκόβιτς, την προσάρτηση της Κριμαίας στη Ρωσία και την έναρξη εχθροπραξιών στην ανατολική περιοχή της χώρας, στο Ντονμπάς.
Και αν φαινομενικά διατηρείται η συμφωνία εκεχειρίας του "Μινσκ ΙΙ", στην πραγματικότητα ο πόλεμος, στρατιωτικός και διπλωματικός, συνεχίζεται.
Πάνω από 10.000 άτομα έχουν ήδη χάσει τη ζωή τους, χιλιάδες είναι οι εκτοπισμένοι κι ενώ βαθαίνει η οικονομική κρίση σε μια διχασμένη χώρα όπου οι ολιγάρχες παραμένουν στο προσκήνιο.
"Στην Ουκρανία δεν υπάρχει διαπλοκή πολιτικής και επιχειρηματικής ελίτ, όπως την εννοείτε στην Ελλάδα, υπάρχει ταύτιση. Πολλοί δικαστές έχουν πέντε Πόρσε ο καθένας και βίλες εκατομμυρίων. Το ίδιο και πολλοί βουλευτές, των οποίων ο επίσημος μισθός είναι 300 ευρώ", μας εξηγεί ένας δυτικός διπλωμάτης.
Beyond conflict stories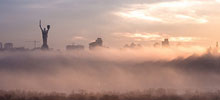 This article is part of the media exchange project Beyond conflict stories, which links Ukrainian independent media with "alternative" media in Germany, France, Spain, Italy and Greece. Follow the critical, informed and nuanced voices that counter the dominant discourse of crisis concerning Ukraine.
Βρισκόμαστε έξω από το ουκρανικό Κοινοβούλιο όπου περνάνε διαρκώς μερικές από τις πιο πανάκριβες λιμουζίνες με φιμέ τζάμια.
Πρόεδρος της χώρας ο δισεκατομμυριούχος Ποροσένκο, ο "βασιλιάς της σοκολάτας" όπως αποκαλείται εξαιτίας της επιτυχημένης επιχείρησης που διεύθυνε.
Το προηγούμενο όνομα της ίδιας σοκολατοβιομηχανίας ήταν "Εργοστάσιο σοκολάτας Καρλ Μαρξ".
Σάββατο μεσημέρι, κοντά στο μετρό Βισταβσκόβι, σε ένα μεγάλο πάρκο, στα προάστια του Κιέβου.
Είναι το φεστιβάλ των εθελοντών, όπως το λένε, μια εκδήλωση αφιερωμένη στους στρατιώτες που γυρνούν από το μέτωπο στο Ντονμπάς και στις οικογένειές τους.
Τους λένε στρατιώτες ATO (antiterrorists), κάτι σαν αντιτρομοκρατικός στρατός.
Οι λέξεις τρομοκράτης, ρωσόφιλος και αυτονομιστής χαρακτηρίζουν για την πλειονότητα των Δυτικών Ουκρανών όσους πολεμούν από την άλλη πλευρά στην Ανατολική Ουκρανία.
Δεκάδες εθελοντές, ψυχολόγοι, επαγγελματίες γιατροί και δικηγόροι και αρκετές ΜΚΟ βρίσκονται στην εκδήλωση, για να βοηθήσουν ανθρώπους που γυρνούν από τον πόλεμο με σωματικά και ψυχικά τραύματα.
Γυναίκες τραγουδούν ουκρανικά παραδοσιακά τραγούδια της προκομμουνιστικής περιόδου, ενώ παιδάκια παίζουν με φαντάρους που τους δείχνουν τα όπλα τους.
"Εχασα πολλούς φίλους και είναι δύσκολο να προσαρμοστώ στη ζωή του πολίτη. Δεν θα τους συγχωρήσω (τους αυτονομιστές στο Ντονμπάς) ποτέ για το πόδι που έχασα και για τα νεκρά παιδιά που είδα", λέει ο παρασημοφορημένος Ντιμίτροφ, ανάπηρος πολέμου.
Δίπλα του ο Γιούρι, αξιωματικός του στρατού επί 16 χρόνια, έχασε και αυτός το πέλμα του στον πόλεμο.
"Εχουμε πολλά ιστορικά προβλήματα στο Ντονμπάς από τότε που οι κομμουνιστές έπαιρναν τη γη των αγροτών και τα χωριά πεινούσαν", υποστηρίζει ο Γιούρι, που πολέμησε επί 11 μήνες στο μέτωπο.
Και οι δύο αρνούνται ότι πρόκειται για εμφύλιο, αλλά για "ρωσική εισβολή" και ευελπιστούν ότι θα καταφέρουν να πάρουν πίσω την Κριμαία και το Ντονμπάς.
"Ολοι οι αυτονομιστές έχουν τη ρωσική σημαία, χρησιμοποιούν ρωσικά όπλα, τανκς, βαρύ οπλισμό, drones, είναι όπλα καινούργια, δεν είναι από τη σοβιετική περίοδο", λέει ο Γιούρι, δηλώνοντας πως μαζί του πολέμησαν εθελοντές από Λευκορωσία, Γεωργία, Πολωνία, Αζερμπαϊτζάν και μερικοί από ΗΠΑ και Καναδά.
"Για μας ο Δεξιός Τομέας και η Ταξιαρχία Αζόφ είναι αδέρφια μας, πατριώτες", λένε ο Γιούρι και ο Ντιμίτροφ, υποστηρίζοντας πως ήταν δεκάδες οι ελληνικής καταγωγής Ουκρανοί που συμμετείχαν στο (ναζιστικό) τάγμα Αζόφ.
Ανάμεσα στα παιδιά, στους στρατιώτες, στους αναπήρους και στις οικογένειές του βρίσκονται και αρκετά μέλη του περιβόητου Δεξιού Τομέα.
Συναντάμε τον Αντρέι Ταρασένκο, σημερινό αρχηγό του ακροδεξιού κόμματος, το οποίο δεν κατάφερε να μπει στο Κοινοβούλιο στις τελευταίες εκλογές.
Η μπλούζα του, που γράφει No Knives No Lives (Χωρίς μαχαίρια δεν υπάρχει ζωή), είναι γεμάτη μαχαίρια, τα οποία σχηματίζουν ολοφάνερα έναν αγκυλωτό σταυρό.
Λίγο πριν τον φωτογραφήσουμε επιμελώς κλείνει το μπουφάν του.
"Δεν είμαστε ναζί, δεν είμαστε ρατσιστές, είμαστε εθνικιστές. Ναι, είμαστε ακραίο κόμμα, αλλά δεν χτυπάμε κόσμο χωρίς λόγο", απαντά ο ίδιος, περιγράφοντας την οργάνωσή του ως "το ριζοσπαστικό κομμάτι των διαδηλώσεων του Μαϊντάν. Δεν είχαμε όπλα όλο το διάστημα, μόνο τις τελευταίες μέρες των διαδηλώσεων κάποιοι μπορεί να είχαν", παραδέχεται ο ίδιος.
"Δημιουργήσαμε τον Δεξιό Τομέα γιατί θέλαμε να δείξουμε την εθνικιστική μας άποψη. Τότε οι φοιτητές έτρωγαν ξύλο από την αστυνομία και ήταν κατά κάποιο τρόπο αυτοάμυνα αυτό που γινόταν. Ο στόχος ήταν να ρίξουμε το καθεστώς του Γιανουκόβιτς και τα καταφέραμε. Θέλαμε να αλλάξουμε το σύστημα, αλλά αυτό δεν το πετύχαμε μέχρι σήμερα", λέει ο Ταρασένκο.
Στην ερώτηση για τις σχέσεις τους με την ελληνική Ακροδεξιά απαντά: "Με τη Χρυσή Αυγή είχαμε κάποιες επαφές στο παρελθόν, αλλά τις κόψαμε γιατί αυτοί είναι με τον Πούτιν, ο οποίος χρηματοδοτεί τα περισσότερα ακροδεξιά ευρωπαϊκά κόμματα, όπως της Λεπέν".
Ακροδεξιοί αλλά... ήρωες
"Οι τραυματίες πολέμου επιστρέφουν ως εθνικοί ήρωες. Αν στην πορεία αποδειχθεί πως έχουν ακροδεξιές ιδέες, υπάρχει φοβερή εσωτερική σύγκρουση σε όλους, "ναι αλλά αυτοί πολέμησαν για την Ουκρανία, πολέμησαν για μένα, ήταν εμπροσθοφυλακή", σκέφτονται πολλοί. Είναι ένας τεράστιος κίνδυνος για την Ουκρανία και για τη δημοκρατία. Τουλάχιστον τα ουκρανικά μέσα ενημέρωσης είναι πλέον κάπως πιο πολυφωνικά, υπάρχει δημόσιος διάλογος που επί Γιανουκόβιτς δεν γινόταν, ακούμε και ιστορίες για φοβερά εγκλήματα που πραγματοποιήθηκαν από Ουκρανούς", λέει ο Μαξίμ Μπούτκεβιτς, πρώην δημοσιογράφος και νυν ακτιβιστής στην οργάνωση ΝοΒorders για τα δικαιώματα μεταναστών και προσφύγων.
Φοράει μια μπλούζα με τα ονόματα δύο φυλακισμένων συμπατριωτών του, δύο Ουκρανών αναρχικών, όπως μας λέει, οι οποίοι συνελήφθησαν στην Κριμαία.
Σήμερα βρίσκονται απομονωμένοι σε φυλακές της Ρωσίας και ένα κύμα διαμαρτυρίας για την απελευθέρωσή τους αναπτύσσεται στο Κίεβο.
"Γνώρισα ανθρώπους που υποστηρίζουν τον πόλεμο, πήγαν στα σύνορα και έχουν ανοιχτά σχέσεις με την Ακροδεξιά. Ο πόλεμος τους δίνει έναν λόγο ύπαρξης, τους δίνει δυνατότητα πολιτικής επιρροής. Το γενικό συναίσθημα είναι ότι "αντιστεκόμαστε σε έναν κατακτητή, σε μια ξένη δύναμη"", εξηγεί ο Μαξίμ, που προσθέτει πως "όσο συνεχίζεται ο πόλεμος είναι αδύνατον να εκφραστεί η αυξανόμενη κοινωνική δυσφορία. Υπάρχει μεγάλη πόλωση στην κοινωνία, όχι όμως ανάμεσα σε φιλοουκρανούς και φιλορώσους, αλλά ανάμεσα σε εθνικιστές και φιλελεύθερους, δηλαδή σοσιαλιστές, μερικούς συντηρητικούς, αριστερούς, αναρχικούς, όσους τέλος πάντων θεωρούν ότι τα ανθρώπινα δικαιώματα προηγούνται".
"Δεν υπάρχει θέμα αυξημένου κινδύνου απέναντι σε μειονότητες, οι φασίστες δεν επιτίθενται εδώ σε μαύρους, μετανάστες και Εβραίους", εξηγεί ο κοινωνιολόγος καθηγητής στο Πανεπιστήμιο του Κιέβου, Βολοντίμιρ Ισένκο, λέγοντας πως "το ζήτημα είναι ότι μέλη της Ακροδεξιάς αναλαμβάνουν θεσμικές θέσεις, όπως ο αρχηγός της αστυνομίας του Κιέβου που σχετίζεται ανοιχτά με το τάγμα Αζόφ".
Ο Δεξιός Τομέας δεν αποτελεί το έντονο πρόβλημα όσο πριν από δύο χρόνια, πλέον ο πραγματικός κίνδυνος είναι τα τάγματα Αζόφ: νεοναζί, οπλισμένοι, που επιχειρούν να ενώσουν διάφορους βετεράνους του πολέμου, μαζί με νεαρούς φασίστες, χούλιγκαν και σκίνχεντ", λεει ο Ισένκο θυμίζοντας τις στενές σχέσεις του νυν υπουργού Εσωτερικών με τους ακροδεξιούς.
"Υπάρχει ακόμα φοβερός πόλεμος προπαγάνδας και από τις δύο πλευρές. Το 2014 η αστυνομία μάς έδερνε άγρια. Οι χιλιάδες άνθρωποι, εργάτες, φοιτητές, συνταξιούχοι, που παρέμεναν με -15 βαθμούς Κελσίου μέσα στο κρύο στις πλατείες, βρήκαν ένα όραμα, άρχισαν να αισθάνονται πως δεν ζουν απλά στο Κίεβο αλλά σε μια χώρα. Θέλαμε να αλλάξουμε την πραγματικότητα που ζούσαμε. Αναζητούσαμε μια κοινωνία δικαίου, όπου δεν γίνεται ο αστυνομικός να σε χτυπάει, ο διευθυντής να σε βρίζει και ο δικαστής να είναι τόσο διεφθαρμένος", μας εξηγεί ο καθηγητής ελληνικής φιλολογίας και διευθυντής της έδρας των ελληνικών σπουδών Αντρέι Σαβένκο, ο οποίος σήμερα ανησυχεί για την Ακροδεξιά, ενώ δεν έχει καμιά εμπιστοσύνη ούτε στο πρόσωπο του νέου προέδρου.
"Σαφέστατα η Ακροδεξιά έπαιξε σημαντικό ρόλο στο Euromaidan. Απ' όσα εγώ είδα δεν αντιλήφθηκα πυροβολισμούς διαδηλωτών ή αστυνομικών από εθνικιστές ή ακροδεξιούς. Μέχρι στιγμής γνωρίζουμε επισήμως μόνο ένα άτομο που βγήκε δημοσίως και δήλωσε πως πυροβόλησε τους διαδηλωτές", αναφέρει ο Μαξίμ Μπούτκεβιτς.
Η συντριπτική πλειονότητα (άλλα όχι όλοι) όσων συναντήσαμε στο Κίεβο και έζησαν τα γεγονότα του 2014 από κοντά έχει ακριβώς την ίδια αφήγηση.
Γι' αυτούς ήταν πάνω απ' όλα "η επανάσταση της αξιοπρέπειας απέναντι σε ένα διεφθαρμένο καθεστώς και στη συνέχεια η κοινωνική αντίδραση απέναντι στη βίαιη αστυνομική καταστολή".
Η ειρωνεία της ιστορίας είναι πως η λέξη Ουκρανία ετυμολογικά βασίζεται στη σλαβική λέξη "kraj", που σημαίνει "άκρο" ή "σύνορο".
Published 2016-12-13
Original in Greek
First published in
Efsyn
28. October 2016
Contributed by Kostas Zafeiropoulos
© Kostas Zafeiropoulos / Efsyn
© Eurozine