New Eurozine partner: Belgrade Journal of Media and Communications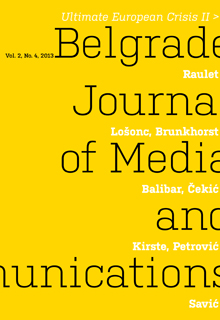 Belgrade Journal of Media and Communications has joined the Eurozine network. The biannual publication is committed to the political decoding of discursive formations: "Our aim is to produce a series of special issues dedicated to crucial questions regarding 'compulsive discourses' on the end of history, politics and geography, as well as on post-humanity, postmodernity and post-secularism, among others."

The publication of the first of two recent issues on the European crisis was timed to coincide with the announcement of Serbia's new status as an "associate member of the EU". It was here that executive editor Obrad Savic announced: "Inspired by recent political trends, we are ready to create a permanent 'public platform' for self-corrective lessons on the current, ongoing process of the Europeanization of Serbia and the entire Balkans."

The same issue also dealt with the "colossal cosmopolitanization of all of Europe", thus setting the tone for future issues attempting "to reconnect and renew lost relations between the local academic community and its international partners and friends".

Run out of the Faculty for Media and Communications at Singidunum University in Belgrade, Serbia, editor-in-chief Nadezda Popovic Perisic heads the journal up, alongside Savic who, for many years, edited the influential Belgrade Circle Journal, which has now ceased publication.



More on Belgrade Journal of Media and Communications including the current issue
Published 2014-04-18

Original in English
© Eurozine