Remappings: New book on European narratives
The European Cultural Foundation has published an essay collection entitled "Remappings: The Making of European Narratives". The book, which also includes a series of specially commissioned comic strips, investigates the interplay between narrative and mental maps of Europe.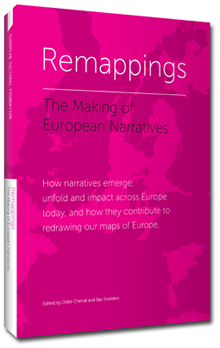 When the European Cultural Foundation (ECF) started its initiative "Narratives for Europe" in 2010, Eurozine joined this project with the focal point European histories (2): Concord and conflict. The possibility of a "grand narrative" that incorporates both East and West in a common European story has been discussed intensely in recent years. This time, Eurozine has sought to broaden the question beyond the East-West historical divide and asks how contested interpretations of historical and recent events are activated in the present, both uniting and dividing European societies.

The focal point includes texts such as "The failure of European intellectuals?" by Jan-Werner Müller, "Recent history and the new dangers of politicization" by Pierre Nora and Alana Lentin's "Racism in a post-racial Europe".

Meanwhile, the ECF's own "Narratives for Europe" platform collected and shared "those stories – whether comforting or confronting – that keep Europe moving forward". The ECF has now published a collection of essays in print. Remappings: The Making of European Narratives presents texts on the changing narratives of Europe, accompanied by comic strips by up-and-coming European comic artists. The book investigates how narratives emerge, unfold and contribute to redrawing our maps of Europe. Contributors include: Amitav Ghosh, Abdelkader Benali, Paul Scheffer, Monica Sassatelli, Milla Mineva, Wolfram Kaiser, Vladimir and Vuk Palibrk and Siebe de Boer.

To order a hardcopy, send an e-mail with your postal address to narratives@culturalfoundation.eu with the subject "narratives book order".



An online version of the book is available for download here
Published 2013-06-04

Original in English
© Eurozine