Za staro pravdo
Zadnji roman, ki sem ga imel v uredniški obdelavi, se na tako zanimiv način prekriva (a obenem tudi razhaja) s trenutnim družbenim dogajanjem, da ga bom uporabil kot nadvse primerno izhodišče za tole razmišljanje.


Sodba v imenu ljudstva
Toma Podstenška govori o skupini mladih, nekakšni ekstremistični celici, ki se zaveda trenutnih družbenih problemov in se odloči ukrepati. Ker se elite ne zavedajo svoje družbene odgovornosti, jih ekstremistična celica namerava k temu prisiliti z ustrahovanjem. Ko nekomu visi meč nad glavo, bo dobro razmislil, ali si bo samo še basal v lastni žep. Ekstremistična celica ne postavlja pod vprašaj organiziranosti sveta in razpostavljenosti pozicij moči, ampak samo njihovo izrabljanje za partikularne interese in v tem je roman hudo aktualen, saj se prekriva s trenutnim družbenim dogajanjem, s protesti, ki prav tako niso toliko naperjeni proti sami organiziranosti sveta in sistemu kot takemu, kolikor proti nosilcem družbene moči.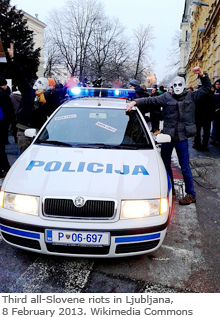 Na eni točki pa se roman in družbeno dogajanje tudi razhajata – in prav tu me je zaskrbelo, ali družbenokritični roman ne bo zgrešil naslovnika in pravi trenutek, a se mi je nato razkrilo, da vendarle ne. V romanu se namreč ljudstvo zoperstavi angažmaju ekstremistične celice in s protesti postavi na stran elit zaradi obrambe lastne varnosti, medtem ko se nam je na ulicah na videz zgodilo ravno nasprotno. Pa se je res? Kaj niso glasovi, ki se v prostoru že pojavljajo v obrambo elit, ki jim sekajo glave, samo odraz banalne odločitve, da nas korenite družbene spremembe ne zanimajo, če je le naš na ulici parkiran in z leasingom obremenjen novi avto na varnem pred nasilnimi protestniki? Ne verjamem namreč, da se same elite prijavljajo na podporne spletne strani.
Končno spoznanje romana
Sodba v imenu ljudstva
je spoznanje, da je vsakdo odgovoren za vse. "Nihče ne more spremeniti drugega, vsak lahko spremeni samo samega sebe." Če se bo vsakdo od nas pričel vesti bolj odgovorno do drugega, se bomo nekega dne prebudili v veliko boljši svet. S tem se popolnoma strinjam, vendar pa ta razmislek temelji na podmeni, ki se mi zdi vprašljiva. Predvideva namreč, da s tem svetom kot takim ni nič temeljno narobe, ampak da je nekaj hudo narobe samo z njegovimi nosilci, ki namesto da bi se zavedali svoje družbene odgovornosti in delovali v dobro vseh, izrabljajo pozicije moči za polnjenje lastnih žepov (na tej podmeni, se zdi, temelji tudi trenutni lov na glave). Sprašujem se, ali je to res ali pa je vendarle nekaj narobe s tem svetom kot takim.
Pa pojdimo od literature nazaj na ulico.
Kar se tiče protestnih valov po državi, imam dva pomisleka. Prvi zadeva izbiro trenutka. Odkar imamo samostojno državo, propadajo podjetja in delavci ostajajo brez dohodkov, za mlade izobražence pa perspektive niso bile kaj prida ugodne že veliko pred tem valom protestov. Vendar je ljudstvo prišlo na ulice šele zdaj, ko tisti del srednjega razreda, katerega stanovanja, avtomobili in televizorji so bili plačani s sredstvi iz državnega proračuna, torej v obliki državnih plač, ostaja brez privilegijev. Je to samo naključje ali pa gre vendarle samo za to, da tisti, ki so bili ob vseh protestih odpuščenih delavcev, študentov, upokojencev itn. preprosto tiho, dvigajo glas, ker več ne morejo biti udeleženi pri koritu? Da torej ne gre za dvom v ta svet sam po sebi, ampak samo za frustracijo zaradi vedno manjše udeleženosti v njegovih dobrinah?
Spor med državo in ljudstvom se ne zdi kaj prida kompleksen. Država preprosto nima več denarja, da bi ga delila na enak način, kot ga je do zdaj, tisti, ki ob varčevalnih ukrepih odpadajo iz kroga privilegirancev, pa bodo s tistimi, ki že do zdaj niso bili zraven, a je bil njihov glas premalo slišan, napolnili ulice. Danes sem v časopisu prebral stališče Vlade do odporov proti varčevalnim ukrepom, češ da ne bo pristala na nobeno kompromisarstvo, ne zato, ker ne bi hotela, ampak zato, ker denarja preprosto ni. A ta argumentacija še zdaleč ni razlog, da bi se zdaj kar postavili na stran elit in si rekli, da če denarja res ni, sprejmimo breme in zategnimo pasove. Če se je namreč država po dvajsetih letih samostojnosti znašla v slepi ulici, potem je pač, to je popolnoma očitno, dvajset let hodila v napačno smer. Če prepričaš ljudstvo v boj za samostojno državo, da to državo potem čim prej pripelješ v mednarodne integracije, kjer ne bo več nobene samozadostnosti in domači proizvajalec ne bo zaščiten niti več s carino, potem si ljudstvo preprosto nategnil. Kajti samo zavedeni bedaki so lahko verjeli, da bomo kaj več kot samo poceni delovna sila, ki je vmes tako ali tako postala predraga, in odlagališče presežnih produktov bolj uspešnih gospodarstev, to pa so verjetno tudi temelji vseh problemov, v katerih smo se trenutno znašli. Vprašati se torej moramo, kdo je od slovenske osamosvojitve imel resnično korist. Ljudstvo zagotovo ne, nekaj posameznikov zagotovo, ki so znali dobro izkoristiti privatizacijo, predvsem pa seveda tisti, ki so nas spet nategnili in spravili v malone kolonialno razmerje.
Tu pa tiči moj drugi pomislek. Protesti so protesti PROTI, ki nimajo nobenega ZA, so napad na glave sistema, ne pa na sistem sam, čeprav nam je vsem jasno, da niso problem le svinje, ampak tudi, če ne še veliko bolj, korito samo; se pravi, da protesti nimajo nobenega programa, ki bi se dotaknil našega resničnega problema: zaščite socialne države in državljanov samih pred pogoltnostjo kapitala, ki manj uspešne spravlja na eksistenčni rob. Kajti to, da je ta svet zgrajen na laži, nam mora biti jasno. Sicer je res, da motiviranje sebičnih interesov lahko vodi k boljšim poslovnim rezultatom, vendar pa ustvarja popolnoma nepravičen svet, kajti viri so omejeni in če je nekje nečesa več, je nekje nečesa manj, se pravi, da so resnično uspešni lahko samo nekateri, velika večina pa jih je obsojenih na polom. In prav te vsi butasti priročniki tipa
Kako postati milijonar v enajstih dneh
prepričujejo, da je neuspeh njihova lastna krivda, ne pa preprosto dejstvo sveta, kjer vsi evropski nogometni klubi ne morejo v istem letu postati zmagovalci lige prvakov. Tako se tiste, ki jim spodleti, ne obrača proti elitam, ampak proti njihovi lastni "nesposobnosti", kar je zelo perfiden način obrambe stanja, kakršno je.
Družbena odgovornost političnih elit je tako lahko predvsem zaščita majhnih, kajti veliki lahko zase poskrbijo sami. V trenutnih okoliščinah, ko smo vsi vpeti v globalne (neoliberalne) integracije, pa to preprosto ni mogoče, zato se mi zdi nujni cilj protestov vzpostavitev programa, ki nas bo tega stanja rešil.
Published 2013-02-15
Original in Slovenian
First published in
Dialogi
10/2012 (Slovenian version); Eurozine (English version)
Contributed by
Dialogi
© Robert Titan Felix / Dialogi
© Eurozine