Restraining the powers that be
For many years, Aryeh Neier (b. 1937), a prominent American champion of human rights and civil liberties, headed the influential American Civil Liberties Union (ACLU), and Human Rights Watch. In some circles in the United States, he once drew criticism for defending the freedom of speech of neo-Nazis. As a leading expert in his field, Neier participated in the investigations of human rights abuses in more than forty countries and was one of the organizers of the International Criminal Tribunal for the Former Yugoslavia. A professor at several elite universities around the world, Neier has published essays and opinion pieces in The New York Review of Books, The Nation, and Foreign Policy, among others. As president of the George Soros Open Society Institute (1993-2012), Neier has been a regular guest in Latvia. Ieva Lesinska spoke to Aryeh Neier during his visit to Riga on the occasion of the twentieth anniversary of Soros Foundation Latvia.
Ieva Lesinska: Over the years, I've been to a number of functions related to the Soros Foundation, but what struck me on this occasion was the huge difference between the earlier functions, and this one. At the former, there was a great number of artists and writers among the guests, there was a lot of lively conversation and there was a feeling in the air that something exciting and important was happening. Whereas at this, the twentieth anniversary party, there seemed to be mainly bureaucrats and the conversations tended to revolve around the minutiae of everyday life at the foundation. How would you comment on that?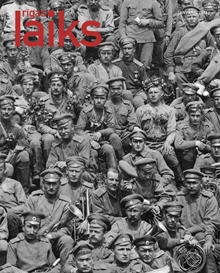 Aryeh Neier: I suppose I'd say that the earlier period was a revolutionary moment, and a revolutionary moment doesn't last indefinitely. I think what you are describing is the way a society becomes a normal society where issues matter, but they aren't life and death issues the way they are during a revolutionary period. And I do think in the immediate post-Soviet space there was a kind of intensity of feeling about issues, which couldn't necessarily last indefinitely. I can think of many countries which have undergone a sort of revolutionary transformation, and I think that same thing has tended to take place elsewhere, in my experience.

IL: But given that you have been active in other organizations, and this one as well, don't you miss that revolutionary experience of, say, 1984 in Budapest?

AN: Of course. I can remember times when it seemed important to continue talking throughout the night about things that were going on which were of immense significance. One thought that the world turned on the outcome of those events. But that kind of thing can't be sustained indefinitely, probably shouldn't be sustained indefinitely. A more normal society is a somewhat more boring society. Permanent revolution isn't something that one can try to maintain.

IL: Permanent revolution smacks of the Soviet Union.

AN: Exactly. Well, look, if I deal with, let's say, people today in the foundation in Afghanistan, they have that sense that everything is on the line. But to the degree that they have opened up society in Afghanistan, and that's only to a limited degree, if there is a peace agreement with the Taliban, will everything that they have achieved on behalf of freedom of expression, freedom of religion, women's rights, will that all be sacrificed? So, on the one hand, they know that the war in Afghanistan has to be settled with a peace agreement, on the other hand they also believe that the limited gains that they have made for a more open society are at great risk in the context of any peace settlement. There is therefore that very high level of tension, a kind of electricity you feel when you talk to open society advocates in Afghanistan, because they have everything at stake at this particular moment. And the countries that have been part of the Soviet system, but escaped from the Soviet system, went through periods of that sort in which everything was on the line: would things continue to go the way they had been going? Or would there be a complete transformation? So different places go through this period of great tension at different periods in their history.

IL: Well, since you touched upon Afghanistan, I am curious to sound you out on how you feel about the future of the country. Do you think that a peace settlement is going to be reached, and what might follow after that?

AN: I don't know if a peace settlement is going to be reached. I do think that it's impossible for the United States and the other countries that are in Afghanistan to sustain their military commitment to Afghanistan indefinitely. That won't happen. I don't know what will happen when they pull out of Afghanistan, so I can't know the future of the country. But I think that there is a great deal at stake because there are a certain number of people who have helped to build a more open society in Afghanistan, who have risked everything to do so. On the one hand I believe one should have a peace agreement, on the other hand I don't want to sell out those people. I can't resolve how to deal with both of the concerns. On the one hand the concern to end the war, on the other hand the concern not to abandon those who have risked their lives to build a more open society.

IL: I have difficulty imagining what percentage of the population, approximately, uphold the values of open society.

AN: I can't say how many people uphold those values.

IL: But it is a minority?

AN: I'm sure that those who have articulated views in favour of an open society are a minority. On the other hand, there are hundreds of thousands, or millions of girls attending school today in Afghanistan. My impression is they want to attend school, and their families want them to attend school. And, under a Taliban dominated regime, they probably would not attend school. So do you count them among the proponents of open society in Afghanistan? They may not have a completely coherent view of open society, there may be things they favour which may be apathetical to the idea of open society, but nevertheless they have a stake in the maintenance of an open society in Afghanistan. Abandoning them seems to me a terrible thing to do, a very cruel thing to do. But I also don't want to see the war to continue indefinitely. I don't have a solution to that problem.

IL: What would you consider your greatest success and what would you consider your greatest failure in your career?

AN: I suppose my greatest success is that I have contributed to the building of institutions that uphold on a long-term basis the values with which I am concerned, and that will continue to uphold those values long after I am able to play any kind of a role in those institutions. I did have a central role in creating Human Rights Watch, and making Human Rights Watch an effective institution. And I take an immense amount of pride in the way that Human Rights Watch has evolved in the period since I left the directorship of the organization. It has more than fulfilled my hopes for the organization.

So far as failure is concerned, I have failed many times upon taking on particular issues.

IL: Maybe you can give us some examples?

AN: In my early tenure in the American Civil Liberties Union, an issue that I focused on quite a lot was mental disability and rights for the mentally disabled. I basically feel that the efforts that I was engaged in were helpful to one category of the mentally disabled, and at best didn't have any impact on the other category. At worst, they may even have done harm with respect to the other category.

IL: You mean homelessness?

AN: Yes, I think that we made great headway with regard to the developmentally disabled, because we were able to devise approaches to providing care outside of large institutions for them. But we were not successful on behalf of the mentally ill. We didn't have a theory which allowed us to secure assistance for them outside the institution. And so the efforts in which I engaged contributed to the efforts of public officials to reduce their expenditures on the mentally ill. I think today you would find a large number of those people among the homeless, or very often in prisons, and so I feel that what I was engaged in on their behalf was a failure, a failure in part to think through, adequately, what was actually required to ensure that those people could have a decent life. That was an example of a failure.

We were just in a session downstairs in which somebody was going through rates of imprisonment in different places. And of course I know the rates of imprisonment extremely well. The United States has by far the highest rate of imprisonment of any country in the world. And I think there, too, I probably focused on the wrong issues in my early efforts to deal with that problem.

IL: Since we're talking about the United States, I would like to hear some assessment of the Obama administration, which seemed so keen, in the early stages, on undoing some of the wrongs of the Bush years. During Obama's first term, it looked like there was an idealist who was basically confronted with a lot of reality, and found himself not in the kind of position he wanted to be in.

AN: I have a very high regard for President Obama. I think that he is intellectually the most outstanding person to serve as president during the period that I have been following presidents of the United States. I think that morally he is a person who is above criticism. This is not somebody who is in any way corrupt, he is a person of great integrity, I think he has an exemplary personal character. I think those are very significant things. I am also enthusiastic about his personal beliefs.

I think a very large shortcoming is his unwillingness to confront those who take strong positions antagonistic to the positions for which he stands. That he maintains a hope of finding opportunities to compromise with them – beyond what is reasonable – has produced a shortcoming of leadership on his part.

If you take the civil liberties issues growing out of the war against terrorism, early on he appointed officials who held various positions in his administration, and the person he appointed as his White House counsel was a man named Greg Craig. Greg Craig was, from the first moment, the strong civil liberties advocate within the Obama administration. The person responsible for Obama's pledge that he would close Guantanamo. He also appointed as his chief of staff somebody who was not so focused on civil liberties, but was focused on getting Obama's agenda in Congress enacted, a man named Rahm Emanuel, who has since become Mayor of Chicago. And there was war between Greg Craig and Rahm Emanuel. And Rahm Emanuel won, and Greg Craig resigned. And Obama didn't back the man who stood up for civil liberties in his administration. So a lot of that commitment to end, or to deal with the abuses in the war against terror went down the drain at that moment.

Obama's administration does not engage in torture or cruel or inhuman or degrading treatment. It made an effort to hold trials in federal court, it has improved the due process protections in the military tribunals that do take place, but it has essentially done nothing to uncover or expose the abuses of the earlier period because a judgment was made that this would antagonize the Republicans and make it impossible to deal with the legislative agenda. However, the Republicans have not made it possible to deal with the legislative agenda under any circumstances, they've completely blocked Obama every step of the way. I've heard that when Obama was elected president, before he took office he was reading a book about Roosevelt's first hundred days, and I was happy to hear that he was reading that book because Roosevelt came in as president at a moment of crisis, and decided to fight all the way for his agenda. And Obama has in no respect followed the Roosevelt model of fighting all the way. My view is that Obama would have succeeded much more if he had fought hard.

IL: He's not a warrior?

AN: He's not a warrior. When he debated Hilary Clinton, when he was running the first time, I thought she ran away with the debates. She's a warrior, he is not a warrior. So even though he's a very good public speaker, that doesn't translate into being a good debater. He looks for compromises, and sometimes that can be effective. But sometimes you can achieve compromise best if you fight hard for something, and then at the last moment you engage in a compromise.

IL: There is always this dichotomy between intellectuals and politicians, and isn't it the case that intellectuals are generally in favour of compromises and negotiations?

AN: There are different intellectuals. There are intellectuals who are, I think, perfectly capable of engaging in debate. I think of myself as somebody who has participated in debate, and I enjoy a debate. I think I perform better in a debate than any other context. The more I'm challenged, the better I am likely to perform.

IL: OK, let's get back closer to home. Overall, would you say that eastern Europe, Latvia included, is a success story?

AN: I think it's a partial success story. I think that most democracies worldwide applaud eastern Europe because, by and large, individual liberties and rights are respected in eastern European countries. But they are very seriously threatened today in a country like Hungary. Aside from a populist government that threatens constitutional rights you have a sort of neo-fascist political party that preaches ethnic hatred, that is a significant force. But even with a situation of that sort, on the whole I think that there's no comparison between the eastern Europe of today, and the eastern Europe during the period of Soviet control. These are essentially free societies today, and they were not free societies during that era.

IL: Yet compared to twenty years ago, there are more and more people who look with nostalgia back to Soviet times and feel that things were better. Some of these are young people, who basically did not live through that time. But many are older.

AN: I think people see their own economic situation in considerable jeopardy today, and this causes alarm, and a sort of nostalgia for a period in which everything seemed much more certain than it does today. I think one ought to acknowledge those genuine concerns, but at the same time I don't think they negate the tremendous value of living in a free society.

IL: There is one newspaper in Latvia that is very anti-Soros, whose audience is at the same time also very anti-European Union. However, I recently read an article by George Soros in the New York Review of Books about the future of the European Union, where he actually expresses a lot of scepticism if things continue to go the way they have been. But does euroscepticism and being anti-Soros generally tend to go together?

AN: I do think they go together. George Soros believes, and I think he's right, that the establishment of the European Union was, and is, one of the most important, if not the most important, global arrangement institutionally to have promoted the idea of open society. The threat to the European Union, therefore, from his standpoint, is a threat to everything to which he is committed. I think as much as or to a greater extent than any European, he is a believer in the idea of the European Union. He's also a person who understands economic issues very well, and is able to look ahead with regard to the way in which economic issues will unfold. I think he worries a great deal that the current situation, without the appropriate leadership, could lead to the dismantling of the European Union. I don't, myself, think that will happen, but I defer to him in terms of his understanding, his grasp of economic issues.

IL: In these articles, usually I can get the gist of it, but when he starts talking about bonds and the like, I tend to lose him, too.

AN: He sometimes reminds me of the old story that there are two people who understand the global financial system. One is an American investor, and one is a British treasury official. And they disagree.

IL: I have heard that you are a fan of Tony Judt.

AN: Yes, very much so.

IL: I am reading his last book, the one he wrote with Timothy Snyder, and what I find interesting, among other things, is how he talks about his personal life and his personal commitments in the context of history. While he is a quote unquote, "universalist", at different times he has belonged to various communities, and has been quite energetic within them. Where do you place yourself? Do you have a sense of community, and what would that community be?

AN: No, I never affiliated with any, let's say, utopian, movement. I always have been committed to the idea of rights. But I have never thought of my notion of rights in terms of an organizing principle for society. Rather, my own approach to the idea of rights is that rights are the limits on the exercise of power. Every movement, and every society can abuse rights in the course of exercising power. Therefore one needs to have a set of standards for trying to impose limits on the exercise of power. I believe in freedom of expression, because I don't think any society ought to be able to limit the ability of a person to speak or publish or do anything of that sort based on the content of speech or what is published. I think one has to limit the power of the state to restrain a person's liberty, and one has to do that through protecting certain procedural rights, such as the right to legal representation, or the right to a fair trial, and so forth. I think one has to limit the state in giving preference to people on the basis of race or religion or nationality or discriminating against anyone on that basis. So I believe the state has to treat everybody equally. The state has to respect the zone of privacy. I think the state may not treat anyone cruelly. All of these are restraints on power. Those are my commitments.

But actually, how power is exercised beyond the question of abuses is not something to which I've ever had an overriding commitment, so I've never been comfortable espousing a particular ideology, or committing myself strongly to a particular movement.

IL: In terms of ethnic community, to what extent are you Jewish, to what extent are you European, to what extent are you American?

AN: I was born a Jew in Nazi Germany, and I was an infant refugee with my parents to England two weeks before the outbreak of World War II. My identification as a Jew is primarily in the belief that having come close to losing my life on that basis, having had many members of my family who I never knew die on that basis, the last thing in the world that I would ever do would be to repudiate identification as a Jew. But I don't have any religious commitment, I don't have a feeling that I ought to espouse a particular cause because it is identified as a Jewish cause. I'm a secular person, I live in the United States, I'm a citizen of the United States. I was stateless until I was eighteen years old, and then I became a citizen of the United States. I live in New York, and to some degree I identify myself as a New Yorker more than I identify myself as an American, because I am particularly enthusiastic about the urban culture of New York City. So that's how I define myself.

IL: One of the things that Tony Judt has said is that "the intellectuals most free of the risk of being co-opted for interested parties or purposes are those who start off with loose or non-existent connections to the nation they happen to find themselves in." He mentions the example of Edward Said. George Soros may be another example. Do you believe that?

AN: I'm not sure I would have characterized Edward Said in that way. I knew Edward Said, not very well, but he would not have been the person I would have chosen to exemplify that person less connected nationally. I do think that Edward Said, although he was of a Christian background, very much identified himself as a Palestinian. I think that was a large part of his self-identification. There were a number of things Edward Said did, but I would not agree with. Although, I admired him as an intellectual, I admired him as a writer on music, among other things, as a writer on literature. But not necessarily as somebody I would want to emulate politically.

I don't know if everybody has to be disconnected from nationality or place or whatever. I can think of people who have a very strong national identification, who nevertheless seem to me to largely share the sort of political perspectives that I have. So I don't reject the idea of that kind of national identification.

IL: Since we mentioned Edward Said, I would like to hear something about the revolutions in the Middle East, and what you envisage happening in the future?

AN: I'm a terrible political prophet.

IL: I'm not looking for prophecy.

AN: All right. When the Arab revolutions started, I was enthusiastic about them. I was enthusiastic because it seemed to me that to a significant extent they were based on an attempt to enhance the protection of rights, that they were, to a significant extent, denunciations of abuses of rights by those regimes – imprisonment, torture, emergency rule, and things like that. I was pleased that people were acting on behalf of rights. I think another significant component of the Arab revolutions was a rejection of the corruption in those states, particularly the corruption involving the ruling family. In Tunisia the corruption involving the family of president Ben-Ali, or in Egypt the corruption involving the family of Mubarak, was a significant part of the reason the revolutions mobilized so much support. I think it was healthy for people to be seeking to expand rights, and seeking to end that kind of corruption. I was never very hopeful about what would take place in Egypt because it seemed to me the real power in Egypt was and is the military, and that the military would retain control in Egypt, no matter what happened. Among other things the military dominates the economy in Egypt, and it is extremely difficult to overturn military power. I'm actually surprised that the military has been willing to share power with President Morsi, representing the Muslim Brotherhood. I had not anticipated that they would allow things to get to that point.

IL: Maybe they don't have any other choice anymore.

AN: Well, they seem to have reached an accommodation with the Muslim Brotherhood. They seem to be willing to give him a sphere in which he can be dominant, while insuring that he does not attack or undermine their status in the society and their economic privileges within the society. So I'm not hopeful about the way things will develop in Egypt.

I'm very much more hopeful about Tunisia. The military in Tunisia was proportionally much smaller than the military in Egypt. It did not have the same type of economic control of the society as the military in Egypt. The military seemed to behave in an exemplary way during the revolution, restraining the police from engaging in abuses. I'm a poor political prophet, but I think there is a good possibility we will see a liberal democratic state emerge in Tunisia. I could end up being very disappointed, but I think there's a good chance that it will happen in Tunisia. If it does, it will be the first liberal democratic state among the 22 Arab states. I think that would be a very significant achievement.

IL: Does Open Society Institute (OSI) or some other branch of the foundation have a presence in these countries?

AN: Not in all of them. OSI had been particularly active in the countries of the Levant – in Egypt, in Jordan, in Lebanon, in Israel and the occupied territories. To a limited degree in Iraq. The work has expanded, it is underway in Egypt and Libya as well. In Tunisia OSI was establishing a small office.

IL: My last question would be, what are your future plans?

AN: I left my post as president of the foundation at the end of June 2012. I agreed to accept a visiting professorship in Paris, where I will stay until December, before returning to the United States.

From January 2013 I will take on more limited duties at the Open Society Foundations. We have discussed focusing my activity on Europe, and the lack of civil liberties organizations in most countries of Europe. There is a very effective civil liberties organization in the United Kingdom, there's one in Ireland, there's an excellent Hungarian civil liberties union, but most other countries don't have such organizations. In some countries, where they're not called civil liberties organizations, there are human rights organizations that play that role. For instance in Bulgaria, the Bulgarian-Helsinki Committee plays a civil liberties role across the board. It is especially in western Europe that there are no such organizations. So I am going to focus on establishing such organizations, possibly leading to the establishment of a sort of European civil liberties union.

IL: Good luck to you, Mr. Neier, and thank you for talking to me.

AN: Thank you.
Published 2013-02-13
Original in English
First published in
Rigas Laiks
1/2013 (Latvian version); Eurozine (English version)
Contributed by
Rigas Laiks
© Aryeh Neier / Ieva Lesinska / Rigas Laiks
© Eurozine