Neuspeh evropskih intelektualcev?
Proti koncu prejšnjega leta, ko je kriza v evroobmočju dosegla (nov) višek, je nekaj novinarjev v kakovostnem nemškem časopisju opozarjalo bralce na vidik krize, ki je bil do tedaj deležen le malo pozornosti: evropska kriza ni oznanjala le neuspeha evropskih centralnih bančnikov, grških birokratov, italijanskih nedavkoplačevalcev ali Angele Merkel (vse je odvisno od posameznikove perspektive), temveč je pokazala tudi vsestranski neuspeh intelektualcev. Zakaj niso branili velikih dosežkov evropske integracije? Zakaj niso oglaševali privlačnih predstav prihodnosti te celine, ampak so raje zapravili mogočno dediščino medsebojnega zaupanja in razumevanja med Evropejci, ki so jo gojili dolga desetletja? So se preprosto namenili prespati krizo, ki bi lahko sčasoma utrla pot povratku grdih nacionalizmov? Ali celo vojaških spopadov, na katere neutrudno opozarjajo starejši evropski državniki, kot je Helmut Kohl?


Concord and conflict

This article is part of the Focal Point
European histories (2): Concord and conflict
.
In recent years, the possibility of a "grand narrative" that includes both East and West in a common European story has been discussed intensely. In this new Focal Point, Eurozine seeks to broaden the question beyond the East-West historical divide. How are contested interpretations of historical and recent events made active in the present, both uniting and dividing European societies?
Zamisel o neizpodbitnem "neuspehu" ali celo "izdajstvu" intelektualcev izvira iz 20. stoletja, ki je bilo splošno znano kot "doba ideologij". Ideje takrat niso bile pomembne samo v neopredeljivem, splošnem smislu – neposredno so se spreminjale v politična prepričanja in postajale smrtonosne sile. Pomislimo samo na slavno pripombo Czesława Miłosza, ki je zapisal, da so sredi 20. stoletja "prebivalci mnogih evropskih držav z nemalo nevšečnostmi prišli do spoznanja, da je njihova usoda morda pod neposrednim vplivom zapletenih in težko razumljivih filozofskih knjig". Intelektualci so igrali na svetovnozgodovinskem odru in se vključevali v krvavo dramo bitk med liberalno demokracijo, fašizmom in sovjetskim komunizmom.
Kakšen je bil torej njihov "neuspeh", če so imeli takšno vlogo? So napačno recitirali ideološko predpisane replike? Leta 1927 je francoski esejist in
moraliste
Julien Benda druge pisatelje in filozofe obtožil, da so z zagovarjanjem nacionalističnih stališč izdali svoje poslanstvo. Trdil je namreč, da bi se morali pravi intelektualci z (univerzalno in brezčasno) resnico upreti oblastem, namesto da so se ukvarjali s podpiranjem nacionalnih interesov. Vendar so bili intelektualci, ki so podpirali univerzalistične, komunistične ideale, ravno tako obtoženi izdajstva, predvsem zato, ker so nasedli Stalinovim lažem in so si zatiskali oči pred vedno očitnejšimi pomanjkljivostmi Sovjetske zveze.
The EU: Broken or just broke?


This article is part of the Focal Point The EU: Broken or just broke?.

Can Europe really break apart? Jacques Delors, Jürgen Habermas, José Ignacio Torreblanca, Daniel Daianu, Ulrike Guérot, Slavenka Drakulic, John Grahl and others discuss the causes for the current crisis -- and how to solve it. [ more ]
Danes se nam morda zdi nenavadno govoriti o neuspehu: intelektualci vendar niso šolarčki, ki bi lahko padli na izpitu, in drugi intelektualci ne preverjajo njihovih ocen. Ravno tako jih ne omejujejo pravila delovanja, ki jih morajo spoštovati poklicni strokovnjaki. Toda to ne pomeni, da se v precej drugačnih razmerah v Evropi enaindvajsetega stoletja intelektualci ne morejo pošteno motiti, kadar jih ocenjujemo v okviru liberalnih demokratičnih vrednot. Morda sami postanejo zagrizeni nacionalisti ali posredno odobravajo širjenje nacionalizma, ker se mu ne uprejo. Njihov neuspeh se lahko kaže tudi v tem, da spregledajo hudo krivico, ki se trenutno godi v imenu varčnosti in davčne pravilnosti.
Pomislimo samo na očiten primer Grčije in Nemčije: čeprav so odnosi med državama na visokopolitični ravni ostali precej omikani, postajata civilni družbi obeh držav vedno manj vljudni. Na trgu Sintagma protestniki dvigajo plakate, na katerih novi režim, ki jim ga je vsilila Evropska unija, enačijo z Dachauom (višek so napisi dosegli z geslom
Memorandum macht frei
). Ustanovili so celo stranko, ki je po vsem, razen po imenu, protinemška (imenuje se Svobodni Grki,
Anexartitoi Ellines
, obljublja upor proti "četrtemu rajhu" in povsod, kjer je mogoče, namiguje na nemško okupacijo v štiridesetih letih prejšnjega stoletja). Po drugi strani v Nemčiji sicer ni podobnega govora in simbolizma, ki bi enačil preteklost in sedanjost (za to obstajajo jasni razlogi), vendar marsikdo godrnja o lenih južnjakih, še posebej v resnično neodgovornem tabloidnem tisku.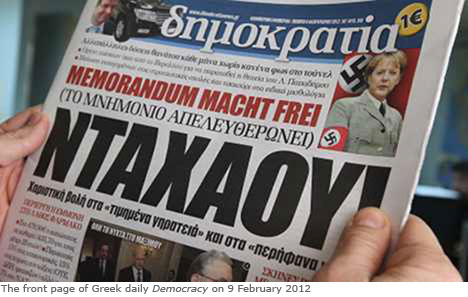 Toda tisti, ki kličejo po jasnejši prisotnosti evropskih intelektualcev, po navadi želijo več kot le razumne glasove, ki skušajo obrzdati nacionalizem: zahtevajo nič manj kot vizije in velike narative. Navsezadnje teh v evropski preteklosti ni primanjkovalo: med letoma 1306 in 1945 so zgodovinarji našteli vsaj 182 velikih načrtov za evropsko enotnost (pri tem je treba izpostaviti Abbéja Pierra in, seveda, Coudenhouve-Kalergija). Kljub temu da je bilo precej izbranih kulturnih srečanj v povojnem času posvečenih evropski enotnosti oziroma domnevni "krizi evropske civilizacije" (pri nekaterih je sodeloval celo Julien Benda), bi bilo težko trditi, da so bila petdeseta in šestdeseta leta prejšnjega stoletja zlata doba za intelektualne razprave o Evropi, kaj šele za razprave, ki bi Evropo podpirale.
Seveda se spomnimo izjem, še posebej tistih idealistov, ki so vzniknili iz raznih uporniških gibanj in so se zavzemali za zvezno, demokratično Evropo – pomislimo na Walterja Dirksa in Altiera Spinellija. A vendar se je intelektualna predanost posvetila drugim namenom (predvsem hladni vojni in dekolonizaciji), ki so očitno imeli prednost pred Evropo, za katero se je takrat že zdelo, da je le igračka velesil. Pravzaprav se je pogosto zdelo, da naj bi intelektualci začeli zagovarjati pravo evropsko integracijo šele takrat, ko bodo ta moralno sporna vprašanja dobila primerne odgovore in Evropa sama nekako ne bo več omadeževana s kolonializmom ali kapitalizmom. Francoski sociolog Edgar Morin, na primer, je bil eden od mnogih levičarskih intelektualcev, ki je trdil, da je sam izraz Evropa še vedno okužen z zlom kolonializma. Šele po dekolonializaciji v šestdesetih letih prejšnjega stoletja je levica lahko začela podpirati idejo o evropski enotnosti.
Vseeno pa velja naslednje: evropska integracija je napredovala v pomanjkanju vsega, kar bi bilo podobno velikim intelektualnim vizijam. Kot poudarjajo vsi spodobni učbeniki o Evropski uniji, je Evropa stremela k integraciji po drobnih korakih oziroma, iskreno rečeno, k prikriti integraciji. Ustanovitelji, predvsem Jean Monnet, so morda res imeli visoke moralne cilje, vendar je sam projekt napredoval na osnovi tehnokratskih zahtev, in ne zato, ker bi vedno več Evropejcev uvidelo moralno vrednost splošnoevropskega ustanavljanja politične skupnosti.
Seveda se mnogim opazovalcem danes ravno to zdi glavna težava. Modro misel, ki jo je menda izrazil Monnet (da bi bil res moral začeti s kulturo), že kar obredno citirajo tisti, katerim se zdi glavna pomanjkljivost Unije to, da ji primanjkuje pomena in sposobnosti, da bi navdihovala zvestobo ali vsaj "navdušenje". Intelektualci, pravijo, naj se potrudijo dohiteti projekt, ki se je izvršil brez njih – in ki zdaj obupano potrebuje njihovo pomoč pri izražanju razlogov za nadaljnji napredek (in velike zgodbe, ki bi hkrati upravičila preteklost, sedanjost in prihodnost Unije).
Vendar pa to preprosto pomeni, naj intelektualci vnovič odigrajo vlogo, ki so jo imeli v 19. stoletju: predvsem pisatelji in zgodovinarji naj bi z mogočnimi zgodbami uzakonili veliko nacionalno (zdaj nadnacionalno) združitev, identifikacijo in, če bi bilo mogoče, še kodifikacijo "evropskih vrednot", kar bi morda lahko izvedli celo v obliki "velikega evropskega romana". To je seveda karikatura – tisti, ki pišejo evropsko zgodovino ali si zamišljajo muzej Evrope, se ne ukvarjajo nujno s krepitvijo narodov niti nočejo pošiljati uzakonitvenih narativ gospodarjem v Berlaymont. Prav nasprotno – smiselno in zaželeno je, da zgodovinarji iz različnih držav članic raziskujejo perspektive drugih in ugotavljajo, do kakšne mere bi jih lahko zares integrirali. A vendar je zahteva po veliki evropski zgodbi navsezadnje zvesta miselnosti o ustanavljanju narodov v 19. stoletju. Pogosto je izražena tako očitno, da o predvideni uporabni vrednosti takšne zgodbe ni mogoče dvomiti: pomislimo na pozive, da bi holokavst začeli sprejemati kot evropski "ustanovitveni mit", kar je z zgodovinskega vidika vsekakor povsem nesmiselno. Seveda to ne pomeni, da bi kmete znova spreminjali v Francoze skozi vojaško službo in republikanske
lycées
, vendar je temeljna ideja, da politične skupnosti potrebujejo skupno narativo, očitno prisotna. Bolj jasno povedano: s to vizijo je nadnacionalizem vseeno nacionalizem in narod po imenu "Evropa" je vseeno narod. In če je nacionalizem moralno sporen (kar očitno je, v očeh Bendaja in vseh, ki so privzeli njegovo šablono za vlogo intelektualcev), bi se morali intelektualci na daleč izogibati vizionarskim poslom in proizvodnji kvazinacionalnih velikih narativ.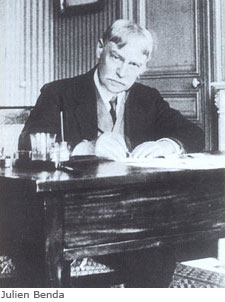 Zakaj naj torej ne bi preprosto privzeli Bendajevega modela in ga prilagodili evropskemu kontekstu? Intelektualci bi lahko za svoje poslanstvo vzeli razkrivanje krivic, hududelcem bi lahko iskreno vpili "
J'accuse!
" in se moči, ki domuje v Bruslju, upirali z resnico. Tu se pojavi težava: nikakor ni očitno, zakaj bi morala biti Evropa (natančneje, Evropska unija) smiseln okvir za takšna moralna vprašanja. Pomislimo samo na socialno-ekonomske neenakosti v večjem obsegu. Seveda obstajajo tudi v Evropi, vendar medevropske neenakopravnosti zbledijo v moralno nepomembnost, če jih primerjamo z neenakostmi v svetovnem merilu. Svetovna neenakost dnevno buri duhove – in čeprav so medevropske razlike med prihodki vredne resnega socialnega znanstvenega raziskovanja in bi lahko celo postale predmet socialnega protesta, preprosto niso zadosten razlog za resno moralno ogorčenje.
Kaj pa se godi, bi lahko ugovarjali, s hudo obžalovanim "demokratičnim primanjkljajem" evropskih institucij? Tu se približamo tistemu, kar se mi zdi ustrezna – čeprav precej skromna – vloga za današnje evropske intelektualce. Znano je, da je Evropsko unijo sam vodja Komisije imenoval "neznani politični predmet" (in če je ni mogel prepoznati Jacques Delors, bi jo lahko kdo drug?). Če se nekoliko bolje izrazimo: Evropska unija je najpomembnejša institucionalna inovacija od ustanovitve modernega demokratičnega sistema socialnega varstva, vendar jo je res strašno težko osmisliti in je težko razumeti, kako deluje. Tudi najspretnejši poznavalci igre evropske politike le stežka razvozljajo zapletene povezave med evropskimi državami članicami in Brusljem – še težja so vprašanja o zakonitosti in o tem, kako naj bo ta osnovana na podlagi življenjskih izkušenj resničnih Evropejcev. Intelektualci bi tu lahko sprejeli vlogo
pojasnjevalcev
, kot jih sam imenujem: lahko bi se lotili razlaganja Evrope svojemu občinstvu in bi, kar je najpomembnejše, orisali normativne izbire med razvijanjem Evrope, kakršno poznamo, in med oblikovanjem povsem drugačne politične ureditve (kot je na primer dejanska nadnacionalna demokracija, v nasprotju s situacijo, kjer zakonitost evropskih dejanj v osnovi izhaja iz zakonov nacionalnih parlamentov).
Marsikomu se bo to verjetno zdela preveč uplahnjena vizija intelektualnih sposobnosti – mar se ne bi morali truditi, da bi bili boljši od tistih, ki jim v Združenih državah pravijo "javni intelektualci" (to povzroča precej zmede: s tem preprosto mislijo univerzitetne profesorje, ki znajo izobraženemu občinstvu nekaj razložiti, torej strokovnjake)? Ne ravno, saj intelektualci, ki bi sprejeli omenjeno vlogo, ne bi opravljali le tistega, čemur Francozi tako prikladno rečejo
vulgarisation
, temveč bi morali hkrati tudi presojati normativne argumente, da bi si evropski državljani lahko sami ustvarjali tehtno moralno in politično mnenje o tem, kaj naj storijo s svojim "neznanim političnim predmetom". S tem hočem reči, da bi morala pojasnjevanje in javno zagovarjanje nastopati drug ob drugem. Takšna vloga je predvsem demokratična: od intelektualcev ne zahteva, da razvnemajo navdušenje za določeno vizijo (kar občasno poskušajo storiti evropske službe za stike z javnostjo in ga pri tem pošteno polomijo: oglejmo si samo pred kratkim izdani film o beli evropski superženski, ki si podredi različne barbare – Azijca, črnca in Arabca – ter jih spretno spremeni v rumene zvezde); njen smisel je v pojasnjevanju možnosti in njihovih moralnih pomenov, da lahko ljudstva Evrope med njimi sama izbirajo.
Krasen primer takšnega dela – mnogi bralci pri tem ne bodo presenečeni – so posredovanja Jürgena Habermasa, ki ni le najpomembnejši evropski intelektualec, temveč je tudi najpomembnejši intelektualec, ki se resnično poskuša spoprijeti s pomenom in možnimi prihodnostmi Evropske unije. Podrobnosti Habermasovih analiz bi se komu lahko zazdele intelektualno provincialne (Perry Anderson je pred kratkim izpostavil dejstvo, da se Habermas v zadnjem eseju o Evropi v treh četrtinah primerov sklicuje na nemške avtorje, vsi drugi pa so anglo-ameriški; očitno je preostanek Evrope intelektualno neobstoječ). Lahko bi mu očitali, da se ne zmeni za življenjske izkušnje resničnih Evropejcev z drugih koncev celine, in njegovi predlogi se marsikomu zdijo brezupno idealistični, a vendar Habermas ostaja intelektualec, ki se resnično poskuša učiti od strokovnjakov. Prav tako se trudi razložiti, kaj se mu – upravičeno ali ne – zdijo dosežki, pomanjkljivosti in normativni potencial Unije, s čimer poskuša spodbuditi resen političen pogovor. Če se drugače izrazim: lahko zavračamo vsebino Habermasovih predlogov, vendar je njegov ponujeni model za intelektualno sodelovanje z Evropo vseeno privlačen.
Toda to ni edini model: za evropske intelektualce obstaja še druga vloga, ki se je včasih zdela povsem samoumevna, danes pa ji grozi izginotje. Pogosto slišimo, da je vsaj do tridesetih let prejšnjega stoletja obstajala prava evropska literarna republika, v okviru katere so pisatelji in filozofi zlahka sodelovali prek nacionalnih meja in v okviru katere so svojim bralcem razlagali druge nacionalne kulture. Pomislimo samo na izredno prijateljstvo med pisatelji kot sta Stefan Zweig in Romain Rolland ter na delo literarnega učenjaka Ernsta Roberta Curtiusa. Seveda se je vse to dogajalo na ravni "bore visoke kulture", kakor bi jo danes slabšalno imenovali, vendar je glavno, da se je to zgodilo. V nekoliko drugačni smeri se je takšno početje vsaj nekaj časa nadaljevalo po drugi svetovni vojni, ko je nad Evropo grozeče bdela zahteva po spravi. Pomislimo na osebnosti, kot sta bila Alfred Grosser in Joseph Rovan, ki sta Francozom in Nemcem razlagala kulturo drugega naroda. Nista bila le poveličevana branilca nacionalnih zvijač ali mediatorja, ki bi tiho izginila, ko bi se nasprotne strani pobotale. Imela sta tudi lasten ugled, vendar sta pravzaprav igrala vlogo dobro razgledanih kulturnih prevajalcev in političnih mediatorjev.
Kaj pa danes? Zlahka bi oprostili misel, da ob vedno temeljitejši politični, pravni in ekonomski evropski integraciji posamezne države članice postajajo vedno bolj kulturno provincialne in osredotočene same nase. Easyjet in Pesem Evrovizije nista nadomestka za literarno republiko, kjer imajo intelektualci dober občutek za vsaj dve ali tri različne evropske kulture.
Čudežnega zdravila ni, vsaj ne za ustvarjanje pristne evropske javne sfere, zato lahko le upamo, da bodo posamezniki postali radovednejši in bodo jasneje videli prednosti, ki jih prinašata prevajanje in mediacija. Morda se komu takšno delo zdi dolgočasno, vendar je v resnici nujno, predvsem v tem odločilnem trenutku. Vzemimo očiten primer: Nemci (in drugi "severnjaki") morajo razumeti zgodovino grške državljanske vojne; razumeti morajo, kako so grško državo uporabili, da so pomirili globoko razdvojeno družbo in kako je evropski denar pomagal ustvariti srednji razred, ki je strankam omogočil ostati na oblasti, hkrati pa je zmanjšal nevarnost vnovičnega socialnega spora (nič od tega ni izgovor za korupcijo in splošno slabo delujočo državo –
tout comprendre ce n'est pas tout pardonner
). Nasprotno pa bi bilo koristno, če bi opazovalci zunaj Nemčije dojeli posebno zvrst liberalne ekonomije, ki že dolgo žene oblikovanje politike tako v Bonnu kot v Berlinu. Gre za čuden pojav, ki mu pravijo
Ordoliberalismus
, čigar predstavniki so se imeli za prave "neoliberalce" – liberalce, ki so se naučili lekcij svetovne gospodarske krize in vzpona diktatur v 20. stoletju in ki liberalizma nikakor niso hoteli enačiti s politiko nevmešavanja države v gospodarsvo. Njim so se
soi-disant
neoliberalci, kakršen je bil Ludwig von Mises, zdeli zgolj "paleoliberalci", zataknjeni v ortodoksijah 19. stoletja, ki so govorile o trgih, ki naj bi samodejno odpravljali svoje napake. Nemški neoliberalci so si želeli močne, stabilne države, ki bi zlahka prispevala okvir za trge in družbo, hkrati pa bi bila pripravljena tudi posredovati na tržišču, če bi to pomenilo ohranjanje konkurence in "discipline".
Vnovič poudarjam, da razumevanje takšnih idej ni enako sprejemanju (predvsem pri
Ordoliberalismusu
obstajajo razlogi za sumničavost o njegovi neliberalni, celo oblastniški plati). Jasno pa je, da plodnejši in bolje osveščen pogovor ne more prezreti popolnoma različnih nacionalnih izhodišč za razmišljanje o politiki (in, seveda, ekonomiji). Zato bi morali tako imenovani pojasnjevalci sodelovati z vzajemnimi razlagalci nacionalnih tradicij.
Zastavlja se vprašanje, ali sta
pojasnjevanje in razlaganje
edini možnosti. Mar ne bi bila evropska razprava potemtakem samo vsota vsega, kar si povejo nacionalni razlagalci? Obstaja še drugačna rešitev (h kateri se bomo kmalu vrnili), vendar sta ti dve nalogi vedno zanimivi, zato se mora z njima vsaka generacija spopasti na nov način. Nista odvisni le od trenutnega izziva, na katerega bi se morali odzvati – prej bi lahko rekli, da je javnost z njuno pomočjo bolje pripravljena na krize, še posebej na tiste, ki so politične narave.
To me pripelje k zadnjemu argumentu o političnih krizah, ki zadevajo prav vse: če je Evropska unija
ena
politična entiteta in je evropsko državljanstvo vsaj približno osmišljeno, preprosto ni mogoče, da bi obstajale notranje zadeve posameznih držav članic, ki jih drugi Evropejci ne bi smeli premlevati ali presojati. In če sta v kateri koli evropski državi demokracija in vladavina prava očitno ogroženi, morajo vsi evropski intelektualci dati znak za preplah. Jasen sodoben primer je Madžarska, prva država članica, ki se bo najverjetneje morala soočiti z resnimi evropskimi sankcijami, ker je nazadovala v obliko neliberalizma.
Soočen s strogo kritiko Evropskega parlamenta in komisije je madžarski premier Viktor Orbán pričaral podobo transnacionalne levičarske zarote, vodili naj bi jo Daniel Cohn-Bendit in njegovi pajdaši, ki menda preprosto zaničujejo vrednote, za katerimi stojijo Orbán in zavezniki: nacionalni ponos, krščanstvo in tradicionalne predstave o družini. Orbán, politik, ki zacveti ob sporih in polarizaciji, je hotel v svoji državi sprožiti vseobsegajoči
Kulturkampf
, nato pa je poskušal razdvojiti še Evropo. Tako naj bi si nasproti stali liberalna levica, ki ji očitno pripadajo sicer konservativne osebnosti, kot je Manuel Barroso (nekdanji maoist, seveda), in Evropa, ki ji je madžarski predsednik vlade pred kratkim rekel "skrita", "skrivna" Evropa – tisti del, torej, ki se strinja z vrednotami njegove stranke, a si ne upa izgovoriti njenega imena.
Zamikalo bi nas lahko, da bi takšen spor videli v pozitivni luči, četudi se ne strinjamo z ničemer, za kar se zavzema Orbán: zvitost evropske integracijske zgodovine bi lahko namreč videli v tem, da transnacionalni spori nazadnje privedejo do bolj poenotene Evrope. Mar ni politizacija (in celo polarizacija) sama po sebi dobra, saj poživi institucije, kot je Evropski parlament, privabi intelektualce z vseh strani, da se pridružijo spopadu, in celo prisili evropske državljane k pozornosti?
Takšno razmišljanje je morda nekoliko preveč dialektično: navsezadnje so v nevarnosti nujna vprašanja prvega reda in trpljenja sodobnih madžarskih državljanov nikakor ne moremo opravičiti z dolgoročnimi koristmi in vzvišenimi ideali evropske enotnosti. Možen stranski proizvod, vsekakor pa ne glavni namen boja za toliko opevane "evropske vrednote" je dejstvo, da se med procesom te vrednote bolje razjasnijo in nazadnje tudi bolje zakoreninijo. Dolžnost evropskih intelektualcev je, da razložijo, zakaj, na primer, določeno skupno evropsko razumevanje vladavine prava ni le pristranska ali provincialna razlaga univerzalne vrednote, od katere bi lahko posamezniki odstopali v imenu "raznolikosti" in "pluralizma".
To intelektualno bitko je otežilo dejstvo, da so evropske politične elite zaradi neprijetnih posledic neuspeha evropske ustavne pogodbe posebej vneto zagotavljale, da Evropska unija neizpodbitno podpira posamezne države članice pri iskanju različnih poti do demokracije in nacionalnega zadovoljstva. Če povemo drugače, so s tem precej slabo premišljenim govorom želeli ublažiti strahove pred "evropsko superdržavo", vendar so hkrati ponudili
carte blanche
Orbánu podobnim politikom. Navsezadnje se je madžarski premier branil ravno z ugovorom, da je njegova nova ustava edinstveno prilagojena tradiciji njegove države in novodobnim izzivom.
Raznolikost in pluralizem nista vrednoti, ki bi ju lahko primerjali s svobodo in demokracijo – vse je odvisno od odgovora na vprašanje: "Raznolikost česa?" Evropski intelektualci bi morali zagovarjati svobodo in demokracijo, če bi se pokazalo, da je to potrebno, sicer pa bi se morali lotiti pojasnjevanja in razlaganja. Če priredimo predlog Émila Zolaja, prav tistega, ki je bil v Evropi poznega 19. stoletja zaslužen za priljubljenost izraza "intelektualec", lahko rečemo:
Allons travailler!
Published 2012-11-19
Original in English
Translation by Kaja Bucik
First published in
Sodobnost
9/2012 (Slovenian version); Eurozine (English version)
Contributed by
Sodobnost
© Jan-Werner Müller / Sodobnost
© Eurozine