Pojmenovat nepojmenovatelné
Co znamená neúčast Salmana Rushdieho na Džajpurském literárním festivalu
"Dílo básníka. Pojmenovat nepojmenovatelné, odhalovat neřádstvo, zaujímat stanoviska, zažíhat sváry, tvarovat svět a zabránit mu v tom, aby se uložil ke spánku." Tak praví nactiutrhačný satirický básník Baal v Satanských verších. Bouře, která se strhla kolem neúčasti Salmana Rushdieho na Džajpurském literárním festivalu, ukazuje, že v dnešní době jako Baal smýšlí málokdo.

Na festivalu, jenž se rychle stává jednou z nejvýznamnějších literárních událostí na světě, měl Rushdie pohovořit o filmu Děti půlnoci, který má být uveden později v tomto roce, a také se zapojit do diskuse o dějinách angličtiny v Indii. Rushdie navštívil Indii v minulém desetiletí mnohokrát a také festivalu se už v minulosti zúčastnil. Tentokrát mu však pohrozili muslimští radikálové. Místní úřady ani vláda se výhrůžkám nepostavily; naopak vyvíjely tlak na pořadatele festivalu, aby Rushdieho z programu vyškrtli. "Jsem přesvědčen, že pořadatelé budou respektovat pocity místních lidí," řekl Ašok Gehlot, premiér státu Rádžasthán, kde je Džajpur hlavním městem.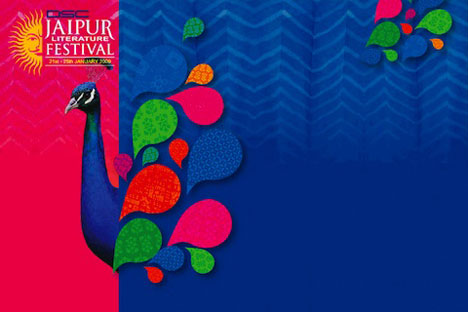 Rushdie nakonec cestu zrušil: podle svých slov byl informován, že se na něj chystá atentát. Jak se nyní zdá, tyto zprávy byly dost možná výmyslem rádžasthánské policie, která se snažila Rushdieho "přesvědčit", aby nejezdil.V reakci na tyto skutečnosti romanopisec Hari Kunzru a básník a spisovatel Amitava Kumar, oba mluvčí festivalu, veřejně přečetli pasáže ze Satanských veršů. Později totéž učinili další dva mluvčí, Jeet Thayil a Rushir Joshi. Román je v Indii dosud zakázaný. V roce 1988 jej dal na seznam zapovězených knih tehdejší premiér Rádžív Gándhí, který ve vyhrocené předvolební atmosféře ustoupil tlaku islamistů. Pořadatelé festivalu se od Kunzrua a Kumara distancovali, jejich akci nazvali "zbytečnou provokací" a vyvíjeli nátlak na další mluvčí, aby jejich příklad nenásledovali. "Pokud by delegáti nebo jakékoli jiné osoby spojené s festivalem porušovali zákon, nebudeme to tolerovat a vyvodíme z toho patřičné důsledky," zněla hrozba v následném tiskovém prohlášení.

Mnozí lidé sice vyjádřili Rushdiemu podporu, ale jiní vyrazili na obranu pořadatelů festivalu. "Nemyslím si, že by byla tato intervence v Rushdieho prospěch moudrá nebo účinná," prohlásila na Twitteru o Kunzruově a Kumarově čtení ze Satanských veršů redaktorka knižní sekce Guardianu Claire Armisteadová. Jestliže však úkolem literárních festivalů není zastávat se spisovatelů a jejich práva mluvit, zvláště za takových okolností, těžko říct, co potom jejich úkolem je. Rozhodnutí festivalu distancovat se od Kunzrua a Kumara a vyhrožovat všem, kteří by je případně chtěli následovat, není ničím jiným než zbabělostí.
Nepřístojnost svobody slova
Srovnejme ustrašenost organizátorů Džajpurského festivalu s reakcí spisovatelů, nakladatelů, editorů, překladatelů a knihkupců tváří v tvář Chomejního fatvě z roku 1989. Salman Rushdie se tehdy musel skoro celé desetiletí skrývat. Překladatelé a nakladatelé čelili útokům, byli dokonce vražděni. V červenci 1991 byl v kampusu univerzity Cukuba ubodán japonský profesor literatury a překladatel
Satanských veršů
Hitoši Igaraši. Tentýž měsíc byl ve svém milánském bytě zbit a pobodán italský překladatel Ettore Capriolo. V říjnu 1993 byl u svého domu v Oslu postřelen norský vydatel
Satanských veršů
William Nygaard. V knihkupectvích vybuchovaly bomby jenom proto, že se v nich kniha prodávala. Rushdie přesto nikdy nezakolísal ve svém rozhodnutí knihu nestáhnout a jeho nakladatelství Penguin nikdy nezakolísalo v odhodlání zachovat Rushdiemu věrnost.
Tehdejší ředitel Penguinu Peter Mayer hovořil o těchto událostech poprvé veřejně v rozhovoru, který mi poskytl pro knihu
Od fatvy k džihádu
. Sám Mayer se stal obětí nenávistné kampaně. "Dostával jsem dopisy napsané krví," vzpomínal. "Uprostřed noci zvonil telefon a hlas ve sluchátku říkal, že mě zabijí a že mé dceři roztřískají hlavu o betonovou zeď. Hrozné." Mayer ani samo nakladatelství však neuvažovali o tom, že by ustoupili. "Řekl jsem vedení: Musíte to vnímat z dlouhodobého hlediska. Jakýkoli ústupek jen dodá odvahu dalším teroristům, kteří se budou z jakéhokoli důvod cítit uraženi knihami, které vydáme příště.
Pokud kapitulujeme, vydávání knih už nikdy nebude jako dřív." Mayer a jeho kolegové pochopili, že "co teď uděláme, ovlivní mnohem víc než jen osud této konkrétní knihy. Naše reakce na spor kolem
Satanských veršů
bude mít vliv na svobodu názoru, bez níž vydavatelská branže a vůbec celá občanská společnost nemůže existovat v podobě, jak ji známe. Všichni jsme se shodli, že jako jedinci i jako firma nemůžeme dělat nic jiného než držet se principů, na nichž se zakládá naše profese a které jí od dob vynálezu knihtisku přinášely úctu. Jsme nakladatelé. Myslím, že to cosi znamená. Všichni si to myslíme." Také Nygaard byl ve svém rozhodnutí neustoupit nezlomný. Strávil týdny v nemocnici, potom následovaly měsíce rehabilitace. Trvalo dva roky, než mohl znovu plně používat ruce a nohy. "Novináři se mě ptali: přestanete vydávat
Satanské verše
?" řekl mi v jednom rozhovoru. "Odpověděl jsem: Rozhodně ne."
Mayer a Nygaard patřili do světa, v němž byla obrana svobody slova vnímána jako samozřejmá povinnost. Pořadatelé Džajpurského festivalu patří do jiného světa, do světa, v němž představa, že dílem básníka je "pojmenovat nepojmenovatelné, odhalovat neřádstvo, zaujímat stanoviska, zažíhat sváry, tvarovat svět a zabránit mu v tom, aby se uložil ke spánku", není vnímána jako samozřejmost, nýbrž jako cosi hrubě nepřístojného. Za minulá dvě desetiletí se krajina svobodného projevu a cenzury proměnila, a zrovna tak se proměnil i smysl literatury. Reakce pořadatelů Džajpurského festivalu dala této proměně tvář. "Dejte mi svobodu vědět, svobodně se vyjadřovat a argumentovat jen podle svého svědomí, bez ohledu na to, co je povoleno," napsal John Milton v
Areopagitice
, své slavné řeči z roku 1644 ve prospěch svobody neoficiálního tisku, a dodal: "Kdo ničí dobrou knihu, ničí samotný rozum." Po následující tři staletí se všechny progresivní politické tendence zakládaly na principu svobody slova coby nezbytné podmínky společenského a politického pokroku.
Obrana svobody slova byla ovšem vždy prostoupena přetvářkou. Sám Milton se stavěl proti tomu, aby byla svoboda slova rozšířena na katolíky, protože katolická církev si podle něj svobodu nezaslouží. Také John Locke, dnes oslavovaný jako zakladatel liberální tradice tolerance, zastával ohledně katolíků velmi bigotní názory. Jako důvody k omezování svobody slova byla zmiňována celá řada jejích škodlivých účinků – od podněcování k nenávisti po ohrožení národní bezpečnosti, od rouhání až po šíření pomluv. Přesto, jakkoli mohou argumenty liberálů znít někdy pokrytecky a jakkoli i největší zastánci svobody slova vždy připouštěli, že někde je třeba vytýčit hranici, vždy zde existovalo přesvědčení, že svoboda slova znamená sama o sobě dobro a je nezbytnou podmínkou poznávání pravdy, vyjádření mravní autority, zajištění společenského pokroku a rozvoje ostatních svobod. Omezování svobody slova, pokud k němu muselo dojít, bylo vnímáno spíše jako výjimka než jako norma. A radikálně smýšlející lidé byli přesvědčeni, že pokrytectví je třeba čelit nikoli tím, že se bude svoboda slova dále omezovat, nýbrž naopak tím, že bude rozšířena na všechny.
Spící svět
Právě tato představa svobodného vyjádření coby obecně dobré věci prošla v minulých letech proměnou. Svobodné vyjádření dnes není vnímáno pouze jako podmínka svobody, nýbrž také – stejně často – jako jev, který svobodu ohrožuje. Mnozí tvrdí, že svoboda slova samou svou podstatou poškozuje základní svobody. Nepředstavuje ve všeobecném smyslu dobro, je naopak problematická, neboť nevyhnutelně vede k urážkám. Svobodu slova je proto třeba omezovat, nejen za výjimečných okolností, ale vždy a všude, zvláště v diversifikovaných společnostech, v nichž se vyskytují různorodé, ale pevně zakořeněné názory. Cenzura (a autocenzura) se musí stát normou. "Ve světě různorodých a vášnivě zastávaných názorů znamená autocenzura oprávněný požadavek," řekl v době, kdy Rushieho aféra vrcholila, muslimský filozof a mluvčí Bradfordské rady mešit Shabbir Akhtar. "Co Rushdie publikuje o islámu, není jen jeho věc. Není to ani jenom věc muslimů, je to věc každého člověka."
Politici a veřejní činitelé, nakladatelé i pořadatelé festivalů, liberálové i konzervativci, na východě i na západě, s tímto názorem čím dál víc souhlasí. Mnozí dnes tvrdí, že ať je pravda principiálně jakákoli, v praxi je především nezbytné šetřit náboženské a kulturní cítění, protože takové cítění má hluboké kořeny. Žijeme ve světě, tvrdí se, kde probíhají zásadní konflikty mezi kulturami, jež zastávají rozdílné názory. Má-li takto různorodá společnost fungovat, musíme respektovat odlišné národy, kultury a hlediska. Společenská spravedlnost vyžaduje nejen to, aby se s jedinci zacházelo jako s navzájem politicky rovnými, ale také aby se rovného uznání a úcty dostalo i jejich kulturnímu přesvědčení. Vyhýbání se bolestivým kulturním střetům je tak dnes vnímáno jako důležitější než abstraktní právo na svobodu slova. Jak to vyjádřil britský sociolog Tariq Modood: "Pokud mají lidé dosáhnout mírumilovného soužití v určitém politickém prostoru, všichni musí omezit kritiku přesvědčení svých bližních." Dnešní Antibaalové se tedy ze všeho nejvíc obávají zažíhání svárů. A ze všeho nejvíc si přejí, aby se svět uložil ke spánku.
To ovšem vede ke vzniku světa, který není o nic méně konfliktní, ale zato je čím dál více sektářský, roztříštěný a tribální. Jak to vyjádřila spisovatelka Monica Aliová: "Kdyby se mělo zřídit tržiště rozhořčení, vydal by se na ně snad úplně každý. Všichni dnes tvrdí: "Mé city jsou zraněné víc než tvoje.'" Čím větší mají lidé prostor k tomu, aby se cítili uraženi, tím více využívají příležitosti k tomu, aby se uraženi skutečně cítili. To jen podněcuje zájmové skupiny a vede k nárůstu sektářského násilí.
Nikde se tento trend neprojevuje jasněji než právě v Indii. Od dob britského panství zde existuje tradice bezohledné cenzury, jež má údajně uvolnit napjaté vztahy mezi různými komunitami. Tento proces nabral v minulých desetiletích na intenzitě. Přísnější cenzura však nenastolila mírumilovnější společnost, nýbrž společnost, v níž se národní pospolitost tříští v sektářskou rivalitu, neboť každá skupina zde trvá na svém právu nebýt urážena. Původní spor o
Satanské verše
byl klasickým příkladem situace, kdy podporujeme určité skupiny, aby se cítily uraženy, a tím rozdmýcháváme sektářský konflikt. Letošní aféra není nic jiného než další krok na této cestě.
Ve hře na uražené se nevyžívají jenom muslimové. Hinduisté si počínají možná ještě pilněji a stranou nezůstávají ani další skupiny. A nejde jenom o indický problém. Přesně tytéž trendy lze sledovat i v Británii a další západních zemích.
Bojovníci proti urážkám žijí v představě, že pluralitnější společnost vyžaduje větší míru cenzury. Jenže skutečnost je taková, že nejvyšší možnou míru svobody slova potřebujeme právě proto, že žijeme v pluralitní společnosti. V homogenním prostředí, kde všichni smýšlejí stejně, by urážení bylo zcela bezdůvodné. Avšak v reálném světě, kde jsou společnosti pluralitní, je nevyhnutelné a také důležité, aby lidé uráželi cítění druhých. Nevyhnutelné, protože tam, kde jsou pevně zastávány různé názory, se střetům zkrátka nelze vyhnout. A ty střety bychom měli spíše řešit než se jim vyhýbat. Důležité, protože jakákoli společenská změna nebo společenský pokrok znamená dotknout se něčích hluboce zakořeněných pocitů. Právo "podrobovat přesvědčení druhých lidí kritice" je úhelným kamenem otevřené různorodé společnosti. Anebo, jak to vyjádřil Rushdie ve svém eseji V
dobré víře
, lidská bytost "poznává svoji podstatu a utváří svoji budoucnost nikoli tím, že se sklání před bohy nebo lidmi, nýbrž tím, že se hádá a bojuje, zpochybňuje a říká nevyslovitelné".
Shabbir Akhtar měl pravdu: co Salman Rushdie říká, se týká každého. Je úkolem každého z nás zajistit, aby nikomu nebylo upřeno právo říct, co chce, i kdyby to někteří považovali za urážku. Chceme-li si dopřát požitek pluralismu, musíme přijmout i to, že nás někdo bude urážet. Nejen na literárním festivalu.
Published 2012-05-21
Original in English
Translation by Marek Sečkař
First published in
Pandaemonium
, 22 January 2012 (English version);
Host
3/2012 (Czech version)
Contributed by
Host
© Kenan Malik / Host
© Eurozine