Italija: o muzeju evropske prošlosti, o izbjeglicama, o nakitu od murano stakla i o tome kako će Mozart zvučati u budućnosti
Stanovnicima Venecije njihov je grad vjerojatno najljepši kad ga gledaju iz daljine, baš kao na Canalettovim vedutama iz 18. stoljeća. U jesenje popodne, kad odraz pročelja veličanstvenih palača treperi na morskoj površini, nestvarna u svojoj ljepoti, Venecija se doista doima poput kulise iz nekog filma.

Ali Venecija danas i nije mnogo više od kulise.

Kad je susjeda s prvog kata palače u kojoj sam unajmila stan napokon sišla, zalupila sam teška ulazna vrata. Duboko u osamdesetima, gospođa Immacolata hodala je oslanjajući se na štap. Krenule smo ulicom Calle dei Fabbri da mi pokaže gdje je najbliža samoposluga. Išle smo polako, ne samo zbog nje nego i zato jer je već u devet sati ujutro ova ulica, koja od mosta Rialto vodi prema Trgu San Marco, bila zakrčena turistima. Sitna i pogrbljena, odjevenu u crninu, jedva se probijala kroz gomilu. Za sobom je vukla torbu na kotačićima. Kod prvog mostića preko kanala zastala je. Jedva se popela, pridržavajući se za ogradu. Dva su takva mostića preko kanala na putu do samoposluge, oba stepenasta. Iako je samoposluga Coop, u blizini trga Campo Santa Maria Formosa, zapravo udaljena samo pet-šest minuta laganog hoda od njene kuće, gospođi Immacolati do nje treba barem dvadesetak. A tamo nas je dočekao dugačak red na blagajni, jer svi turisti plićeg džepa pronađu put do nje. Sve u svemu, vremešnoj dami treba barem sat vremena da obavi kupovnu. "I tako svakoga dana..."- rekla je, uzdahnuvši. Noge je još služe, ali ne može nositi teret uz stepenice. Srećom, uskoro se vraća njena badante, žena iz Hrvatske koja se za nju brine.

Nekada je u blizini njenog stana, u Corte Gragolina, bila i pekara, i mali dućančići s kućnim potrepštinama, i mesnica i voćarna, pa novinski kiosk, postolar – ukratko, sve što čovjeku treba biti pri ruci za svakodnevni život... Sada su sve to prodavaonice suvenira. U njenoj ulici i nema ničeg drugog osim dućančića s lažnim murano staklom, pizzerija koje prodaju trokut pizze za 8 eura, turističkih restorana, barova i slastičarni. A u cijeloj toj četvrti oko San Marca samo su dvije samoposluge, jedna manja od druge i, čini mi se, jedna jedina pošta koju sam jedva pronašla.


Beyond Fortress Europe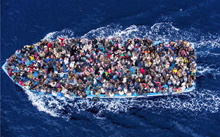 This article is part of the Eurozine focal point Beyond Fortress Europe.

The scale of the human tragedy afflicting migrants who seek entry to Fortress Europe has increased dramatically of late, triggering a new European debate on laws, borders and human rights. A debate riddled with the complex, often epic, narratives that underlie immediate crisis situations. [more]
"Venecija više nije grad u kojem se može normalno živjeti.," potvrđuje mi susjed, bankovni službenik koji živi u zgradi preko puta "naše". "Ujutro ne možeš na vrijeme stići na posao ili na sastanak jer je gužva tolika da se osoba mojih godina jednostavno ne može progurati da uđe na
vaporetto
. Cijela je infrastruktura podređena turizmu, od cijena u dućanima i restoranima do kazališnih predstave na engleskom jeziku i koncerata klasične muzike u crkvama gdje muzičari nastupaju u baroknim kostimima. Nekretnine su apsurdno skupe, a sve je manje samoposluga, škola, vrtića, ambulanti, bolnica."
Naravno, susjed je u pravu. U posljednjih pedesetak godina Venecija je izgubila 65 posto stanovništva i u povijesnoj gradskoj jezgi živi tek njih 23 posto , i to uglavnom onih starijih. Još prije samo nekoliko desetljeća u starom dijelu grada živjelo je 150 000, dok ih je danas jedva 40 000, a broj se i dalje smanjuje. Dijelom zato što je Venecija preskupa za život pa se njeni stanovnici sele u okolicu, na primjer u Mestre, a dijelom zato što nema posla za mlade i obrazovane. Venecija ima odlično sveučilište i mnogo mladih dolazi ovamo studirati, ali ne ostaju. "Ako ne želiš biti konobar ili sobarica ili pomagati starcima, nemaš baš mnogo izbora. A i te su poslove već preuzeli stranci, imigranti..." – rezignirano zaključuje susjed.
Ipak, ne treba plakati nad sudbinom stanovnika Venecije. Dio njih živi dobro od iznajmljivanja stanova, dio je prodao imovinu pa sada grickaju kapital. Međutim, činjenica je da je onima koji tamo žive – a stanovnici su sve stariji – život postaje sve teži. Treba preživjeti navalu milijuna turista godišnje, te mase koja se slijeva ulicama ovog prekrasnog grada sagrađenog na kanalima s uličicama koje su rijetko šire od tri-četiri metra. Venecijanci su i te kako svjesni da više ne žive u gradu nego u muzeju. Kao i da je Venecija sve manje stvarni, živi grad – a sve više muzej evropske prošlosti koji utjelovljuje sav sjaj, bogatstvo, moć, ljepotu i umjetnost davno prošlog vremena. Zato je i posjećuju milijuni turista. Industrija masovnog turizma prva je shvatila da treba unovčiti ne samo ljepotu nego i značaj Venecije kao muzeja na otvorenom.
Ovakva Venecija istodobno je upravo savršena metafora za Evropu kakva je bila nekad, onu Evropu u čiju se kulturu i vrijednosti Evropljani zaklinju, na koju su ponosni i koju bi željeli sačuvati.
*
Bari, grad na samom jugu Italije, pruža sasvim drugačiju sliku od Venecije. Još je toplo. Kraj je rujna, ali turista više nema. Nedjeljom navečer na Piazzi Del Ferrarese u starom dijelu grada slučajni će posjetitelj zateći stanovnike kako sjede na niskom zidu ili u kafićima piju pivo ili šeću trgom koji služi kao neka vrsta korza. Nekoliko tisuća ljudi okupljenih na trgu ostavljaju dojam kao da se svi međusobno poznaju, djeca se u devet navečer igraju lovice, tinejđeri se rashlađuju sladoledom, dok njihovi roditelji, pa i djedovi i bake, lijepo odjeveni stoje i razgovaraju, glasno gestikulirajući, baš kao u kakvoj sceni crno-bijelog filma Vittorija De Sice iz šezdesetih.
Ovo je živ grad. Ako je Venecija mjesto na kojem stara Evropa umire, Bari je mjesto gdje se rađa nova Evropa. Mjesto ulaska imigranata u Evropu.
U ljeto 1991., dakle prije dvadeset godina, doplovio je ovamo albanski teretnjak Vlora s više od dvadeset tisuća izbjeglica. Oni stariji vjerojatno će se sjetiti tog albanskog egzodusa preko Jadranskog mora, prije njihove "baršunaste revolucije" – ako se takva Albancima ikada i dogodila. Fotografija golemog teretnjaka prekrcanog ljudima tih je dana obišla svijet. Događa se da jedna jedina fotografija postane simbol nekog vremena ili povijesnog događaja. Tako je bilo s fotografijom usamljenog muškarca koji stoji ispred kolone tenkova koju je snimio Jeff Widener na Trgu Tien'anmen. Ili s onom gole vijetnamske djevojčice i njene braće opečenima napalmom Nicka Uta, s onom Eddija Adamsa, koji je u Sajgonu zabilježio trenutak smrti Vijektongovca kojeg iz pištolja ubija šef šolicije, ili pak s nedavno snimljenom fotografijom mučenja zatvorenika u Abu Ghraibu.... To je slučaj i s čuvenom fotografijom
Vlore
Luce Turina. Njegova izložba pod nazivom
Bijeg orlova
u povodu obilježavanja dvadesete godišnjice tog događaja, upravo je bila otvorena u foajeu kazališta Petruzzelli. Dok
Vlora
uplovljava, ljudi su natiskani na palubi i ogradi, a ljudski grozdovi vise s dimnjaka, s konopa, s jarbola. Na sljedećoj fotografiji, nadomak obale, već skaču u more i plivaju, kao da se boje da bi im kopno moglo pobjeći. A zatim, veličanstvena ali i zastrašujuća fotografija nepregledne ljudske mase, snimljene odozgo, koja se iskrcala na rivu i stoji pod suncem koje prži. Prizor mase od 20 000 ljudi "zamrznutih" u trenutku kada su se napokon dočepali čvrstog kopna doima se biblijskim.
Tih je godina u Italiju ušao val od oko 100 000 Albanaca – danas ih je oko pola milijuna. Posljednjih godina, nakon ulaska Rumunjske u Evropsku Uniju, ušao je i veliki val Rumunja, njih je gotovo milijun. Oko 10 posto Rumunja su Romi, koji su postali najnoviji žrtveni jarci evropske antiimigracijske politke. Zapad ih deportira i oduzima im dozvole boravka (Italija , Francuska...) – na istoku ih ograđuju u geto, premlaćuju i ubijaju (Slovačka, Češka, Mađarska ...).
Međutim, još prije samo pet-šest godina stranci u Italiji, a i u Evropi, nisu predstavljala toliki problem kao danas. Antiimigrantska, a posebno antimuslimanska, histerija intenzivirala se nakon objavljivanja kontroverznih karikatura proroka Muhameda 2005. a ozbiljne razmjere poprimila je 2008., s početkom recesije. Ljudi u Bariju su im bili skloni, pomagali su im jer iz toga grada i pokrajine Puglia krajem 19. stoljeća milijuni siromašnih Talijana emigrirali u Ameriku, obećanu zemlju, i tamo su se u toku dvije-tri generacije potpuno asimilirali. Stotinjak godina kasnije nekim drugim imigrantima obećana zemlja postala je Italija.
U posljednje vrijeme Bari je postao tranzitni grad za imigrante, ne toliko za ekonomske imigrante koliko za izbjeglice. Ovdje, u centru u blizu aerodroma, smješten je i dio najnovijeg vala od oko četrdeset tisuća izbjeglica pristiglih na otok Lampedusu iz Tunisa i Libije , kao posljedica političkih promjena u Tunisu i Libiji. Nove imigrante vlast smješta u jedan od centara za azilante – CARA – a zatim komisija odlučuje o njihovoj sudbini. U Italiji ima osam takvih CARA centara, trinaest centara za identifikaciju i izgon CIE, te sedam CPSA centara za prvu pomoć, a samo nekoliko komisija koje odlučuju o sudbini tih ljudi. Zato se Bari ovoga ljeta ponovo našao u središtu pažnje javnosti, upravo zbog izbjeglica, točnije zbog azilanata iz CIE. Početkom kolovoza na stotine njih izašlo je na ulice u periferiji, zaustavilo promet vlakova, potuklo se s policijom. Rezultat je 80 ozlijeđenih i 29 uhapšenih.
Raspitujem se kod novih poznanika o ovom slučaju. Okupljaju se svaki dan u vrijeme ručka u baru
Il Borghese
na uglu Via de Rossi i Corso Vittorio Emanuele: pravnici Dario Belluccio i Maria Pia Vigilante iz građanskog udruženja za pravne savjete imigranitma "Žirafa", urednica lokalnog lista Maddalena Tulanti, socijalna radnica Silvana Serini , Erminia Rizzi iz gradskog Ureda za savjetovanje imigranata. Dario, aktivist za ljudska prava, jedan od rijetkih koji ima pristup u zatvoreni centar za identifikaciju i izgon CIE, u koji je zabranjen pristup i advokatima i novinarima, kaže mi da se radi o specifičnom problemu: kad su pristigli Libijci, s njima je došao i manji broj ljudi iz Gane, Nigerije, Malija, Burkine Faso i još nekih afričkih zemalja, koji su godinama radili i živjeli u Libiji. Zakon nalaže da oni ne mogu dobiti status ratnih izbjeglica, kao Libijci, nego se prema njima postupa ovisno o zemlji porijekla, bez obzira koliko dugo živjeli i radili u Libiji. Zato oni nemaju šansu dobiti privremenu dozvolu boravka iz humanitarnih razloga. Problem nije samo u tome da se njihovi slučajevi vrlo sporo rješavaju nego i u tome što ih u međuvremenu vlast tretira kao najobičnije kriminalce. Uvjeti u kojima žive, lišeni prava na dodir s okolinom, gori je nego u zatvorima, kaže Dario. Izlaskom na ulice i izazivanjem nereda pokušali su ukazati na svoju nemoguću situaciju.
Među izbjeglicama na Lampedusi veliki je broj djece. Silvana se brine o maloljetnicima bez pratnje, to jest djeci izbjeglicama bez roditelja. Priča mi o dvojici braće, ratnim izbjeglicama iz Afganistana, koji su došli kao tinejđeri. Bili su nepismeni, a sada završavaju srednju školu i rade, kaže ona ponosno. Zatim vadi najnoviji broj tjednika
l'Espresso
s reportažom novinara Fabrizija Gattija pod naslovom "Dječji zatvor", o 225 djece i adolescenata zatvorenih mjesecima bez ikakve istrage, smještenim zajedno s odraslima u kampu CPSA na Lampedusi. Oni žive u teškim higijenskim uvjetima, bez minimalne pažnje, premda se radi o traumatiziranoj djeci od kojih su neka svjedočila ne samo pogibiji svojih roditelja nego su danima trpjela glad i žeđ. Na tom se otoku u šest mjeseci, od ožujka do kraja kolovoza, iskrcalo 707 djece, među kojima su i neka sasvim mala ili tek rođena na Lampedusi. Njihova je situacija još teža i neizvjesnija.
Don Angelo, svećenik u crkvi San Sabino (odmah pokraj gradske plaže koja se zove Pane e Pomadoro), najpouzdanija je adresa u gradu, kažu mi, kad je riječ o pomoći izbjeglicama. Bio je tek završavao sjemenište kad su se iskrcali Albanci, vidio ih je na rivi i stadionu, gdje je bilo zatvoreno 10 000 ljudi koje je vlast oslobodila tek nakon intervencije don Tonina (poznati pacifist i biskup Antonio Bello). Bio je i u humanitarnim misijama u toku rata u Bosni i na Kosovu.
Taj visoki, crvenokosi čovjek razoružavajućeg osmijeha, priča o "rasizmu institucija", o razlogu frustracije pobunjenika koji smatraju da su u svakom pogledu diskriminirani u odnosu na Libijce i Tunižane, pa čak i zbog boje kože. Potvrđuje Darijeve riječi da žive u nemogućim uvjetima, a k tome u potpunoj neizvjesnosti u vezi trajanja i ishoda pravne procedure kojoj su podvrgnuti. "Njihov je bijes zarazan, proširit će se i na ostale centre. Ovo više nije situacija u kojoj imigranti zahvalno primaju koricu kruha. a zatim šute i čekaju. Oni traže odgovor". I zaista, ogorčeni na tretman vlast prema njima, još prije nego u Bariju pobunili su se imigranti u Minei, zatim u Crotonu, ali i na sjeveru Italije. "Radi se o očaju, a ne o nekakvoj pobuni orkestriranoj izvana. Nevjerojatno da to vlastima nije jasno ," – kaže mi don Angelo.
Jaz između izbjeglica i vlasti jedna je strana problema. No pojavio se i jaz između stanovnika i izbjeglica. Naime, potkraj rujna došlo je do incidenta na Lampedusi. Stanovnici tog otočića koji je bliži Tunisu nego Siciliji, kojih ima nešto više od 5 000, u početku, u proljeće, izvlačili su utopljenike iz mora spasivši tako na stotine života i pomagali im da prežive. No nakon nekoliko mjeseci, nakon što se na otok iskrcalo najmanje 40 000 izbjeglica, sve je krenulo naopako. Stanovnici su se okrenuli protiv izbjeglica kad su ovi zapalili centar za prvu pomoć CPSA, u kojem je bilo smješteno njih oko tisuću, daleko više od kapaciteta centra, želeći na taj način primorati vlast da ubrza proceduru rješavanja njihovog statusa. U sukobu s policijom dvadesetak je ljudi ranjeno. Činjenica je da vlada ne ispunjava obećanje da će ih transferirati na kopno odnosno deportirati dovoljno brzo pa je, nakon nemira, gradonačelnik izjavio kako više neće dopustiti da se na otok iskrca i jedan izbjeglica. Tako je taj izolirani i zanemareni otok i sam postao neka vrste žrtve, taoca u makinacijama vlasti. Jer da bi običan ovdašnji čovjek u nekoliko mjeseci prošao put od solidarnosti do ogorčenja trebalo je negdje nešto poći sasvim krivo. Da bi isti oni stanovnici Lampeduse koji su prvi pružili pomoć i spasili na stotine utopljenika, dva mjeseca kasnije zasuli izbjeglice kamenjem i urlicima " bacite ih u more, oni su svi kriminalci! " – nešto se ozbiljno moralo promijeniti. Očito, ova mala otočka zajednica koja i sama živi u teškim uvjetima, ne može snositi toliki teret bez pomoći države.
A upravo o odnosu prema izbjeglicama pristiglim na jedan takav, mali, neimenovani otok i o sukobu načela humanosti i zakona govori i film
Terraferma
(Kopno) režisera Emanuela Crialesa, kojem je na filmskom festivalu u Veneciji dodijeljena specijalna nagrada. Gledala sam ga u Bariju dan poslije premijere . Na projekciji u 18.30 bilo nas je samo desetak gledatelja. Možda je bilo prerano za kino, možda je bilo prevruće, no možda je razlog slaboj posjećenosti to što se film bavi kompleksnom problematikom – i nije jedini.
Na otoku žive ribari. A kako se od ribolova ne može preživjeti, oni ljeti žive od turista. Kad na njihov otok more izbaci prve izbjeglice iz sjeverne Afrike, ta im činjenica zakomplicira život, kvari obiteljske odnose, nameće moralne dileme.... Ne samo da su izbjeglice "loša reklama" za njihov mali turistički raj – nego im namećeu probleme na koje nisu navikli i koje ne mogu razumjeti. Jedan ribar te dvojbe sažima na sljedeći način: "Je li moguće da nam država brani spašavati ljude iz mora? Cijelog života radili smo upravo obrnuto, pa ako je sada tako, onda je naš običaj iznad ovog zakona."
"Lijep i vrlo human film", neočekivano mi se obratio stariji gospodin na izlazu is kina. Ove je godine na Mostri bilo nekoliko filmova s istom tematikom, primjerice
Io sono
Li Andrea Segre,
Cose dell'altro mondo
Francesca Patierna i
Il villaggio di cartone
velikana talijanske kinematografije Ermanna Olmija. O problemima imigranata i izbjeglica puno se i piše, pišu ne samo poznati novinski komentatori nego i sociolozi, politolozi i pisci kao što su Gabriele del Grande ili Luca Rastello, da spomenem samo neke. Ali i pišu i same izbjeglice koje su ostale u Italiji, poput Elvire Mujčić, porijeklom iz Bosne, ili Igiabe Scego, čiji su roditelji iz Somalije. Čini se da je u Italiji socijalna, a pogotovo umjetnička svijest o izbjeglicama i imigrantima daleko veća od one službene konzervativne politike koja za zalaže za zatvaranje granica.
*
U Italiji još mnogi pamte egzodus koji je opustošio čitave dijelove zemlje, naročito početkom dvadesetog stoljeća. Talijani znaju da vrlo malo ljudi odlazi iz svoje zemlje, napušta svoju kulturu i jezik da bi otišli u nepoznato radi avanturizma. Oni emigriraju zbog nasušne potrebe, obično bježeći od rata ili ekonomske bijede, spremni da na putu u neizvjesnost riskiraju i život, baš kao danas pridošlice iz Sjeverne Afrike. Iz Italije je u posljednjih 150 godina emigriralo 18 milijuna ljudi, koliko broji stanovništvo evropske države srednje veličine. Emigrirali su ponajviše u Ameriku, više od pet milijuna ljudi, daleko više nego, primjerice, Iraca.
Koliko je dokumentiranje emigracije (i imigracije!) važno za povijest jednog naroda, ali i za razumijevanje njihovih razloga, vidjela sam u Rimu, u MEI , Nacionalnom muzeju emigracije. Smješten s bočne strane spomenika
Il Vittoriano
na Piazza Dell'Ara Coeli, ulaz u muzej je jedva zamjetljiv, a svakako nije jedno od onih mjesta na koje će hrpimice navaliti turisti. Tu dolaze uglavnom Talijani koji polako obilaze i razgledaju videoarhiv, biblioteku, sobe s izloženim izlizanim kovčezima i požutjelim brodskim kartama, s listama putnika i osobnim kartama i pasošima, s izblijedjelim fotografijama iz domovine , pa zatim prvim fotografijama pristiglim iz dalekih novih zemalja i kontinenata. Možda se ti posjetitelji prisjećaju predaka, možda traže njihova imena na popisima... Pisma, dnevnici, sportska udruženja, folklorne grupe – otkrivaju individualne priče o očaju i nadi tih siromašnih seljaka koji su s juga krenuli u posve nepoznat svijet, neki od njih sa jedva četrnaest godina, sami. Baš kao što to čine i danas neki drugi očajnici... Sve se to događalo prije samo nekoliko generacija, još ima ljudi koji pred kamerama svjedoče o drami odlaska, rođacima ili roditeljima koji stoje na obali i mašu sve dok se ne pretvore u točku na horizontu.
Dok sam razgledala MEI, sjetila sam se muzeja Berlinskog zida,
Museum Haus am Checkpoint Charlie
. Na tom mjestu posjetilac može vidjeti na koje su sve načine Nijemci a istoka pokušavali pobjeći u zapadni Berlin, opasan zidom dugim više od 140 kilometara. Neki od njih su posve nevjerojatni, od leta balonom do kopanja tunela ispod zida, do švercanja ljudi u automobiskom spremištu i bijega plivanjem.
U jednoj od scena na početku filma
Terraferma
, nakon potonuća krhke prenatrpane barke, na površini ostaju plutati pisma, fotografije, dokumenti, četkice za zube... Ne bi li trebalo skupiti te predmete, kao simbole identiteta, i izložiti ih u sličnom muzeju posvećenom izbjeglicama iz sjeverne Afrike? Ne bi li trebalo skupiti svjedočanstva o mukama onih koji su se ugušili u potpalublju, onima koji su pili urin da prežive i onima koji su preko ograde bacali žive ljude? Bio bi to, naravno, muzej posvećen patnji. Bez obzira odakle dolazile, izbjeglice to zaslužuju.
Zato mi je bilo drago kad sam,ni tjedan dana kasnije, u talijanskim novinama naišla na malu vijest: " Komadi drveta, obiteljske fotografije, stranice iz Kurana, cipele, kutije za hranu, kazete s muzikom...stvari spašene iz mora ili ostavljene na brodovima koji su prevezli na tisuće imigranata koji svake godine prijeđu Mediteran, sve se to nalazi u sobici veličine deset kvadratnih metara, jezgri muzeja izbjeglica koje su na Lampedusi stvorili dobrovoljci udruženja Askavusa." Osnovao ga je lokalni umjetnik Giacomo Sferlazzo u nadi da će se mnogi pridružiti ovoj inicijativi.
U muzeju MEI su i podaci o imigraciji: u Italiji je 3 891 295 imigranata ili 6,5 posto populacije. Podaci Caritas Migrantes su drugačiji: oko pet milijuna imigranata ili 7 posto populacije. Zanimljivo je – a to su mi potvrdili mnogi ovdašnji poznanici – da ovdje ne vlada islamofobija odnosno da strah od Muslimana nije sredstvo propagande, kao primjerice na sjeveru kontinenta. Međutim, aktivisti poput Don Angela i neki novinari upozoravaju da je na djelu jedna druga vrsta generalizacije – da se izbjeglice kao skupinu kriminalizira i u zakonu, ali u medijima. Vlast se načelno prema njima odnosi kao prema običnim kriminalcima, iako oni to ničim nisu zaslužili. Upravo je to jedan od razloga zbog kojeg se bune. A i to je problem, jer Evropa još nije naučila da se izbjeglice bune. Evropljani očekuju samo zahvalnost.
Posebno je zanimljiva uloga javne televizije u politici straha. Kako piše La
Repubblica
, prema podacima istraživanja koje je proveo Demos&Pi, vijesti o imigrantima u prva četiri mjeseca 2011. Zauzele su u Italiji (TG1) 13,9 posto informativnog programa. Za usporedbu, na francuskoj televiziji France 2 taj postotak iznosi 1,6, a na ARD 0,6 posto. No treba ipak napomenuti da se tih mjeseci odvijala tzv. "invazija" imigranata na Italiju. Međutim, ta količina vijesti nije odlučno utjecala na građane: prema istom izvoru, samo šest posto Talijana istaknulo je imigrante kao glavnu brigu, dok su to za njih 55 posto troškovi života. "Riječ je o potvrdi političke i medijske 'konstrukcije' nesigurnosti, koja uvodi i potiče 'strah od drugih" te povećava nesigurnost iz ekonomskih razloga i razloga (ne)zaposlenosti"- zaključuje autor Ilvo Diamanti.
Brojne su humanitrne i civilne organizacije, poput
Fortress Europe
, koje se zalažu za njihova prava i pružaju im vrlo konkretnu pomažu. Te organizacije uglavnom smatraju da će imigranti dolaziti bez obzira na sve restriktivnije, pa i nemoralne, zakone, bez obzira na podignute zidove i druge prepreke koje ih čekaju. Zato jer je tamo odakle dolaze još gore. Zbog toga bi i politika prema imigraciji trebala biti racionalna, a ne utmeljena na strahu, od čega profitiraju samo oni političari i partije koji obećavaju nemoguće. Za njih je strah od imigranata kvasac na kome rastu.
*
U Rimu izbjeglice žive u dijelu grada iza željezničke stanice Termini koji se zove Esquilino. Koliko je Esquilino drugačiji od ostalih rimskih četvrti u širem centru shvatila sam dok sam po Via Carlo Alberto hodala prema trgu Vittorio Emmanuelle. Ugledala sam prizor koji sam u Jugoslaviji zadnji puta vidjela možda prije pedeset godina: uličnog brusača noževa. Mladić tamne puti, stajao je nagnut nad velikim kamenim brusom (tocilom) i brusio nož ženi koja je pušila naslonjena na dovratak, čekajući da završi. Govorili su rumunjski.
Moja prijateljica Alessandra živi baš ovdje. Doduše, iz njenog stana s velikom terasom na vrhu peterokatnice ne vidi se ništa od vreve na Piazzi Vittorio Emanuele. Oko trga su dućani sa svime i svačime u kojima, izgleda, malo tko kupuje, a uglavnom su u vlasništvu Kineza. Ali čim izađe iz zgrade, nađe se među ljudima s drugih kontinenata, koji govore svojim jezicima i druge su boje kože. Ona sama udomila je malog dječaka iz Kameruna, ali ga je nakon nekoliko godina mama uzela nazad k sebi. Dok gledam Davidovu fotografiju na njenom radnom stolu, mislim na razlike između Evrope i Amerike: taj isti dječačić, da je slučajno u Americi a ne u Italiji, postao bi Amerikanac. U Italiji nikada neće postati Talijan, samo građanin Italije. Ni on ni njegovo dijete. Njegov vršnjak bijelac čiji su roditelji porijeklom iz Albanije ili Bosne, postat će Talijan, baš kao i njegovi potomci.
Alessandra je psiholog po zanimanju, radi kao volonter na projektima koji pomažu imigrantima da se prilagode i uključe u novu sredinu tako da nauče jezik, da se obrazuju, zaposle itd. Mora se reći da Fond za socijalno uključenje imigranata podupire cijeli niz takvih programa i aktivnosti. Pokazuje mi knjigu i DVD
La meta di me
(Polovica mene), rezultat jednog takvog projekta u kojem je sudjelovala, a koji se bavi drugom generacijom, odnosno djecom imigranata. Mnogo je takvih inicijativa. Na osnovi svog iskustva, ona misli da će ih većina ipak ostati u Italiji i da im treba dati priliku da i oni što prije postanu ravnopravni građani. Kaže da je politika prema imigranitma posve pogrešna. Ukinut je zakon o pridruživanju obitelji, što znači da su imigranti – ekonomski, kao i ratne izbjeglice – većinom mladi muškarci koji se susreću s mnogim problemima, od depresije do alkoholizma, narkomanije i kriminaliteta. Oni su, naime, lišeni motivacije i cilja. Samo preživljavanje nije dovoljna motivacija. I ponavlja ono što sam već čula, iskustvo Talijana u Americi: kad ljudima daš priliku da se etabliraju u jednom društvu, oni je obično iskoriste. Sigurno je da američki melting-pot nudi drugačiji model intergracije, ali je isto tako politika imigracije trebala počivati kako na načelu solidarnosti i humanosti, tako i na načelu obostrane koristi, kaže Alessandra.
Primjer takve obostrane koristi je upravo Elvira Mujčić, mlada žena koja je u Italiju dospjela kao izbjeglica iz Srebrenice s nepunih trinaest godina. Ona je danas, nakon što je u Italiji završila srednju školu i fakultet, uspješna mlada talijanska književnica, jer piše na talijanskom. Dok ručamo
melanzane alla parmiggianna
u restorančiću u Via del Boschetto, pričamo o identitetu. Ona ne vidi sukob između njenog bosanskog porijekla i činjenice da na talijanskom piše, pa čak taj jezik i govori bolje od materinjeg. U razgovoru se svako malo zbog toga ispričava. Identitet nije kruti kalup u koji upadaš ili ne. Baš suprotno, govorimo o tome da jedan, recimo bošnjački, ne isključuje drugi, talijanski. Voli bošnjačku hranu, ali voli talijanski jezik. Više ne bi živjela u kraju u kojem se rodila, i to ne samo zato jer u Bosni nema posla – osjeća da pripada ovoj sredini jer se tu školovala, tu živi, radi i voli.
Ipak, za nju je kao izbjeglicu bilo lakše da se uključi jer je Evropljanka. Teže je onima oko Piazze Vittorio Emanuelle, pogotovo ako dolaza iz drugih kultura i s drugih kontinenata. Ali i među njima ima uspješnih. Zanimljiva je priča o
Orchestra di Piazza Vittorio
. To je sada već prilično poznati orkestar koji iza sebe ima tri albuma, oko tri stotine koncerata po cijelom svijetu i jedan dokumentarni film. Njegovi su članovi muzičari iz Tunisa, Brazila, Kube, Amerike, Mađarske, Ekvadora, Argentine, Senegala, Indije i naravno, Italije- ali sastav se mijenja. Godine 2002. okupio ih je dirigent Mario Tronco kao dio projekta spašavanja kina
Apollo
.
Koliko god bila zanimljiva priča o njegovom nastanku, još je zanimljivije koju vrstu muzike sviraju. Jedne sam večeri u Rimu uspjela dobiti kartu za premijeru opere W.A. Mozarta 'Čarobna frula' u njihovoj izvedbi, u
Teatru Olimpia
. Te se večeri okupila krema lijeve, progresivne rimske publike – među kojom sam prepoznala i neka poznata lica javnog života – jer to je jednostavno bio događaj koji se ne propušta. Slučajni posjetilac koji bi ušao u dvoranu te večeri nemajući pojma o kojem se orkestru i djelu radi, doživio bi ga kao mješavinu koncerta i operne predstave. Svirali su mješavinu klasične i etno-muzike, jazza, popa, rapa, regea i mambe. Između nastupa tuniskog pjevača i solo dionica na arapskoj lutnji, afričkim instrumentu poput kora, djembe, dumduma, sabara – tu i tamo mogli su se čuti i ulomci iz Mozartove
Čarobne frule
kao što su popularne arije Kraljice noći, Papagena, Sarastra, Pamine. U ovoj izvedbi "opere" pjeva se na šest jezika: osim na arapskom, na portugalskom, španjolskom, njemačkom, engleskom i jeziku wolof. A ni priča ne teče prema libretu i završava posve neočekivano... Doduše ovo nije
izvedba
opere. Već nas i plakat upozorava da je riječ o interpretaciji:
Čarobna frula prema orkestru s trga Vittorio
. Mario Tronco i sam potvrđuje da se nikako ne radi o izvedbi cjelovitog Mozartovog djela: "Uzeli smo sebi veliku slobodu u odnosu na partituru, odabrali smo samo ono što je primjereno našem orkestru... Naša je izvedba puna referenci na druge kulture. Naši muzičari dolaze izdaleka, ne samo u geografskom smislu. Svatko od njih u ovo operu unosi svoju kulturu, svoj jezik..." Zaključuje da, dok Mozartova opera govori "kako je jednom bilo", izvedba Orchestra govori " kako će jednom biti".
Doista, te premijerne večeri kao da je Orchestra odškrinuo vrata u evropsku budućnost. Mozartova muzika je u samom središtu onoga što smatramo evropskim kulturnim naslijeđem. Vjerojatno bi većina Evropljana željela slušati savršenu izvedbu originalnog Mozarta u njihovoj izvedbi, to bi onda bio dokaz integracije. Njima ova interpretacija/adaptacija/improvizacija na temu Mozarta, ma kako dobro izvedena i zanimljiva, vjerojatno zvuči blasfemično. Međutim, vjerojatnije je upravo da će ne-evropski imigranti u Evropu donijeti i nešto svoje i da ćemo se sve više susretati s mješavinom kultura, pa i kad je riječ o Mozartu ili bilo kojoj drugoj evropskoj svetinji.
Ova je interpretacija pokazala da se pridošlice iz drugih kultura neće nužno sasvim prilagoditi našoj, dominantnoj kulturi, što se od njih očekuje – već da će kulturu koju zateknu, i to sve njene elemente, pokušati prilagoditi svojoj. Kako u umjetnosti tako i u životu. Nije isključeno da se, s porastom broja imigranta iz Afrike i Azije, uz hranu, muziku, odjeću i običaje neće promijeniti odnosno prilagoditi promjenama i – sami evropski zakoni. O tome će vjerojatno odlučiti statistika: što više njihov broj bude rastao, to će više mijenjati i prilagođavati našu kluturu – da li i zakone? – nekim svojim standardima. Koliko i kako Evropljani prihvaćaju te promjene govori činjenica da će, u današnjoj Evropi , rijetko tko glasno reći: da, to je istina – pa što onda?
*
Govoriti o integraciji i asimilaciji kad je riječ o imigrantima (a to su jedina dva modela o kojima se uopće govori) izgleda da ima smisla samo donekle, kad je riječ o pridošlicama iz Evrope, primjerice istočne Evope, kao što su to Albanci ili Bosanci, ali ne i Romi, iako i sami dolaze iz istog dijela Evrope, iako različite kulture i povijesnih okolnosti. Što s neevropskihm imigranatima, koji nadiru s juga, preko Lampeduse, Sicilije, španjolske obale, pa zatim s Istoka, primjerice iz Afganistana, preko tursko-grčke-bugarske granice, odakle ih zapravo dolazi najveći broj? I dok se Evropljni, oni koji su protiv i koji su za imigraciju, slažu oko civilizacijskog minimuma koje došljaci, pogotovo oni iz drugačijih kultura, ne bi smjeli prekoračiti – kao što su emancipacija žena, poštivanje ljudskih prava, demokracije i sl. – što s umjetnošću koja ih po definiciji – ruši?
Možda je ipak bolje biti svjestan kako će velikani poput Mozarta, Bacha ili Bethovena zvučati u budućnosti. Ali i kako će se promijeniti, odnosno kako su se već promijenile i mnoge druge tradicije do kojih držimo. Na primjer, proizvodnja murano stakla. Jer otočić Murano, čuven po svojoj proizvodnji stakla još od kraja trinaestog stoljeća, danas pruža tužnu sliku. Većina tvornica stakla je – zatvorena. Predmeti – nakit, figurice, zdjele, svjetiljke, držači za papir, čepovi itd. – koji se masovno prodaju u stotinama suvenirnica u Veneciji proizvedeni su u Kini. Da, uz ogrlicu ćete dobiti i certifikat da je to murano staklo, ali najvjerojatnije je u pitanju murano staklo made-in-China. Običan turist ne primjećuje razliku i ne pita se kako to da na otoćiću koji je posjetio dan prije i na kojem nema masovne proizvodnje stakla – mogu uopće proizvesti tolike količine murano suvenira. I kako tako divan stakleni prsten ili narukvica može koštati samo nekoliko eura? I najvažnije, kako to da je golema većina predmeta ista, kao naštancana? Jer na otočiću Muranu ručnom proizvidnjom ne mogu nastati dva ista predmeta, što je jedna distinkcija, a druga je finoća izrade njihovih proizvoda.
U to sam se osvjedočila u dućanu blizu mog stana, na uglu Calle Fiubera. Andrea, koji tu radi, odveo me u atelje iza dućana i pokazao mi razne predmete, od držača za papir do prekrasnog nakita. Kažu da je teško razlikovati originale proizvedene na Muranu od kopija iz Kine. Na internetu ćete naći upozorenja i upute kako ih razlikovati, ali naći ćete i oglase za murano staklo proizvedeno u Kini, što je naravno besmislica jer murano nije samo naziv određene tehnike proizvodnje stakla – murano je jedanko tako naziv staklenih predmeta proizvedenih na Muranu. Andrea je uzeo u ruku dvije narukvice. Jedna je bila savršene, precizne izrade, dok sam na drugoj uz malo truda mogla vidjeti da je gruba i neprecizna kineska imitacija. Očito, masovni turizam uzrokovao je preveliku potražnja koju Murano ne može zadovoljiti čak i da radi punim kapacitetom. A kako kaže Andrea, Kinezi nemaju isto shvaćanje originala niti moralnih dilema oko proizvodnje imitacija. No najviše me pogodilo kad je usporedio ogrlicu od
millefiori
perli proizvedenu u Muranu i onu iz Kine. Tada sam sa žalošću shvatila da je moja ogrlica kupljena dan prije u drugom dućanu – običan falsifikat!
"Opasnost od invazije" – kako evropski političari vole pretjerivati – nije samo u broju imigranata (uostalom, Kineza je u Italiji tek oko 200 000, a u Veneciji oko 2 000) nego i u ulaganju novca i kupovanju nekretnina. Novac donosi promjene daleko brže nego sami doseljenici. Kinezi su u Veneciji najprije pokupovali upravo male dućane koje su pretvorili u suvenirnice "murano" stakla i prodavaonice kožne galanterije. Zatim su pokupovali barove i restorane, a sada slijede i palače, koje pretvaraju u hotele.
Jedne večeri, dok sam se vozila
vaporettom
br. 2 od Ponte dell'Academia prema pristaništu San Marco na Riva degli schiavoni, primijetila sam da su tom dijelu Canala Grande cijeli dijelovi zamračeni. Goleme palače u mraku, bez daška života, kao da je život u njima posve zamro.To su ljetne rezidencije bogataša. Ali među njima ima i palača koje pripadaju gradu i koje grad rasprodaje, tumačila mi je prijateljica koja ovdje živi. Jer promjene očito dolaze na mnogo načina, ne samo s jadnicima koji uspiju živi doploviti živi do Lampeduse ili nekog drugog komadića talijanskog kopna, ne samo preko hrane, mode, običaja, muzike, nego i preko banaka, investicija, pranja novca, korupcije. I tako, dok Evropljani razmišljaju o budućim promjenama, o tome da li dići zid oko Evrope, što bi možda i učinili kad bi znali gdje joj je granica, o mjerama da zadrže imigrante na toj istoj imaginarnoj granici, o evropskoj kulturi i vrijednostima koje treba sačuvati, premda ih je globalizacija odnosno amerikanizacija već posve promijenila – dotle Kinezi nesmetano investiraju, kupuju palače u Veneciji s namjerom da ih preurede u hotele i tako na evropskom kulturnom blagu zarade još više. U usporedbi s financijskim investicijama Kineza koje su tek na početku – nota bene, ovdje to neki zovu pranjem novca! – strah od siromašnih muslimanskih imigranata u Francuskoj, Njemačkoj, i dalje na sjeveru iz venecijanske perspektive čini se gotovo patetičnim.
Prema riječima moga susjeda,Venecija se sve više pretvara ne u u muzej – kako se to meni romantično učinilo – nego u zabavni park poput Disneylanda u vlasništvu Kineza, od kojeg profitiraju jedino oni. Vjerojatno je u pravu. Sporije ili brže, legalnim ili ilegalnim putevima, s novcem ili bez njega , izbjeglice ili ne – imigranti pristižu. Dok odlazim iz Venecije sa svojom lažnom murano ogrlicom, slušajući Orchestra di Piazza Vittorio, pokušavam zamisliti kako će Mozart zvučati ne u izvedbi nego u adaptaciji nekog budućeg kineskog orkestra u Teatru Fenice u možda ne tako dalekoj budućnosti...
This article is a part of the international project "Mirrors of Europe", a series of literary reportages by authors from numerous European countries coordinated by the association
Project Forum
in Bratislava in cooperation with Eurozine.
Published 2012-03-15

Original in Croatian
First published in Eurozine

© Slavenka Drakulic / Mirrors of Europe / Project Forum
© Eurozine