On the campaign trail
Intellectum
seeks culprits for the Greek disaster;
Transit
,
Esprit
and
Ny Tid
follow presidential campaign trails in Russia, France and Finland;
New Humanist
says culture, not genes, is what got humans by;
Kulturos barai
raises the tone of the Lithuanian-Jewish debate;
Mittelweg 36
reads Kleist as prototypical propagandist of asymmetric war; and
Ord&Bild
portrays the artist as researcher.
Intellectum 8 (2011)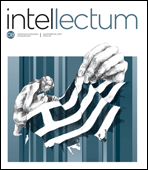 "Thanks to loans, Greeks have been living in a bubble. This bubble of consumerism, after the bubble of the stock market, was so big that they couldn't see reality." Talking to Intellectum (Greece), journalist Stelios Kouloglou argues that the media failed completely to inform the Greek public what was really going on in the build-up to the crisis. Now that it has struck, "everyone's against the IMF"; but for Kouloglou, the real culprit is the government.

Whereas the "economic hitman" in John Perkins' eponymous book (now a TV documentary by Kouloglou) went around the world coercing leaders to take out loans that they would later be unable to repay, and so be at the lenders' mercy, the Greek authorities needed no persuasion. The antiquated political system was to blame, says Kouloglou: "When a country produces less than it spends and has a corrupt system that fails to keep it on track, there's never going to be a happy ending."

Debtocracy: Those seeking insight into the Greek disaster would do well to watch the documentary Debtocracy (here with English subtitles), says Spyros Marketos. It explains economic issues once only discussed by the intelligentsia and politicians, some of whom relied on the confusion to progress their own careers. The Left in particular, says Marketos, could learn a lot from this film: "not just how to speak clearly, but also how to think clearly".

Sociologist and journalist Leonidas Vatikiotis, who did the research for Debtocracy, argues that "responsibility lies fully with the Papandreou government, the EU and the IMF, who have designed and imposed a policy of bloody austerity to combat the crisis, violating the popular mandate." Reflecting on Argentina, Russia and Ecuador, and highlighting the social fallout (suicides doubled in 2010 over 2009), Vatikiotis advocates default and Greece's exit from the euro and the EU. These have a social cost, he acknowledges, but it will undoubtedly be less than that now being paid "in exchange for a future that is uncertain if not worse."

Centre vs. periphery: Tracing the political and economic development of the European single currency from its inception and evaluating a range of economic proposals, Haris Peitsinis concludes that "without a supranational political structure the euro is doomed". He shows in hindsight how a "fissure" dividing Europe's periphery from its core grew to the point of disaster. Debt was a solution that could be paid for by the next generation and thus more popular than tax. However, "when a bank fails, the problem stops being purely economic and becomes deeply political. Bank vaults do not just contain the finances of millions of people, but also their fates."



The full table of contents of Intellectum 8 (2011)


Transit 42 (2011)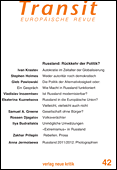 Politics has returned to Russia, discontented citizens are making themselves heard again and the regime seems weakened, even if alternatives are hard to discern. The new issue of Transit, released in anticipation of Russia's presidential elections on 4 March, enquires into the preconditions for system change in Russia, announce editors Ivan Krastev and Klaus Nellen.

Modernization: Plans to modernize Russia's economy are resisted by bureaucracies benefiting from the country's status as natural resource appendage of the developed world, writes Vladislav Inozemtsev. Dependency on energy exports hinders political and economic progress – so much is certain. But is high-tech the solution? Lack of domestic expertise combined with global competition makes the shift to a knowledge economy difficult. Instead, Russia must create new industrial sectors "oriented towards the end-user" and develop a niche in the global division of labour. Moreover, "the social base of modernization should be as broad as possible and not confined to groups of pallid, 'egghead' programmers and bloggers".

Failure to modernize is the result not of any "archaic quality of Russian culture" but the policies of the incumbent regime, not least its celebration of the Soviet dictatorship and stigmatization of the 1990s, argues Inozemtsev. "Innovation can be introduced only if looking back imbues fear. That is why the real modernization of Russia will begin when the country is on the brink of collapse and the Putin era is seen merely as a time when the country was exposed to greater larceny than at any period in the last few hundred years. For better or worse, it is unlikely to take place in the coming decade."

Democratic inertia: Russian civil society is not so much passive as aggressively immobile, writes Samuel Greene. Change threatens the relative affluence that, in the absence of social institutions, is the result of a unique set of circumstances. However comfortable alienation is becoming impossible to maintain, as the recent protests suggest. Nevertheless, pressure from the street is more likely to prompt greater authoritarianism than reform, predicts Greene. More probable is that long-term economic decline will encourage greater European integration and institutional make-over.

Politics of no alternatives: Former Kremlin "politechnologist" Gleb Pavlovsky talks in detail about the workings of political power in the former Soviet Union and in post-Soviet Russia.

The sense of an ending: In the current IWMpost, Stephen Holmes and Ivan Krastev argue that blatantly rigged elections are the easiest way for the Putin regime to mimic the authoritarian power it does not possess. December's protests destroyed Putin's reputation of being in control; even genuinely competitive elections would be unable to restore his legitimacy.



The full table of contents of Transit 42 (2011)


Esprit 2/2012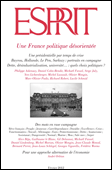 The presidential election campaign in France is being run on the basis of an untruth from which none of the candidates is immune, writes Marc-Olivier Padis in Esprit. All claim that their election as president will mark the beginning of France's recovery, when in fact the country's future depends to a large extent on what happens in Europe and globally. Yet, paradoxically perhaps, the only way to remedy a situation in which "our democratic life does not sufficiently tap into movements in society and the world" is by changing the head of state.

Presidentialism: Daniel Cohn-Bendit blames "presidentialism" for the excessive focus on the national in the current presidential campaign: "In presidential campaigns, the question of Europe only rarely comes up and the rest of the world is not mentioned at all. All that matters is how the candidate is going to be able to restore France's image once he or she has been given supreme power," he says in interview.

"The person who is elected is the president of all of the French, whether on the left or on the right. That means that, when there is a major crisis, everyone ought to be able to talk to him or her and that he or she ought to be able to hear everyone. But that's not what happens, because the president becomes the public enemy number one for the opposing camp. That creates a particularly acute problem when it comes to European policy, where it's important to arrive at a national consensus so that you can then defend your position at the supra-national level. That's what explains the current weakness of Nicolas Sarkozy's position by comparison with that of Angela Merkel, because she has had to face up to debates within her own parliament."

Hollande vs. Sarkozy: Serge July interprets François Hollande's reluctance to put his head above the parapet as a way of positioning himself as the "calm and serene candidate" facing a hyper-active president. Sarkozy, meanwhile, seems to be asking the French people to vote for him not on his record of the last five years, which is dismal, but on the series of reforms he is now rushing through. Still, Hollande must in due course make a stand both in his policies and his character.

Le Pen: All journalist who have met her agree – Marine Le Pen is nice. Her niceness is part of the "de-demonization" of the Front National, argues Michaël Foessel, as does her focus away from immigration on to the "invisible" victims of the crisis, which has allowed her to go fishing in the territories of the Left. Thus, at a time when an alliance between the National Front and the UMP cannot be excluded, "sincere adversaries of Marine Le Pen had better train the weapon of indignation back upon her".



The full table of contents of Esprit 2/2012


Ny Tid 6/2012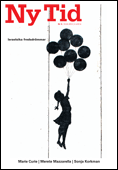 Earlier this month, former Finnish finance minister Sauli Niinistö was elected as the country's first conservative president in fifty years. But according to analysts there were other winners of the election, above all those longing for an atmosphere of openness and tolerance. The fact that the Green Party candidate Pekka Haavisto, who is openly gay, made it to the last round has been interpreted as a "revanche" after the populist and nationalist True Finns Party received almost 20 per cent of the votes in the 2011 parliamentary election.

"Well, maybe," writes Fredrik Sonck in Ny Tid (Helsinki). A certain optimism is called for, but at the same time there is no getting round the fact that Niinistö's clear victory is partly explained by "a general Finnish homophobia".

"It is hardly surprising that beside the more discussed xenophobia there is also a strong homophobic sentiment in Finnish society. On a basic level there are great similarities in the ways that homosexuals and immigrants are turned into the Other." More interesting, though, are the differences. While homophobia is a "pure distillate" of estrangement with respect to a different sexuality ("a feeling"), the social subordination of immigrants is based in economic, religious and structural factors.

"In the public sphere, homosexuality is actively approved of while multicultural ideas are only passively tolerated. This partly explains the differences between the parliamentary election in 2011 and the presidential election in 2012. The interpretation of the presidential election as a success for liberal values is based on the pre-election debate, which was very much matter-of-fact. It was impossible to articulate intolerance as something more than just a feeling. That does not mean, however, that homophobes were not moved by exactly such emotions as they cast their votes."

Also: Heidi Johansson talks to Israeli peace activists and settlers; and Peter Lodenius continues his series on European populism, this time focusing on the myth of Eurabia.



More about Ny Tid 12/2011


New Humanist 2/2012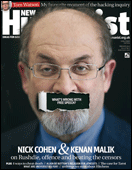 The development of the human "capacity for culture" was the defining moment in our evolution, contends Mark Pagel, professor of evolutionary biology. "Our cultures and not our genes supply the solutions we use to survive and prosper in the society of our birth; they provide the instructions for what we eat, how we live, the gods we believe in, the tools we make and use, the language we speak, the people we cooperate with and marry, and whom we might fight or even kill in a war."

Societies, Pagel argues, are "cultural survival vehicles" whose members treat one another as "honorary relatives" and in which rules exist for demonstrating "trustworthiness". Yet the fact that cultural allegiance is most vividly expressed not in ethical behaviour but aggressive parochialism suggests it has been instrumental in protecting human beings throughout their evolution. Here Pagel refers to humans' "melancholy" propensity to turn against outsiders and non-conformists. High culture, meanwhile, is the remnant of cultural forms recruited by "our ancestors" to shape and enhance group behaviour, he proposes.

"Perhaps the supreme irony of being a cultural species is that the cultural attachments that so strongly affect our psychology and behaviour arise as an accident of birth," adds Pagel pre-emptively. "Each of us might have been someone else with a different internal voice, customs, systems of beliefs and allegiances."

Free speech: When writers protested Salman Rushdie's forced absence at India's Jaipur Literary Festival in January (local Muslim activists had issued threats) by reading out passages from Midnight's Children, the organizers condemned their protest as an "unnecessary provocation" and threatened "consequential action". What a contrast to when The Satanic Verses appeared in 1988, writes Kenan Malik. "The organizers of the Jaipur festival belong to a different world, one in which the poet's work is 'to name the unnameable, to point at frauds, to take sides, start arguments, shapes the world and stop it from going to sleep' (the words of satirical poet Baal in The Satanic Verses) is seen not as self-evident but as shockingly offensive."

Also: Angela Saini argues that Fukushima has made nuclear power safer then ever; Stefan Collini talks to Laurie Taylor about the misère of higher education; and Caspar Melville quizzes popular philosopher Alain de Botton about his suggestion that an atheist "temple to perspective" be erected in the City of London.



The full table of contents of New Humanist 2/2012


Kulturos barai 1/2012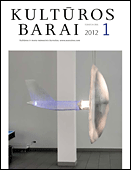 It is often claimed that Lithuanian-Jewish co-existence stretches back to the fifteenth century, but this is merely poetic hyperbole, writes musician and philosopher Zecharia Plavin in Kulturos barai: "Until well into the twentieth century, most Lithuanian Jews knew little either about Lithuanian culture or Lithuanian art. On the other hand, ethnic Lithuanians were unacquainted with Lithuanian Jewish culture, they understand nothing about the significance of the Talmud and Orthodox Judaism and were totally ignorant of Jewish politics. [...] 'Living apart' would be the most fitting description of Jewish-Lithuanian relations in Lithuania; living behind thick walls of misunderstanding and confusion that fragmented this beautiful country into enclaves of alienation."

The divisions persist. Lithuanian-Jewish public dialogue today, writes Plavin, is pointlessly acrimonious, revolving around whose guilt is heavier – that of Lithuanians who murdered or assisted in the murder of Jews in WWII, or that of Jews who joined the KGB and took part in the communist repressions. "I'm convinced," writes Plavin, "that inter-ethnic Lithuanian-Jewish debate should be replaced by inter-cultural dialogue. Lithuanians and Jews (as well as other historic Baltic people) do have noble spiritual and material heritage. This heritage should be explored for the benefit of all involved."

Oriental wisdom: Almantas Samalavicius visits the Indian village of Sewagram, where Gandhi spent the last fourteen years of his life. "Having spent a whole day, from sunrise to the sunset, in the spaces of Sewagram, I had an opportunity to realize the power embedded in an extremely simple architecture that serves the most elementary natural human needs. Bapu's tiny hut is in fact is extremely spacious, full of daylight. Moving around inside, one is not obstructed by pieces furniture or the other possessions that usually overcrowd our human dwellings."

Sad as it may be, reflects Samalavicius, the Gandhian philosophy of simplicity, sustainability and sobriety has too little following in post-communist Europe. The culture of scarcity that existed for half a century of Soviet rule turned many inhabitants into easy prey for a growing consumerist culture. "For two decades after the fall of regime, we were taught that unlimited consumption is a paradise on earth. We should not be surprised by a recent poll that showed that the majority of Lithuanians would choose economic wellbeing over national independence."



The full table of contents of Kulturos barai 1/2012


Mittelweg 36 1/2012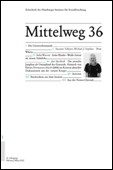 Heinrich von Kleist's play Die Herrmannsschlacht (1808) has generally been read as a national call to arms against the Napoleonic forces occupying Prussia. Jan Süselbeck, writing in Mittelweg 36, looks instead at the role of women in this "Germanic Jihad", re-reading Kleist's drama in the light of analyses of the "asymmetric wars" of recent decades. Focusing on Kleist's figure of the raped virgin Hally, pieces of whose dismembered corpse are sent as seditious "messages" to the Germanic tribes, Süselbeck explores whether "wars of liberation" are especially prone to making a fetish of women.

The propaganda accompanying western "military interventions" seeks to overcome the "gender gap" by placing images of femininity at the centre of the symbolism of liberation, Süselbeck argues; carpet bombing is justified as being all about the rights of women. "While Kleist's Hally is explicitly veiled in order to guarantee the emotionalizing functional force of a brutal and mendacious propaganda policy, the exoticized phantasm of the veiled woman in the age of asymmetric wars serves to justify the bellum iustum, for example in Afghanistan."

Poor whites: Racial tensions continue to simmer below the surface of contemporary South African society, writes Indra Wussow. Especially among the Afrikaans, the descendants of Boer settlers, there is a high level of unemployment; many of these people used worked in state-owned companies and blame the black majority for their social demotion: "With the poor whites, a group survived that already existed in the old South Africa – a group that still defines itself through its white skin colour and whose greatest fear is of being swallowed up in the black sea of poverty."

The whole population of poor whites in South Africa, who cannot survive without "helping hands", numbers approximately 500,000. The issue features an exhibition curated by Wussow documenting thirty individual stories of poor whites living in squatter camps through personal testimonies and photographic portraits.



The full table of contents of Mittelweg 36 1/2012


Ord&Bild 5/2011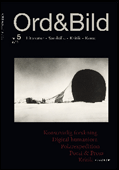 The new issue of Ord&Bild (Gothenburg) focuses on "Artistic research and development". This is a field of academic research that has boomed at Swedish universities in recent years. It takes its point of departure in the artistic process and its practice, often resulting in "dissertations" that mix text with other forms of intellectual report, for example exhibitions.

The artist as researcher often problematizes the very foundation from which the research emanates: the presumed objectivity of the "we" that is usually the subject speaking in scientific texts. That is certainly the case with the examples published in Ord&Bild, especially in Fredrik Nyberg's dissertation on "concrete poet" Ilmar Laaban (excerpted). Nyberg, himself one of the most interesting poets in Sweden today, invents a new character called "oiN" (the Swedish word for the figure nine reversed), which does most of the talking in this scientific analysis-cum-fiction-cum-poem-cum-autobiography.

Though impossible to quote, there is no doubt that Nyberg produces "new knowledge" (a buzzword in the field of artistic research), not only about Ilmar Laaban's poetry but about writing and reading in general.

Also: Tina Carlsson takes on Nobel laureate Harry Martinson; Lisa Ehlin defends the social usefulness of the "digital humanities" and the hacker as philologist; and Erik Andersson re-reads an article about S. A. Andrée's failed polar expedition that, more than eighty years ago, was declined by Ord&Bild due to its lack of heroic pathos – a fine piece of magazine history.



The full table of contents of Ord&Bild 5/2011





Published 2012-02-22

Original in English
© Eurozine