My girlfriend's earlobe
Magyar Lettre
widens the multiculturalism debate;
Soundings
provides a surprisingly positive perspective on the European crisis;
Arena
talks to Wendy Brown about identity politics, secularism and neoliberalism;
Mute
says the UK phone-hacking scandal will lead to less press freedom;
Mittelweg 36
examines the camp from WW I to Abu Ghraib;
Esprit
considers the role of chance in political decision making;
Reset
is embarrassed by the lack of a mosque in Milan; and
L'Homme
tells the story of the lieutenant nun.
Magyar Lettre Internationale 81 (2011)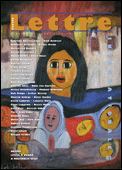 During communism, writes László Garaczi in Magyar Lettre Internationale, "if I wanted to write about my girlfriend's earlobe or my shoelace, it wasn't about my girlfriend's earlobe or my shoelace, but served to tease the authorities as a critique of socialist-realist themes and style, or as a manifestation of my bold stance. If I experimented with the depiction of private things anyway, [...] the other side scoffed too, annoyed that while the nation was groaning in the shackles of communism, I was bothered with my girlfriend's earlobe. The earlobe was simply ground up between the millstones of ideologies."

"Today's situation reminds me of the eighties," Garaczi continues, commenting on the increasing politicization of social life in Hungary in 2011. "In this atmosphere, compulsively and perversely imbued with politics, it is difficult to speak intelligently about the issues of the community, of the demos, to speak in hopes of a real dialogue. Even today, all public expressions necessarily take the form of an ideological argument and most probably end in hostility."

The Balkans: Author and journalist Lászlo Vegel is a Hungarian who lives in Novi Sad in the Vojvodina region of Serbia. In interview with Eve-Maria Kallen, he talks of being a member of a national minority and about the social-political factors prohibiting a liberal democratic culture in the former Yugoslavia:
It is a major problem to develop a new European culture in the Balkans. Perhaps countries like Germany and France also have difficulties in this area, but they are not so big, because there are institutions there and a civil society. With us, this bourgeois-individual culture is still very weak. The individual component is always played out against the collective, and thinking in the categories of the collective continues to dominate. This collectivist thinking is common to both communism and nationalism.
Multiculturalism:
Angela Merkel's comment in October 2010 that "multiculturalism had failed utterly" was more an attack on immigrants and immigration,
writes
Kenan Malik
; policy failures by multiculturalism's conservative critics are the real point of issue,
argues
Claus Leggewie
; the real "multiculturalist" danger lies in a security policy that places citizens under suspicion on the basis of their religion,
says
Cécile Laborde
. Also,
Kenan Malik
and
Fero Sebej
discuss "
Multiculturalism at its limits
".

The full
table of contents
of
Magyar Lettre Internationale
81 (2011)
Soundings 48 (2011)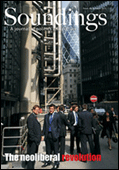 In
Soundings
, former European editor of
The Guardian
John Palmer
provides a surprisingly
positive account
of the current EU crisis: faced with the costs of the splintering of the euro, EU governments will, however reluctantly, have to agree to deepen not weaken integration, and will replace the present monetary union with an economic and monetary union and a
de facto
euro area government.
The disintegration of the euro area or even of the EU itself is not inconceivable. But there is still widespread public acceptance that the economic, social and political costs of EU disintegration would be dangerous. Most voters want to build on the achievements of the EU and even accept that the Union needs the powers necessary to function effectively.
A Berlusconi of the Left?
While international media have reported in great detail the sex and prostitution scandals engulfing the beleaguered Silvio Berlusconi, they seem to have completely missed the rise of a potential new leader of the Left: Nichi Vendola, the volcanic governor of Apulia, who, because of his media savviness and televized charisma, has already been dubbed the "Berlusconi of the Left".
"Combining in the same eclectic persona the identities of (post-)communist, gay and Christian, the ear-ring-wearing, poetry-enthusiast Nichi Vendola has been one of the very few success stories in the Italian Left in recent years," writes Paolo Gerbaudo.
Key in Vendola's surprising political rise has been the adoption of innovative political communications. A pioneer of "politics 2.0" in Italy, "he has used YouTube to broadcast video messages and has gained impressive visibility on Facebook, where, thanks to 416 000 friends, he has recently become the most 'liked' politician of the old continent (the second being French president Nicholas Sarkozy!)."
Vendola does not yet seem capable of offering solace to the desperate soul-searching of the Italian Left, Gerbaudo concludes. "But he does offer an effective tactical solution to counter Silvio Berlusconi's dominance in the realm of mediatized politics. This is no small achievement."
Also:
Several readable contributions on "the neoliberal revolution", most interesting perhaps Stuart Hall's documentation of the processes of this global project.

The full
table of contents
of
Soundings
48 (2011)
Arena 4/2011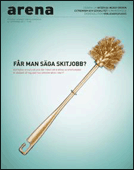 In interview, well-known post-Foucaultian political scientist and feminist Wendy Brown talks about identity politics, new secularism and neoliberalism. Asked by
Arena
whether the neoliberal hegemony will last much longer, she ironically notes that the Left always used to nurture the hope that the downfall of capitalism was imminent. But when this was actually about to happen – during the financial crisis in 2008 – states and governments around the world did everything they could to save it, showing how intimate the relationship is between the state and neoliberalism.
Given today's global interdependencies I can't imagine that anyone is in the position to suddenly implement an alternative economic order. I don't know how much longer the financial system and neoliberalism can continue to bankrupt themselves and the world, but if the financial system does crumble I fear that it will be very violent. And the violence will above all be directed towards the weakest. There are already signs showing in this direction; the rise of a rightwing populism that projects all economic problems on immigrants and articulates different kinds of fascism.
Sexual politics:
In a themed section on sexual politics, journalist Anna Hellgren notes that sexuality has become a new conflict zone in the EU – and it's the conservative and radical conservative politicians that have the upper hand. In the shadow of newspaper headlines about financial crises and multiculturalism debates there is a low intensive war going on, waged against gays, lesbians and transsexuals especially in eastern and southern Europe, writes Hellgren.
When thousands of hooligans turn Belgrade into a battlefield to show their loathing for LGBT persons it makes the news. But the fact that Hungarian gays, lesbians and transsexuals are forced to live on the fringes of society out of fear for violence, or that Italian LGBT persons are forced to emigrate does not receive the same attention. When did you last hear Sweden's conservative foreign minister Carl Bildt argue for free choice? Or Germany's Angela Merkel defend the freedom of speech and movement of LGBT persons?
Also:
Slavenka Drakulic
on the
collective responsibility
that remains after Ratko Mladic has been sent to The Hague.

The full
table of contents
of
Arena
4/2011
Mute (metamute.org)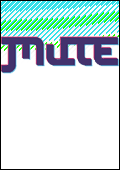 On 10 July, Britain's best-selling newspaper
The News of the World
, published since 1843, was closed after it was revealed that the Murdoch-owned paper had intercepted and deleted the voicemail of missing British teenager Milly Dowler, who was later found murdered. The phone-hacking scandal hasn't only revealed the true sleaziness of Britain's establishment, but also the resounding hollowness of a post-ideological elite held together by little more than self-interest, writes
James Heartfield
on
Mute
's website
metamute.org
.
The News of the World made many enemies for its muck-raking and reactionary campaigns, even before it was investigated for breaking into the phone accounts of hundreds of politicians, celebrities and even murder victims and their families. It was by July 2011, in Rebekah Brooks' words, 'a toxic brand'. Still, those who take pleasure in the police investigation into and closure of The News of the World, or who look forward to a 'reform of the press' coming out of Lord Leveson's Committee of Enquiry, are missing the point. However reactionary News International's role in the British political scene has been up until now, the working through of the scandal can only lead to a much more state-regulated and unfree press.

More on
Mute
Mittelweg 36 4/2011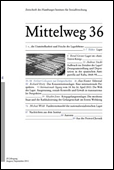 The repressive potential of the modern state first unfolded in the so-called concentration camps of WW I, writes Alan Kramer in
Mittelweg 36
: "Just as the industrialised mass killings of the war, the development [of the modern camp] constitutes a watershed, a breach of civilization that changed political culture for good."
Inclusion and exclusion:
In an historical and transnational overview,
Richard Overy
describes
the camps' central political function as that of inclusion and exclusion: "The principal difference between camps and camp systems lies in the variety of political motives that produced them", he writes. In democratic systems they tend to be the "product of contingent pressures (war, civil war)" and are therefore temporary; while the camp systems in dictatorships like the Soviet Union and Nazi Germany "became permanent, institutionalized and dynamic. They reflected the nature of the dictatorships which spawned them, and defined the evolving social and political goals of the regime by conceptualizing the 'other' and reinforcing the desire to belong among the rest of the population." This "inclusive" effect was central to camps like the "Reichsarbeitsdienst" or the Komsomol youth movement that aimed at raising collective racial or social consciousness.
"The 'camp' as a site of exclusion and social protection, or even of inclusion," Overy concludes, "developed its own dynamic as a practical solution to the problem of creating visible separateness and ending any putative threat from the defined outsider. The camp reflected political and social insecurities, and a public discourse of fear, part real, part sustained by regimes built on warring ideologies. There are lessons here for today's orchestrated anxieties about terror, refugees, asylum-seekers and anarchism."
Fragile democracy:
"What remains after ten years 'War on Terror'?" asks
Bernd Greiner
in an analysis of contemporary US camps such as Guantánamo and Abu Ghraib: "First of all the realization of how fragile and vulnerable democratic structures and procedures can be in a state of exception. That in case of doubt the law is a political nuisance factor that can be suspended anytime because power is above the law."

The full
table of contents
of
Mittelweg 36
4/2011
Esprit 8-9/2011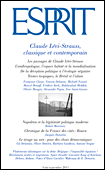 Esprit
has a wide-ranging section devoted to the father of modern anthropology, Claude Lévi-Strauss, who died in October 2009. The articles cover his views on politics, literature, Islam and the links between structuralism and the social sciences.
Yves Saint-Geours situates Lévi-Strauss' first encounter with Brazil in the context of western philosophy's response to the discovery of other societies, beginning with the realization by Montaigne and Jean de Léry that such a confrontation posed as many questions about western society as it did about the "noble savage". For Lévi-Strauss, the experience of his, albeit brief, time with the native people of the Mato Grosso likewise suggested to him a Rousseau-like search for self-knowledge and a theory of society that was not only the source of his masterpiece
Tristes Tropiques
, but the very foundation of his approach to ethnology.
The element of chance in politics:
A second collection of articles considers the possibility of deliberately introducing, into political and social decision making, an element of chance in the form of the drawing of lots or "sortition". The approach seems counter-intuitive: these things are far too important to be left to chance! And yet, Gil Delannoi shows that, for Aristotle, it was the standard procedure for democracy.
Delannoi examines the uses, procedures and implied principles of sortition, arguing that it is the objective of the procedure rather than the mechanism itself that determines whether it is appropriate for selecting personnel, designating groups or distributing whatever may be in short supply.
"Sortition can be a political, social or economic instrument," Delannoi concludes. "It may be used in a way that is democratic and liberal or elitist and demagogic. It can serve the purposes of consultation, deliberation, execution or distribution. Applied to a limited and previously carefully qualified pool of candidates it can be aristocratic or meritocratic. Applied to all, or nearly all, it will be democratic. Its use may be exclusive or hybrid. These necessary distinctions need not prevent us from summing up its aims and its effects in the slogan: impartiality, equality, serenity."

The full
table of contents
of
Esprit
8-9/2011
Reset 126 (2011)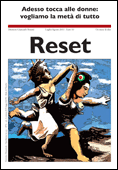 In
Reset
, Stefano Allievi enters the heated debate over the building of a mosque in Milan. If there is anything that western civilization can be proud of it is its capacity to "widen the sphere of freedom and rights", he writes. These are landmarks of western public spheres, "non negotiable" principles that give meaning to the history of the West. "However, the West itself – and continental Europe in particular – does not seem to be able to put its founding principles and ideals into daily practice."
Allievi, professor of sociology at the University of Padua and an expert on Islam in Europe, says that there is no issue where this becomes more obvious than in the debate on Islam. Every time a new mosque is about to be built in Italy "entrepreneurs in political fear" open up "endless discussions that eventually lead to real conflict".
In fact, there are only three proper mosques in Italy (out of 764 so-called prayer rooms). And in Milan there is none. There is no other European city of Milan's size that does not have at least one mosque, writes Allievi, envisioning the scenes at the upcoming Milan Expo 2015: "It will be embarrassing to watch as the many thousand expected Muslim visitors find out that there is no space for them in civilized Milan, a city described as the moral capital of Italy."
Also:
Reset
meets some of the hundreds of thousands of women who rallied in Rome and other Italian cities on 13 February 2011, incensed by Silvio Berlusconi's sex scandals; and Charles Taylor on "the fears and lies of Europe".

The full
table of contents
of
Reset
126 (2011)
L'Homme 1/2011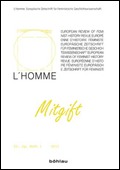 In
L'Homme
, Isabel Hernández analyses the astonishing autobiographical account of the seventeenth century nun Catalina de Erauso: After having been forced by her family to enter a convent, she seized the first opportunity to run away and embarked on a long voyage. Dressed as a man, she travelled through Spain and then set off to South America where she enrolled in the Spanish army and actively participated in the colonization of the Americas – "entirely a masculine realm", as Hernández puts it:
Her autobiography itself transgresses and subverts traditional writings by women: It not only goes beyond gender boundaries to seek a masculine perspective, but it is also structured upon a tension between her different identities, and also upon the impossibility of being able to distinguish between the two: her own characterisation as the lieutenant nun is in itself a hybrid, masculine and feminine at the same time. The reader is confronted here with a tale that is always surrounded by doubt, and with an oscillating flux, a constant coming and going from one place to another: a tale that aims to represent an "identity in process, on the run".
Female property rights:
A themed section discusses "Dowry" from diverse historical and geographical perspectives – from medieval Venetian to twentieth-century Nigerian practices – showing, as editors Karin Gottschalk and Margareth Lanzinger sum up, a general pattern: the dowry constituted a kind of security for the woman, in case of being widowed or if the marriage was otherwise terminated.
"A law which at first glance put women at a disadvantage when it comes to access to property and wealth, could actually entail consequences which pointed to the opposite and gave women a certain (negotiating) power. [...] In order to be able to appreciate the pecuniary circumstances of women an extended perspective is required that does not only focus on full property rights."

The full
table of contents
of
L'Homme
1/2011


Published 2011-08-31

Original in English
© Eurozine