Stolen history (and other projects)
Together with A Prior Magazine the Eurozine Gallery presents four projects by Daniel Knorr. This, writes curator and critic Dieter Roelstraete, is an art "wholly woven into the bodily fabric of everyday life, of a relentless and vital physicality".
Stolen history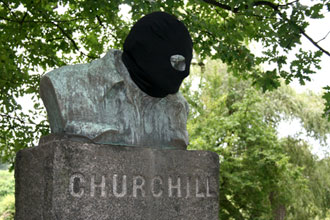 Public sculptures in Copenhagent are at the centre of this work, which took place in the first 24 hours of the
U-Turn Quadrennial for Contemporary Art
in 2008. In the morning of the opening day of the festival, monuments of historical personalities and modern representations of human figures were covered with balaclavas. In the evening and the following day, the sculptures and the monuments were "set free" by unveiling the covered heads.

View the project
Stolen history
.
The Antwerp six or seven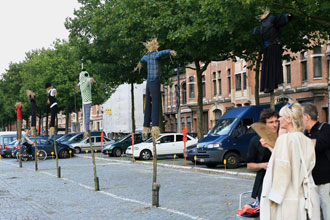 Seven scarecrows dressed in the clothes of the most renown fashion designers from Antwerp (the Antwerp 6). The scarecrows were on display on a city plaza as part of the
Antwerp Sculpture Show
in 2008.

View the project
The Antwerp six or seven
.
Nationalgalerie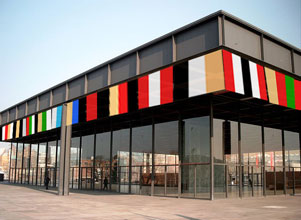 The banners of 59 student fraternities in Berlin hanging from the roof of Mies van der Rohe's Neue Nationalgalerie.

View the project
Nationalgalerie
.
Carte de Artist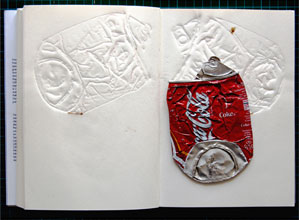 In the process of mapping the city, Knorr collected pieces of rubbish on the street. The material was then interleaved into the blank pages of books and pressed by a 200-ton press, embossing the objects into the paper itself.

View the project
Carte de Artist
.
Essay
Dieter Roelstraete
Daniel Knorr's bare necessities
Daniel Knorr's work can described as a conceptually inflicted practice of very immateraial ideas, writes Dieter Roelstraete. "His is an art predicated on the immediate experience of the irreducible materiality of all thought, on the crafty mining of those ideas that lie dormant in matter, clutter, stuff."
[ more ]
About the artist
Daniel Knorr was born in 1968 in Bucharest, Romania. He currently lives in Berlin, Germany.
Solo exhibitions
2004
Agents
, Rote Zelle, Munich
2005
European Influenza
, Padiglione Romania, 51
st
Biennale, Venice
2006
¡Extranjero ven a votar!
, Studio Protokoll, Cluj-Napoca
2007
1 Year Warranty
, Skulpturenpark Berlin Mitte, Berlin
2008
Scherben bringen Glück
, Kunsthalle Fridericianum, Kassel
2008
The way politics influences art and vice versa
, Fondazione March, Padua
2008
Awake Asleep, Borges Bookstore
, Guangzhou; Fei Art Center, Shanghai; space e6, Shenzen
2009
Block
, Artspace, Auckland
2009
Led R. Nanirok
, Kunsthalle Basel
2009
Awake Asleep
, Museum of Modern Art, Warsaw
Upcoming 2010 Färgfabriken, Stockholm
Group exhibitions
2004
Love it or leave it
, 5
th
Cetinje Biennale, Cetinje
2005
Ortsbegehung
, Neuer Berliner Kunstverein, Berlin 2005
ADAM
, Smart Project Space, Amsterdam
2006
Chocolates
, Museo de arte Carrillo Gil, Mexico City
2006
Mafia or an unopened pack of cigarettes
, Standard, Oslo
2007
Beneath the Underdog
, Gagosian Gallery, New York
2007
Bodycheck
, Triennale für Kleinplastik, Fellbach
2007
Democracy-art-publicness
, Spatiul Public Bucuresti, Bucharest
2008
When things cast no shadow
, 5
th
berlin biennial for contemporary art, Neue Nationalgalerie, Berlin
2008
Principle Hope
, Manifesta 7, European Biennial, Rovereto
2008
U-Turn Quadriennal for Contemporary Art
, Copenhagen
2008
Periferic 8
, Bienniale, Iasi
2008
Antwerp Sculpture Show
, t'Zuid, MuHKA Antwerpen, Antwerp
2008
Between the Images
, Xposeptember Festival, Stockholm
2008
Afterthought
, IrmaVepLab, Reims
2009
Reading the city
, EV+A Exhibition of Art, Limerick
2009
Try to make a simple Gesture
, Trafó Galéria, Budapest
2009
Scenario 6
, Fake or Feint, Berlin
2009
Viva l´Italia
, Galleria Astuni, Bologna
2009
Various Platonisms
, Galerie Elisa Platteau, Bruxelles
Upcoming 2010
The promises of the past
, Centre Pompidou, Paris
Private collections
Ex Privato
, Collection Tullio Leggerri, ALT Arte Contemporanea, Bergamo
Published 2009-10-29
Original in English
Contributed by
A Prior Magazine
© Daniel Knorr / A Prior Magazine
© Eurozine