Art is a pleasure technology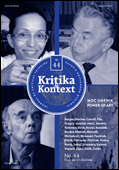 Slovak magazine Kritika & Kontext devotes an issue to "art power", inviting philosophers and writers to answer the question: Why do people spend so much energy and time on art? "To some authors," write the editors, "art is a pleasure technology, like drugs, erotica or fine cuisine, a sort of cheesecake for the mind. To others, art is an adaptation mechanism, enabling human evolution."
Ladislav Kovac belongs in the second camp: "We are programmed by evolution to seek the causes of everything, but an individual human being is usually only capable of identifying three or four causes of any particular phenomenon or event. […] We express our understanding in concepts, but each of our concepts is an extreme simplification. We unavoidably gather into one concept a multitude of independent entities, which are sometimes similar or related, but often have nothing in common, and the fact that we include them in one concept does not clarify our view of the world, but rather obscures it. This also applies to the concept of 'art'."
For Zinovy Zinik, art is neither evolutionary survival mechanism nor higher entertainment, but something existential: "The easiest and most primitive way to feel alive is to inflict pain on others or suffer from the pain the others inflict on you. To avoid this homicidal state of affairs, we should find the point of view that enables us to see the limits at which our life ceases to be a piece of fiction. Nobody is better equipped for this task than novelists. The art of fiction makes us feel again the boundaries of reality."
Rorty: Christopher Voparil discusses reasons for Richard Rorty's "literary turn" and definition of the novel as "the characteristic genre of democracy". A central preoccupation of Rorty's was, as he himself put it, "how we treat people whom we think not worth understanding". Rorty's stance, writes Voparil, "is quite explicitly a turn away from Kant, and more generally away from the idea that morality is a matter of applying general principles". In the context of marginalized groups, Rorty "understands that moral progress depends upon expanding the reach of this 'we' […] so that 'a voice saying something never heard before', including claims about injustices that may not be perceived as injustices, can be heard."
The full table of contents of Kritika & Kontext 44 (2011)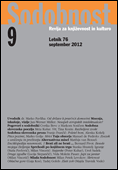 Ruthlessness and egocentricity are the vices bringing about "the disintegration of the constitutional state" in Slovenia today, cries Marko Pavliha in Sodobnost. The precondition of a healthy state is its ability to enable an economically satisfactory and morally wholesome life for its citizens, whose fundamental rights and freedoms it protects. Unfortunately, just the opposite is the case today, as fractious and envy-riddled politics erode people's confidence in the democratic system.
It was activists from the cultural sphere who provided the first initiative for independence and democracy after communism, recalls Pavliha: in 1987, artists, poets and writers published an article in the journal Nova Revija proposing the instatement of a multi-party system. Without Slovene culture and cultural workers, there would be no independent Slovenia. Yet this fact was not enough to preserve the Slovene Ministry of Culture, which last year was merged with the Ministries of Education, Sport and Science, in a massive cost-cutting effort (see editor Evald Flisar's recent commentary).
Degeneracy: A daring hypothesis by Bostjan Zupancic attributes the current crisis to a generation of pre-Oedipal men who, despite lack of culture and ideas and an interest only in power and influence, tend to land the top positions. But would a more intellectual type be capable of reviving Slovene society, asks Zupancic, reinstating its faith in a constitutional state? If we were to travel back to speak with Cicero, author of the Roman constitution, we would see that ethics always prevails over law, he writes.
Disappointment: Cvetka Bevc talks to writer and theatre director Marko Sosic about his most recent literary work Ki od dalec prihajas v mojo blizino ("Who come from afar to be near to me"), in which the author faces his past through the lens of the protagonist, Ivan Slokar, a Slovene living in Trieste. Sosic reveals that his novel stems from two decades of disappointment at "the increasingly expansive and violent hegemony of the boundlessly bogus western model of the world" and the incessant return of unwanted memories. Uncovering the atrocities of the protagonist's past, which he has tried to repress and forget, "raises a question about our collective relationship to the world and to memory".
The full table of contents of Sodobnost 9/2012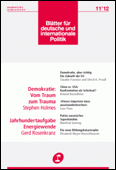 "Post-communist countries have joined the rest of the democratic world in that their problems with democracy resemble ours more and more". Analysing the dysfunctions of contemporary democracy, Stephen Holmes argues in Blätter that structural problems in conventional systems of political representation are alienating citizens worldwide.
Electoral marketing replaces a political public sphere while cross-party compromises undermine justice; the corrupting influence of power separates politicians from the electorate as global labour markets and the privatization of armies remove all necessity to seek popular consent. "The few are willing to share power and wealth with the many only when the many voluntarily cooperate with the few in their war-making and profit-making."
These processes have fatally weakened democratic mechanisms of accountability, argues Holmes: "In a way, liberal democracy arose in the struggle of the many against oppression and exploitation by the few. Once the few abandon oppression and exploitation and withdraw into bubbles of super-prosperity to conceal and enjoy their stolen wealth, the old democratic methods used to defeat oppressors and exploiters may prove to be entirely or mostly useless."
Liao Yiwu: On 14 October the Chinese dissident and writer Liao Yiwu received the Peace Prize of the German Book Trade. Liao's poem "Massacre" is perhaps the best known artistic response to Tiananmen; in 1990 he was imprisoned for four years for spreading "counter-revolutionary propaganda". Since leaving China unauthorized in 2011 Liao has lived in Germany. Blätter publishes his acceptance speech, a counter-history of national-territorial expansion and augury of imperial "break-up":
"One's hand may tremble the first time one murders, however the more one kills the guiltier one is and the more deftly one swings the sword – and with every death blow the economy improves. One might say that without the Tiananmen massacre there would be no political reforms that teach us to love money rather than our country."
The full table of contents of Blätter für deutsche und internationale Politik 11/2012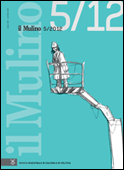 Italian journal Il Mulino looks at possible future models of European capitalism in the wake of the launch of rescue funds at the beginning of September. "The European Central Bank's decision to buy government bonds in unlimited quantities – but according to precise and rigorous conditions – has given a jolt to the climate of indecision that paralysed Europe for months," writes Gian Enrico Rusconi. Yet Germany remains at odds with Mario Draghi's initiative. The Bundesbank opposed it explicitly and the German press was highly critical. Only Angela Merkel could sense that the tug of war between Germans and Europeans was going nowhere other than resulting in a fatal paralysis of European institutions.
Populism: After the important decisions taken in September and the ruling of the German constitutional court that paved the way for the European Stability Mechanism, the way out of the impasse no longer seems paved with good intentions, suggests Claus Offe in interview. The risks of a populist advance in various European countries are serious and ought not to be underestimated. "What is absolutely necessary, obligatory, even, in both economic and moral terms, to stabilize the euro, is impossible in terms of internal politics."
Political economy: Lucio Baccaro analyses the "seismic instability" of both American and German models of capitalism. "Even in their differences, they have in common the erosion of institutions, particularly trade unions and collective bargaining, which formerly enabled balanced growth ensuring the transfer of earnings from productivity to salaries and domestic demand. In the American case, the instability of the model of accumulation is shown in growing private debt. In the German case, the lack of distribution of productivity earnings has created problems not for Germany (at least for now), but for the peripheral eurozone states."
The full table of contents of Il Mulino 5/2012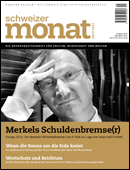 "One needs to see in the act of giving something like a gesture of ontological trust, which from afar resembles the farmer's field: sometime, somehow, the donation will yield a crop." Talking to Schweizer Monat, Peter Sloterdijk outlines his understanding of the relationship between giving and taxing. Ever since the French Revolution, he argues, society has "veiled the generosity" of taxpayers, who never receive gratitude for their "sublime" gesture. Instead, taxpayers have a guilty conscience: they suspect they have "purchased absolution at too low a price".
"I'm referring to the psycho-political misconstruction of the modern taxation state, which deceives its citizens chronically and systematically, insofar as it forces them into a position of utmost passivity and indignity, into impotent toleration, at the moment they contribute most to the common good, in other words give money to the state. The state thus deprives those who enable it of the satisfaction they deserve as its sponsors."
So how should the state's "donors" be seen? "In reality, those who give should be understood as the upholders of civilization, who take part in a noble competition – nobility can't be conceived without competition. […] In general, it's a question of developing a stronger sense of 'donorhood' among all participants in the financial metabolism, be it fiscal or extra-fiscal, a sense liberated from the prevailing climate of guilt and resentment."
The full table of contents of Schweizer Monat 11/2012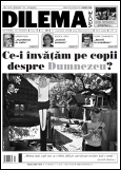 Reading Mircea Cartarescu's recently published diary Ochiul caprui al dragostei nostre ("The brown eye of our love"), one gets the impression of an "anxious, dissatisfied and depressed" person, writes Marius Chivu (450). In interview, Cartarescu declares that writing serves as a kind of psychotherapy. "I write to find out what my brain is about and what my brain can achieve." However, in the course of the conversation, the image of a depressed author fades. Cartarescu only mentions explicitly three dark periods in his life:
"The hunger, cold and humiliation that reached a climax between 1983 and 1989; the transition to the Iliescu regime in the 1990s (with the miners' demonstrations on University Square, rampant inflation, the tyranny of the majority); and this terrible summer, July and August 2012, when the law was deformed, stretched and ripped apart like modelling clay by a bunch of unscrupulous adventurers."
Pessimism: The course of history may always be spiral-shaped, but Adrian Cioroianu has the sense that the spiral of Romanian history is moving only downwards (451). He asks what "Romania is lacking on order to be a perfect country" and concludes that it needs "a person, an event or an earthquake to stop the decline".
Paranoia: Valeriu Nicolae sees typical symptoms of paranoia when he looks at the Romanian state (452): "suspicion of others, the development of a theory that justifies the imaginary construction of an individual or a group, an appetite for hostility, an unforgiving attitude and a limited capacity for critical introspection. And a lack of humour."
Patience: "Waiting for better times for himself, his family and his nation", Marius Ciobota sees only meaningless exercises in patience (455). "The absurdity of patience is a product of its uselessness. You wait, tolerate, endure, you suppress élan and stifle creative thoughts, because you know that in the current circumstances you won't be able to realize them."
The full table of contents of Dilema veche 450-455 (2012)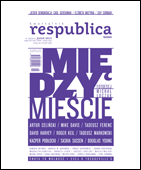 The urban environment is in a transitory, liminal state, according to the editors of Res Publica Nowa. The semi-urban zone between a city centre and the outer suburbs offers an ill-defined image of spatial and social segregation caught between past and present, and seems emblematic of the modern city as a whole.
Despite a rise in urban activism, observes Artur Celinski, city dwellers have not made their hopes or expectations clear and have failed to create a coherent community. Lack of communication between politicians, administrators and those who inhabit urban space is causing deep division, anxiety and suspicion. Symptoms of the loss of trust are decreased political participation and a shortage of candidates for public office. "We have slipped into a vicious circle with no one to replace failing politicians," Celinski writes. "It might make most sense to say: let's not reclaim the city, let's reclaim urban politics."
The battle for the city is above all a struggle for improved regulation, better legislation, greater financial transparency, a stronger voice for urban dwellers and a popular mandate. "Debate about the city will remain just that, unless we try to implement its effects at the political level. The recovery of urban politics could create a lobby for social change, and show that politics need not turn its back on ordinary people."
Debt: Kacper Poblocki considers the effects of urban alienation, sociopathic behaviour and the fall of public man. Are we witnessing the beginnings of post-capitalism, he asks? The history of capitalism has become a narrative of relations between debtors and creditors, where debt – effectively a form of concealed violence, as well as the bulwark of the capitalist system – can be real or invented.
The full table of contents of Res Publica Nowa 19 (2012)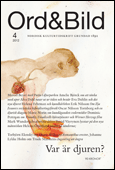 Earlier this year, Ord&Bild (Sweden) gathered a group of zoologists, neurobiologists, theologians, philosophers, writers and artists at a mansion near Gothenburg, tasking them with the creation of "a new animal". Interesting and innovative though this (human) experiment was, its outcome was conventional, report the editors. Instead of "designing" a new species able to transcend the limits set by man and to survive independently of its creators, the scientists and philosophers immediately focused on conceiving a creature that could best serve the needs of Homo sapiens: "an animal that exists to serve humans and to improve mankind".
The curse of eternal progress: In an accompanying essay, literary scholar Amelie Björck notices the same difficulty in transgressing the boundaries set by human experience and ideology in works of literature and film otherwise characterized by artistic freedom and science-fictional inventiveness. Franz Kafka's "A Report to an Academy", Peter Høeg's The Woman and the Ape or the film Rise of the Planet of the Apes may be less anthropocentric than the group of Gothenburg researchers – they all question the man-animal hierarchy – but they are just as stuck in the dogma of eternal progress and evolution, writes Björck. "Progress = narrative in both life and art = the only efficacious and powerful dramaturgic line we know. We feed on it – and it will kill us."
The full table of contents of Ord&Bild 4/2012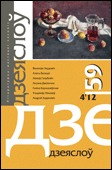 Writing in Belarusian journal Dziejaslou (issue 58), historian Leanid Marakou tells of how, during the course of his research on the Stalinist repressions in Soviet Belarus, he has repeatedly stumbled across Savieckaia Street in Minsk. In his latest work, Marakou has done no less than compile a history of this central Minsk avenue and its inhabitants.
Built in 1801 and named Zachareuskaia, the boulevard was renamed after Adam Mickiewicz during the Polish occupation in 1919/20. From November 1922 it was called Savieckaia (Soviet Street) while the German occupiers bluntly called it Hauptstraße. From 1952 it was named Stalin Street and from 1961 onwards Lenin Prospect. After independence in 1991 it became Francisak-Skaryna Prospect and since 2005 has been called Independence Prospect. "The book appears to be the mere collection of dry facts: documents, photos, maps," writes Marakou. "However, in their sheer quantity and variety, these facts reveal the unfalsified history of Savieckaia."
National canon: In issue 59, philosopher Valiancin Akudovic analyses the idea of the Belarusian national canon, whose geopolitical, cultural, political and constitutional constants have changed little up to the present day. Akudovic poses the heretical question as to whether the idea of national revival has the theoretical potential to become reality in the social and political circumstances of the twenty-first century. So as to pre-empt hasty criticism, he adds: "If it should turn out that my distrust of the national canon is justified, then all that's necessary is to remove from it the canonical character. All the valuable connotations of the national canon (and all that has gathered under its roof over the centuries) will be retained, however the social and political basis of the national order will be entirely reconfigured."
From prison: Ales Bialiacki, the imprisoned founder of the Belarusian human rights organization Viasna (Spring), reports from prison no. 8 in Zodzina about a discovery in the prison library – a volume of selected texts by Chviados Synkler: "His first story was published in a supplement of the newspaper Kamunist; the supplement was called Viasna! Yes, Viasna!" Synkler's retreat into literature during the dark years of the 1930s is something to which Bialiacki, too, also confesses: "Books are the old, familiar friends of the lonesome. In prison, cut off from the hectic of life, I have re-discovered these literary stained glass windows which, freed from the dust of everyday routine, shine in myriad colours."
The full table of contents of Dziejaslou 58 (2012) and Dziejaslou 59 (2012)