An alphabet of disappearance
du signs off an era in publishing; Osteuropa takes stock of post-election Ukraine and Poland; Reset fathoms the gulf between the American and European Left; Le Monde diplomatique (Oslo) criticizes the gullibility of Norwegian news reporters; Nova Istra proclaims the essay the literary genre of the future; and Lettre Internationale (Denmark) wants to make artists into journalists.
du 11-12/2007-08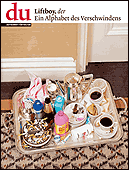 "Nothing disappears", write the editors of du. "Physics shows this just as much as psychoanalysis." However, the editors themselves will disappear after this very last issue of du published in the format and design established over the last 67 years – at least as editors of du. As of 2008, du will have a new format, a new editor, a new design, and a new publisher.
For the issue, the du team has put together an "alphabet of disappearance". This veritable encyclopaedia counts 146 entries by 95 authors. From Alpenbock (Rosalia Alpina, the largest longicorn in Europe), to Xanthippe, Yeti, and Zimmerantenne (the forlorn-looking indoor aerials on the early TVs which always had to be readjusted in order to get the best results). It covers such well-known artefacts as the chamber pot, the double LP, plane tickets, girls' curtsies, and contenance.
"In reality", the editors write, "everything is very different than we maintain. Like the petites madeleines, those rich biscuits that Aunt Léonie dipped into Marcel Proust's tea on Sundays, memories will pop up when browsing through this issue. The bygone will prove itself to be immortal, the vanished to be timeless."
Because even if the madeleines exist only in memory, they might be reincarnated as an embroidered handkerchief or a botanist's container. In any case – or in many cases – these artefacts point to our childhood. "It has, indeed, become an issue on childhood, this vanishing-alphabet, maybe even a Swiss-German Heimat-issue, a little breviary of melancholy."
To collect as many du authors as possible was the hidden agenda of the editors at a time when they did not yet know that this issue would be their last: to celebrate a party without cause. "Now the party has got a cause, the gathered authors make this farewell issue into a firework of brilliant miniatures."
The full table of contents of du 11-12/2007-08

Osteuropa 10/2007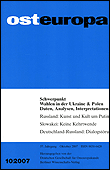 Democracy follows the principle of communicating vessels, according to Mykola Riabchuk: as long as elites and people are bound together by regular elections, a free media, and an independent judiciary, the water level in the two vessels – the attitudes of the elites and of the people – will not significantly differ. In Ukraine, the Orange Revolution in 2004 restored those levels, shook up the water that had become "murky" during the Leonid Kuchma regime. Though not sufficiently to prevent Kuchma's Soviet-minded successor Yanukovich making a comeback. Now, after the autumn elections and the defeat of Yanukovich's Party of the Regions, Riabchuk takes stock of Ukraine's political development since the early 1990s and considers the future of the coalition between the Tymoshenko Bloc and Yushchenko's Our Ukraine party.
The main task now facing Ukrainian politics, writes Riabchuk, is to understand the opposition status of the Party of the Regions as something normal, rather than as a catastrophe for its politicians and their business allies. "The institutionalization of the opposition would be the first unequivocal step away from post-Soviet reality towards the adoption of European standards. The transition is in principle inevitable, but can take years; on the other hand, like in other European states, it can also happen fairly quickly, if only the EU would acknowledge the efforts of Ukraine and provide the corresponding support."
New government in Poland: After two years, the "Fourth Republic" à la Kaczynski is at an end. Will the "Third Republic" re-impose itself on Poland, or will a Fifth Republic follow? Perhaps it's time to stop counting republics, offers Peter Oliver Loew. At any rate, it will be interesting to watch how the Law and Justice behaves in opposition: given Jaroslaw Kaczynski's post-election statement that "manipulation" had won the day, "it's to be feared that his priority in the next few years will be to nurture the image of the Right as the eternal victim of intrigues and secret captain of Polish hearts."
The full table of contents of Osteuropa 10/2007

Reset 103 (2007)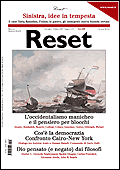 A gap is emerging between the European and US Left and it is growing, write the editors of Italian Reset in an issue focusing on the Left, Western Manichaeism, and bloc thinking. Liberal thinkers in the US such as Paul Berman and Christopher Hitchens attack "Islamic fascism" and Tariq Ramadan's "ambiguities". And even the bastion of American progressivism, the journal Dissent, is reluctant to seek common ground with Islamic moderates, it seems.
In "Where is the Left heading?", Michael Walzer shows that while the European and the American Left in many cases share the same opponents, there are significant differences between them. These concern in particular foreign policy and religious and Islamic fundamentalism. In "Dialogue or Cold War?", political theorist Nadia Urbinati analyzes whether there is a division of roles between Europe and the US and enters into debate with Michael Walzer on the perspectives of the Western Left.
Giuliano Amato, Italian Minister of Domestic Affairs, calls for courageous dialogue which avoids positioning "us" against "them"; Jean Cohen recommends first of all that we dismantle our ideologies; and Charles Taylor and Dilip Gaonkar warn against bloc thinking.
The Al-Jazeera effect: A mouthpiece for terrorism or counterinformation? From Qatar to New York, Al-Jazeera is regarded as the feared all-news channel. Daniela Conte, Lawrence Pintak, Najib Ghadbian, and others reflect how the satellite network is transforming Middle-Eastern public opinion – and not only that.
When Islam meets Greece: Senegalese philosopher Souleymane Bachir Diagne recalls a time when Islam was capable of opening itself to Greek philosophy. Starting in the ninth century, he reminds us, the Arab language was the language of great Muslim mediaeval philosophers such as Avicenna, Al Gazali, and Averroes, as well as of Jewish theologians such as Maimonides.
The full table of contents of Reset 103 (2007)

Le Monde diplomatique (Oslo) 11/2007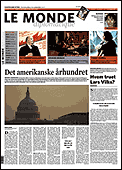 Large parts of the Norwegian mass-media's international coverage consist of unfiltered stories from international news agencies, states Kim Bredesen in the November issue of Le Monde diplomatique (Oslo). When it was reported that the Swedish artist Lars Vilks had been threatened by al-Qaeda for drawing Muhammad as a "roundabout dog", important information about the identity of the person behind the threat was left out. In a regular "whodunnit" style of detection, Bredesen discovers that the alleged al-Qaeda leader al-Baghdadi is a completely fictional character. This information was readily available in the material proffered by the news agencies, but was deemed less interesting and was largely left out before presentation to the Norwegian public.
There is no doubt that Lars Vilks was threatened. His own reaction is that the threats are political and publicity based, though he takes the warnings of the Swedish police seriously, that it's always possible a local fanatic feels compelled to act on threats put forward by religious leaders, real or imagined.
Religion and atheism: Remi Nilsen interviews the Italian philosopher Gianni Vattimo about his refusal to adhere to absolutes, including a final labelling of himself as atheist. "Atheism is the opposite of the claim of God's existence. I don't know if God exists. What is he supposed to exist as? A physical, spatial-temporal phenomenon? […] I am undoubtedly an atheist because I don't believe in an entity called 'God'. But I don't think I can live without a tradition where God plays a role."
"Third Cinema": Truls Lie looks at the Latin American film movement of the 1960s and 70s which decries neo-colonialism, the capitalist system, and the Hollywood model of cinema as mere commercial entertainment. Though in favour of the genre, he also points out its shortcomings in providing a comprehensive background of economic, cultural, and political structures of repression.
Also to look out for: Arnstein Bjørkly's reaction to Peter Watkins's 33 year old movie about Edvard Munch, and Philip S. Golub's assessment of the slow but inevitable decline of the US world empire.
The full table of contents of Le Monde diplomatique (Oslo) 11/2007

Nova Istra 1-2/2007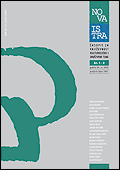 Pula-based Nova Istra has a new format. For those who liked the old, thick, almost square magazine with its soft feel, the change will probably be perceived as radical. New Nova Istra has a classical look: small, sober, and very readable.
The focus of the Croatian literary journal, however, remains the same. Featuring contributions from the 4th Pula Essay Days, that took place last October, the new issue dwells on a form of writing that editor Boris Biletic calls "the literary genre of the future". In texts true to the dictum of Croatian poet Tin Ujevic (1891-1955), "the essay is literature in italics", Croatian and international writers take on the grand theme "Love and Hate".
Slovene poet and essayist Taja Kramberger describes the world as a place characterized by a multitude of complex realms rather than of incompatible polarizations and their dark shades. And in "Labyrinth and flight", Aleksandar Prokopiev, Macedonian rock star and professor of philology, analyzes both Eros' and Thanatos' hard work "in the service of wonders".
The full table of contents of Nova Istra 1-2/2007

Lettre Internationale (Denmark) 17 (2007)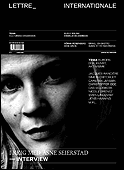 In the series "The cosmopolitan", the Danish edition of Lettre Internationale publishes an interview with Norwegian journalist and writer Åsne Seierstad, best known for the international bestseller The Bookseller of Kabul, which has been translated into more than thirty languages.
Seierstad, who has reported from Chechnya, Kosovo, Afghanistan, and Iraq, is a controversial writer. She is regularly praised for her courage and her style, but just as often criticized for being too "literary". Her books have triggered a heated debate about the limits of writing: how subjective can reportage be and still be said to be a form of journalism?
"What you add in style and literary embellishments, you lose in precision", admits Seierstad. "But if you are going to do more than just provide a reference to what others have said and also describe atmosphere and people, then you have to use other means of expression. For what is it to report, whether in newspaper or book-form? It's about making choices."
Art, documentary, and political activism: The interview with Seierstad fits well into the issue's main focus on hybrid genres and political activism. Alongside Jacques Rancière on the poetics of documentarism, Simon Critchley on the ethics of commitment, and Nicole Brenez on the cultural history of activism, editors Andreas Harbsmeier and Karsten Wind Meyhoff provocatively ask if the world has become too complicated for Danish journalism. Their recipe: mix the genres and make artists into journalists! (For more on this topic, see the Eurozine Review from 17 July.)
Literature of the real: Two long essays – or, if you will, reportages – illustrate at least one of the hybrid genres called for by the Lettre editors. In an article reprinted from New Left Review, American theorist and environmental activist Mike Davis describes the oil state Dubai as scary mirage that, on the rim of the war zone, gets ready to host the world's jet set in dinosaur parks, under-water hotels, and artificial archipelagos. And in "Back in the ghetto", Swedish writer Göran Rosenberg attends a family funeral in Israel – a land of lost chances, spoiled dreams of independence and peace, where the insane has become part of everyday life.
The full table of contents of Lettre Internationale (Denmark) 17 (2007)

This is just a selection of the more than 60 Eurozine partners published in 33 countries. For current tables of contents, self-descriptions, and subscription and contact details of all Eurozine partners, please see the partner section.